Dinh_AaronMk
404: Member Not Found
Location:

Crashing this plane, for you.

Join Date:

1/13/2011

Posts:

10,412

Minecraft:

The_Taunter

Member Details
Winter in Þrosinnlönde. Where a cold wind blows through the forests of the highlands. The fields sit in wait for warmth. The beaches are dead and silent as the fishermen and sailors huddle in their long-houses waiting for the ice to open. All is quiet in the land, all is deadly. All has come to the end of an era. For in Halle the king lies dead.

Aye. Woe for the King of Þrosinnlönde, who in the company of his court was at last stricken down with a strange ailment. Mourn for the king, who in his prime raised no heirs to bare his throne. Mourn for him, grieve for his kingdom. Feel pity for his court, for even at his bed-side arguments begin to stir. Fights over which of them would inherit the crown and carry Þrosinnlönde into a new era.

Halle's court is in chaos, torn on who should inherit the throne. But soon the treacheries of minor lords will bare full force onto the rest of the land. The couriers who now spider-web their way across the kingdom of the high-north carry the spark that will light fires that the gods will see, the seas will flow red with blood and no mountain-top shall stay white. Even the snow will not remain pure in the fury to be unleashed. The key-stone of order has been removed from the door-way to the land of ice. The gates are to crash with thunder. Iron will rattle again as it has in the far north. The world will look on as they weather out the winter.

Swift action is required. As such, Sven Ironsgurd took command of the king's Huscarl and casted his rivals from the capital. The first swords had been drawn in the streets. The capital guard pushed onto the bitter rivals and drove them through the streets.

As they fled the gates of Holle, Sven shouted at the gates: "Know my fellows that in my knowledge of our rules of customs it is I that is to inherit the thrown of Grüswald Bisgurd. I offer you to place your allegiances, and you draw your swords. Know well that I will draw my own and run the rest of you gothies upon it. But also know I offer redemption, return to me with a spruce-branch and your shield and I will re-welcome you to the King's Court. Meditate on your place well, for it will spell the difference between dishonor and honor in death!"
Welcome to Cold Wind. A Viking oriented strategy-sandbox Role-play that won't stop until someone claims the throne (or everyone just quits). As with the genre you can do whatever you want, to a point.
1) No magic, everything must be done the good old way. With the sweat of your brow and the muscle in your men's arms.
2) Although not a literate Role-Play I would like it if we acted in a semi-literate way. Be detailed and imaginative in your posts. I don't really like anything that goes like:
"The walls are complete
Construction moves onto the barracks
100 men are trained."
It's boring and difficult to play with. And hell, I can use the lack of description to fill in any gaps to make them an advantage, your walls could be thin and they could be low. Nothing stopping me from easily breaking them down with simple siege tools, I could also say your barracks is behind that part of wall allowing me to take that out in the process. This leads into the next thing.
Commit at least several paragraphs or speech to your posts. Have your gothi (a kind of Viking chieftain) possibly discuss among his advisors a project to under-take. Then detail its progress (and others) through the next few posts.
3) Common rule, no god-modding. If it can't do it in real-life it likely can't be done here. People can't really traverse a kingdom in a single post. One can not fly with the given technology.
4) Tech level: early middle-ages. No guns, no plate armor, no massive galleons sailing the frozen ocean and all of that. Chain mail at this time was also strictly a lord's armor it's that expensive. Common troops (levied or professional) are likely to wear just the clothes they already own or leather/padded armor.
5) Sensible time: This sort of goes with god-modding but I ask that a sensible feel of time is maintained. Many projects in this time could take years to complete. I don't really want to see the completion of a massive citadel in a few short posts when they take a few years to a decade (possibly) to build. It's fine to have them if they're pre-existing structures. But unless you want to prepare for the long-haul I wouldn't build any new ones.
Same applies to other structures, just keep it reasonable and I won't complain. There's no strict time-system like I would much like to have, but that would cause issues. Just know that much of everything should play out over a set of posts.
This RP will largely take place in winter too. But if it drags on long enough I will allow for a gradual changing in seasons and will bring this up. In such an event, you can be assured that it's likely that your projects could come to completion.
So with that in place we move on. Players will act as a gothi; a Norse lord equal in power to baron. You'll all control a plot of land and will build and expand from there.
Entry Form
Gothi's Name: [Please make it Scandinavian sounding]
Age: [Nothing unreasonable]
Appearance:
Bio:
Location: [Where they are on the map, as well as the town/castle in question's name]
Crest: [This is purely optional. See template.]
Crest Template (optional)
Map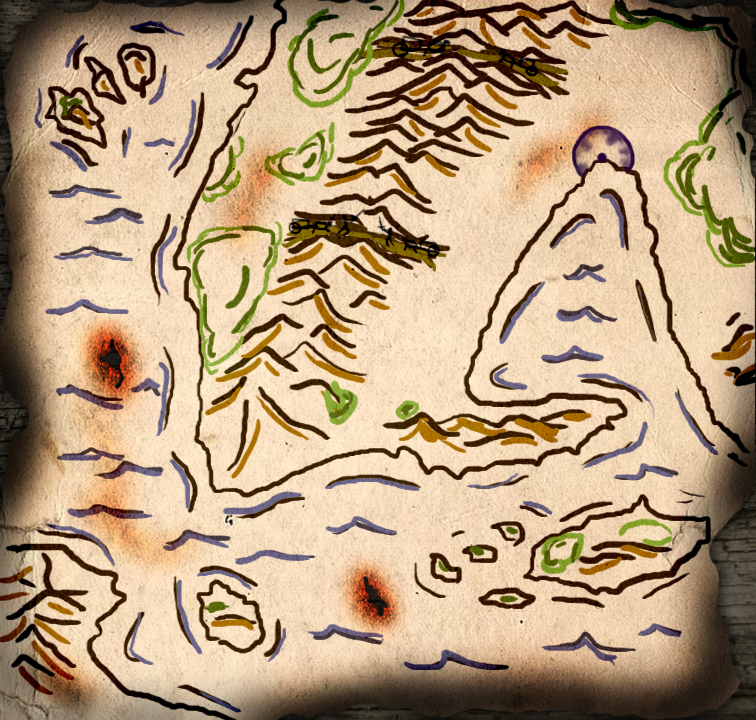 [u]Locations on the map[u]
The Dutchy of Amers – An independent kingdom to the south-west. This plot of land is off-limits. We can operate from there or start there; it's immune (for the purposes of the RP) to war. But, if you so wish you may send "delegates" there negotiate the help of some mercenary groups if you want, these groups stem from the Duke's main army which is made up of primarily of pike men.
The Duke himself has no interest in siding in any of the gothies to the north as they fight. So you can not ally with him either, just recruit from bored officers or any lords underneath the Duke.
The Stömride – The large mountains running north-to-south on the map. The mountains are tall by local standards. There are two passes through this mighty stretch: the North Pass and the South Pass. The Northern pass goes higher up into the mountains, where as the southern is a little lower.
On the map, both are marked by little people walking through them, or carts.
Krönigshall – The political and ceremonial capital of Þrosinnlönd. Here King Bjorn's former advisor, Sigurd Malstron (purple), has assumed control. He's not the only enemy nor only objective. For in order to claim the crown he now physically owns you must eliminate (or win the loyalties) of your fellow gothis (lords) and come out on top.
Players: Sven Ironsgurd (AaronMk)
Age: 48
Apperance: Lean build, tall, messy graying hair. His face is shallow and set with a long nose; a pair sharp blue eyes rests in the midst of his rough face.
Bio: Unlike the other Gothi's who found themselves close to the king, Sven was barely the warrior type. He acted merely as an advisor figure. When the king was not present Sven exercised his power to act in his stead.
This relationship went back to when the two were young. Sven being the son of the acting mayor of the city and Grüswald Bisgurd the prince of a proud kingdom. When the situation allowed it the two were often noted playing together in the fields or hunting. They fostered a healthy bond that carried over into each other's political careers. From this the king had earned the greatest of loyalties from Sven and the two trusted each other with their affairs.
Sven came to rule both Krönigshall and the kingdom at large when his friend was absent. King Bisgurd was a frequent conqueror and is credited to expanding the kingdom beyond the Stömride and the nearby islands.
The relationship between the king and Sven created a great openness and both shared grief when the King's first born was murdered when travelling. Sven attended the funeral of Bisgurd's wife after she had been found frozen in a farmer's field several winters ago. Depression and despair entered Sven's life when the king's second and final son succumbed to illness at a young age.
Sven himself is hardly child-less, his two sons are currently off in distance seas performing their family friend's last great mission.
Crest:
As this RP is based around playing as Vikings I think some information on them would help in the long-run.

Vikings were traditionally farmers from Scandinavia. But that's not what they were famous for. As a culture they were known for their seaman-ship and their long-boats. Their skill as sailors and the sturdiness of their boats could take them as far as Iceland, Greenland and even America. This ability to cover long distances quickly put them at an advantage of their Southern neighbors in Europe. The quality of their boats also allowed them in slip onto a stretch of coastline to raid or conquer villages on the coast.

Viking culture was largely paganistic and worshipped a pantheon of gods like Thor, Odin and Loki to name some of the major players. Below these gods were also many creatures who served or were born to any one of the Viking gods (Such as Fenris the Wolf and Jorgesmun the World Snake who were two of Loki's three children). Those who died traveled to Hel, where the dead gather. Contrary to what seems to be popular belief only the greatest of warriors go to Valhalla where they ready for Ragnorak; preparing to defend their Gods when it comes.

Dead warriors were burned in their ships during ceremonial fires. Along with them they burned their possessions, weapons and even some animals in servants. This is along the same train of thought at the Egyptian Pharoes who were buried along side their worldly possessions so they can assist him in the next world.

Politics were commonly centered on group meetings called "Things". Here the community would gather to discuss issues and how to resolve them. Afterwards [I'll assume] a vote was cast as to how they should address the issues at hands. These were lead by "gothis" a position similar to that of an Earl or Baron. For the purposes of this Role-Play operating on the Thing system is optional and can be ran as a story device for your faction.

It's also interesting to note that Greenland (or was it Iceland...) were completely ran by at least (I believe) eleven different "Things". Various men have tried to claim the position of King of Iceland but failed. But Scandinavia and other Viking controlled areas in Main-Land Europe have had their share of kings. Multiple cases kings or monarchs have been recorded in various Runestones across Scandinavia.

You could also try reading this if nothing really comes together, or start here:http://en.wikipedia.org/wiki/Viking

Fun little-bit: the Old Norse feminine noun, víking refers to expeditions over seas. The phrase "to go viking" refers to going on an over seas raiding or piracy trip. And the phrase, "fara í víking" means: "To go on an Expedition." Meanwhile the masculine form of the word - víkingr - is used in skaldic poetry to refer to warriors going over-seas on a raid and stuff.