IAmKnight

The Meaning of Life, the Universe, and Everything.
Join Date:

12/20/2010

Posts:

100

Minecraft:

IAmKnight

Member Details
College of Althalos
Prologue:
TL;DR, Most of the prologue is a history lesson, only the last paragraph is really necessary.
1674E. 1674 years after the End of The Old World. The citizens of Planet Althalos thrive amongst each other as everything sits in peace. The many wars that consumed the lands have ended, and though most of the planet is seared with dark ashes and ruins, one frolicking vast landmass stands among the rest as the only habitable land to live on. And thus the people of Althalos built The New World and ended all rivalries between nations. Humans, Elves, Dwarves, Orcs and more set aside their differences to start anew. Thus the birth of The New World, and the renaming of the planet.
The people built for decades, to create a habitable community for all to live in. A large city sized "College" was built, and thus everyone remained living with each other in the college. Why it was called a college is unknown, though most can understand why it is named the College of Althalos. Being the only place to find sentient life, it seemed fitting to claim this large scale city as the sole city for the people of Althalos.
The tales of The Old World are spread further down generations, getting more clouded through each pass. By the present date, most believe the destruction of The Old World as a simple scientific anomaly. There are tales of gods and beasts, fighting in an enraged war of dominance. Among this were the people of The Old World, who believed they could take on the gods and beasts. And thus, in a raging fury, it is said that the god of destruction, Phesephus, lay waste to all that stood on the planet. Valicus, god of restoration, tried his best to prevent the destruction of mankind, to no avail. The world burned in flames of rage and hatred, and darkness swept across the lands.
Valicus used his powers to keep as many people as he could alive, and managed to keep a stretch of land alive, too. Phesephus had long since left the planet in pieces, and had gone back to the realm of the gods. With the remaining people, they began The New World, creating a new timeline where the E stood for "End", and if it were placed in front of the year, it meant after the End, while placing it behind meant before the End. Thus the year was 1E, 1 year after the End.
This is all common knowledge, however, and the people of 1674E have completely forgotten about the events that laid waste to the land they stand on. The college is growing at a fast rate, and the population continues to grow. Forests and mountains past the College boundaries are filled with strange entities, some magical and others physical. The many hundreds of guilds work together and economy is booming. War has been non-existent for centuries and more. The college has never been at such peace.
However, trouble brews among the more known guilds of the college. Rivalry grows between the Shimmerthorns and the Fallenwell, and the Order of Lord Phesephus argue among the Worshippers of Holy Valicus. Civilians become corrupt and hire the Soulsifters to take lives away, and the Watchmen of Althalos sit by and… Watch. Now the civilians are causing disputes as guilds lack members and are forced to shut down, brawls occur almost every day, and at this point war is imminent. The High Council has decided to make a new law; All civilians of the College of Althalos are required to have membership of any guild approved by the High Council.
This is where many of you fellow heroes come into play. You have recently heard word of the new law, and are currently unemployed. It's time to put your skills to the test and join a guild. At any point in time a war could begin, and a guild could be your backup.
Things are no longer looking so smooth.
End of Prologue
Hello, fellow roleplayers. I welcome to you, a roleplay that I have been working on for a little while. My intent is to create a world that seems more interactive than other roleplays, and to do this I believe a full world must be created. There are a lot more things about this world, which you must find out yourself. An easy way is to visit a library in the game world, but there are other ways.
This roleplay focuses on fantasy themes. Things that you might see in Dungeons & Dragons or Skyrim, or similar fantasy games could compare this roleplay.
This is not a casual roleplay, I request that roleplayers wishing to join must have adequate skill in writing, capable of writing at least 1 paragraph per post. To balance, posting does not need to be often, as I plan for this roleplay to stretch.
Along with these posting rules, roleplayers need to keep track of their inventory at the end of each post. This is because of Gold, as it is used around the world.
Before I provide information of the college, I must go through the rules. After all the rules and college info is done, you will find the application at the end of this post.
Rules
Standard roleplaying rules. If you don't know these rules and need to ask, this is not the roleplay for you.
Don't randomly make things up that don't exist by my word in the world, such as a convenient trapdoor that may lead somewhere. This doesn't really matter when it comes to small things like trees in forests or beds in dorms.
Characters you create can not be overpowered. All characters must seem like ordinary citizens, except better than the average man, just not planet-blowing powerful.
I have no issue with any romance or violence or whatever, I suggest you follow the actual site's rules for that.
To know you have read the rules, put "dragonball" anywhere in your app.
Some guilds cannot be accessed in the beginning, such as the High Council. It is possible to join these guilds in future, as long as you resign your current. Your character may also be invited to a guild.
I might be looking for moderators, who will have capabilities of accepting apps and banning people etc. The only thing they cannot do is run the story, although I may allow them to control some specific NPC's.
You get to apply as many times as you want as mentioned, however each decline gives you a strike. I will no longer accept any apps from someone once they reach 3 strikes.
Did you really read all the rules? Then you'll know not to put that secret word in the Others section. Put it elsewhere in the app.
It is a requirement that you write at least 1 paragraph per post. I won't be too harsh on this, but try. Remember to space out your walls of text with paragraphs.
Posting times are not as important, but aim for at least once a week. Not too hard to ask for, right?
For any newcomers who join, simply take the role of someone who hasn't joined a guild yet, and are still looking for one.
You can have as many characters as you want, as long as your efforts on one character doesn't get hindered. Therefore if you have two characters, I would expect two characters worth of writing, and not a half half thing.
If you are talking in OOC, clearly mention it or talk in double brackets or something.
Swearing, while I'm fine with it, the forums are not. Apparently self-censoring with asterisks can be against the rules, too.
Possibly my most important rule, have grammar, punctuation and the rest. If you can't be bothered, run it through Word for errors or something. But I won't be too harsh on this. Just do not, and I mean do not, write "u" or "ur". Don't.
Remember, have fun!
The College
The above picture is of the College. The High Council and ruling offices are located in the obvious area up top, while guild buildings and other buildings are located below. There are several buildings such as libraries, shops, guild buildings, training buildings, etc. The best known library would be located in the House of Sole Wizards.
The College is currently run by the Headmaster Korlund. He is hardly seen and no one knows if he has a last name, or if Korlund is his last name. From what people know, it seems he is a very serious man who is only seen during speeches. Very little is known about him, and some people have created skeptical rumours about him. He is a dwarven man of 78 years.
Guilds
In the College of Althalos, several guilds are available to take up on. It is mandatory to choose one of these guilds, and it is not possible to choose more than one. Each of these guilds specialise in a certain field of work, with each having its own regulations and rules. Some of these guilds are lead by a single leader, while others are lead by a group of leaders.
Each guild provides its own living quarters, where you may store items and sleep on your own bed. Most guilds also provide a payout, however some guilds are different, and only provide payment through other means. It is up to you whether or not you want a payout or not. Each payout is per day. Some guilds also require members to wear specific uniform and each guild has its own set of rules.The general idea of the rules are shown below, but it may help if you ask or something in-game.
The following Guilds are what I believe are the most common guilds to be chosen among characters that join. If you wish for your character to join another guild that is not listed, most likely it is within the College of Althalos and all you have to do is message me the guild you wish your character to join. I will then decide if I should approve of it and edit the list with the new guild and its information. Guilds that may not be listed here include craftsmanship, hunting, cooking, and more. If I were to list each and every guild it would just take too long.
Most of the guilds have characters of interests, NPCs that I will control. I may very well continue adding more as players discover more NPCs, and I will edit this post with the new NPC's information, located in that NPC's guild. I have already started updating the guilds with more information as players find out, so look here every now and then and you may find something you didn't know.
The High Council
The High Council:
The High Council is the ruling office of Althalos, second to Headmaster Korlund. The council is of highest priority and has authority over all aspects of the college, including staff. They will usually stick to neutrality over college affairs and will aim for a goal of improving the college rather than relations between specific guilds.
They deal with anything about the college, such as guild creation or management, building locations, and more. It has been questioned why guilds such as the Brotherhood of the Soulsifters are permitted among the college, but the council concerns themselves among a functioning society. With criminal guilds in place, things theoretically run a little smoother, albeit the atmosphere is a little more tense. Besides, the council may use those guilds every now and then.
The council has an exclusive membership of 5 members, 1 of them being the leader and another his assistant. It is known to be near impossible to be accepted as a member among the council, as any of the 5 members have more authority than any of the staff combined.
Not much is known about what else happens among the council, and no one really knows about the interior of the council either. It is said that if you get the privilege of entering the council, even as a visitor, you are perhaps one of the luckiest known beings in the college.
The leader of the High Council is none other than the human male Strulcar Grassmantle, a skilled mage at the age of only 19. It is known he takes no sympathy from anyone, and is always in a serious mood. He needs a bit of joy in his life, obviously. The people who have seen his skills say that he is perhaps the strongest mage in the entire college, capable of destroying half the college within minutes. These are rumours, however.
Strulcar's secretary is a half-elf lady of 22 years named Ayla Zumfaren. She is extremely skilled with dual weapons, and stealth. Her main goal is to protect Strulcar with her life, although she takes part in council debates, too. Whenever Strulcar leaves the High Council, Ayla acts as his bodyguard. You might also say she might have a thing for him, though we can't say the same for Strulcar.
The third member of the High Council is a tough dwarf named Bralik Heavysunder. The 34 year old is known to be the most cheerful out of the 5 council members, often partaking in conversations with random civilians on the street. He carries a large warhammer, and is probably the only weapon he uses. Despite his brute look, he has wisdom and was chosen for a reason among the High Council.
The fourth member of the High Council is a young human mage named Glotthor Enrissen. Being the second youngest member of the council to Strulcar, Glotthor is known to be the attractive one among the council members. There are times when he is serious, but like Bralik he tends to have a cheerful personality. His looks are not a hindrance to his power, either. They say that he comes second in magic to Strulcar.
The final member of the High Council is probably the odd one of the bunch. He is Bughkil Gonkzol, a fierce Orc warrior. Everyone is afraid of this beast, his sheer size is enough to intimidate anybody. Even at the age of 43, he still packs a huge punch and nobody messes with him. Regardless of this, however, he isn't keen on ruthless fighting, and tends to look for resolve. He is part of the council not for his brute strength - though it comes in handy - but because he makes sound judgements like any other council member.
The Thieves Guild
The Thieves Guild:
The Thieves Guild is a large collection of professional thieves whose main skill involved the "borrowing" of other people's belongings. Most of the guild's members are specialised in skills that benefit both the guild and the person. These skills do not have to include thievery skills, but can include skills such as scouting and fighting.
Many of the thieves in the guild solely want money. However a few of the members prefer to act with honour, even though they are committing a crime. They say the leader aims to bring about an honourable guild, though a few think he is weak and does not represent what a true thief should be.
The guild is one of the few guilds that do not provide a payout to their members, like most other guilds. To earn coin in the guild, doing jobs for the leader can usually get you there. The Thieves Guild get contacted by several clients that wish for them to do certain things, such as framing someone for robbery, or retrieving a certain item from someone. The leader then compiles these tasks and any members who ask him can be given a suitable job. Doing these tasks provide more money than payouts from other guilds, although while you can simply sit around in other guilds and receive money, you must perform dangerous tasks in this one.
The leader of the Thieves Guild is known as Mesgar Laymac, a 25 year old, cunning thief who believes himself of high honour. It is within his duties as a leader to keep the guild under control, where the one rule among the guild is to not steal from each other. He is a human of athletic build, with skills that match no other in the guild. Along with his impressive thievery skills, he is quite impressive with - ironically - two-handed weapons, which is usually not the weapon of choice by a thief. He is quite a happy guy, and will gladly chat with any fellow thief.
Mesgar has a co-assistant named Maglynn Liathyra. She is an elf of 23 years, with an incredible skill with magic. Most thieves are skilled with daggers, but Maglynn herself focuses on illusion spells and magic that causes status damage to other beings, such as poison. Along with this, her main choice of weapon is a simple curved blade, infused with dark magic. She is constantly in a serious mood and never bothers to converse with anyone who she believes is lower than herself. She is also incredibly skilled with both lockpicking and pickpocketing, and will not hesitate to perform these tasks on anyone necessary.
The Brotherhood of the Soulsifters
The Brotherhood of the Soulsifters:
The Soulsifters are an elite group of assassins whose profession is executing a target in the most secretive manner. The members of the guild are extremely skilled in their profession and are highly secluded with new members. It is said that attempting to join by request is usually turned down upon and most of the time people join through invite only.
The Soulsifters can get contacted by anybody by simply sliding a letter under the guild's door. Usually, information including a contract and payment must be given. They do not care about the target's personality or past, as their main goal is their contract. Therefore people among the college try and keep their profile low, as to not attract potential contracts against them.
Generally normal citizens of the college don't have to worry about being targeted, as usually prices of the group is extremely high and hiring a simple thug group would be easier.
The guild offers 10 Gold to each new member, and increases that rate depending on skill and duration of membership. You may also ask the leader for a contract to take up on, in which you can receive a much higher amount. The Soulsifters require members to wear their uniform, only being excused from this during contracts. The uniform is simply the hood, while everything else is free choice. It is shown below in Khahman's picture. To enable free movement with the hood, there are two straps on the interior of the hood that members can use to keep the hood secured properly. In Khaman's picture he opens it up and displays the light armour he wears, which members are not required to have.
The Soulsifters use a symbol that represents a soul within two suns. It isn't certain where or when the symbol was made but people have figured out that the centre character represents "Om" for meditation, which they interpret as a means of mind, body and soul. Thus they believe the character has a connection with soul, and could be related to the name of the Soulsifters.
The Master Soulsifter is none other than Khahman Jime, a human of 46 years. He is known to keep to himself, hardly partaking in gatherings. No one sees him on the streets unless he wants to be seen, his stealth rivals that of Mesgar Laymac, the Thieves Guild leader, and most would say in a competition of stealth, Khahman would beat Mesgar five times over. Thus, people have learnt never to get on the bad side of this man. Along with his uncanny stealth, he is extremely skilled with small weapons, such as daggers and knives, using daggers to kill targets rather than poison or any other means. While it is known the Soulsifters prefer to kill in ways that do not express an assassination, Khahman's skills with a dagger are so precise that you would hardly notice an entrance wound, and the target would die of interior organ failure rather than blood loss.
The Mercenaries Company
The Mercenaries Company:
The Mercenaries Company is a large guild of warriors and soldiers whose main goals are to seek gold. Many of these mercenaries do not care for moral, and as long as there is a pouch of coin in their hands by the end of the day, they're happy. The guild is one of the few guilds that do not give a payout to members, each member must advertise their own skills to potential merchants and customers to act as bodyguards.
The guild is not run by anybody. It is a large building with a hang out area in the centre, with a bar on the side. Usually any mercenaries up for work will be in the designated area in one area, fully equipped. Each have their own rates. Members who cause havoc in the guild get kicked out by majority vote, so don't make enemies with everyone.
The Guild of True Masons
The Guild of True Masons:
The True Masons are a society that focuses on leadership behind the scenes. They have great skill for commanding and generally are in the know-how for the whole college, although a few things are still in the mist, such as the High Council. The group follows a strict ceremonial entry, although once complete everything is relaxed and chill. Their main goal is to control other guilds behind the scenes, not so much fully controlling them, but more about influencing them. This way they can prevent certain events and cause others. The Guild has great influence on the college, and targeting a member of the True Masons by contacting the Soulsifters is usually of extreme high price.
The guild usually tends to have information on everything in the college. They have excellent scouts and have several members, spread among all of the college. The True Masons have more than just their Guild Quarters, but several smaller outposts throughout the city to provide feedback among the rest of the city to the leaders.
The guild has a strict hierarchy of rank. New members are classified as Rank I, and can only meet or speak to those up to Rank III. The guild has separate areas for the different ranks. Each area is supervised by a rank higher than the maximum in that area, such as the Rank I - III is supervised by a single Rank IV Mason. Each promotion includes a ceremony, which is forbidden to be talked to outsiders. The guild is known to target Masons who speak of their ceremonies and inside intel, and are removed from the guild, and hunted by the Soulsifters. The person who gets revealed of the Mason's intel is also targeted by the Soulsifters, although knocked unconscious.
Once you become a Rank V, you are still considered a Rank IV. No one outside the guild knows of your true rank, including the lower ranks. What may lie within the walls of the higher ranks, nobody knows except the higher ranks, except nobody knows who they might be.
New Masons get given 30 Gold as a payout, which increases not by duration, but by rank.
The True Masons have a symbol they use frequently among the college. It is iconic to their guild and most people know what it means when they see it.
The leader of the True Masons is unknown, but it is known they is Rank X. Only Rank VIII's and Rank IX's are allowed to see them. No one is even sure of their gender. Know this, though: The Masons are always watching.
The Order of Lord Phesephus
The Order of Lord Phesephus:
Phesephus is the god of destruction, the nemesis of Valicus. His sole pleasure is to watch things crumble beneath him. His powers are great and it is currently known to be impossible to defeat him. Legends say that he once appeared among those of the college as a dark black ball of swirling energy. Anyone nearby could feel the hate and evil radiated from the ball. It was about the size of an elephant and was shooting black bolts in all sorts of directions. This was known as the 1176E Fall of Althalos. It took a century to fix the college, and many people had died. This is common religion knowledge, however, and most believe it as make-belief. It is possible to learn more about the topic within libraries or within this guild.
The Order is a cult which focuses on praising their "Lord" Phesephus. They are a religion held guild, mainly consisting of members with affinity to dark magic. The Order's main goals are unknown, although it is quite clear that it has something to do with Phesephus. And if he's actually real… Who knows what might happen if he comes back?
The guild is extremely secret, although you could enter by performing a simple ritual. Once joined, leaving is effectively signing your own death warrant. Usually only those who are capable of harnessing supernatural ability are allowed to join.
Their guild offers 40 Gold payout to new members, and those who can complete the goals of the order receive a higher payout each time.
Like the True Masons, the Order have a secret leader. They say he's always stuck in the basement doing research or something.
The Worshippers of Holy Valicus
The Worshippers of Holy Valicus:
Valicus was effectively the nemesis of Phesephus, and thus their rivalry spouted a somewhat large war between the two guilds of opposing gods. Valicus is the god of Restoration. He has great powers of mainly restoration quality, able to heal critical and fatal wounds within seconds. A blessing from him could mean the difference between life and death in a battle. He supposedly helped restore the College of Althalos after the 1176E Fall of Althalos, although the evidence is only written in books.
The Worshippers of Holy Valicus are a religious guild whose goal is to prevent evil such as Phesephus from destroying the college. They have taken it upon themselves to worship Valicus as their god of restoration, and with his "blessing", they have powers of great magic. Generally those who join the guild have affinity with magic.
The guild is a lot less secretive than the Order, however they take their guild very seriously and not many are permitted to join. Generally those with high wisdom are permitted, and those with religious beliefs.
The guild offers 30 Gold for new members, which increases for the number of good actions you perform among their guild and the college.
The leader of the guild is Presfiel Qimoira, a 27 year old female elf, with both restoration abilities and alteration abilities, capable of creating weapons with magic. Her main goal is to sustain peace among her guild and the college, and to spread the religion of Valicus. She has converted a few Order members in her lifetime. It is said that she is an excellent fighter, but strays away from it. She is calm and collective during her free time.
The House of Sole Wizards
The House of Sole Wizards:
The House of Sole Wizards is a neutral organisation that handles all mages and wizards that either have no religious beliefs or wish to stay neutral among others. It is the perfect place for scholars and warrior mages alike to train with a vast amount of knowledge and resources available. It is also the home of the Mage's Library, open to anyone.
The guild is probably the obvious choice of guild for any odd mage, however the payout is not great. Mages can learn as much as they can here, and there are plenty of options to train. Along with this, they don't have to worry about silly wars or anything, and they get to meet new people.
The guild has possibly the largest buildings in the college, bigger than even the Mercenaries Company. Along with this they have an insane amount of students, with varying skill levels. It is only possible to get a name around if you graduate the toughest courses, which go:
Novice > Apprentice > Adept > Expert > Master > Godly
The guild offers a payout of 20 Gold for new members, only increasing when being promoted to staff member of the guild.
The guild is collaborative, and there is no single leader. The staff members take it upon themselves to request for members to become staff, which leads to a vote.
The Shimmerthorn Warriors
The Shimmerthorn Warriors:
The Shimmerthorn Warriors are a large group of honourable warriors whose goal is to eradicate the Fallenwell from the College, along with keep peace among the college. They mainly consist of solely weaponed warriors. These warriors have the highest honour and would rather die than break a rule, and thus they are generally the most trustworthy group of soldiers around. They are not for hire, however.
These warriors tend to roam the streets in search for trouble, in which they will do what they must to help out. They believe that the Fallenwell and the High Council are trying to corrupt the college, and that it is their duty to prevent that and remove influences that cause those problems. They plan on removing guilds such as the Fallenwell, the Thieves Guild, and pretty much any guild that breaks their moral laws. They dislike the secret eye of the True Masons.
The guild is lead by a leader who some say is doing this for himself, to rule the college for his own benefit. This man is called Ralverk Duvhrid, a human who is at the age of 34. They say he is one of the most powerful known beings in the college, as rumours say that he ripped a troll in half with a single punch. He makes many appearances, unlike the Headmaster and the High Council members, and definitely unlike the True Mason's unknown leader. Though showing many appearances, he does not fight in the public, as he lets his personal bodyguards do the work. It is said not even Soulsifters attempt a go at his life, unless they were practically showered in gold. Not much is known about Ralverk's personality, although it is clear he is a serious man.
The guild offers new members 40 Gold as a payout, which increases through duration. Shimmerthorn Warriors are required to wear the tabard shown on Ralverk's picture. The exceptions to this are when they are off duty.
The Fallenwell
The Fallenwell:
The Fallenwell are a large army of soldiers and warriors who believe that the input of crime allows for an improved society. The concept of a utopia with no crime anywhere seems illogical, as it does not seem feasibly possible. Thus, they support the High Council's decision of allowing criminal guilds among the college, and though they do not personally deal with them, they do not bother them. Their largest enemy would be the Shimmerthorn Warriors, who they believe have unrealistic ideals of childish dreams.
The guild are filled with intelligent warriors who do not care for sympathy, as they believe the world must go on. Everything about them is organised and strategically dealt with. Though the Fallenwell agree with criminal organisations existing, they do not partake in their acts and will stop them when necessary. This is usually when anything of their property is being threatened or whenever anyone from the Fallenwell are being attacked.
The Fallenwell do not have a sole leader. Their guild is ruled by a council of three, who have a vote on actions and strategic developments of the guild. The members of the guild believe this allows for a more stable government type of approach, and prevents biased ruling, like that of the Shimmerthorn Warriors.
The leader of the council is a wise elf named Keavalur Ralonan, who is 35 years old and is experienced with diplomacy. He is not as skilled as Xyrlahne and Moth when it comes to fighting, though an attempt on his life is suicidal anyway as he has extreme influential status among his peers and allies. He is a user of magic.
The second leader of the council is the physical force of the three leaders, a 26 year old half-elf named Xyrlahne Rexalis. She leads as a general and is the best in the fighting division within Fallenwell. Along with this, she has high judgement and is a respected leader.
The third leader in the council is a human known as Moth Fogmark, a cunning 24 year old whose skills in strategy and leadership are known among the college. As a leader of Fallenwell's council, he prioritises everything with the development of the guild and the so-called "war" with the Shimmerthorn. He does not excel in fighting and leaves that to Xyrlahne Rexalis.
The guild offers a payout of 45 Gold to new members. The rate of the payout increases by rank among the guild, unlike the duration in Shimmerthorn.
The Outlaws Association
The Outlaws Association:
The Outlaws Association is what it seems to be. This guild is where all the criminals who aren't the most skilled go. Thugs and standard murderers, fugitives and outlaws, are all present among this guild. The Association is generally avoided by most people and are a last resort when rejected by other guilds.
The people of the guild tend to act somewhat like mercenaries, though with a much larger variety of available jobs. At the same time, their prices are a lot lower than the Mercenaries Company, Thieves Guild, Soulsifters or any other guilds that offer similar services. This means that all money they receive are by performing jobs for many clients, although they are contacted frequently to use as common thugs into intimidating targets, rather than getting them assassinated.
The guild does not offer a payout like most guilds. The only way to earn money is to offer personal or group services within the Association's common room.
The Watchmen of Althalos
The Watchmen of Althalos:
The Watchmen of Althalos are the main guards of the college, hired by the High Council to defend the college from common nuisances and evil actions and entities, such as supernatural beings that threaten the college, or criminal acts that cause damage to the college.
The people of this guild tend to follow orders by the High Council. Therefore they have no particular issues with anyone unless the council says so. This is a general rule, though a few members have their own morals and will refuse certain orders, which is usually followed by a dismissal from the guild.
While the Watchmen are ruled by the High Council, the orders of strategic placement and anything involved with the guild is relayed by the general of the watchmen, known as Braldeth Hilldane, a human warrior at 29. He is always serious and dislikes jokes. He is extremely skilled among heavy weapons and armour.
New members receive 30 Gold as payout, rising for duration of membership. Members are required to where a tabard similar to the above picture.
The Alliance
The Alliance:
The Alliance is a known group of elite warriors and skilled people who have created the guild with similar interests. Each member has their own free will and are specialised in what they wish, which is what makes the guild so appealing. It is known that the Alliance aims to be honourable, and does tasks for the High Council that others cannot do.
Hardly anyone in the Alliance is actually known, so if you wanted to know the members, you'd have to be a part of the guild.
Getting accepted into the Alliance is near impossible. Only those of extremely high skill and honour are permitted to join. It doesn't matter if the member is a warrior or a mage, as long as they're one of the best.
The Alliance gives new members a payout of 50 Gold which gets an increased according to choice of the High Council, as they provide the money. At the same time, they can get extras by doing tasks.
The guild has no leader and gets ruled by the Alliance themselves, though the High Council provides the money they earn.
Application:
Make some good effort when making apps, or I may refuse it. If you wish to put in "to be rped", you must at least give a general idea of what you're going for with one or two sentences or something. For your inventory, make it seem reasonable. If you're a noble, that's fine. If you're not, that's also fine. It makes sense for nobles to have gold at the start, for instance.
Name:
Gender:
Age:
Species:
Appearance:
Personality:
Biography:
Inventory:
Other:
I should probably mention to include an inventory at the end of each of your posts to keep track of everything.
Characters:
Garuda Nayalara - NintyStar
Name: Garuda, of the House of Nayalara
Gender: Female
Age: 24 years old
Species: Elf
Appearance: Garuda stands at about 5'4" (1.62 m) and weighs approximately 146 pounds (66.2 kg), most of her weight being the product of toned muscle. Underneath her muscle, she has a naturally-lithe build, with sizable round hips. Garuda's face is heart-shaped, with a stern jaw and high, prominent cheekbones. Her eyes are large and deep-set, as well as a soft sea-foam green in color. Her skin, naturally pale, is suntanned from exposure, and Garuda's higher parts of her cheeks are dotted with freckles. Garuda's hair is long, straight, and a chestnut brown. It hangs down below her hips, and a portion of the upper layer in a simple braid, resting on the rest of her hair. Garuda wears a white top that ties in the front with corset lacing, a brown leather breastplate, brown leather forearm guards, and black riding gloves. She also wears an asymmetrical skirt tied at her waist, which is a mix of iridescent blues and greens, as well as black pants and brown leather calf boots. She carries herself proudly, always walking tall and standing with good posture.
Personality: Garuda is a kind soul, wanting to help others in any manner she can. In Dungeons and Dragons terms, she has a Neutral Good alignment. Garuda works to make the world a better place, starting from the bottom of the population's chain and working upwards. She strives to make sure she has a reputation as a helper, healer, and friend to those in need. Garuda does not hesitate to fight back against criminals or those that take advantage of the less-fortunate. She sees herself as a missionary for Valicus due to her own personal faith, but more importantly, she sees herself as a vessel for good will itself, without any sort of religious attachment. Personally, Garuda is steadfast in her own moral code, quiet, and straight to the point. She may come across as aloof to others. Garuda is a bit of a wandering bard. She always knows where her home is, but chooses never to stay in one place for very long. She will frequently visit places she has been before.
Biography: Garuda was raised in one of the noble families of the Elven community. The House of Nayalara has a rather positive reputation, if only as being benefactors when called upon. The House of Nayalara consists of Garuda's grandmother, father, mother, and her various siblings. From a young age, Garuda's grandmother began training her in the magic arts. Now, Garuda is a skilled young mage, specialized mostly in conjuration, with some restorative spells up her sleeve. She has a couple basic destruction spells, but nothing like a dragon ball or anything similar. Specifically, Garuda's conjuration magic is that of a beast-caller's skill set, and Garuda's specialty is avian creatures.
Inventory: A leather knapsack, 270 Gold, a birch wood staff (for use both in combat and spell-casting), several small containers for potions and poultices, a collection of dried herbs, and an amulet of the House of Nayalara.
Other: are characters allowed to start in a guild? Because if so, then Garuda is a member of the Worshippers of Holy Valicus.
Zyn(gard) Clamore - Zyngard
Name: Zyn(gard) Clamore.
Gender: Male
Age: This I'm unsure of, at least 3 decades. He doesn't tell people, and probably doesn't even know himself
Species: drow
Appearance: Wears a cloak most of the time, wears his leather armor nearly 24/7. He wears boots of silence to enhance his stealth, which appear as normal boots with a feather engraved on the sole. Bald, so that he doesn't reveal his race by hair, grey eyes both in the visible spectrum and in intravision, ebony skin as part of his heritage, and is rather tall and slim, 5' 6", only weighing 140 pounds. Muscular structure from working out a lot. Wears a pair of thin gloves to avoid dropping his weapons from sweat, and to hide his race. Basically, unless someone sees his face, they won't know he's drow from a glance
Personality: To be rped, probably rather quiet and keeps to himself. Probably paranoid. True Neutral, only looking out for himself so far
Biography: An drow, grew up normally, but was always paranoid, bullied somewhat because of his race, so he started learning and so trained himself using a sword he bought by working for a blacksmith for several years, and in several self defense arts, including Tae Kwon Do, Jujitsu, Aikido, and took some basic Kickboxing lessons. He bought the knives over the years by, again, working for blacksmiths faithfully, with the weapons as payment. The ring mail was again, payment from a blacksmith, and the leather armor was a similar case, but with a leatherworker instead. He's done a ton of various jobs, and knows things. He even knows some basic spells, such as Sphere of Darkness, Sphere of Silence, Faerie fire, and can use Levitation (only up and down, retains previous momentum) once per day, and it lasts for a minute. The first three are cantrips, and can be casted often, not requiring much concentration, as part of his race abilities. His armor and weapon were enchanted by the same wizard who taught him spells and was looking for an assistant. He's rather stealthy, and has the traits of an drow, with enhanced senses, magic resistance, infravision, and is very stealthy as a paranoid drow, which is only enhanced by boots of silence he stole from a different wizard.
Inventory: 78 gold, as he does a lot of odd jobs, a large amount of knives (about 35) hidden all over his person, an enchanted sword, enchanted with vampirism, durability, and sharpness, thin ring mail, also enchanted, with durability and protection, leather armor under the ring mail. Boots of silence which allow him to move even more silently. Normal gloves. He also has a DRAAAAGOOONNN BAAAAAAALLLLL
Other: he actually does have a small (about 1 inch diameter) three star dragon ball on a chain, connected to the very bottom of his sword. He also is hoping to join the guild of the Soulsifters, but will join the thieves guild if the soulsifters never invite him. Doesn't like to drink, as he doesn't like having his wits dulled
Tholnelen Arathis - Meritania
Name: Tholnelen, House of Arethis
Gender: Male
Age: 55
Species: Dark Elf
Appearance: The dark elf tends to wear a traditional mourning robe, underneath tend to be the usual commoner garments made from linen, with very saturated dyes. He stands the natural height of a dark elf, he looks slightly gaunt as though he does not eat properly. This gives him a bony face structure. His dark skin seems to blend in with his attire under low light, only leaving his red eyes as being very distinctive.
Personality: Melancholic, he is also quick to being irrate. He aspires to conduct himself with a rational mind but is failing miserably. He is miserly and probably not fun being around for extended periods.
Biography: Tholnelen grew up with quite a wealthy family, for commoners. His father was a landlord and apiarist, who kept bees in a small courtyard area that he would sell wax and honey, for candles and confectionery. With this more modest lifestyle, Tholnelen had plenty of time to play with the other kids, where he met his future human wife, Matilda. She was the adoration of his affections, while they could not have children together, their relationship blossomed. Following his father's footsteps, Tholnelen became a minor landlord himself, owning some of the serf's hovels and seeing to their basic needs. He wasn't necessarily in it for their best interests, but happy serfs paid their rent.
As the years and decades flew by, Tholnelen watched as wife aged faster than he did. He knew he would outlive her by several decades, if not a century, but while they were so young, it never felt relevant. But eventually, her good life came to an end and it felt like his life ended too. He mourned her, shut himself away from the world and never left his thoughts. With the isolation, he became increasingly bitter of the happiness outside his dirty windows, he shouted at the kids to play elsewhere, but only hated himself for what he had become.
He wanted to be happy again, to be with his Matilda again, so he turned to dark magic. The magic that can get all that you want for the right price. His species has a certain affinity for it, however he lived in a family and upbringing that suppressed it. He had learnt about necromancy, and was about to start on the long journey to discover what that entailed.
In his current state he is inclined towards The Order of Lord Phesephus guild, but is probably not a paid up member yet. The guild has probably sensed his achievements so far and is being a 'hidden hand' pushing him in the right direction.
I'm also informed I have to input the word 'dragonball' in my application somewhere, so there it was.
Inventory:
Makeshift Wand (This wand is made of splinters from an old table, not particularly magical or practical)
Spell-tome: Drain Life (This low level spell can drain the life force of the target and apply it elsewhere. It's the first step on the road to necromancy)
Mourning Robes: (This outfit is sadder than it is mysterious or protective)
Pouch: (Designed for carrying small items on long walks)
Waterskin: (Just being him on his own, he doesn't need to fill a bucket from the well to last the night anymore).
Gold: 40
Town House (This piece of real estate is probably the most valuable commodity Tholnelen owns)
Other: tl;dr Novice Necromancer
Tacitus Bonosus - Scarfking
Name: Tacitus Bonosus (tas-ih-tus buh-no-sis)
Gender: Male
Age: 37
Species: Human
Appearance: Attached image. 5'7". Most people do descriptions, but i prefer pictures. They can't be misinterpreted.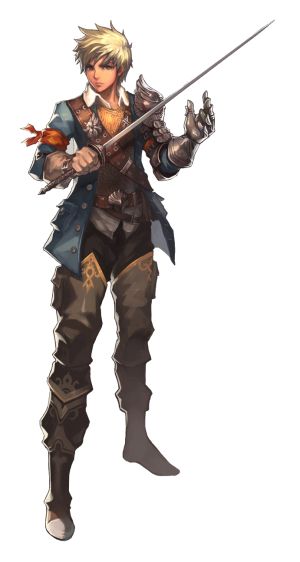 Personality:
Tacitus will insult you and call you names in a loving way. He's not the smartest person ever, but he can put 2 and 2 together. He loves to enjoy himself, especially in the company of others, even more so if he knows them well.
Biography:
Tacitus had parents who always demanded perfection. In everything he did, if he didnt excel, he was told to stop. Tacitus thought this was normal at first- if you're not very good at something, then why bother? He had found a passion for magic, but had no outstanding skill for it. He wanted to continue, but his parents refused. Then, he found his true passion- Swordsmanship. He fell in love immediately. His parents, however, weren't so impressed, even though Tacitus' father was a master swordsman. They said he didn't do so well, so they told him to quit.
That was the first time he had said no to them. Suffice it to say, they were mad. Not furious, but mad. They tried to explain that he shouldn't waste time on something he wasn't good at. Being young at the time, Tacitus could put words to his argument, so he went along and pretended to stop. But every now and then, he'd sneak off and take lessons from the Swordmaster at night, who promised to keep his secret. And though Tacitus did love his parents, he grew somewhat distant to them, and the Swordmaster basically became his god-father.
Naturally, it was only a matter of time before Tacitus' parents figured out what was going on. He was 14 at the time. They were livid, and demanded he stopped at once, simply because he wasn't perfect at it. The Swordmaster defended him, saying that Tacitus was improving and enjoying himself. They didn't listen. Tacitus' father challenged him to a duel, and gave his son one month to prepare- so that he could show Tacitus that even if you can improve, if you aren't perfect when you first start, you shouldn't bother.
During that month, Tacitus lived with the Swordmaster awkwardly, training whenever he could. After a week, he started to get cold feet. He was self-doubting, and almost backed out of the duel. His father was a swordsman, how could he hope to defeat them? The Swordmaster suggested he take up a second skill to use in addition to swordsmanship to give him an edge. It was then Tacitus returned to Magic. Though not unheard of, Swordmages were rare because they required magical knowledge and skill along with skill using a sword. Tacitus trained mostly with magic for the last three weeks he had, and then the day came.
Tacitus started the fight without magic. If he could win without it, it would be all the better. But his father was too much. His blows struck hard and fast, and Tacitus was constantly on the defense. Tacitus was forced to use Swordmagic. He surprised his father, and used that to gain the advantage. He only knew two spells for his sword- Fire and Speed. Fire set his blade ablaze, and Speed made his blade faster, but not weaker. He constantly switched between these two to keep his father on his toes. He ended up winning, but his parents were too bitter to admit defeat. They disowned Tacitus. He was heartbroken, but refused to give up Swordmagic. They left him with the Swordmaster, who he lives with to this day.
Tacitus continued to study Swordmagic, and became a teacher himself. He didn't get many interested in the magic half, believing it was too much work to be worth it, but he still trained them, always looking forward to that moment of joy when they pass the test.
Inventory:
Waterskin
Sword
Backpack:
A Tome, detailing Sword-Magic
A Dragonball (not really)
Map of the College
Enough food for one meal
Other: The bio took like an hour to write.... sorry?
Alothus Crajbor - ChrisX3
Name: Alothus Crajbor
Gender: Male
Age: 22
Species: Human
Appearance: See attachment, 5'9", gets the job done better than trying to explain. Ignore the dagger and staff, replace the outfit with some basic robes, and you're good to go.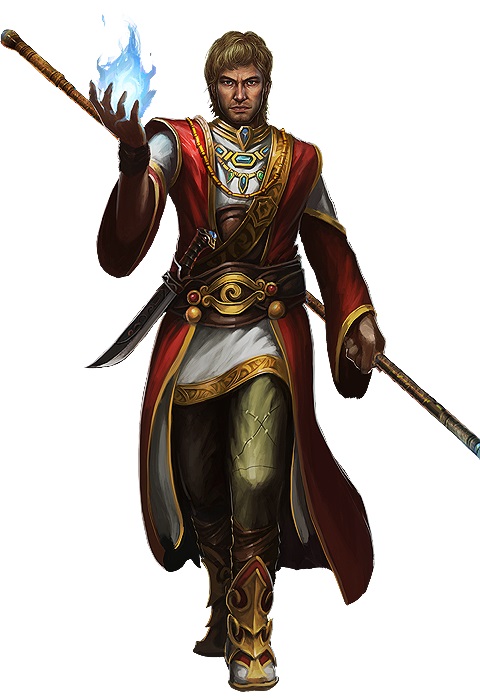 Personality: To be RPed. A gregarious and charismatic man who is usually very happy. However, when he is angry his true power is shown and he becomes a completely different person.
Biography: For the first nearly eleven years of his life, Alothus lived with his parents. His mother, a merchant, was their main source of income. His father, who taught beginner/intermediate combat magic, only trained with one student at a time and didn't ask much of them in terms of gold. It was more to keep him happy than anything. They weren't rich by any means but they got by and managed to afford some luxuries every so often. His mother died when he was almost eleven to a mysterious illness. Some insisted that it was murder, but didn't speak out about it out of fear that they'd be the next target.
His father was hit hard by her death and stopped his lessons, which forced Alothus to do something that would support both of them. He did odd jobs for people that needed them done and managed to earn enough for at least one meal a day. After three months of this his father started to teach him the ways of magic in hopes that he would be able to have a more steady income. Spending most of his time as a student, he didn't have as much time to work and some days the two simply didn't eat. Seeing their struggles, an old friend of his mother donated a significant amount of gold and they were able to eat twice a day while Alothus learned. He never got too much into combat magic and only learned the essentials, for he was much more interested in the art of manipulation. He believed that the mind was the most powerful thing and that having more control over it than most would surely give him an upper hand. His father was finally ready to give lessons again after spending so much time with his son. Spending a hefty sum of gold on a professional mage who specialized in the very same magic that Alothus wished to become an expert on. Hoping it was an investment that would pay off in the future, he moved away from his father to live with his new teacher and spend as much time possible with the sorcerer.
The type of magic that he learned was an odd combination that included things like manipulation (mostly involving the mind... things like telekinesis and telepathy) and illusion (messing with the main senses, especially when it comes to sight). After eight years of training and watching a few other students come and go, Alothus was ready to go out into the world and finally do something with his life. With the new law in place, it gave him yet another reason to join a guild. Sadly, he was somewhat weak when it came to combat, knowing very little about combat and restoration magic, and would not fare well in battle. This would make him slightly less appealing to certain guilds, but the fact that he knew the basics would allow him to build on those aspects of magic if he needed to. His hope was to act more as a support mage than anything offensive, for his skills would prove more useful for weakening his opponents and strengthening his allies than anything else. Nonetheless, he hoped to move up the ranks and maybe one day be among the elite of The College.
Inventory: Light robes, a dragonball (eh actually I'll toss that, won't be needing it), 80 gold, and a Ring of Focus that helps him remain calm in dangerous situations.
Other: Nothing for now.
Wyth'ram - Commandosaurus
Name: Wyth'ram
Gender: Male
Age: 35
Species: Lizardfolk
Appearance: The Lizardfolk are a 'vile' race, stereotyped as dumb and ferocious, even if they are no more likely to succumb to these traits than any human. The gruff and wild appearance of the Lizardfolk does not help their cause. With a green-brown coat of scales and a snout with two intolerably powerful jaws, each lined with a dentition of knife-pointed, serrated teeth. The eyes of this Wyth'ram are dull from age and boredom, but given a problem which requires his mental capacity to be exerted, his eyes will grow sharp with a fire of deadly cunning. In Lizardfolk, the head is angled at ninety degrees to the body, providing a most predatory impression. Along the neck and spine are, without shock, a length of ridges, iguana-like protrusions, which extend all the way to the tip of a Lizardfolk's articulated tail, growing smaller as the body thins into oblivion as well. In Wyth'ram, this set of sails is marked with cuts, bruises, and ill-healed splotches, all remnants of injuries sustained during common scuffles, beatings, and bar-fights. Wyth'ram was not defenceless in these fights, however; the dexterous, five-digited fists, armed with small sickle-like claws and an opposable thumb on each, were adept at dealing damage even without a weapon. If - in many cases when - his adversaries gained an advantage, either through number, through steel, through injury, or through pure skill, the long, stocky legs of the Lizardfolk prove useful to our protagonist in his efforts to escape. Lizardfolk are fast, they are deadly, and they are strong. Wyth'ram is no different in natural skill, though his attire does not suggest such proficiency and inherent grandeur. An old and ragged brown cloak, belts and straps to keep his clothing and tools in place, and a pair of sturdy sandals specially fitted to his feet fulfill the requirements set out by society for the Lizardfolk; before the college, Lizardfolk lived with very little clothing. The college has, in this way and many others, forced them to change, but not yet have Lizardfolk succumbed to the darkness of the so-called "dragonball".
Personality (As of the commencement of the roleplay. Set to change.): A dilapidated individual, Wyth'ram is a broken remnant of his former self. He is usually drunk, and as such, quick to speak, insulting those whom he feels will be mildly entertaining in a fight. Coupled with his nature as a Lizardfolk, this brashness easily convinces many a man, dwarf, elf, orc, or other beast to fight him, often in numbers far more than he can handle. Wyth'ram escapes his misery through these fights, and through the drink he consumes to fuel his will to partake in them. Wyth'ram is a miserable person, but somewhere within him is a spark. Such a spark allows him to insult his adversaries, to fight them toe-to-toe, to run from them with ease, to rob from idiot men, and to someday be a better reptilian.
Biography: Wyth'ram was born as Lizardfolk are born, but in this modern age, to be born from an egg is to be cursed from birth. Wyth'ram learned this early in his life, despite the best efforts of his parents, who sheltered him from the outside world. These parents were of a generation which hoped that by appeasing the majority, they could join it. So, these parents were kind. Juth'hawk, Wyth'ram's father, was a cobbler, though his business was economically tough, and his shops were savagely vandalized from time to time. Myrrh'm'ran, Wyth'ram's mother, trained as a mage by her grandfather, worked various small jobs for the Outlaw's Association to supplement the family income. In an ideal world, Myrrh'm'ran would have been a member of the House of Sole Wizards, but such a world this was not - at least, not for the Lizardfolk.
Within the Lizardfolk communities, there are many traditions which have been maintained throughout the hard years since the foundation of the college. These have been tough years - tough centuries, no less - since the Lizardfolk have never been numerous enough to hold great sway in the world. The racism which is harboured against them pervades all normal life; an inconceivably small few are immune to these views, and even then, these few are likely to be abnormal and eccentric in other manners. It is simply impossible to avoid adopting the racism of the masses - even some Lizardfolk have, overtime, come to see themselves as inferior, maleficent. For those who do not wish to see themselves in this manner, sticking to their own communities is usually the acceptable course of action. Within these communities, these aforementioned traditions have prospered - youth are trained in the art of war, the old gods have been worshipped, education in simple matters of the world is provided. But, this new generation, to which Wyth'ram's parents belong, has seen fit to begin doing away with the worship of the old gods. After all, is it not this worship of 'false' deities with 'barbaric' ideals which has fueled the hatred of the masses for so long? Certainly, this has been one influential reason for this disdain.
Wyth'ram, growing in these tightly-knit communities, accumulated the knowledge of his ancestors, and the skills of the swordsman, the archer - even the basics of magic from none other than his own mother. He was taught about the pantheon of the Lizardfolk, but he was never taught to believe that it existed, so he never did, and still to this day he maintains his agnosticism.
At the age of 18, with the basics of combat and wizardry beneath his new strap of belt, Wyth'ram departed from his family to join the House of Sole Wizards. "You will do what I had only wished to do," exhaled his mother, "and you will make so that all those after you may do the same." Wyth'ram shared readily in his parents' high expectations, and he had great ambitions - he imagined the various friends he might garner, the peers whom he might impress with his skills. He yearned for much more than he would receive.
Racism does not disappear. If one is skilled, one is deemed dangerous; if one is stupid, one is deemed a fool. If one is ordinary, one is deemed useless, unnecessary. Most often, one is deemed all of these things no matter one's ability. Wyth'ram did not break the mould. As his parents and he had expected, he was exceptional, well-trained, devoted to education and work, and pleasant mannered to all. His peers did not grant him such kindnesses. Hatred runs deep in the veins of humans; grudges last long in the arteries of dwarves; and arrogance is the downfall of the humblest elf. Wyth'ram saw, and he was sorrowed to see; he strove for greatness, and he was crushed, thrown back, denied, ignored. He fought, and he fought, but he did not succeed. He came to see what others saw: he could not be a success. He was a Lizardfolk - Lizardfolk did not become Wizardfolk. The powers that be would not grant Wyth'ram the honour, the recognition, the necessities of life, which he so obviously deserved. So he fell.
Down, down, down, and then he was gone. He had worked, and he had climbed, so high that when he hit rock bottom, he made a crater, and in that crater, amongst the dust, the termites, and the garbage, he wallowed. Fish swam above him. His eyes were blurred. A kick to the head. Failure. A kick to the spine. What a waste. Something slammed into his leg. You can't waste something that doesn't have a use in the first place.
For years, Wyth'ram lived on the streets. He never returned to his people, to those Lizardfolk who struggled so much. He struggled, too - he liked to think that he struggled for them, but he knew that he struggled for the pleasure of those who hit him. He stole in taverns, he drank in taverns, he fought in taverns, and then, he fought outside of taverns. Then he slept, and he dreamt. Sometimes he dreamt of success. Always, he dreamt of the failure that followed.
Inventory:
Old Cloak (Brown and dirtied, this cloak has seen and endured all that Wyth'ram has lived with for years.)
Lizardfolk Tunic (Few make such garments, but this is one of Wyth'ram's last relics from his time in the Lizardfolk communities.)
Strap Belt (A tough piece of leather, useful for securing clothes or holding Wyth'ram's few personal items.)
Pouch (Useful for carrying change or other small items. Currently, empty.)
Other: Wyth'ram shall join the Guild of True Masons, though he will have some posts to set him upon his journey first.
Jaune Nikos - ShotgunPenguin
Name: Jaune Nikos
Gender: Male
Age: 24
Species: Human
Appearance: Jaune is a man with blond hair that has two small strands sticking out from the top and blue eyes. He comes out around 5"6 and weighs around 128 pounds. He has a slim but athletic build and a few scars around his right arm. His facial hair consists of a soul patch and a small stubble along his jawline. His clothing consists of a plain tan shirt under a brown leather vest and a pair of brown cargo pants and black shoes. He also wears a red bandanna around his left arm and a brown finger less glove on his right hand. His armor consists of a metal spaulder and a leather vambrace on his right arm as well as a set of leather greaves.
Personality: Jaune is very happy and friendly person who tries to be friendly with everyone. His sense of humor mainly revolves around puns which sort of undermines his attempts at making friends. He is also very talkative when it comes to certain subjects, like animals, weapons and burgulary. Despite his profession as a self proclaimed master thief Jaune is rather neutral when it comes to his work, caring not who he steals from or who's paying him. He also deflects all attempts to pry into his past with humor as he himself is quite unsure about a good chunk of his past. Also unbeknownst to even Jaune himself is his second personality tucked away under his memories. This persona is cruel and efficient and has little regard for human life other than himself.
Biography: Jaune was born to a mother with a less than respectable profession. That's what he was told anyways since he was apparently dropped off on the steps of an orphanage when he was still a baby. It wasn't one of those good orphanages where kids were cared for, it was one where you either shut up or you get beaten. Growing up in an orphanage Jaune never really had anything to his name and for a time he was fine with that. He was 14 when he finally decided that it wasn't fine anymore. One day he was playing outside on the streets when he saw an older boy swinging around a silver chain with a gold trinket. For some reason Jaune knew that he wanted it and when the kid wasn't looking he pushed him down and ran off with the necklace. Of course others would be suspicious of how he obtained that necklace so he was forced to distract them with humor. Acting friendly and making jokes seemed to come natural to the young boy and it soon became his default personality.
However after stealing the necklace Jaune found that he quite enjoyed "redistributing" others possessions for himself. Things were simple until he attempted to steal from one of the caretakers and was caught. He was beaten so hard that he blacked out halfway through and when he woke up there was a lot of blood on the floor. Sure some of it was his but most of it came from the bloody face of the now unconscious caretaker. Fearing the repercussions of his actions Jaune fled the orphanage and lived his life as a street rat. His memory kind of blurred during this time and some nights he would wake up covered in blood next to another body.
This needed to stop, he couldn't keep living night to night wondering if he was going to wake up in a dark cell for something that he couldn't remember. Visiting a local mage he payed him with whatever gold he could get his hands on to fix him. The mage instructed Jaune to simply let him into his mind and he would do what he could. When he woke up the mage said that he was done and that Jaune would no longer have to fear this seemingly psychopathic person he was becoming.
Now with a fresh conscious Jaune returned to what he was best at, stealing and robbing people blind for years to come. Well that was until the new law came into place, so now he was probably going to have to join a guild. Oh well, at the very least there was a guild that was all about what he was good at, so that was nice.
Inventory:
- A black steel cudgel with a set of pointed metal bars right below the handle.
- A leather pouch to hold his gold (the pouch currently contains a measly 2 gold)
- A silver necklace with a gold dagger trinket
- A dragon ball that he stole from some kid with a monkey tail and a staff (Which he actually lost but he's too ashamed to admit it)
Other: He obviously intends to join the thieves guild.