thetrollking
Coal Miner
Join Date:

4/6/2012

Posts:

146

Member Details
The inhabitants of the Barbaric Archipelago always believed the Alpha's to be incredibly rare, but that isn't the case. In reality, Alpha's exist in a massive radius within the Arctic Ocean, bordering the Atlantic, and stretching far beyond the Archipelago.
You're gonna be roleplaying a Nest, showing how many dragons were recruited each post, if another Alpha attacked your base, and adding any other information. If you want to, I might allow your Nest to start during Mating Season, allowing you to start with two Alpha's. They'll leave after a while though...
Alpha Species:
Red Death:
These are the average "Queens" of a hive, the mean girl that intimidates her schoolmates into pretending to like her. Their species build their nests in volcanoes, and generally encase their bodies in the lava within their nests. Their average length is about 510 ft from head to tail, and are some of the only Alphas capable of flight. The Red Death, the second biggest species after the Bewilderbeast, is a colossal dragon; literally its entire body is a weapon itself.
The dragon primarily uses its enlarged nostrils (that slightly resemble those of the Deadly Nadders) and hearing in order to hunt down its prey. Its skull is heavily armored, enabling the titanic beast to perforate, piece, and demolish enormous rock cliffs of volcano and smaller mountains entirely. It also has a tail specifically designed to smash into objects. Not only with brutal destructive power, the queen of dragons has been shown to have an incredible speed and stamina in flight despite her tremendous size, being able to keep up with Toothless for long amounts of time. The dragon also does not have a blind spot, due to having six eyes instead of two.
The Red Death's flame jets are enormous and are powerful enough to take down an entire Viking fleet of ships in just one breath. Like other dragons however, the Red Death can't hunt efficiently if her wings are damaged and she's just as susceptible to fire on its insides.Commanding thousands of minions, the Red Death has acute intelligence and keen insight, to notice small events or intruders into the nest. The system to enslave and dominate smaller dragons in the areas at the first stages is unknown.The dragon, while in magma, seemed commanding the minions to throw and drop gathered foods into exact spot: her mouth, otherwise the foods will be cremated before passing through fangs of the queen. It is also unclear whether it has traits of Tidal Class to be able to manage respiration under thick liquids.
Bewilderbeast:
This dragon is the equivalent of a "Football Jock," being bulkier and less agile than the Red Death, and lacking the ability to fly. They generally build their own habitats, using their icy breath to make floating ice caverns or underwater caves built solely from their breath. They average a length of about 520 ft, and are the largest dragon species capable of being on land for extended periods of time.The Bewilderbeast looks like a very large, spiky dragon with two big mammoth-like tusks and huge multiple wings. Their front side of bodies are covered with bur-like spikes, and there are two lines of spikes along eyelids, giving an impression of being similar to eyebrows. 'King's frills' can be seen on the occipital region. Their size appears to be slightly larger than those of the Red Death. Protrusions from the back of their head form a frill.
Unlike the Red Deaths, the Bewilderbeasts are unable to fly as not having proper wings enough for flight, but mostly due to the colossal body sizes. This makes one of few weaknesses this species can be vulnerable. Proportions of upper and lower jaws are unlike those of usual reptiles, and having fish-like mouth with small teeth and their lips that are similar to that of mammals like humans to enable them 'blow' actions. Interestingly, no nostrils are visible on their faces. Its hard, "coral-like amphibian skin" covers the whole body and the scales provide surprisingly robust defenses to the dragon. In total, this species has many unique characteristics, making it a mammal-like dragon. Literally, it's a living glacier/snow mountain or Ice behemoth. It's many colours include ice white, muddy brown and dark purple.
Along with the ice-blast, this is probably the most unique among all behaviors demonstrated by the Bewilderbeasts, and is what made them to be kings of all dragons. It was once unclear whether this ability is a separated ability or is merely one of behaviors, but later revealed that each Bewilderbeast devotes sufficient efforts to gain trusts and respects from nest mates, and successes must be accompanied by moralities and the kings' own wills to bring happiness and fortunes to other dragons. Once controlling being actuated, all other smaller dragons in the areas are under king's command and will and seemingly unable to resist without countermeasures, save for babies who don't listen to anyone.
Doomfang:
The Doomfang is one of the massive beasts that live within the waters around the Archipelago. They generally use their sub-zero breath to make icy kingdoms on the ocean floor, full of water for their whale-like minions. They generally are roughly 600 ft long by adulthood but can grow MUCH larger, their lifespan being as long as any other underwater giant.
Their breath is a bright blue flame, temperatures even lower than the freezing waters of the Bewilderbeast. They do seem fairly susceptible to the venoms of other dragons, and if cured by a human, become their "Guardian Angel." They generally don't act much, and simply slumber within their kingdoms, being a helpful reminder of
who
keeps the kingdom in check.
Leviathorgon:
The Leviathorgon are ancient dragons from the time of the dinosaurs! They were forced into hibernation at the bottom of the sea to avoid destruction, and most are still hibernating. The few that are awake, are positive monstrosities, and tend to rule over multiple kingdoms, acting as an "Emperor." They are surprisingly feline in appearance, and are generally either a dark green, purple, navy blue, or a bright green, depending on their surroundings. They're lined with spikes, which help them swim, and are fireable. It is said they grow a centimeter every day...
They don't have a visible breath, but rather it affects the surround waters, allowing them to alter the pressure near their enemies and increase currents in a certain direction. If they ever touch the surface, they can shape the water into tendrils or large spheres that can be launched. Finally, they form their kingdoms by vaguely shaping the waters using their unique breath type. Sometimes, they even partially wrap their own bodies around the kingdom, adding to their unique appearance.
Gorgenghast:
The Gorgenghast lives in the deepest parts of the Ocean, existing in Trenches and other deep places. Their appearance is never the same, and they always have strange appearances, resembling other deep sea creatures, like Goblin Sharks, Eels, Squids, etc. The ways they form their kingdoms vary, but in general they join another underwater kingdom, to temporarily take the throne during an absence of some sort. They also have existed since the time of Dinosaurs, and as such are incredibly massive.
Seadragonus Giganticus Maximus: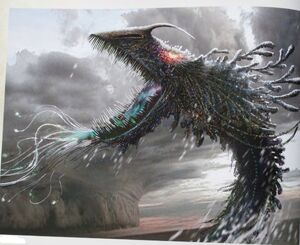 This species is rather unique, existing in multiple bloodlines. Each bloodline produced different colors, growth rates, and ages. Red, Blue, Green, And Purple. They are born incredibly small, and stay that way for about a century until they explosively expand to the size of mountains. They can live for several millennia, and at the end of their lives become small again. They are strangely affiliated to the Haddock family, and many SGM are their pets.
Rules:
-No Metagaming, Powergaming, Any of those.
-I WILL MAKE YOU EDIT YOUR POST IF YOU BREAK THE RULES!
-only a maximum of 300 dragons can be recruited per post. Small dragons are worth 1, mediums are worth 3, larges are worth 5, those over 100 ft are worth 10, over 200 ft are worth 25, and those over 300 ft, are worth 300.
-Put "Astrupp" in your Other section.
-An Alpha class dragon can only attack your kingdom once every five turns. They can either join your army or replace your Alpha, your choice.
-I've got my eye on you...
Application:

Name: of your nest, duh.
Description: what's the kingdom look like?
Alpha's Name: optional
Species: look at my hard work and GUESS.
Unique Abilities/Appearance: Like unique coloration, or a third arm. I don't know, man, figure it out.
Minions: list of dragons, can be any non-Alpha dragon from the official wiki.
Minions To Be Recruited: Which ones do you got your eye on for your next post.
Other: take a guess.

My Application:

Name: Coral Kingdom

Description: The Nest is situated in a cavern directly below deep-sea coral. The cavern vastly expands into a giant sphere full of seaweed and coral, large enough to accommodate hundreds of dragons.

Alpha's Name: Omega

Species: Leviathorgan

Unique Appearance/Abilities: Omega is an incredibly deep black, on the level of a Doomfangs coloration. His underbellies a bright Silver though, and he has a pair of nearly developed wings that might grow into use within the next few millennia.

Minions:
15 Adult Scauldrons
8 Adult Thunderdrums
2 Teenage Darkbreathers

Minions To Be Recruited:
1 Adult Darkbreather

Other: I don't have to put it, but you do.