krazaz

Tree Puncher
Join Date:

4/30/2011

Posts:

20

Minecraft:

Krazaz

Xbox:

Krazaz

Member Details
"Humans... for a long time we thought that we were not alone, that there was something greater than ourselves, we were wrong, there aren't any aliens more advanced than we are. Turns out we are the most advanced life here, but there is still life out there. Primitive worlds with primitive peoples, knowing no less than pottery. The team of biologists and sociologists have come together to make this experiment possible, and while some may protest this experiment is unethical, we chose to keep going with the project and many beneficiaries have provided us with large amounts of funding for this project. Instead of communicating with these primitive peoples and sharing our vast knowledge with them, we have instead decided to place them in a controlled environment in which they have to work together or annihilate one another to survive." -Matthew Corgan, lead director of Experiment 4X, during the experiment's press release.
Welcome to Experiment 4X, humans in the distant future believe that they are the only intelligent species in the galaxy. Where in about 30,000 planets ended up having life, and about one in 70 million had sentient life, all of which were primitive. The world chosen for the experiment was planet 4X – 78G2. The planet has an optimal atmosphere and dense forestry as well as various species of fauna, There is also a desert, and of course large bodies of saltwater with various pockets of freshwater. The planet is slightly larger than Earth and contains a similar atmosphere, with the star about the same size as Sol.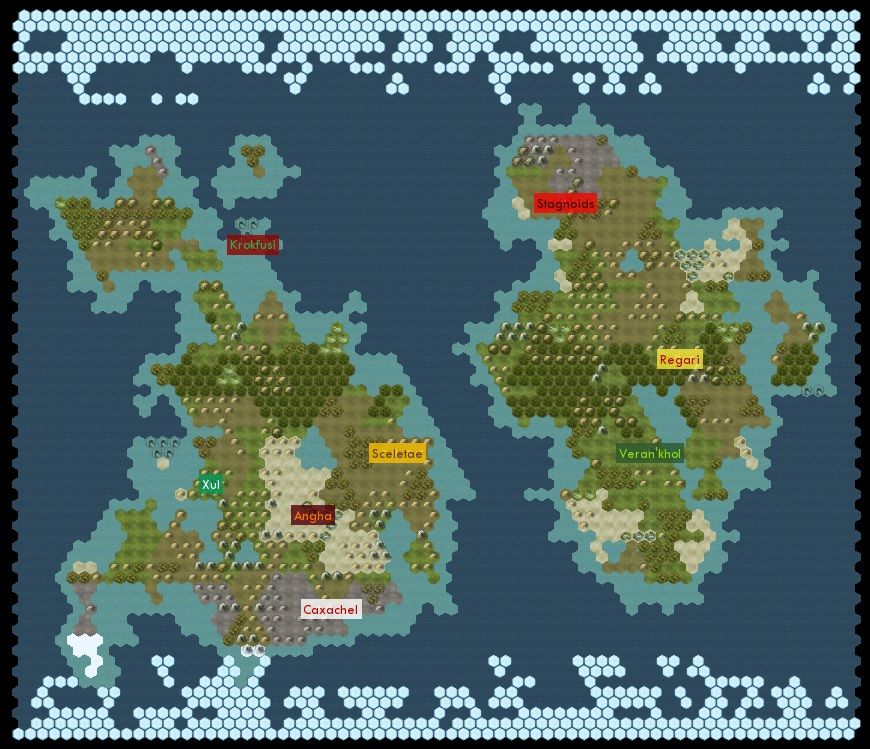 [map created in Sid Meier's Civilization V world builder]
As a player, you will design a race to be placed upon the plant will also control the actions of the said race and help them prosper into civilization. Along the way, they will find others, these other races will be the races created by other players. Ever so often the humans observing them will interfere, they may provide ideas, weaponry, so-called "magical items", and various other things.
In the game:
When in the game, you will start with a population of 10,000. From there, your race will need to accept their new surroundings and begin building a village. You will need to harvest resources first before you start building. When you are building, you may discover new things and want to learn more about them by researching them. All of these things take time to accomplish, so put the amount of turns(months) you find appropriate to do such an action. Traveling also takes a month per hex.
A post may go as follows:
Current event
:Resource collection: ?/?
Events related*:
Building construction: ?/?
Events related*:
Research: ?/?
Research notes:
*not required

If you can't think of anything to fit the current events, tell a story about a villager, this is after all, a roleplay.If you find a race to communicate with, the two players are not affected by the post rule. The post rule, however, you cannot make progress if you are making communication posts. To add extra cultural value you can use acronym BBCode to show your language, and translate what you mean. For example: Vilo pelm oot pokwet Note the dotted line underneath the text and hover over it with your cursor (does not work on mobile)
Rules
-standard rules apply
-no Mary Sue races
-no "perfect" races
-no outrageous tech growth
-only two research topics at a time
-one must wait two posts before posting again
Application
Race Name:
Biology: (describe external and internal biology; appearance)
Physiology: (describe natural functions of your race, I.e. Swimming, leaping, flying, running, endurance, or strength)
Psychology: (describe overall racial impulses, I.e. Cold and unfeeling, emotional and expressive, or ruthless and bloodthirsty)
Ecology: (describe the ideal or initial ecosystem of your species; place on map)
Other: (any information that doesn't fit into the above categories, or simple suggestions)
Arguments happen, they just do, you can't stop it, no matter how much power you have, even if it takes years to settle, when it does, everyone is stronger for it. Rivalries can be made into friendships if you let them.
Some ideas are meant to be made into reality, but most need to be burned at the stake.
Hating the things you love