Moocman
Lapis Lazuli Collector
Join Date:

1/6/2010

Posts:

1,181

Member Details
Now people. Fishing through my magazine collection I came across a Macworld magazine 2 years old. Flicking through I found an article titled "Return of the Clones!: You can run OSX on an Intel PC. But should you?" Now I would like you to read this. You may not have the time now, but be sure to come back. Simply press Control + D. We all get bored sometimes, and you'll have something to do.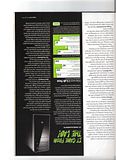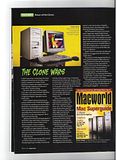 As a Mac and PC owner there is something that sort of annoys me. It seems that MOST Mac users are up themselves on how "ergonomically beautiful it is" or how "Its so shiny I can see my ugly reflection in it" or "Its so smooth baby vomit would slide right off it" Must all computers be fashion statements? I am happy when I computer does what it needs to do. Its like buying a expensive car and not driving it. I simply do not get it. And this is the thing in this magazine. He waffles on about how easy and simple the inner workings of a Mac Pro are. Quote: "Both machines let you mount internal drives in slide-in bays; but on the Mac Pro, the drive and bay slide right into the SATA connector. On the Frankenmac, I have to dig into a bundle of cables and fish out a SATA connector and then thread it down to the drive bay. And the Mac Pro provides eight RAM slots on two easy to use slide out cards, while the Frankenmac has four slots located on a hard to reach portion of the motherboard." There is one thing the writer of this fails to see. Can you make a Mac? No. If you attempt to change the motherboard, move all the custom **** out of the way, install a new one, and boot up your Mac, OSX then tells you to **** of cause you screwed up its "perfect" hardware. And then "beautiful" design of the insides of a Mac? Compare the prices - Franenmac = $981.41 - Mac Pro = 3,599.00 (CHEAPEST MODEL) So your saying the extra, hmm $2,500ish is worth the hassle of having to "fish out a cable" And the thing that gets is how he complains about "installing stuff" and how "I had to build the computer" NO ****! You didn't buy it from a shop dumbass. And the thing that annoys me most - Quote: "If I've learned anything from my journey with the Frankenmac, it's that Apple is much better at building Macs than I am" Lets add some stuff.Much better at RIPPING US OFF. I thought magazine writers were supposed to tell both sides of the story - this is simply not the case.
That felt good.
Please express your opinions. Frankly I don't mind if you don't like what I said, be sure to tell me why.