gamesbxdaily
Out of the Water
Join Date:

9/13/2019

Posts:

3

Member Details
Minecraft is an attractive survival game with 8k graphics. Despite the poor graphics, Minecraft is not lagging behind other games, but its scrolling force is also very impressive. Players will be able to enter a vast world, where they will have to do everything they can to survive from building houses, making weapons or making medicine, to be able to recruit mods and build get more modern constructions. There will be a lot of things newcomers need to learn, so I write this article, hoping to contribute a bit of information for you.
First after the installation is complete, you start the game and choose the game mode: Single to play single and multi to play with friends. Then, select Create New World or select the previously created world, then select Play Selected World. Next, enter the world name you want and this will be used to save your game. Then, choose the category you will play in the Game Mode section as:

- Survival: You can search for resources, craft a level, find food to survive.
- Hardcore (Very difficult): Same as Survival mode but you only have 1 life.
- Creative (Creative: You have everything in hand, can fly freely.



New players should choose Survival mode. You can also customize the parameters of terrain, resources depending on your preferences, how to play Minecraft. Then choose Create New World to start playing Minecraft games.
Guide to play Minecraft in survival mode
The first task you need to do when the game starts is to collect logs to make other tools. Get close to the tree pointing to the tree trunk holding the left mouse button to break one block at a time, after breaking down will drop a small block, then pick up, and so on until you have about 10 blocks.
Next press the E key to open your inventory:
- 4 vertical boxes next to the character are used to help increase armor: Hat, shirt, pants, shoes.
- 4 cells [2x2] are manufacturing areas, only a few normal items can be made, 1 adjacent box is the finished product.
- The last 9 horizontal rows are the places for items to be used.
Place the blocks you collect in the crafting area, each block will receive 4 wooden planks, dragging them into the inventory.
- Put 2 wooden planks to create sticks.
- Put 4 wooden planks to create manufacturing tables.
Drag to the toolbar and right-click to place the manufacturing table on the ground, then right click on it. You should see a 3x3 fabrication board. Now create the tools according to the formula as shown in the image below:
- Wooden cup: Used to dig stone, gravel and coal.
-Wooden ax: Use to chop wood faster.
- Wooden shovel: Use to dig soil faster.
-Woods: Used to kill monsters.

Next you need to proceed with mining, collecting some other items such as pebbles, wood or soil to build temporary shelter when night falls, because when night falls the monsters will appear and attack. attack you. Take care not to die, if you die you will lose experience and items in it!
Now try to find a way to ignite, because that's what keeps the monsters away from you and enlightens you in the dark. There are many ways to create fire, you can break and collect rocks from the cliff, craft into a furnace (Furnace), use it to burn raw logs into charcoal, then combine charcoal with sticks. torches. You can also use the terrain blocks collected to create doors to block the entrance gate, blocking monsters.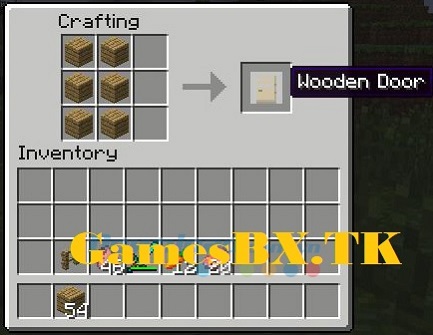 You can search around the house to see if there are sheep, use the sword to kill 3 wool fibers to make a bed, then put in the house. When the darkness is covering you just right-click on the bed and wait for a while to get bright.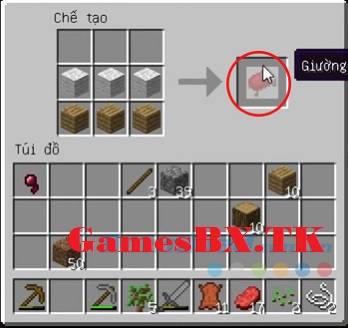 When there are too many things in your body, make a chest to store things to stay indoors, when placing 2 chests at the edge of the fast will become a large chest for you to comfortably put things into it. Right click on it and the chest will open immediately.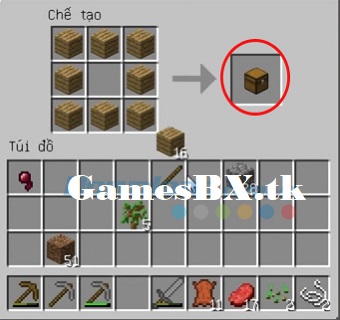 The types of resources and minerals in the game are diverse, they are not only used to create items but also to build buildings. Depending on the type of mineral, you can create items of different quality, but they will spoil over time. Using the same stone breaker recipe, you can replace wood with iron or diamond to increase the tool's durability.
The more you play later, the more materials you need to create special buildings, some rare materials that take a long time to find and collect, such as gold ore deep underground.
It's great, isn't it, the more you play, the more you are fascinated and will feel extremely excited when creating your own fully-furnished buildings in your own style.
If you have any questions, please contact me. Thanks for reading, I hope you enjoy the game!
Source by GamesBX. tk