ironhead65
Zombie Killer
Join Date:

4/27/2015

Posts:

201

Member Details
Hi all!
This is an update to UltraPeach's Mob Capsule. I updated it for 0.14 and added craftable/droppable spawner cages!
I've tested this on Version 0.11-0.14 and my updates seem to work just fine (original mod was for 0.10.5).
Original Mod Page and Permission:
First, thanks to UltraPeach for the original mod and idea!
Second, what does this do?
----------------------
To quote UltraPeach (from his original thread, linked above in the spoiler):
Have you ever had trouble getting animals into an animal farm ?
Have you ever had trouble with sneaky creepers, zombies, skeles lurking in your house?
Well the Mob Capsules mod is your one, and only solution that you will need.
This mod allows you to craft a Mob Capsule, with which you can capture any type of Vanilla Minecraft mobs and respawn in at your will or even store them in a chest!
The Mob Capsules are reusable once you craft them and they will last 4 ever, unless you get sneaked up on... By a CREEPER ! (Any ways you will lose it if you die)
Youtube video for crafting recipe and further explaination.
YouTube Video (must watch): http://bit.ly/19kf8kb
----------------------
Third, what did I do?
I updated the texture pack to use the Block Launcher "universal" format.
I had updated the mob list to account for all new mobs up to 0.13, then last night I finally got off my butt and added in witches, so we should be good on 0.14.
I also added craftable spawner cages. They are a bit expensive, but considering what they will do, I thought it fair to be expensive. I also added in the ability to get a spawner cage as a drop when broken. Lastly, I added in the ability to SEED a spawner cage with your capsule. UltraPeach's original design allowed you to continue re-using the capsule as many times as you want. I kept this when using the capsule to move a mob around. I then made it so when you seed the spawner the capsule will be consumed. Again, considering the power this gives you, I thought it fair.
To craft use this:
(thanks to MCPEDL for the image!)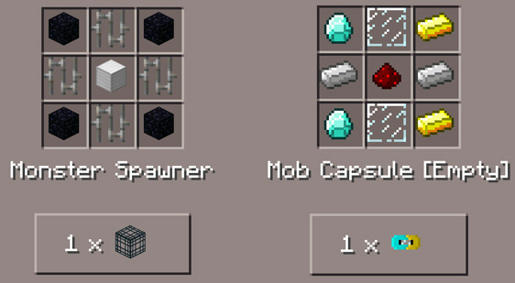 Download Link: