ironhead65
Zombie Killer
Join Date:

4/27/2015

Posts:

201

Member Details
Hello all,
One of the neat things that I do not see myself using often is the ability to SIT in Minecraft PE. I admit though, it is a pretty cool idea!
Looking around at the various example code that is listed in the Blocklauncher repository (https://github.com/zhuowei/ModPEScripts) is one called 500ise_sit.js
I mostly fixed this up because I was curious how it was done and wanted to see if the code could be updated for 0.12. I've tested it on 0.11 and 0.12.3 so far. I actually hope that someone that makes furniture mods will incorporate this into their MOD. That is the ONE common thing I see in just about EVERY furniture mod, TODO: sitting.
Original and still pertinent warning, however I added a function that can be called to use this feature without mixing your code with the CC3.0 license.
AN FYI, license wise, this originated as CC3.0, so that means your mod will probably need to become CC3.0. Worst case, you can incorporate the IDEA of what this does, as I describe it below. That is, DO NOT LOOK AT THE CODE BEFORE YOU WRITE YOUR CODE!
In order to help others facilitate the use of this feature, I added a new call to the mod. This means you can use this by just adding 1 line to your code. If the user taps your chair/etc. you can calculate the yaw, then call this (after the Super Chair Sitter 2000 has been installed and activated).
// calculate the yaw
// determine the location that you want the user to be able to sit
//call the below line
net.zhuoweizhang.mcpelauncher.ScriptManager.callScriptMethod("sitDown",x,y,z,yaw);
Anyway, the idea is to populate an invisible Minecart, sit in that. Then, once you are done - you walk away from the "chair" and thus BL removes that item.
Here is an update I did to that code (it was released under CC3.0 http://creativecommons.org/licenses/by-sa/3.0/)
As such here is my list of modifications:
Updated for new blocks that were introduced since this was originated
Added a list of various render types - mostly documentation
Updated the call for "invisible" as the original value was crashing BL
Added a YAW calculator (which I find a lot of people have issues with) - since this is released as CC3.0 you are free to use that code, although if you use it from THIS MOD, I think your MOD also becomes CC3.0. I'm not a lawyer, link to the CC3.0 is above
Using the YAW calculator, I was able to always FORCE the player to face the correct direction when sitting down.
Added detection for stairs being flipped upside-down (can't sit on that!)
Added better detection that a used is NOT sitting any longer. Helps edge cases when the invisible minecart does not get removed, when you re-enter the level you see minecarts left over!
Do need to add something in newLevel() to maybe remove a minecart from a player - if that block also contains a stair block

for now, just don't leave the board and re-enter without getting OUT of the chair first!

Added a function to be used by other mods to give this feature WITHOUT "catching" the CC3.0 virus license
Updated logic to be able to detect quite a few chair styles in Minecraft
Awesome Screenshot by mcpedl.com: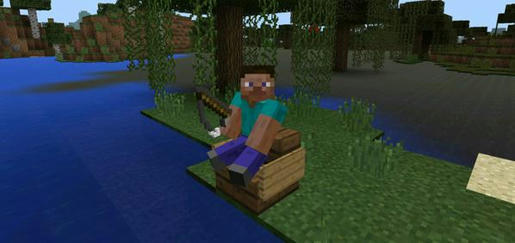 FuzionDroid enjoying some fishing: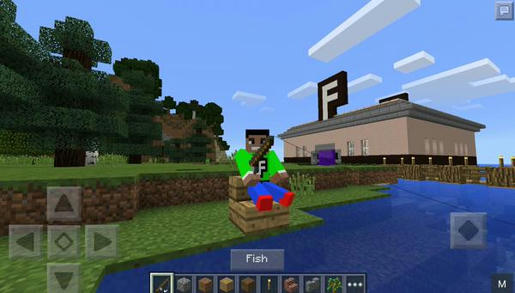 Permission:
Not sure if I will get to the below ideas, but in the mean time, as stated above, I added a new function that allows you to use this in your mod, WITHOUT the need to opensource your mod (per CC3.0)
If someone wants to add in the other types of chairs, or if there is a MOD author that thinks this would be a cool add on for their furniture, let me know how to tell your chair is there...and we can add it into the detection scheme!
For now here are the types that were added:
Download: