Nick_Miao
Carpenter
Location:

Tuen Mun

Join Date:

11/23/2012

Posts:

40

Location:

Hong Kong & United Kingdom

Minecraft:

NickMiao0928

Xbox:

NickMiao0928

Member Details
Happy Birthday to Peaceland!
4 years ago today (November 8th 2012), the Republic of Peaceland was founded in the State of Pacem, New Liberty City
Celebrating the National day at Kingston Pagoda, Hollywoodenplank
==========DOWNLOAD LINKS==========


State of Democratia (v4.0):
Click here to download (.MCWORLD format: only works on MC:PE Windows 10 as tested)
Alternative download here (.zip format: Works on all Android devices, unzip to games/com.mojang/minecraftworlds folder. If device does not support zip formats, please use RAR by WinZip or other 3rd party unzipper)
.MCWORLD file: to install, simply click on the file downloaded and it would be automatically imported!
==========TRAILER==========
==========MORE ABOUT US===========

Website:
http://peacelandgov.weebly.com

Twitter:
@PeacelandGov

==========MAP DESCRIPTION==========
"The City of Democratia is among the top of the most detailed and largest cities so far created for Minecraft PE."
–Editor of MCPE DL
The State of Democratia was formed on March 28th, 2015. It is formed by the City of Democratia and the City of Hollywoodenplank. Up till today, Democratia has been downloaded by over 10,000 users worldwide.
"This is just simply the most amazing map I have ever downloaded."
–LuciaCastell on MCPE Universe Disqus
The State of Democratia consists of three cities:

1. The City of Democratia, est. since January 14th 2014, is the most urbanized city within the state. It has almost everything that exist in real life: from hospitals to schools, universities, government offices, airports, TV Broadcast, stock exchange and many more. In this update, Murray Island was made the capital district of the Republic, and is now officially known as Democratia, District of Murray.





Democracy Harbor, City of Democratia
2. The City of Hollywoodenplank, est. since November 5th, 2014, is a located in a mesa biome on an island several hundred meters away from Democratia. Hollywoodenplank consists of an industrial area that exports cactus, crops, and tools, a Suburban area that consists of lots of little houses, and an Uptown area, with lots and lots of residential buildings.
"Loving your city, so minecrafty and lovable!"
–Editor of MCPE DL
Uptown, Hollywoodenplank
3. The City of Queensland, est. since June 19th 2015, when Oasis Bridge has been established in update v3.6. The City of Queensland was formerly known as Oasis, and was founded mainly due to the discovery of Queensland Village, formerly Oasis Town, a naturally generated double-village. In this update, urbanization in Downtown Queensland allowed the creation of realistic elements of an actual city, for instance, hospitals, railway stations, a Federal Building, an embassy and more to come.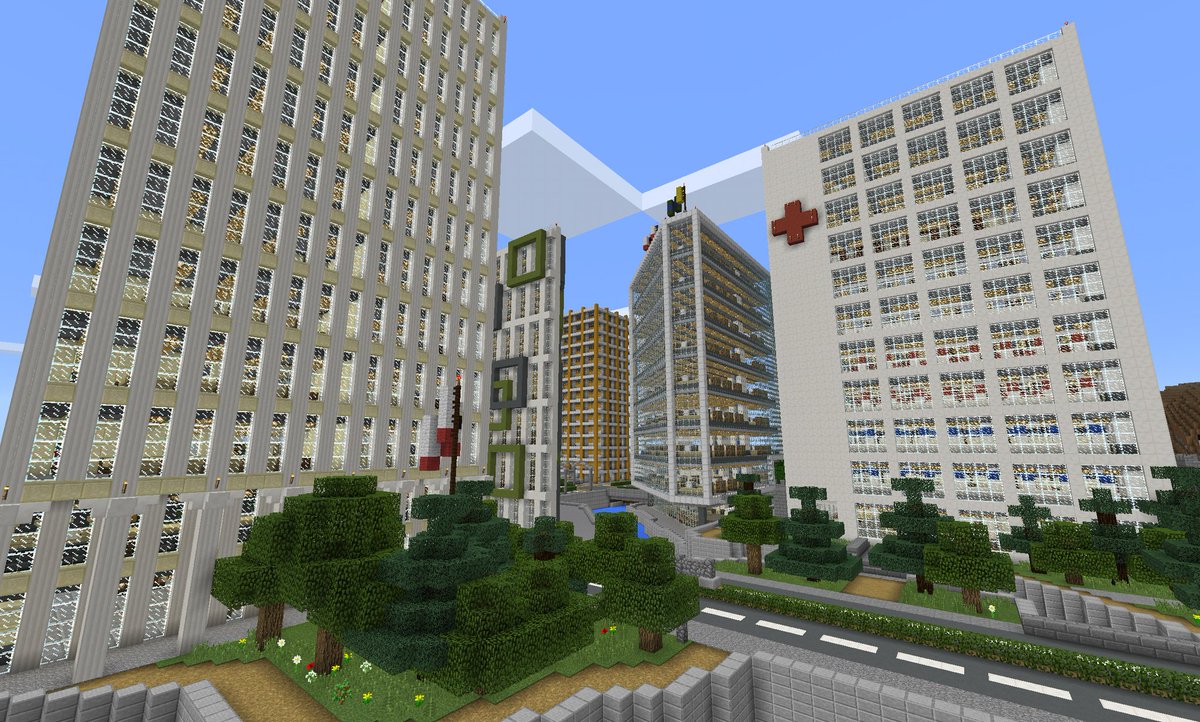 Downtown, Queensland
"Very functional city. With modern and minecraft feel. Peaceland (State of Democratia) is definitely one of the best cities of MCPE"
–JohnForEveryone on John's Top 10 Best Cities of MCPE (Mid 2016) commenting on Democratia v3.6
=========CHANGELOG==========

☆ Urbanization of Queensland
◦ Downtown Queensland

☆ Errorland Resort
◦ A theme park surrounded by error chunks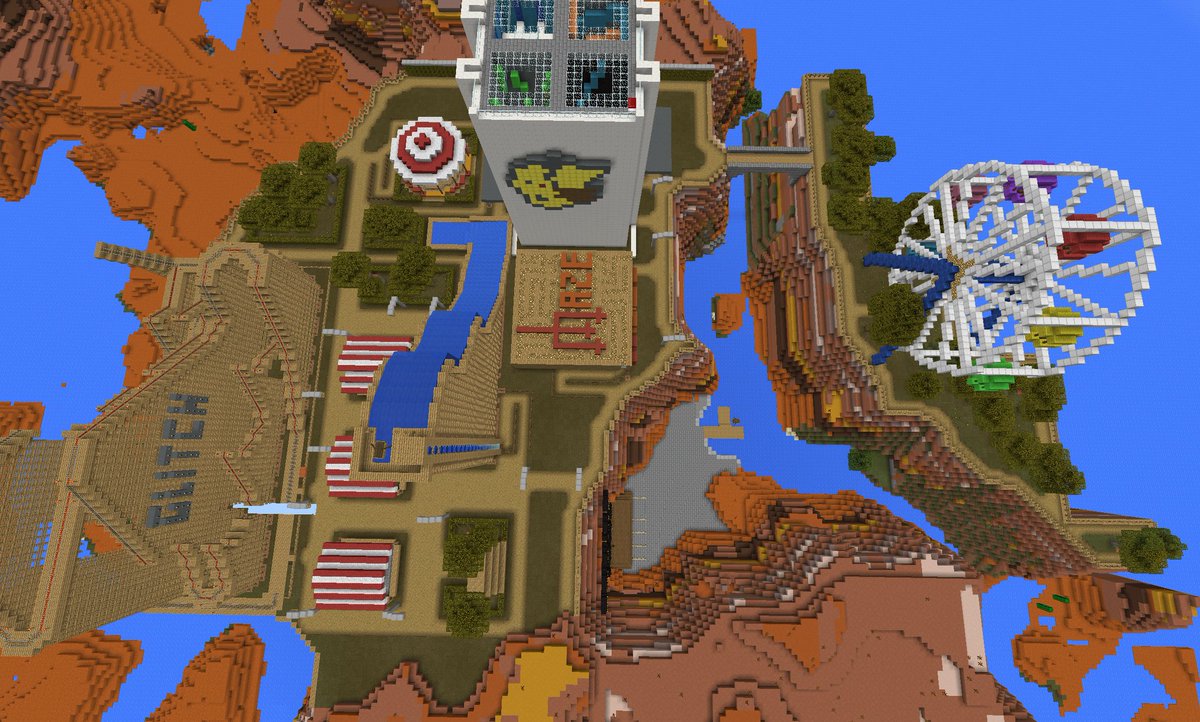 Errorland Resort
☆ Mall 404
◦ A 3-storey shopping mall underneath Errorland Resort
◦ Connected to the Quadropper in Errorland and CTR Errorland Station

☆ Expansion of the CTR subway network
◦ Uptown station, Queensland station and Errorland station


Platforms of Uptown Station
☆ Renovation of the CTR network
◦ Expanding platforms of Murray, Hollywoodenplank station
◦ Abolishment of the old, unrealistic Democratia CTR network
◦ Establishment the Democratia Station


CTR System Map
☆ Expansion of Murray Island
◦ Establishment of the Capital Park
◦ Changing Murray's political status to a capital/federal district
◦ Turning Murray Building into the Presidential Office Building
Murray Island
☆ Democratia City Hall
◦ Democratia State government
◦ Demolition of the QuartzHouse

☆ Bugs squashed

===========NOTE=============

Please help spread the word about our map! Also, please make a map review on it if you're a YouTuber, but please don't claim it as your own. Feel free to ask us anything through our website or Twitter account.

=======COPYRIGHT ISSUES=========

Please do not plagiarize the map or claim this map as your own creation. I (NickMiao0928) have spent nearly 3 years on this city and I do not want it to be stolen. Please respect the hard work.

Copyright © 2014-2016 Republic of Peaceland. All rights reserved.

==========下載鏈結==========

民主州 v4.0:
按此下載(.MCWORLD 檔案)
按此下載 (.zip 檔案)
.MCWORLD 檔案,不需任何人手安裝,只需按下檔案便會自動安裝

==========關於我們===========

網頁:
http://peacelandgov-zh.weebly.com

Twitter:
@PeacelandGov

===========簡介==============
「MCPE現有最仔細的城市」
– MCPE DL 總編
民主洲成立於公元二零一五年三月廿七日,由民主城及荷里木板組成,至今已逾萬人下載。
「這(民主洲)簡直是我下載過最出色的城市」
– LuciaCastell 於 MCPE Universe Disqus
成立於公元二零一四年一月十四日,民主城猶如現實的城市一般,擁有鐵路系統,醫院,政府總部,警署,消防,教堂,電視廣播公司,辦公大樓,銀行,立法機關,機場等等。在這更新中,美利島成為了平國的聯邦首都區,而美利大廈則成為了總統府。

荷里木板成立於公元二零一四年十一月五日,位於距離民主城過百米的紅沙漠。與民主城一樣,也是非常仔細,它擁有一個繁盛的工業區:基士頓工業邨,主要出口仙人掌,農物,以及工具。一個非常多人居住的基士頓上城區,還有個山上的市郊區。

昆士蘭城位於荷里木板上城以南的平原。成立於公元二零一五年七月十九日,昆士蘭是個新興及首次發佈的城市,為民主洲增添了些現實因素,例如醫院,聯邦大樓,雙線行車道路,領事館等等。
「非常實用的城市,具有現代化及我的世界的感覺。平國(民主州)必定是MCPE其中一個最出色的城市。」
–JohnForEveryone 於 John's Top 10 Best Cities of MCPE (Mid 2016)
===========更新==============

☆ 昆士蘭城市化

☆ 荷里活木板上城南部

☆ 錯誤樂園渡假村

☆ 404 商場
◦ 位於錯誤樂園地底,連接地鐵站以及 Quadropper

☆ 擴展地鐵網絡
◦ 興建上城站,昆士蘭站以及錯誤樂園站

☆ 重建地鐵網絡
◦ 重建美利站,荷里木板站
◦ 廢除舊民主城地鐵網絡
◦ 興建民主城站

☆ 擴展美利島
◦ 興建收到公園
◦ 擴闊美利道
◦ 將美利大廈轉成總統府
◦ 成立美利特區

☆ 民主城城市大會堂
◦ 民主州州府

☆ 消滅了些 bugs
「真愛你的城市,充滿我的世界的感覺,令人喜愛!」
– MCPE DL 總編
===========須知==============

如果閣下認為此城建得十分不錯,請跟身邊的MC:PE玩家宣傳一下。而若果閣下是位YouTube影片製作人,可隨便為此城製造一個後感片,不過請勿抄襲。如有疑問,可在我的網站/Twitter查詢。

=========版權問題============

請勿抄襲,或將此城據為己有。我 (NickMiao0928) 用了接近兩年時間來興建此城,而我絕不希望見到我的傑作被偷盜。請尊重我的努力。

版權所有 © 2014-2016 和平共和國

===========================