Princess_Garnet
Newly Spawned
Join Date:

8/3/2012

Posts:

1,841

Minecraft:

Princess_Garnet

Member Details
This is where I will show my two Minecraft worlds from the perspective of a new character I have created.

I'll skip the lengthy backstory, but a summary of what might be important to know is...


I started playing in 2012 with version 1.2.5, and I have largely stuck to the original world I created. That world is named Crafterra.
I mostly play to build up a world; to build villages and locations, and I have enjoyed networking them together. I have loosely created lore for that world, to give it purpose.
The world updated to 1.10 at the latest, with 1.12 seeming like it might be the latest I'd ever update that world to. Minecraft was up to version 1.16 at the time, and I wanted to play with new features, so I started a new world. That world is named Terra.
I wanted to feel connected to the new world, so I linked them in lore. The name is also something I played on. Specifically, it's a prequel world of sorts, and a "time event" was involved. So, yes, expect paradoxes and perhaps messy writing as time is involved.
Both versions are now updated to 1.19 and I play them interchangeably, but tend to focus on one at a time (currently, it is the older one, and it will probably predominantly be the one of the two worlds that this thread focuses on).
Each world has different texture packs (the older one uses a modified John Smith Legacy, and the newer one uses Depixel, a higher definition vanilla), so they will be a bit distinct when it comes to any pictures, but I will try and headline each entry with what world I am in.
Above all else, I am no writer, so I apologize for poor writing. It's part of why I never did anything like this before now. Please give feedback or suggestions, if you have any. Updates may also be inconsistent or slow, and I apologize, but I felt some attempt was better than none.
For formatting, I will show some pictures at times, and give the story occurring. Anything italicized with quotes is verbally spoken. Anything italicized without quotes is thoughts.

With that being said, I introduce the world of Crafterra (and eventually, Terra)...

==================================================
Chapter 1: Arrival
==================================================

What... is this place?

As I overlooked my surroundings, a world unlike one I had ever seen stared back at me. Things stretched on towards the horizon, maybe forever. This landscape was foreign to me. It was so vast, and unlike the islands of land decorating an eternal void that I was accustomed to. I thought maybe water seemed to merely be in place of the sky here. It was, after all, strange to be on this ship in such a large amount of water coming here to begin with. The sky was only above. But, no, the water had a solid foundation of land beneath it too. It's like this was some massive island itself, too large to comprehend.

As I prepared to leave the ship and take my first steps into the new land, a settlement stood before me.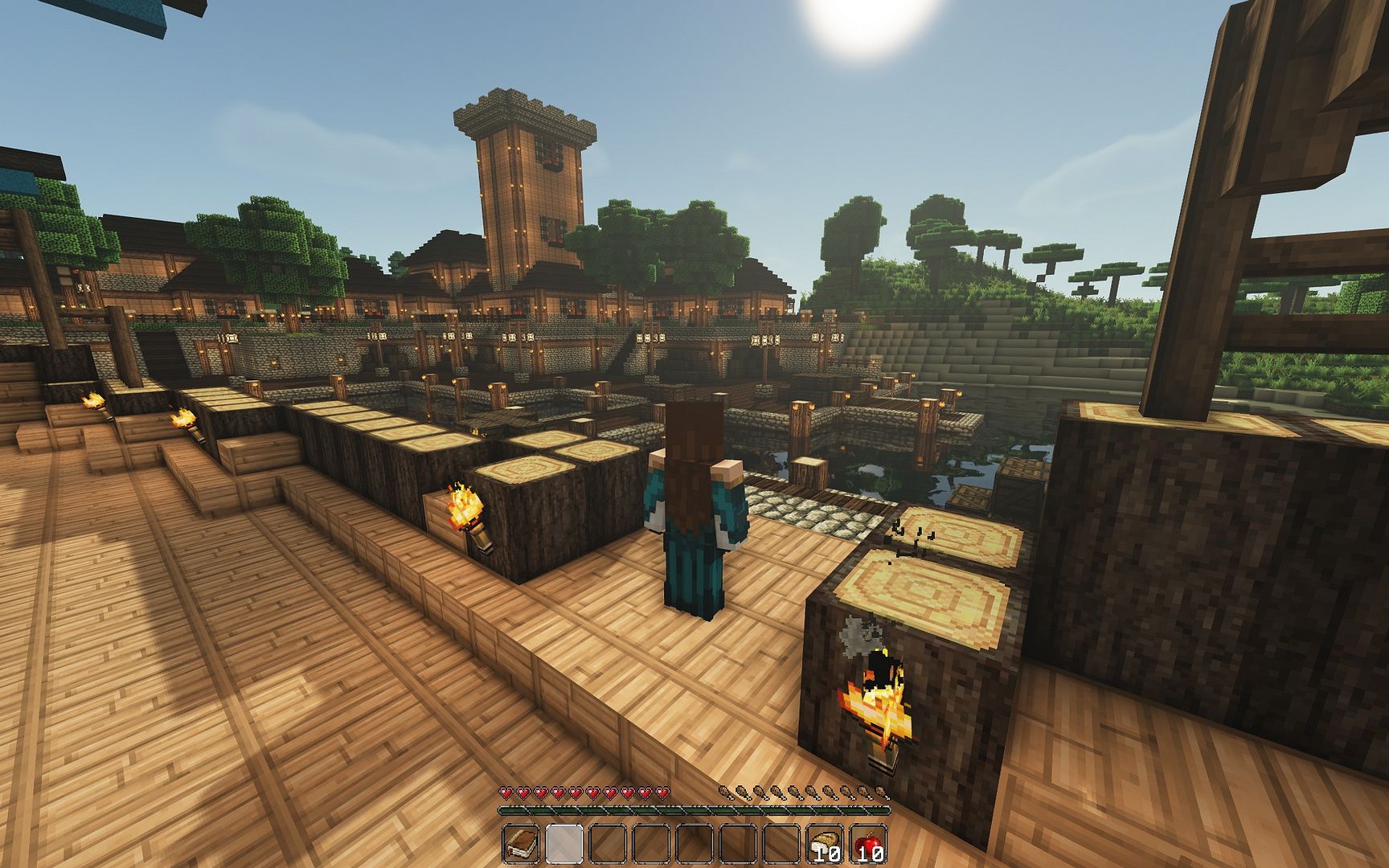 I was overwhelmed by the vast landscape that just stretched on. The foliage was also distinct to what I had known. It was so Green, and I could see a variety of tree types just in the local vicinity.
I hesitantly took my first steps off the ship, as though I were leaving security and safety behind. I had nothing... nothing but my book.
I stared into the water, in awe of not only the large amount of it, but by how the land extended below it. This truly was a landmass of unimaginable size to me.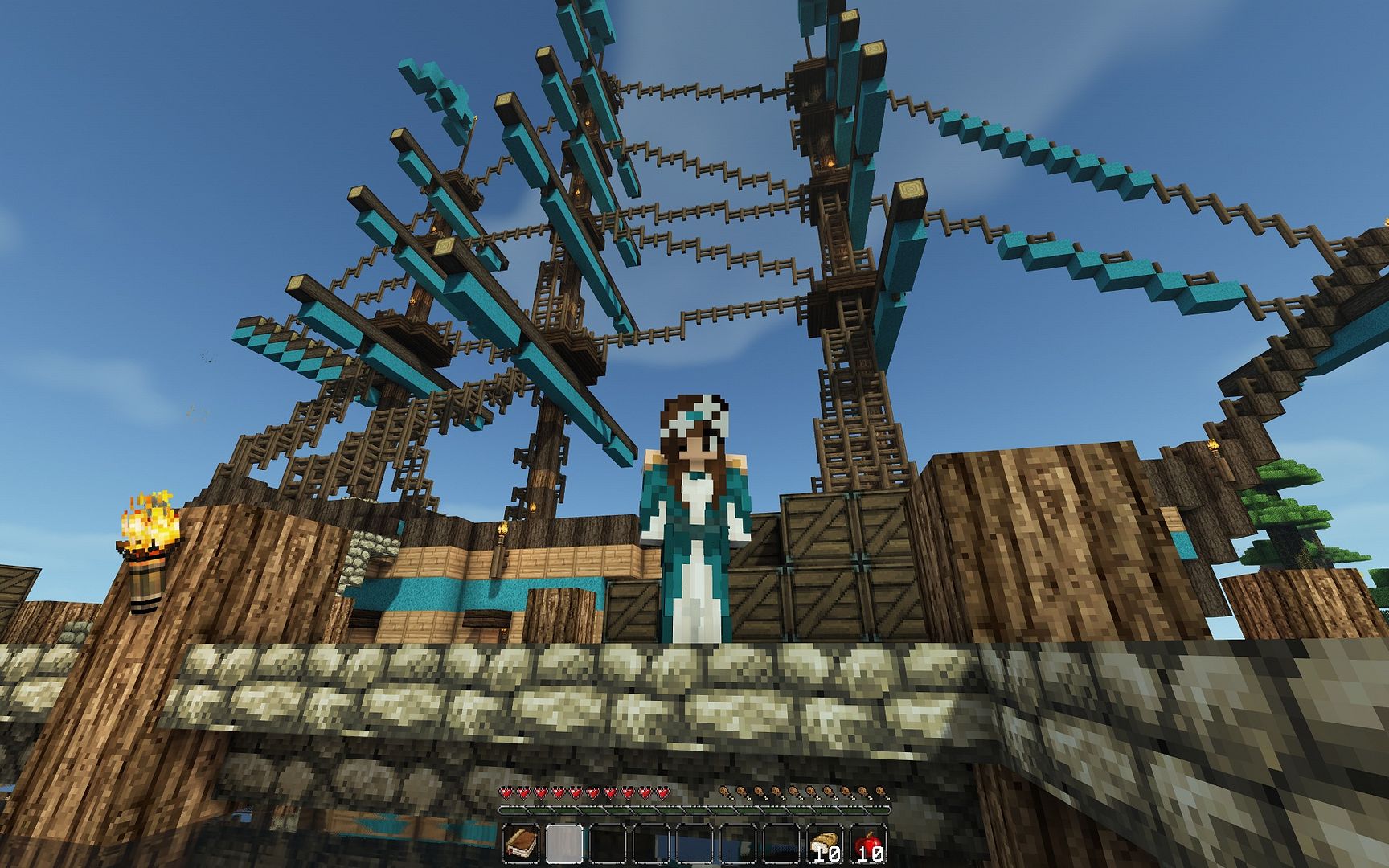 There's no going back now. I have to find out more about her.
There appeared to be two entry ways beyond the boardwalk, so I took the closest one. Fishers and workers went about their business. Everything appeared to be happening at a rather brisk pace, and it was making things more overwhelming.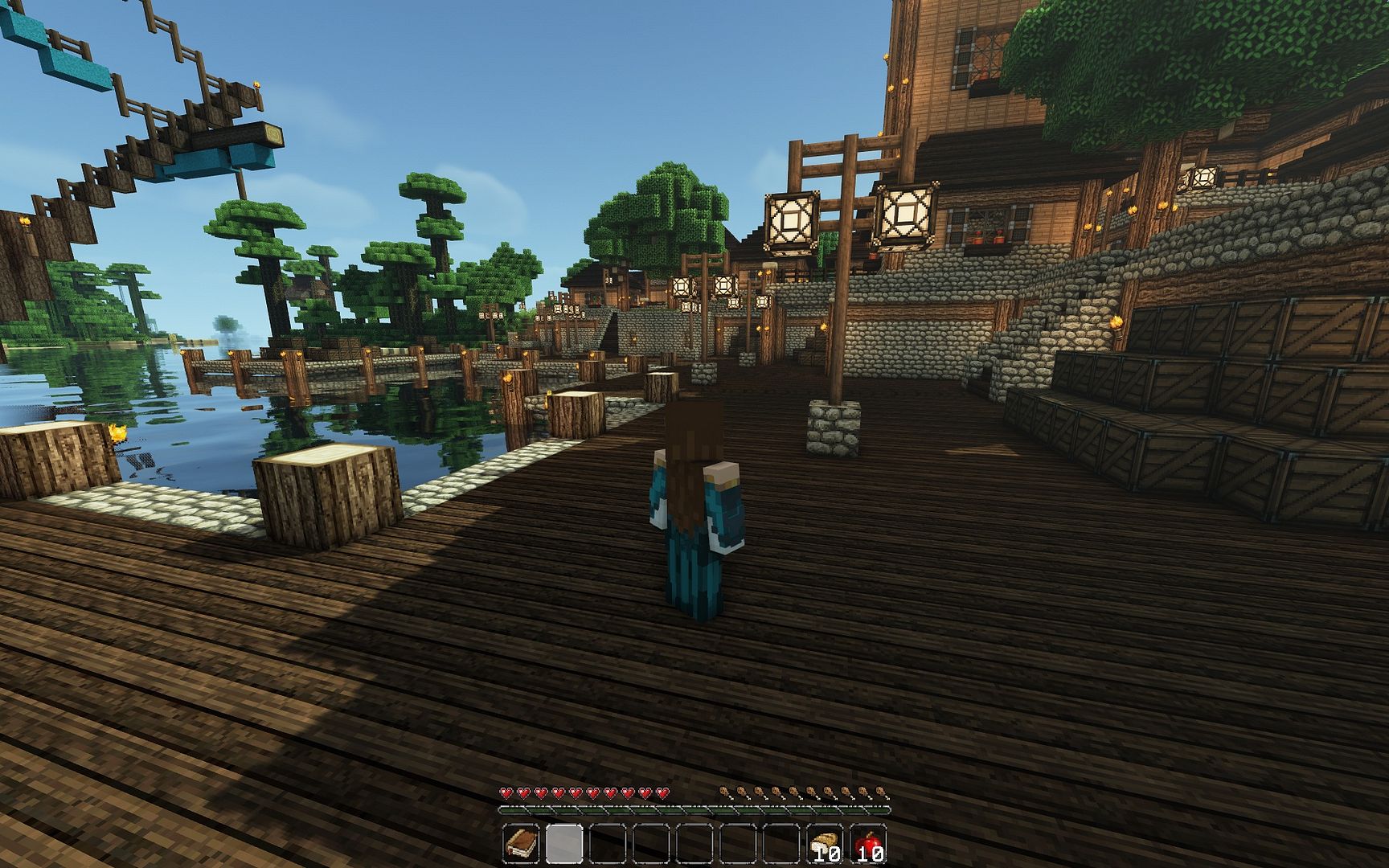 I stared down what seemed to be a central path, and decided to explore around.
Looking down the first path to the side, there appeared an opening into the great expanse beyond. There were also crops, and farmers tending to them.
I decided it was best to stick to the area for now instead of wandering out. I didn't know what lay beyond.
Perhaps someone here can help direct me to what I am seeking.
As I headed back to the main path, a tower overshadowed everything else in the village.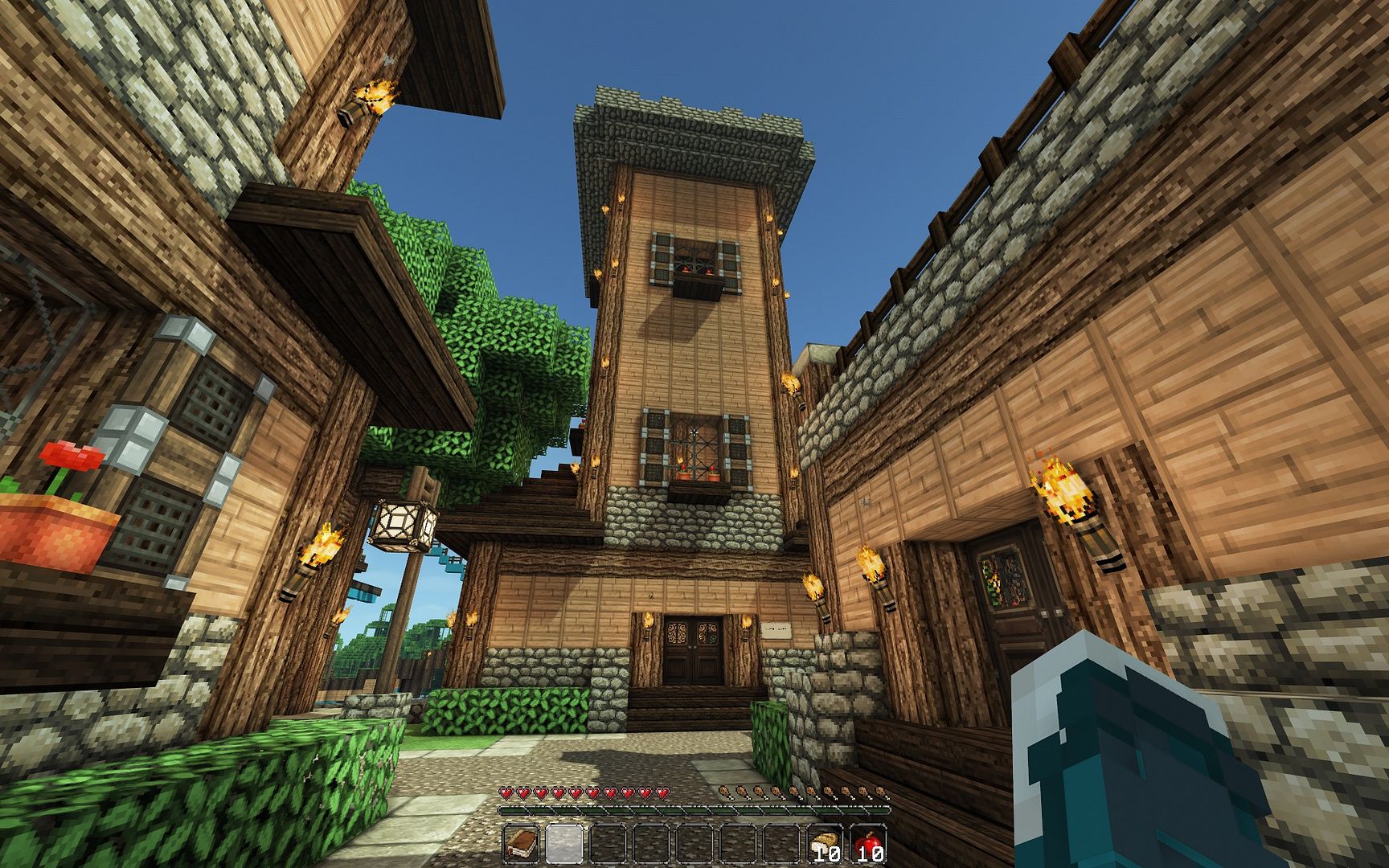 I headed down the main path and came across an opening at the center, with a small park in the middle that was overlooked by many buildings.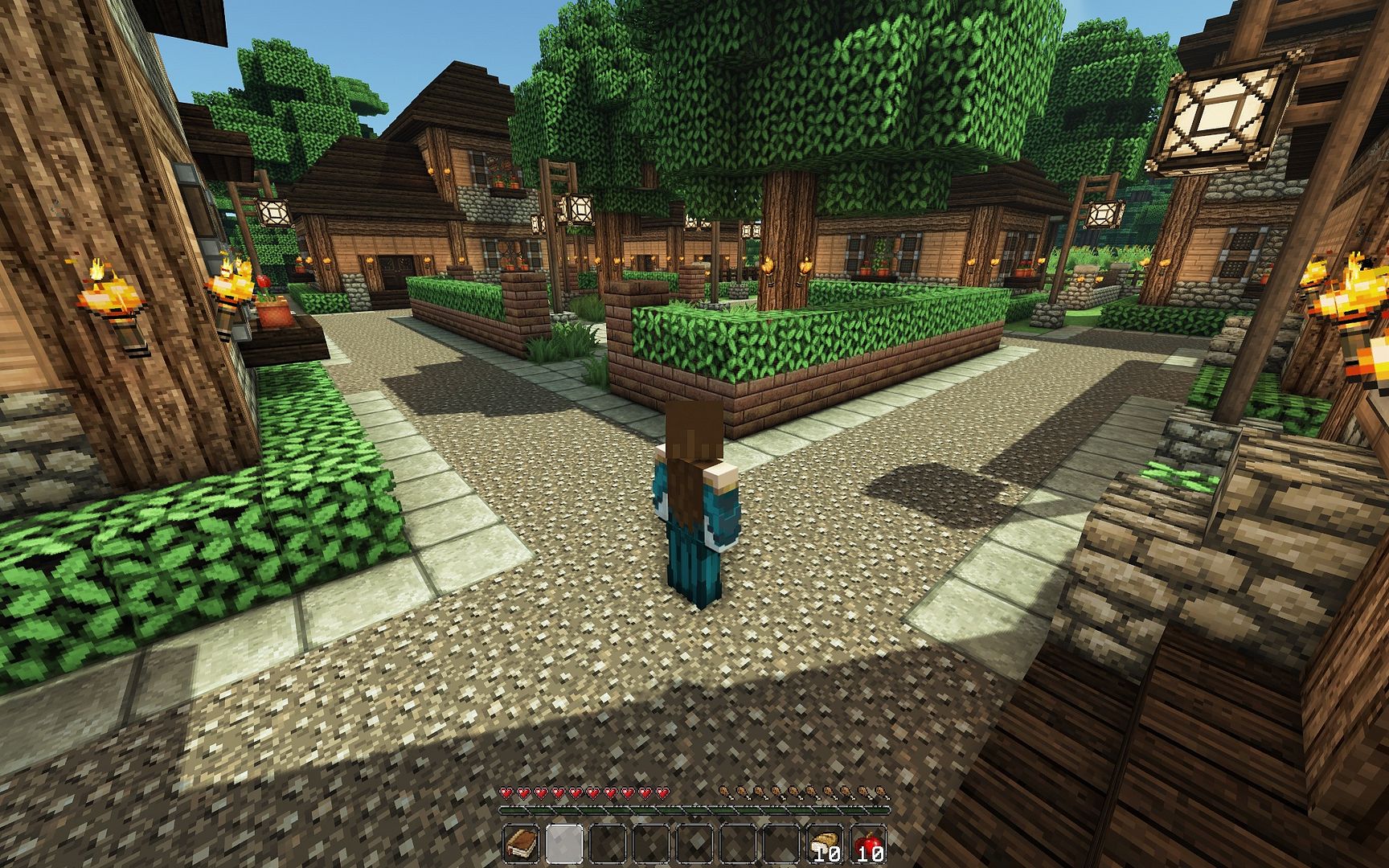 I explored some other paths that lead to "gateways into the infinite expanse". One lead to a towering group of even larger trees than any of the other ones around.
The other led to a beach, where I noticed a small tower off into the distance, and a single dwelling in a tree on a small island off the shore. I made mental notes of these things.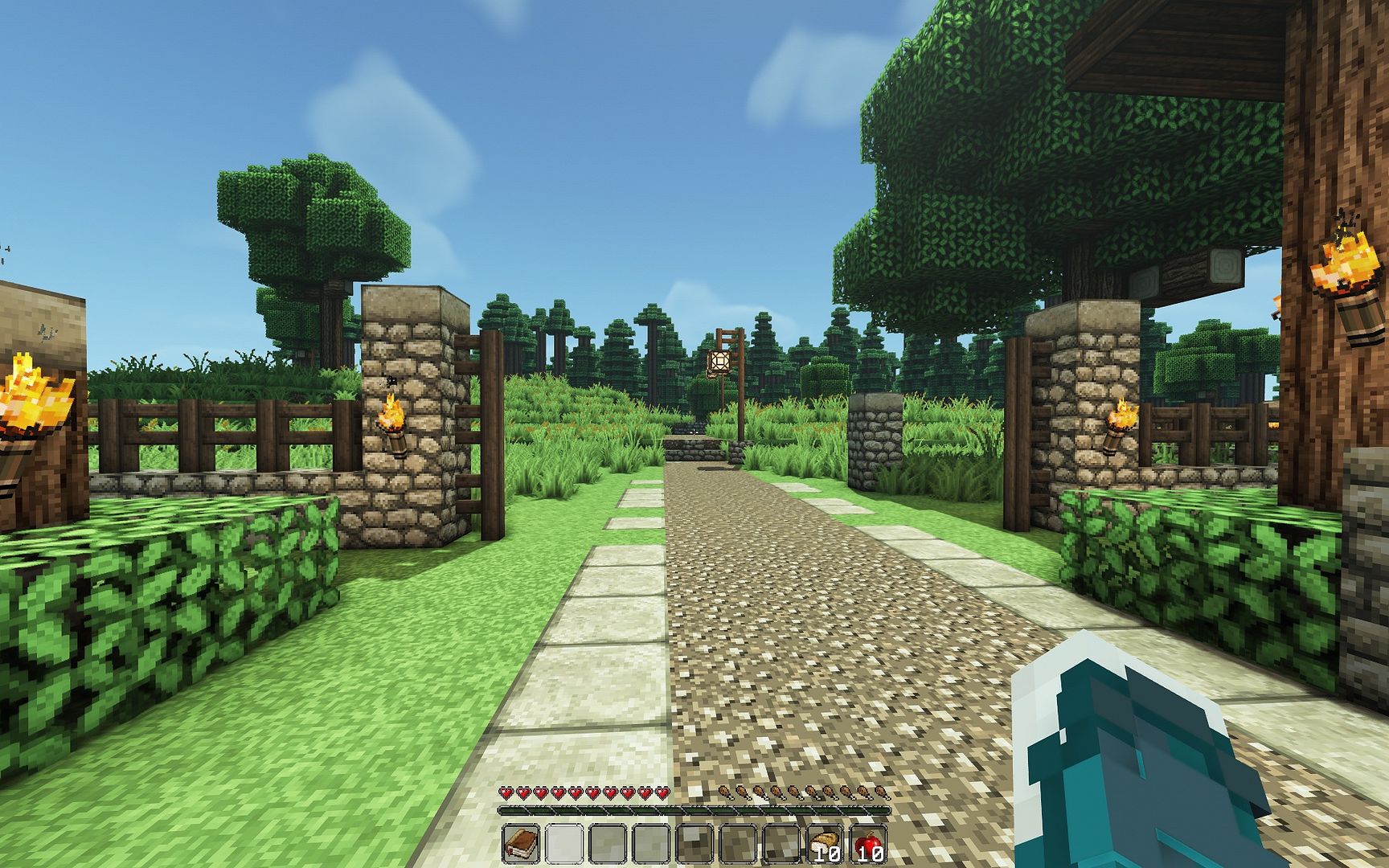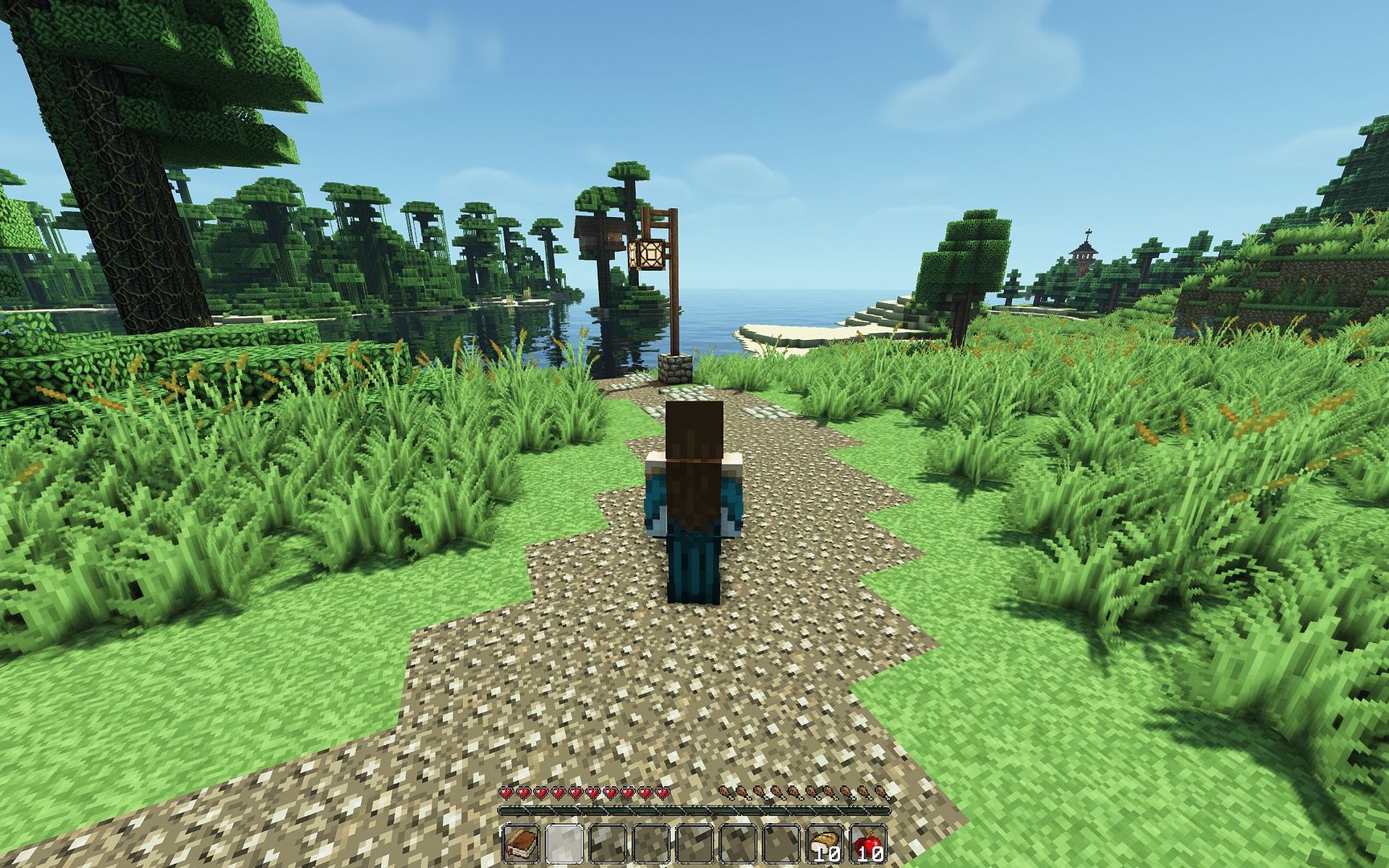 I headed back towards the center of the village, and then to the other direction I hadn't explored yet, to see it leading back to and overlooking where I had arrived.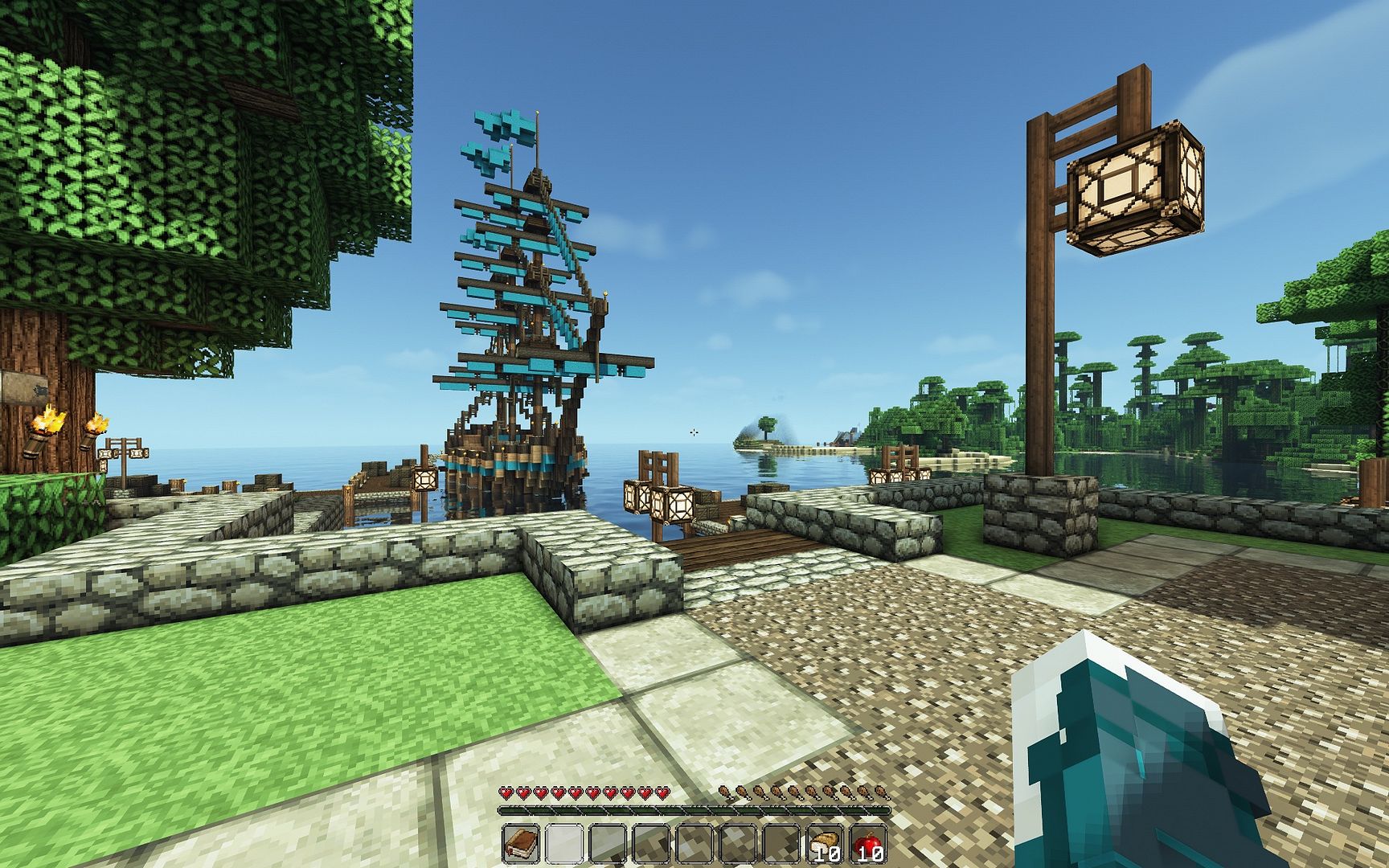 I suppose I'll try and find someone in the nearby area who may be able to help. But... many of them seem preoccupied. Who would I not be a bother to disturb?
I entered a gathering and trading market...
...And approached an idle woman.
Girl:
"Excuse me?"
There were many others gathered inside here. Some looked over materials and objects, while others bantered amongst one another. The woman behind the counter replied to me.
Woman:
"Can I help you, miss? And you'll have to speak up. Nobody will hear you speaking so softly."
This was the first person that I had ever interacted with outside where I had come from. I was almost frozen, and I almost panicked as I realized I had come here for a reason.
I drew closer to the counter, placing the book on it. I started opening it, meekly huddling over it as I did.
Girl:
"I'm... I'm trying to find someone. Do you know who can help me?"
The woman glanced down at the book. She paused for quite some time, overlooking the girl, and eventually replied.
Woman:
"Well, miss, I just run the trading market here. I'm afraid I might not be able to do you of much service at this moment. But my son manages the inn across the way. His name is Samuel. Head over and tell him 'Abby sent me' and he'll be able to assist you. Oh, and welcome to Luna Harbor."
I panicked again as I struggled to digest all the information she had just given me, and then responded.
Girl:
"Th... thank you so much, miss. A... Abby."
I began making my way towards the door, until the same voice stopped me.
Abby:
"Miss?"
I paused, still panicked for some reason, and turned around.
Abby:
"You're forgetting your book."
Despite my state of frozen terror, I hastily returned to the counter to gather it.
Girl:
"Th... thank you..."
Before I could attempt to leave again...
Abby:
"Miss... may I ask what your name is?"
I froze, more than ever. And I didn't even know why.
Girl:
"Suh... Sarah."
There was an uncomfortable pause, although it was hard to tell if time had just stopped for me, or if there actually was a long pause.
Abby:
"I see. Welcome again to Luna Harbor, Sarah, and don't forget to see Samuel. I will be there after my roles have been finished here for the day."
I swiftly left the building in a panic, only realizing afterwards how rude it may have been.
As I returned outside, the sky was confusingly dark. What's more is that... water was falling from it!?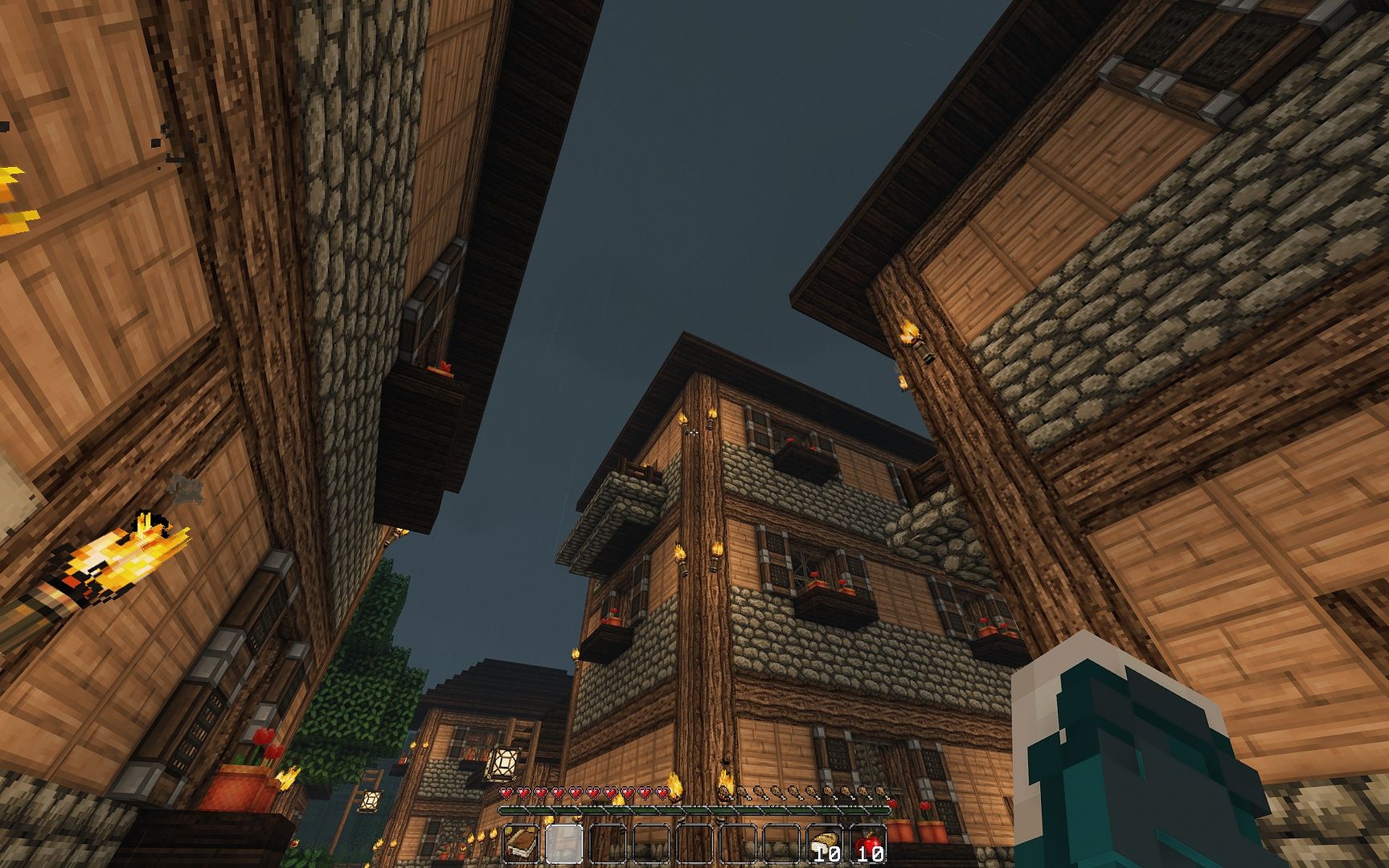 Great! So much for dry clothes... What is this place!?
I almost felt like I wanted to just escape. And I didn't even know why... or from what... or to where! And venturing into the unknown wasn't an option. I was already having to figure out the unknown that I was already amongst, so Abby and Samuel seemed like my only options so far.
I headed across the path towards the inn, and rushed inside to escape the noisy onslaught of falling water.
As I rushed in, the sudden change in noise became apparent. Myself and a younger man were the only two people inside, but it still felt like the world was watching me after I had caused a commotion barging in.
An awkward silence commenced, something I was causing all too often it seemed. I broke the silence myself before letting it linger for too long this time...
Sarah:
"Hello. Are you Samuel?"
The man replied.
Man:
"I am. Welcome to Luna Inn. Are you looking for a room, miss?"
I wasn't entirely sure how to respond, so I acted upon the instructions Abby had given.
Sarah:
"A.. Abby sent me. And told me to ask for Samuel. I..."
The man interjected...
Samuel:
"I see. Well, I'll show you to your room in the meantime, if you wish?"
I wasn't sure what this meant.
Sarah:
"My... my room?"
Samuel:
"Yes. You may have a room, and for the night. Surely you want to get out of the rain?"
Sarah:
"The rain? And I'm looking for someone. I need to..."
Samuel:
"Well yes... it's raining. And you're... soaked, miss. Don't you want a place to dry and rest for the night? My mother will arrive shortly, and in the morning she will see if she can help direct you towards who you're looking for."
I froze, again unsure of what to say or do.
Samuel:
"You may have the room on the third floor upstairs. I will show you to it if you wish?"
I began rushing upstairs...
Sarah:
"Th... thank you Samuel. I would like to have it."
...Again only realizing my rudeness immediately after I had done so.
I entered the room on the third floor and closed the door. Curiously, I noticed another set of doors, and slowly opened them.
It led to a balcony outside, which wasn't going to do me much good with this falling water... this, rain?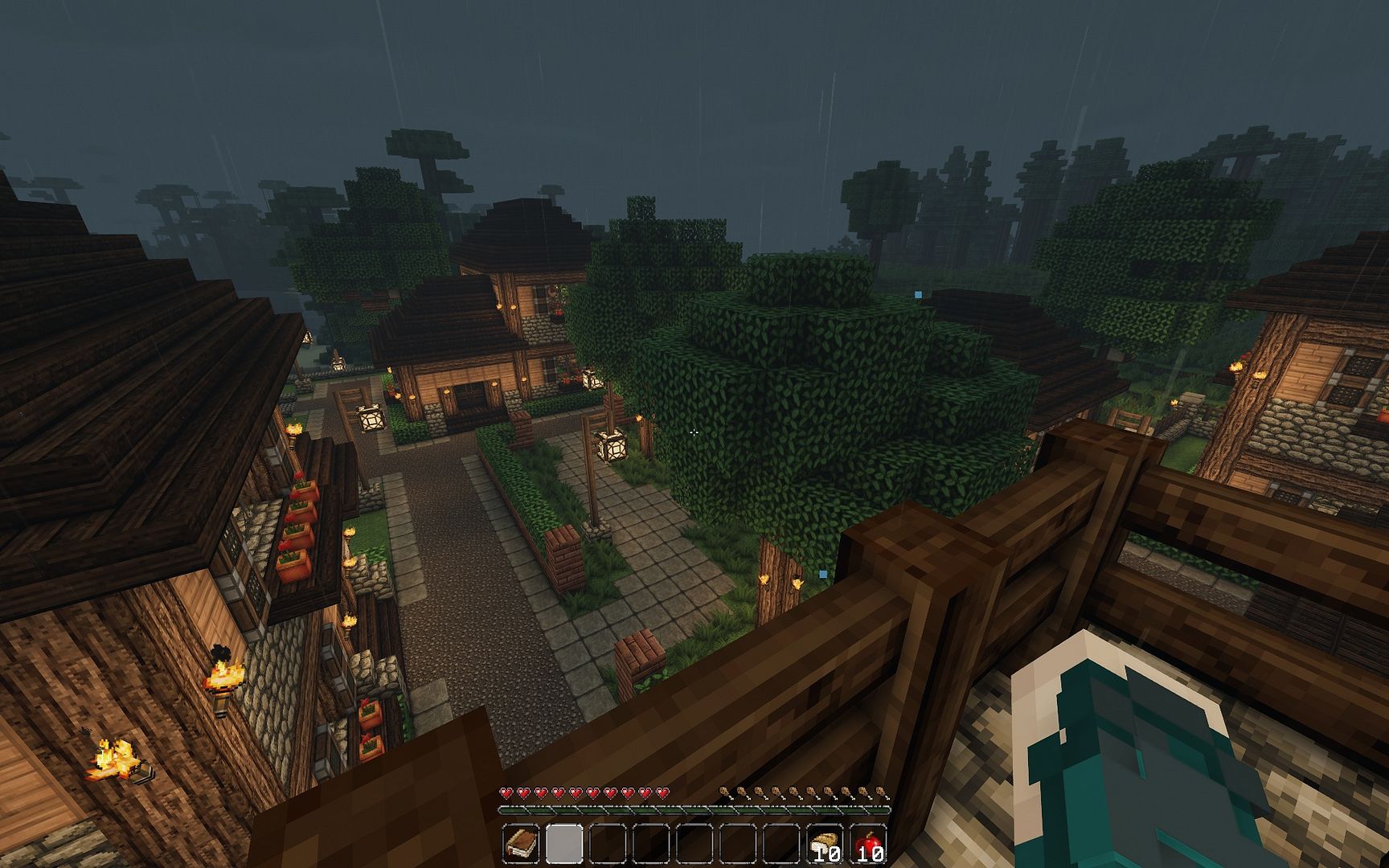 I went inside, setting my book on a table, and taking my outer robe off and letting it dry. I got into bed. An endless flurry of thoughts raced through my mind, and suddenly I was asleep without trying. Put to sleep by the weight of all my thoughts...
*BOOM*
I suddenly awoke, in a panic. Not even knowing where I was, at first, until remembering.
*BANG*
I panicked again. What was going on now?
I opened the door to the balcony. It was well into the night now it seemed, and exceedingly dark beyond my imagination. The rain continued.
An occasional loud sound startled me every so often, with the sky lighting up as it did.
This... this place is so... strange.
I went back inside, trying to fall asleep. This time it was harder, but eventually I did.