Mega_Builds_2016
Carpenter
Location:

A Minecraft Village

Join Date:

10/22/2016

Posts:

233

Member Details
I have found finding and capturing a skeleton spawner can be quite difficult. The method I use to obtain a unlimited supply of arrows is to build a massive farm, and when harvest season comes, trade with farmers to earn lots of emeralds and use them to buy arrows from the nearby fletcher. This has earned me several stacks of arrows withing 1 - 2 harvests.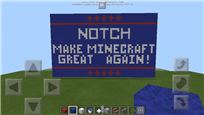 Finds a server that says "No PvP"
*Pushes AFK player off cliff*
Steals Player's Stuff
Admin Can't do anything cause I didn't hit him so "no actual PvP".