Mega_Builds_2016
Carpenter
Location:

A Minecraft Village

Join Date:

10/22/2016

Posts:

233

Member Details
I have found a seed with a very nice forest island spawn. To the north is a few villages on the mainland and going even more north will lead you to a jungle with a temple in it. Here are some pictures of the village I am building:
The residential district:
The farming district:
Inside a standard house:
My house has a gate to prevent villagers from entering my house:
Edit 12:11PM 4/19/2019:
The Village Expands. I added a smithy:
The Farming District Expanded:
The new barn for storing crops:
Edit: 4:47 PM 4/20/2019
The village has gotten so large now that iron golems and stray cats are now spawning and the villagers are breeding on their own. The village now has 4 iron golems, and I think over 10 villagers living in it.
Buildings I plan to add:
Archer towers.
Armory (For storing excess weapons such as bows and arrows, and for storing unused armor).
Library (For enchanting).
A small fortress.
Brewery (For Potions).
An inn.
A tavern.
Several more residential homes.
The Seed: 1718626086689732879
(Please do not spoil what treasures are in this map as I want to find them on my own).
This is going to be a medieval themed village. Any suggestions as to what I should add?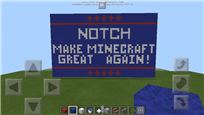 Finds a server that says "No PvP"
*Pushes AFK player off cliff*
Steals Player's Stuff
Admin Can't do anything cause I didn't hit him so "no actual PvP".