Kbox
Tree Puncher
Location:

Manteca, CA

Join Date:

1/18/2011

Posts:

24

Member Details
UPDATED 1/6/12, scroll down and look for the bold writing to see it
Hello everyone! (By everyone I mean anyone who happens to stumble onto this post)
I'm pretty new to the forums, so this is my first contribution to the community. I just wanted to show my current build project: a Minecraft version of Midwich Elementary School from the first Silent Hill game for Playstation. I'd love to get some feedback, suggestions, etc.
Basically I'd like to create the layout mostly accurate to the design in the game obviously limited to the blocks and scale available via Minecraft. (Not trying to make it extra detailed by making the building huge or anything). I actually have the game running on my Playstation so I can look directly at the game for reference while I'm building it in Minecraft.
The original plan for the project was simply to make the first for as regular (or foggy) Silent Hill, and the 2nd floor as the alternate (or Otherworld) Silent Hill. As I worked on the project I realized something. Making the regular school with what is available already in Minecraft wasn't hard. Making the alternate school was going to be either a lot more abstract as it wouldn't look much like the game if I just used netherblocks to complete it. I ended up working on textures specifically for the alternate school, even though I've never made textures or anything like that before.
So just a general note: I am reproducing it as ACCURATELY as possible. I literally ran around the school, room by room in the playstation game, and then did my best to reproduce it in Minecraft equivalent. All the signs, posters, etc. If you see a random red block sitting on a shelf in a classroom in my build, it means there is something red I couldn't reproduce that was otherwise sitting on that shelf in the real game. I've put a lot of hours in just doing the best I can to get the scale of everything as close as possible to the original game as well. So if something looks odd feel free to mention it.
Next is the screenshots section (some new ones added 1/6/12). I have revamped this section both so that screenshots of the original game are side-by-side with a similar screenshot I took in my build. I'd like to give credit to ghostdog from the rpgcodex forums who posted his "Let's walk the streets of Silent Hill" series. He did a great job of showing the events of the game in sequence and I used his screenshots to show the game material as reference as I am playing it on an actual playstation so I can't really do direct screenshots from it myself.
I'm sorry the screenshots are so small. There were so many I figured I'd combine pics and shrink them down to make the loading of the page much easier on everyone. The downside is I did a lot of wide pictures and found out the hard way that most of them were being cut off on the right side when I tried to post them here. Also if they appear cut off on the right side to anyone, that is because photobucket seems to take a bit to switch from one imagine I uploaded to another that I replaced it with.
Anyway, lets go on a little tour in the sequence that you normally might see things in the game.
Our protagonist is searching for his daughter in the town of Silent Hill. After following a series of clues, he is lead towards Midwich Elementary School.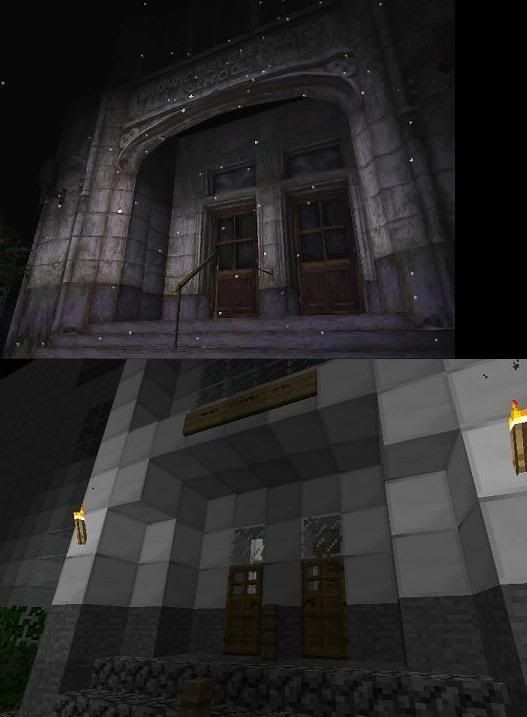 Inside the dark building, he looks around the hallway and comes across a reception desk with some notes written in blood.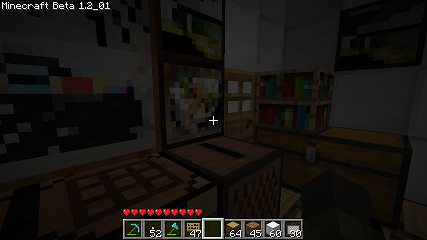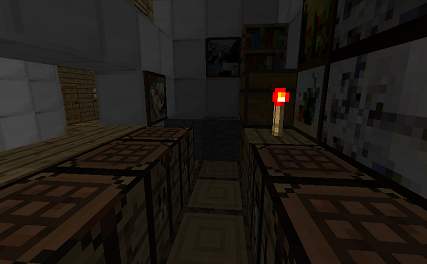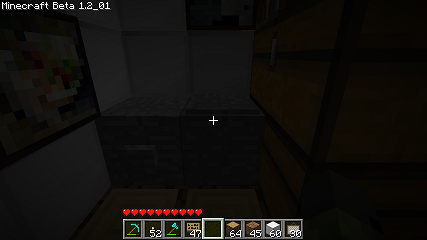 He then steps through the doorway in the back, finding a staff lounge with a disturbing painting. (Not so disturbing in minecraft though)

After returning to the hall, he finds the door leading into an infirmary. This room feels oddly safe to him.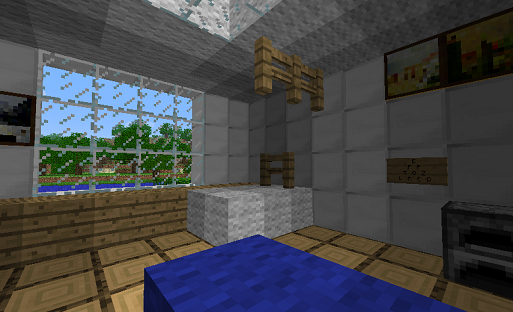 After writing down a note of his travels, he leaves the infirmary. Both doors at the end of the hall are locked, so his only choice is to go out into the courtyard.

Where after killing another strange creature he found a clock tower with a sealed door, and two indentations signifying a golden sun, and a silver moon.

(Here is just another pic so you can see a bench, the drainage pipe, a tree, and a view of the clock tower. I know its funky on the top, but thats sort of a placeholder till I can think of a better way to do it since it's at an angle)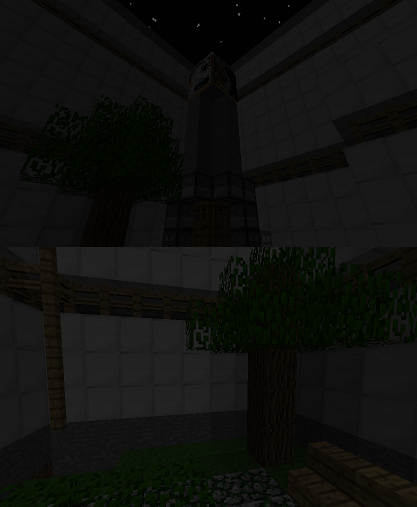 After he enters the doorway on the other side and going through another couple hallways...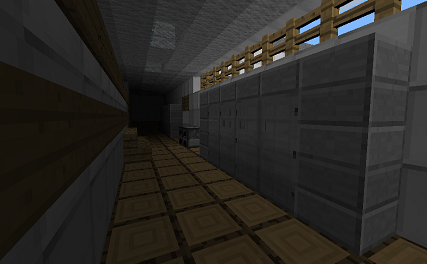 He checks inside the bathrooms.
(another angle on bathroom)
and after finding more locked doors he makes his way upstairs.
(shot showing stairwell with the weird locked closet thingy)
Here he began to enter the classrooms to look for more clues

(Close up example of some of the weird text drawings I did on "chalkboards" and bulletin boards to at least somewhat try to copy what was in the game, you can see the original picture in the screenshot above)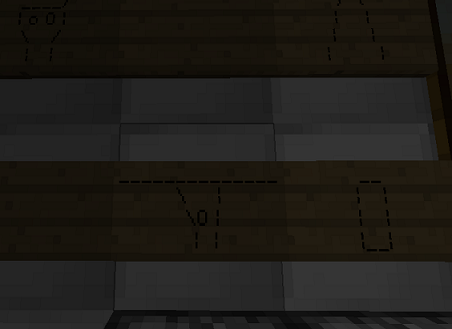 He sometimes saw some very unsettling things
He entered a cramped store room with many files and chemicals, here he found some acid...
which helped him retrieve a golden medallion from the chemistry lab
He then entered the library
Which allowed him to get into the library reserve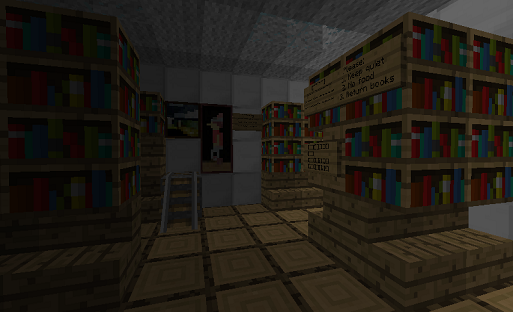 After searching these rooms he crossed one of the 2nd floor hallways
Where he then came upon a locker room where he heard a rattling sound from one of the lockers.
After a feline-related fright, he then checked the nearby music room. Here he eventually solved a puzzle to receive a silver medallion.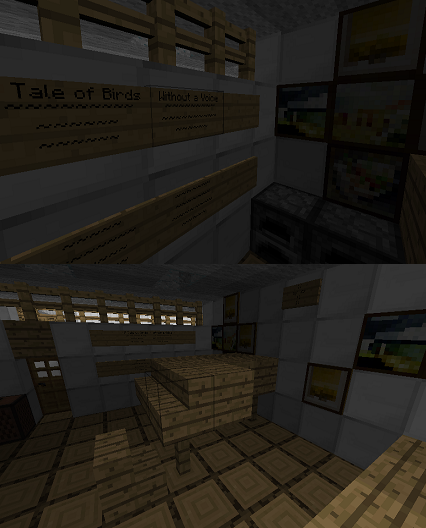 Our hero then put the two medallions he earned into the depressions in the sides of the clock tower base. The time on the click and the note he read earlier lead him to next investigate the boiler room in the basement

After turning on the generator, he returned to the clock tower. The door was now unlocked so our hero cautiously stepped through. He found himself in a very tiny room with a ladder leading down a hole. (this looks kinda funky in minecraft due to the fact that it can't do diagonals well and I had very little room to work with.)
He then stepped into a small strange room. There was only one way to go, and a cryptic warning.

(note, the actual sign in the game is not completely legible. You can make out some of the words, so this is just what I put that makes the most sense compared to what you can barely make out from the game texture)
Our hero had a deep sense of dread on what he'd find after climbing that next ladder, but that didn't waver his resolve to find his missing daughter.
To be continued...
Alrighty now that the game-themed tour is over, here are a couple of the rooms you can't access in the game that I still put into the school. These are my own interpretations of what you might have found if those door's locked weren't broken or jammed or whatever excuse Silent Hill offers to impede your entry.
Other than some classrooms, (no screens for those as they look basically like every other classroom) there are a couple store rooms. One on the first floor, and a smaller one in the basement.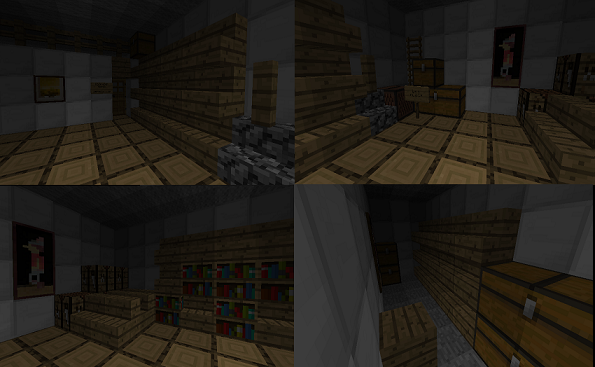 Then there is the mysterious "Hall". I agree with a theory I read on a forum that this room likely could be a dining area. Apparently one of the other silent hill games refers to a dining area in a building as a "hall" on the map, like a mess hall, and the size of the room supports that theory. Note: I have since realized after seeing the alternate school hall and recovering some common sense, that this room likely has a couple windows so it needs to be redone a little.
You can see I included some simple wooden tables (with abandoned lunch trays) and benches as you would likely see in a school, and a counter where there is half swinging door, refrigerator, stove, and of course glass display where the food would be covered to prevent sternutation related contamination.
Next is the rooftop area:
I originally was going to use an unfinished untextured room you could find with a walk through walls gameshark code to model what the foggy school roof would look like, but after examining it and comparing to the alternate school roof, I realized it really was probably thrown out in early design and just modeled my rooftop off the alternate school roof. Complete with the little drainage area that eventually becomes the purpose of the amazing rubber ball item.
Lastly, what's silent hill without a little fog eh? Well, a LOT of fog is more accurate. Here's some other fun shots with fog turned way up.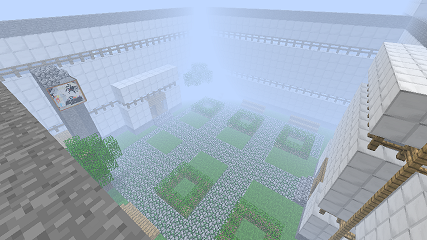 Also here's the entire map of the school for anyone who wants to look at some reference. Everything I have is of course laid out just as this map shows. (It was a valuable tool in the build process I assure you)
1/6/12 update:
Hello again! I apologize that this has taken so long. I really have no excuse other than a combination of about 50% RL issues, 10% computer problems, and 40% pure fail of just not working on it.
I had a long time of being afraid to touch it also as I thought the updated Minecraft might mess up or overwrite my map. Now that I got over that, it works fine on the newer versions except for apparently my school is now considered a snowy biome. It's kind of neat except that snow covers my carefully made courtyard which is annoying.
Now that it's available, I have transferred this map into creative mode which has GREATLY helped the project. In just a few days of working on it I have gotten a lot more work done.
The regular/foggy world school has long since been completed barring a tweak here or there. The alternate school I'm happy to say is pretty much complete now. There are a couple texture adjustments I need to make now that there are more blocks available than when I first started the project.
I took some screenshots to show off a bit of the alternate school. Not many shots are needed because most of the alternate school is a whole lot of the same thing. It has a lot less specific details than the regular school as far as stuff, but it's kind of made up for with new textures.
(Note, there is still a problem I have with being able to see through certain walls since I simply retextured existing blocks and used transparency on blocks that aren't supposed to be transparent. That is something I will look into after the building part is fully done).
Alternate Couryard: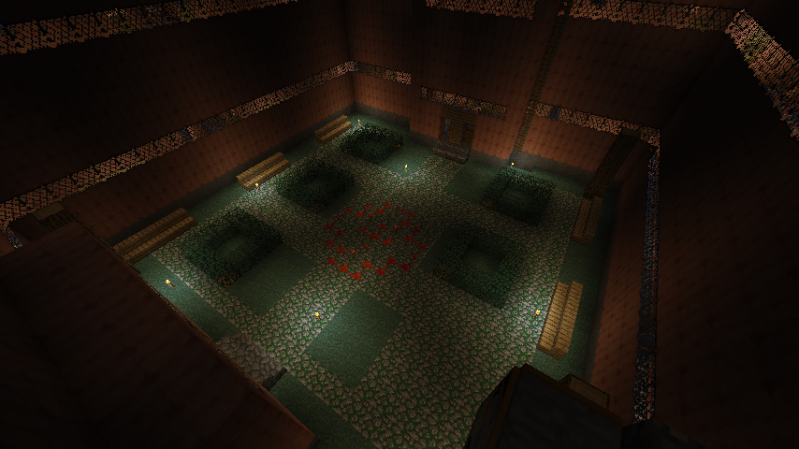 Alternate Classroom: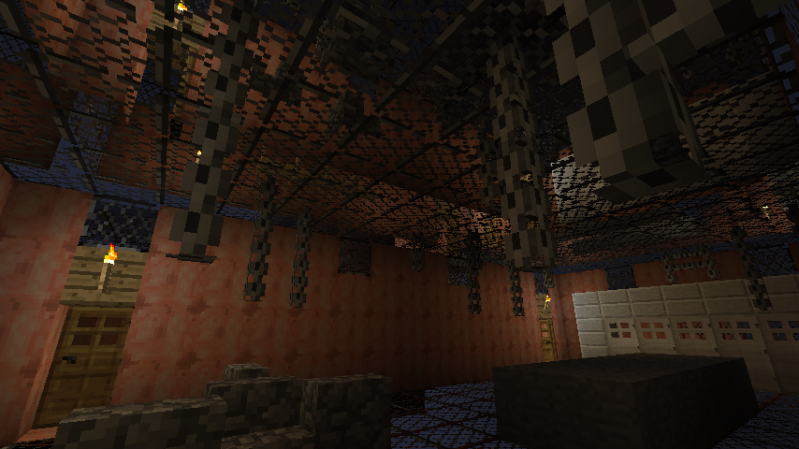 Return to the locker room: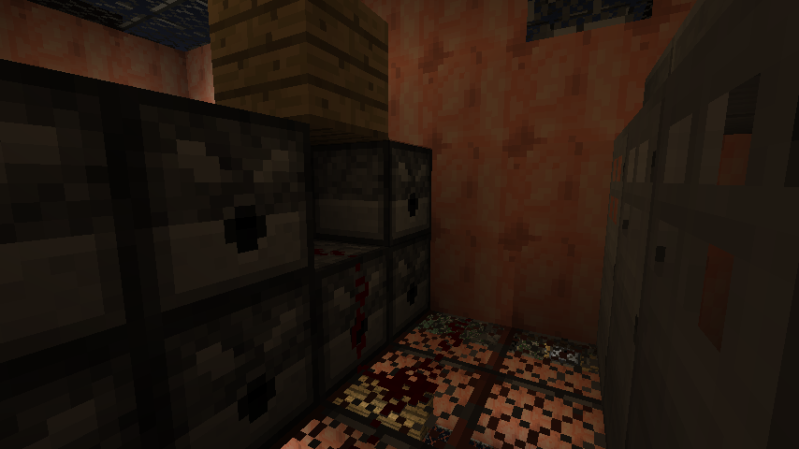 Stretcher in the basement: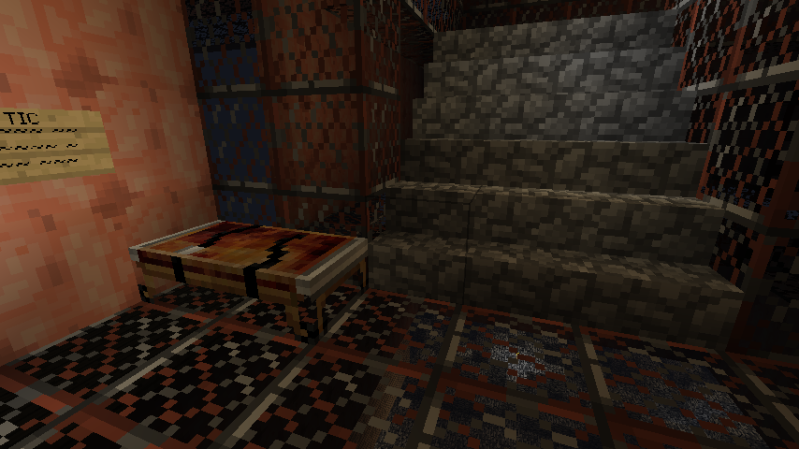 Couldn't do a giant fan, but there's still a body back there: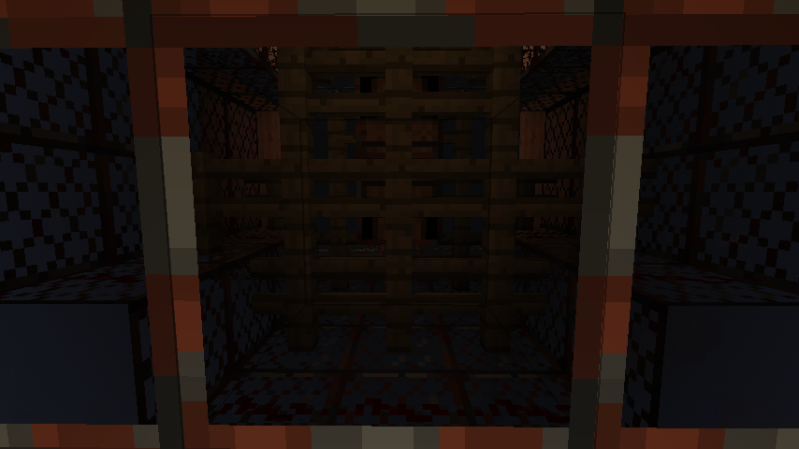 The way to the boss:
I WILL be putting the map/texture pack combo up for DL when it's completed.
I also will create a little video I can put on youtube to show it off. I also might make a 2nd texture pack that uses some of the textures I made in regular Minecraft just for fun, but I'll try to wait till this is done so I don't get sidetracked again.
I would love to hear any input, suggestions, comments, or any shout outs for some Silent Hill love. Also if there is anyone who is interested in helping with the project, whether it be information, help with textures, or anything else, just let me know.
A big thanks to those of you who have commented so far and helped me with a couple things. Also a HUGE thanks to those who have been patient with me.
Kbox, a.k.a. Chakker =)
Last edited by
Kbox
: Jan 6, 2012