hiredgoonthug

Zombie Killer
Join Date:

10/27/2010

Posts:

198

Member Details
This post is intended to be a guide on maximizing your time in your mine to increase your resource yield and decrease your time spent mining. Feel free to put your own spin on these methods.
All screenshots were taken on a world within the first hour of it's life, completely mod free.
INDEX:
1. Pre mining, new world.
2. Selecting the right Y-level to mine.
3. Mining methods.
4. Torching.
5. Upgrade your mine.
6. Exploratory mining.
1. Pre mining, new world.
Within 20 minutes of making a new world, you can be at bedrock with somewhere around a stack of coal and a couple dozen iron bars. You can be safely inside a hollowed out rock 'mining base' before the falling of the first night, with quite a few torches depending on your luck.
I will give a step by step explaination of what I do upon generating a new world if you are interested in such a thing. If not, continue to section 2 or section 3 for everything actually relating to mining.
A. I find the nearest forest and punch out one tree. I make a workbench, a wooden axe, and a wooden pick out of this.
B. I deconstruct the workbench and completely use up the wooden axe, for 32 logs.
C. I search exposed smooth stone areas (Mountains, Caves, Other) for coal and iron.
D. When I find coal, I hollow out a small room, light it up with torches and set up a bench, chest, and furnace. From this point on, I don't 'surface' again until I am done mining.
E. Using 5-6 stone picks, I make my way down to bedrock from this base in a spiral staircase. This leaves room for improvement later, see section 5 for upgrades to your mine. I set up a couple of double chests at the bottom here, as well as another workbench and a few furnaces. I clear out my inventory here.
F. This is where I start mining. After getting enough resources for whatever I plan on doing, I go about my buisness.
More details on request. I purposefully left out my specific staircase method, you can use whatever you prefer. Keep in mind that the way you get down to bedrock affects how much coal and iron you find on the way down. Use something that exposes many blocks. My preference is something ladder free as well, since I only bring 32 logs with me.
2. Selecting the right Y-level to mine.
This is an absolutely integral decision leading to your success while mining. Here are the numbers I use in my reasoning:
Bedrock: layers 0 - 4. The layer you stop seeing bedrock at is layer 5. When you hold F3, you will see the number 'y: 6.62'.
The reason being is that your minecraft character is 1.7 meters tall, and his eyes (the camera) are slightly below that.
The height measurement is taken at the camera. therefore to know what y level your feet are at, subtract 1 from your current level taken in F3.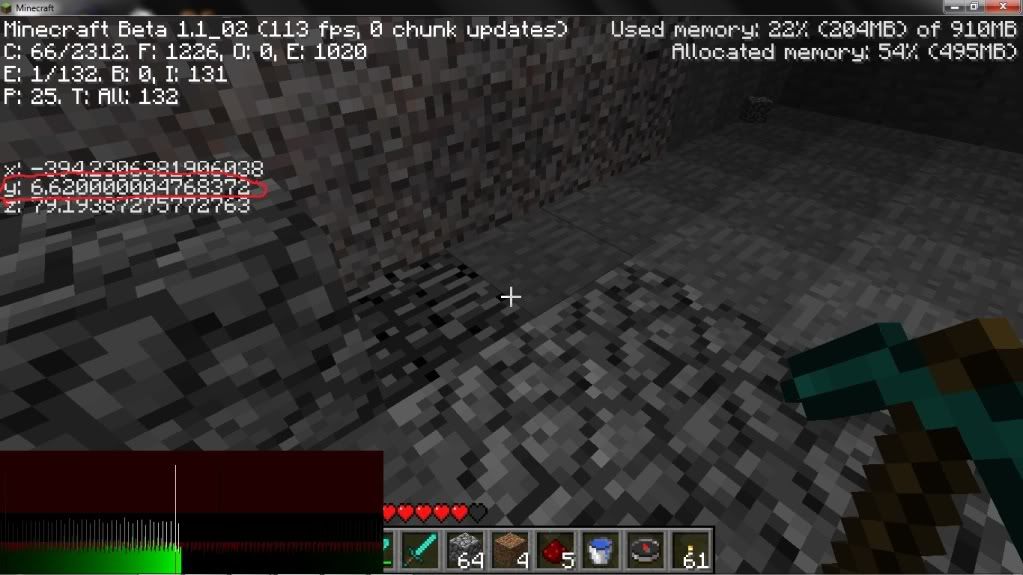 Lava: layers 0 - 10. Lava will fill any empty space below layer 10. This means no cave is lava free below layer 10. Small lava lakes can spawn at any y level however.
Diamonds: layers 0 - 16(20). Diamonds will spawn at a constant rate up to layer 16, and will experience a sharp dropoff up to layer 20 after which they (typically) will not spawn.
Redstone: layers 0 - 16(20). Redstone shares it's domain with diamond. It is much more common, however.
Iron: layers 0 - 50(65). Iron spawns at the same rate up to 50, which is 10 below sea level. It drops off considerably and mostly stops spawning above 65.
Coal: layers 0 - 50(100). Coal spawns abundantly in the same layers as iron, and has a gradual dropoff in spawnrate almost to the top of the buildable map.
What do all these numbers mean?
TL;DR, MAKE YOUR SHAFT AT LAYER 12. (You are breaking 12 and 13, below you is 11.)
In more detail...
When you dig a standard shaft (one by one by two) you expose a block below you and one above you.
Since 10 is where lava begins, you want to have a block between you and the lava. This is why you dig out layer 12, so layer 11 is still there between you and fiery death.
When you read ahead to the next few sections you will learn about indirect revealing, and it will become clearer why mining out a couple layers higher wouldn't be such a great idea.
Mining on layer 12, you physically see 14 above you, and indirectly reveal 15-16 above that. This keeps you almost entirely in the prime diamond zone.
3. Mining Methods.
BRANCHES and SPACING
Essentially the setup of your mine is going to be one long shaft with 'branches.' Everything is one by one by two.
Make sure that the blocks you are breaking are y levels 12 and 13, as detailed above. You will see '13.62' as your y value when you hit F3.
The heart of my method falls on what I like to call 'indirect revealing.' TL;DR, DIG BRANCH, LEAVE 3, DIG NEXT BRANCH.
When you dig a standard branch (1x1x2), you reveal a total of 8 blocks, 4 on the sides, 2 on top, and 2 in front. These are all blocks that you physically see. If you make your branches bigger, the ratio of broken to seen gets worse, for this reason a standard branch is best.
However, minerals aren't scattered randomly in the rock in one block formations, they gather together in veins. For this reason, when you reveal one mineral, you 'indirectly reveal' the blocks contained in the rest of the vein. (This also gives you a chance to see more blocks exposed without mining worthless stone.)
Since almost all veins occupy at least a 2x2x2 cube, this means that you can leave 3 unmined rows between branches with extreme confidence. That middle 'unseen' row between the two branches is carrying the indirect revealing strength of the adjacent visible blocks. Even if the vein were only two wide, one branch would have spotted a block in it.
Make your branches spaced closer and you are not being efficent, make the gap wider and you run the risk of missing veins.
Finally, I like to dig forever in each branch until I hit a cave, water, lava, or anything else that would make me want to turn back. To save time, instead of running back to the main shaft, I just back up a few squares, dig 4 blocks out to my side, and dig the branch back to my main shaft 'from the wrong direction.'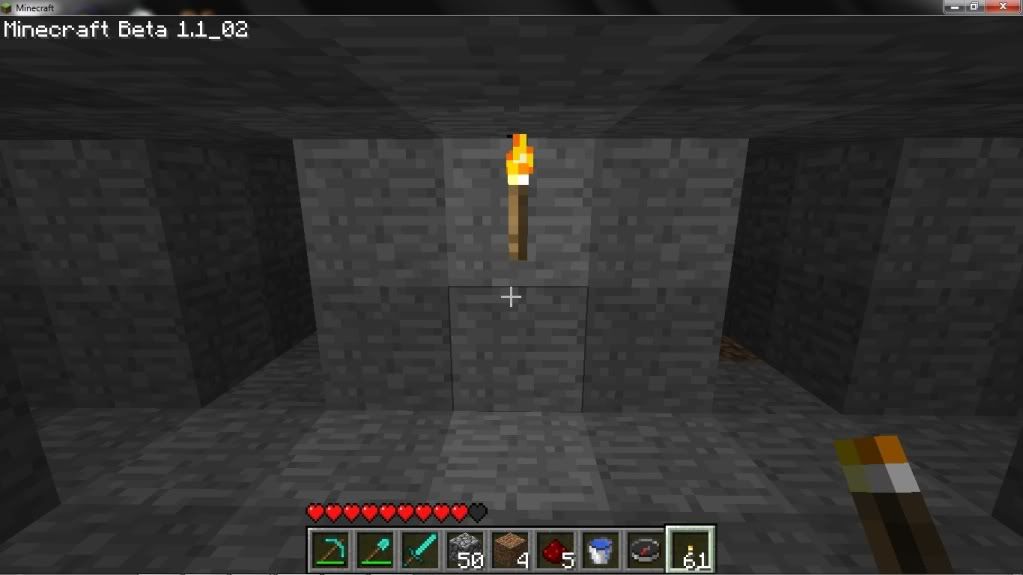 INVENTORY
Bare minimum is a pick and torches. I always bring a water bucket, in case I find a lava lake or cave with lava that I wish to traverse. Also a sword, bow, stack of arrows, spare stone pick, and compass. Just to be prepared. Food such as cooked bacon, or a workbench and some wheat can come in handy too.
Rule of thumb for myself is a stack of torches for every diamond pick I bring. I bring more picks depending on how long i plan on mining.
SPEED
DISCLAIMER: THIS IS THE MOST SUBJECTIVE PART OF THE GUIDE. IF YOU DISAGREE PLEASE DO SO IN A CIVIL FASHION.
Always use diamond tools. By tools I mean pick and shovel.
Diamond tools are the only legitamate usage of diamonds anyways. Armor is too expensive for what it does, stick to leather. You only ever need one jukebox. After you make your first diamond sword (which is most important after you get your first pick, honestly), you shouldn't have to make another one for a very long time. Diamond blocks are novelties at best.
If you use the branch method above, you will end up with net diamonds quite a bit in excess of what you put in getting them. Not a ridiculous amount, but enough to have a stockpile, in case you want to show off your bling with full diamond armor or the first letter of your name in diamond blocks or something like that.
Also, learn to click mine. There are many tutorials so I won't go into depth on this subject. Same reason as above, if you value your time, you will be as time efficient as possible.
Finally, IGNORE REDSTONE UNLESS YOU ACTUALLY NEED IT.
4. Torching.
TL;DR, TORCH EVERY 13 SPACES.
I personally don't actually count how many spaces I've mined. When you place a torch at eye level, the 14th stone block at your feet will be at light level 0. While mining, it contrasts quite wildly with the stone at light level 1 above it. When you put a torch on the block you just dug out before this, it will prevent mobs spawning on the floor in the middle of this torch and the last one you placed. No mobs can spawn, your job is done. Any more torches are a waste of coal.
Also, when you mine out a vein, if you think it might be too dark, place a torch. Don't waste time fiddling around with trying to plug it back up with cobblestone, get back to mining.
(if you have difficulty seeing the contrast in the image, tilt your monitor toward you or sit up a bit)
5. Upgrade your mine.
The sky is pretty much the limit here. Mostly based on your creativity.
You can destroy the staircase that you dug and turn it into a water elevator.
Or you can build a minecart system that takes you straight from your main base to your mining base.
You can make a big shaft going straight up to the overworld covered only in glass so you can bask in the sun while in your mining base.
6. Exploratory mining.
By this I mean spelunking. Since you are digging down here by the diamond layer, why not explore a cave or two that you hit?
I only do this when I am feeling particularly daring. Use your judgement, if the cave is too huge turn back. If too many mobs have already spawned, seal it off. If you can run in and spam torches around without dying, spelunking at this level can be very profitable.
You will find more iron and coal than you will diamonds, however.
I won't get into too much detail, since this is a very specific thing. I will tell you this, though. Make sure you have your sword, bow, and bucket of water handy. You'll need it.
TL;DR, MAKE YOUR SHAFT AT LAYER 12, DIG BRANCH, LEAVE 3, DIG NEXT BRANCH. TORCH EVERY 13, USE DIAMOND TOOLS AND CLICK MINING.
Thanks for reading, I hope you have learned something. If you have questions or comments, please reply!
If you have anything to add to a section, or if any of my facts are off, let me know and I'll edit this post.