creepercraft97T3
Coal Miner
Location:

Hopefully in Finland soon

Join Date:

12/21/2015

Posts:

134

Location:

USA for 2 more years

Minecraft:

creepercraft97T3

Xbox:

creepercraft973

PSN:

none

Nintendo:

none

Member Details
I have decided! Despite it being a TON of work for a kid, I will start my proposed Adventure Super-Series. In it, I will be surviving nightmarish realms (such as battling monsters in a pitch-black world while fleeing from a lavafall in hard difficulty), to surviving errors in terrain generation (such as living inside the Far Lands), to pushing survival to its extreme limits (such as diving into the void itself) all the way to where survival is virtually zero (such as my final adventure in the series, where I will travel as far as I can in MCPE until I fall into the void and die).
Here is an infinite screenshot for all your infinity needs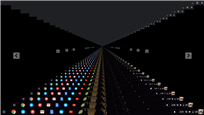 But of course, its not truly infinite...