Spidergirl44
The Meaning of Life, the Universe, and Everything.
Location:

London

Join Date:

9/16/2016

Posts:

44

Location:

London

Member Details
Having accidentally deleted my 'Preparing for the Apocalypse' world (another world had a similar name and I deleted the wrong one), that I was really enjoying, I decided to set myself a new challenge, and keep track of my progress here.
I've previously done the 'underground' challenge successfully where you grab what you can and head underground to live, and decided to make a scenario based on that.
There's a vague storyline in my head, that these are troubled times with civilistation at risk of total collapse, (or having collapsed) so it's safer to stay underground, 'off-grid', and borders between biomes operate like those between countries, with (invisible) border patrol, so that if I cross them above ground alarms will be triggered. Possibly my character is delusional and actually everything's fine. It doesn't have to be any more detailed than that, just enought so my rules make sense to me. Maybe I'll add some ruins and stuff above ground at some later date.
I need to acknowledge TheMasterCaver, as it was a comment of his that inspired this idea - something like 'I do most of my exploring underground', which made me think about how you could explore above ground from underground. Though I think they meant exploring caves etc.
RULES
Rules are flexible and I'll add more if I want to - I just seem to prefer playing with rules.
General Rules
1. Mark where I spawn, collect what I want and head underground at nightfall, at the spawn point
2. All homes, farms, etc must be underground - no building to be done above ground and minimal impact on terrain
3. I'm only allowed to surface during daylight and must be back undergound at nightfall
4. Exploration and travel mainly underground - not allowed to cross biome boundaries above ground (can use F3 to check biome)
5. Allowed one shaft to surface in each discovered biome, but must be inconspicuous
New rules added as I go along
6. I can explore by boat, but cannot go ashore other than where I started. I can stay in the boat overnight if need be
7. Building, homes etc can also be underwater, if far enough away from land not to be easily detected
8. I can infiltrate villages but must kill any villager that sees me
9. I can use naturally occurring cave entrances on the surface to make routes underground, for example to bring animals underground, as long as I don't leave anything to show I've been there
A purer version wouldn't allow use of F3, so that I'd have to surface say every 500 blocks to see what was there. But that would be so much harder, and I can justify it within my storyline by saying I have some sort of radar detector technology...or something. It detects the soil composition, and presence of large amounts of water, and...stuff like that.
Oh, and I play completely Vanilla, on Normal mode.
Starting out
So, I created a new world and this is where I spawned: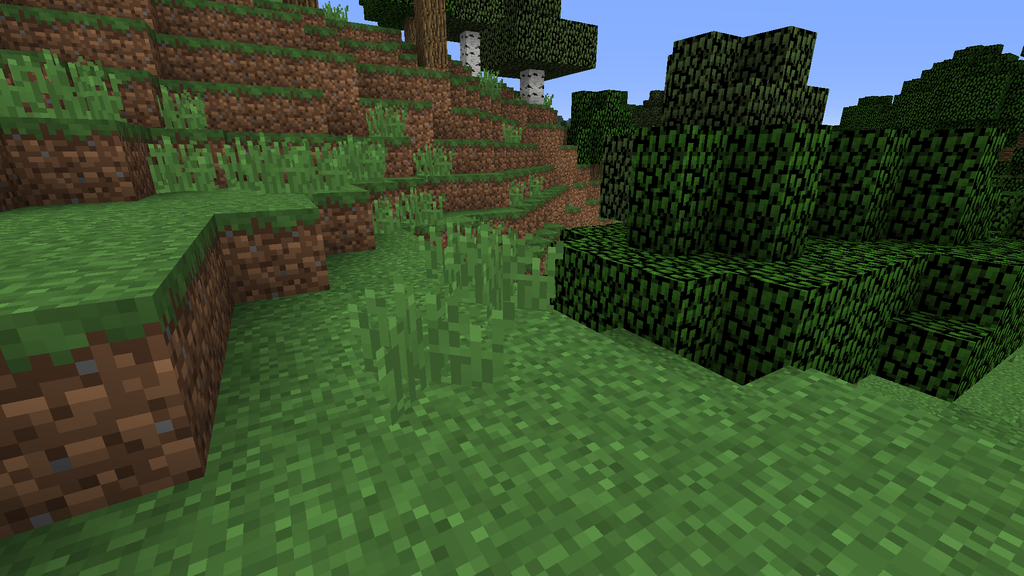 It's Forest Hills, not very exciting, so I don't waste any time exploring. I spend the day chopping down the nearest trees (the image above was taken after I'd already cleared some), and collecting some seeds and a little bit of dirt. I get a few apples which will have to do for food for now, as there are no animals in sight. I make plenty of ladders and a
trapdoor and start down just before night fallsl: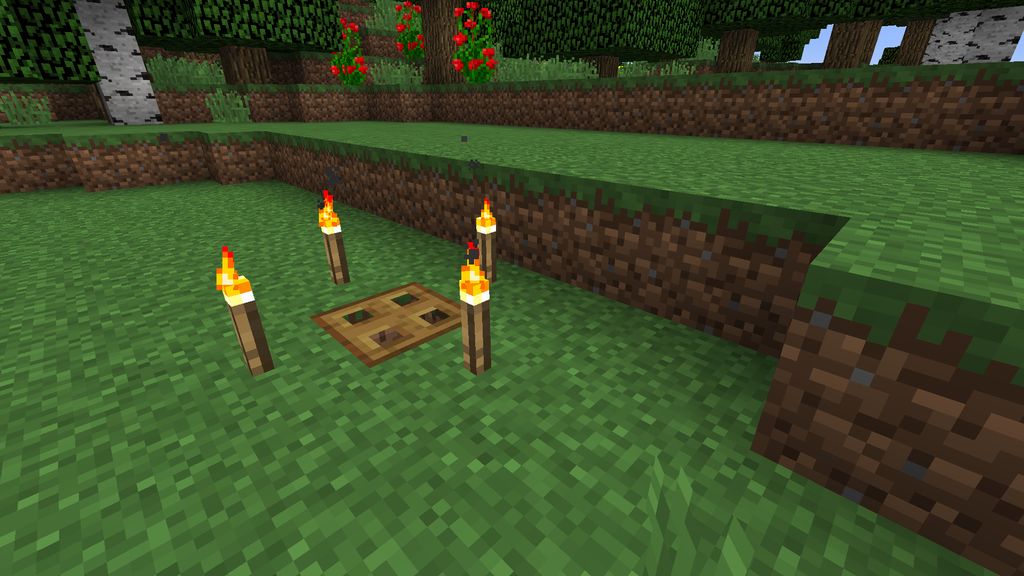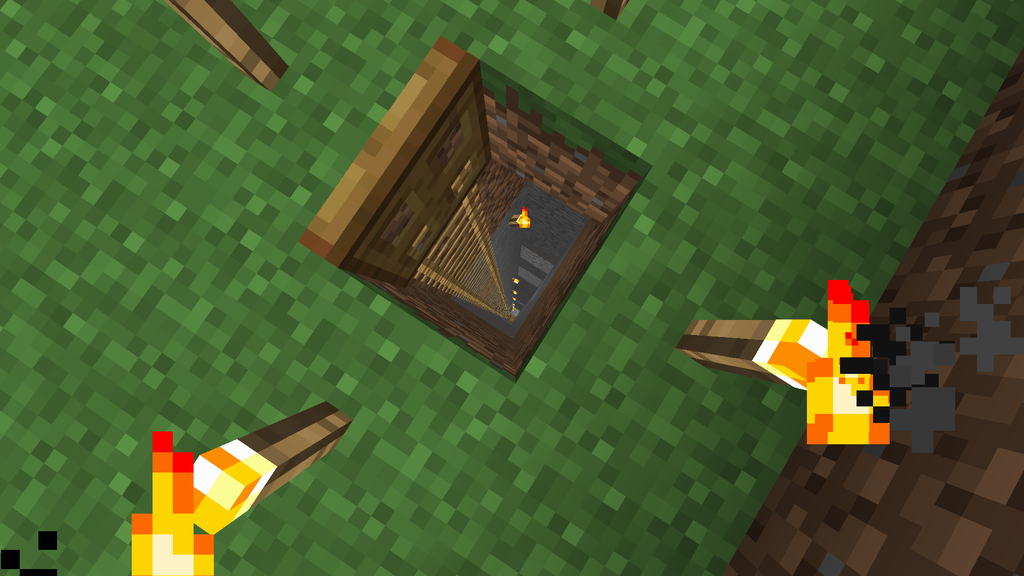 (I forgot to take screenshots at the time, so this is the next day, after the shaft is complete).
I come across a cave halfway down and almost get killed by a skeleton, but manage to build a wall and kill it by hitting its legs - lucky all these monsters have their vital organs in their legs.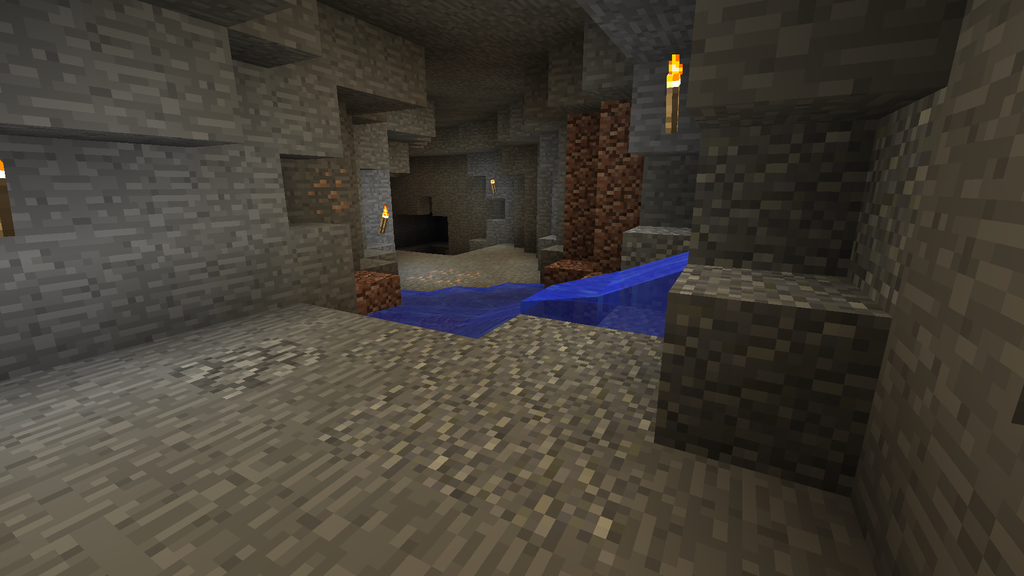 Get a decent start with coal and iron ore, and make a furnace to smelt enough for a bucket so I can collect some water.
I go right down to bedrock and test out how it would be to live there, which would have been my first choice, but with lava pouring out every time I try to expand, I decide it wasn't worth it - the cobblestone on the wall in this picture is where I've blocked off lava: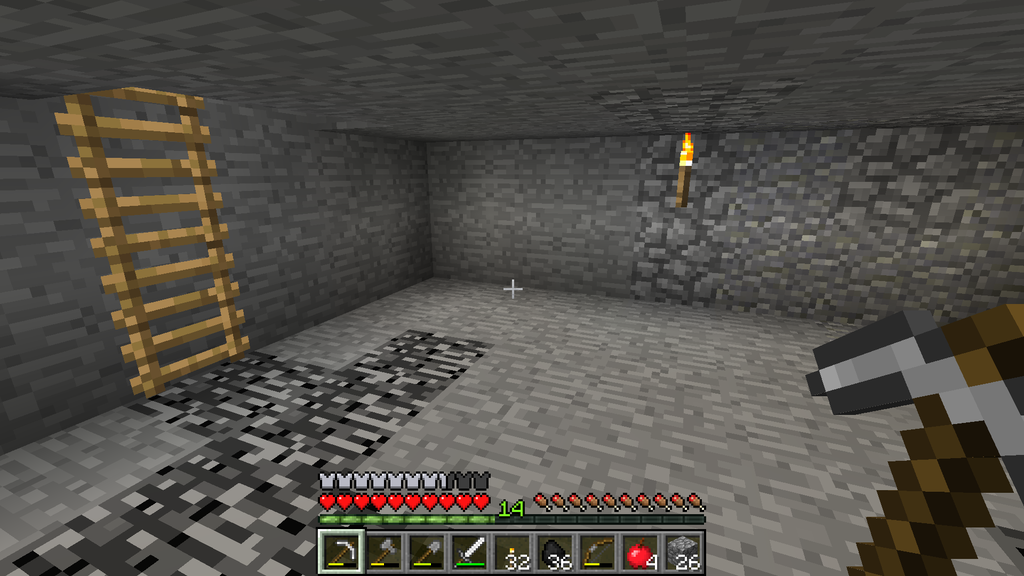 So I go back up a little way and test it out until I'm sure I'm at least on the same level as the lava, ending up on layer 11, and build my first basic base: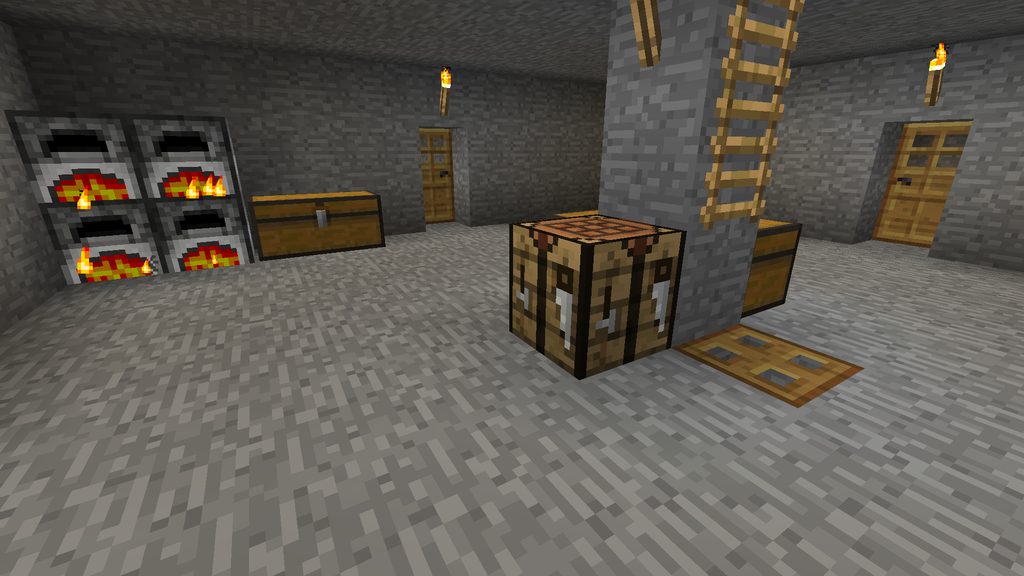 It's an 11x11 square with the shaft in the centre, going up to the surface and down to bedrock. I start a tunnel in the centre of each side, which will be used to explore and travel.