Joey_San
Curse Premium
Iron Miner
Location:

Over the Rainbow

Join Date:

11/16/2015

Posts:

271

Location:

Over the rainbow

Member Details

Welcome to Quintropolis
a vanilla survival world I've stayed with since June 12, 2013!
Over the past three years, I've had a very specific way in which I documented my world's progress. On the day the world was conceived, I started a Word document, and each time I logged into the world to complete a specific task (or series of tasks), I documented that progress as a separate "session" (this is how I organized the world's progress - not by days). Prior to me logging in, however, I usually write up the list of things I want to accomplish in that session, that way there is a sense of organization and planning with my system. I would like to keep to that system in this thread. What that means is that I will post an update each time I've completed a session, documenting what was done in that session, and often times posting a screenshot (or more) to showcase that. Hopefully you find my methods to be satisfactory.
Every 100 sessions, I create a video world tour that showcases everything I've done along with a world download. Based on my current pace, it takes roughly 1.5 years for me to get through 100 sessions and stay on top of my life (with a job/college, things can get quite crammed). Every 50 sessions is a developmental checkpoint session, where we culminate our progress with a special session that stands out! Welcome to Quintropolis!
If you're new to the journal: The checkpoint sessions will help you get caught up!
Checkpoints:
Session 50 - "The Grand Tour!"
Session 50 took place on December 1, 2013, and featured the completion of Starlight HQ 1.0. It was comprised of a world tour, which wasn't uploaded until June 19, 2015. In it, you'll get a feel for the original authenticity of what Techtropolis was like throughout its first six months!
Session 100 - "End of an Era"
Everything prior to what is in this journal can be collectively seen in session 100, which was recorded on November 7, 2014. Though, it wasn't uploaded until May 12, 2015. This world tour not only goes through all of the developments throughout the first season of this world, but also dives into some of the history throughout both the original LP for this world and the stories that followed it. I do talk too much, so feel free to skip around. The tour doesn't actually start until 11 minutes in, fyi. NOTE: "Year 2" as I mention in the video corresponds to "Season 2" as is transcribed throughout this thread.
Session 150 - "Where Are We Now?"
Session 150 took place on August 22, 2015, but was recorded and uploaded on December 24, 2015. It was featured as the Techtropolis Journal update, serving as a way to connect with you throughout the inception of this journal!
Over a period of nine months (though technically six since I took a holiday break from December 2014 - March 2015), I embarked on 50 sessions, trying everything from massive exploration missions to massive build projects! These of course include the buoyantly vivacious Starlight Plaza, the blazingly beautiful Nether Temple, the exhaustively decorated Mob Processing Hub, and a plethora of other fun changes and additions along the way! So where are we now? In today's video update, I want to answer that question in a few different ways. So sit back, relax, and feel free to even play in your world while you listen!
I am happy to say that working on this journal over the past three weeks has been fun for me, even if I wish I had started it sooner (thought better now than never, right?). This is one of the many topics I cover in today's update. I won't transcribe the whole video because that's why it's a video, but basically I wanted to outline my goals with this journal, some context on it and the world, as well as what the goals are for the future. One of my big goals with the journal in particular is to gradually start to make each session feel more like an episode, enriching each with considerably more content.
Hope you enjoy the mid-season finale (I know, that's a comical title for something like this, but by definition, that's what this is!) as we embark on an exciting new direction for Techtropolis!
Session 200 - "The Day Techtropolis Fell"
SYNOPSIS: It was around 10,000 years ago. A village spawned on the border of a forest, with seemingly little purpose other than to provide a rendezvous point between travel from the desert and back. There was little development in this primitive world, not besides the various civilizations that existed, so travel was highly regarded as a sacred activity. This is because the inhabitants believed that their village was a part of a grand plan, which comes from the fact that nobody created the village. Therefore, the inhabitants, narrow-minded yet keen in nature, built upon this village to create their version of an entity that they believed in. Because they strived for this connection, their goal was not so much to provide for the generations to come, but to build a sustainable haven that would one day reach the gods.
What these inhabitants lacked, however, was the understanding and knowledge of what needed to be done to achieve that connection. They believed that by mimicking the gods, they could at some point become like them. So, the inhabitants built upon their village. They spent hundreds of years building it, teaching the generations that followed the importance of continuing the work of their ancestors. No, these generations were not taught the very essence of survival in the world outside the village, because the village grew so large that the world outside it was not even conceivable by the new generation. Curiosity was embedded only in the connection with the gods.
The village was titled kuli aleilm (كلي العلم), which means "omniscient." By the time the new generation had grown, the village had developed so much to the point where it became what the inhabitants determined as an entity. It became so powerful that the connection to the gods was finally established… or so they thought. As it turned out, kuli aleilm was in no way affiliated with the gods, because it neglected the one thing that the gods endowed: true power. The village was consumed with the idea of using existing elements to reach the gods that it disregarded the only thing that could reach them. Of course, the inhabitants did not know how to achieve something supernatural; they only believed in it. What kuli aleilm provided for these inhabitants, therefore, was a humanized version of a god. It was built in such a way that it could become its own enemy – it was alive. It could learn the behaviors of the inhabitants and adopt them. It could choose to do whatever it wanted within the constructs of its boundaries. This was why kuli aleilm was regarded by many as the first territory to have reached the gods.
In a way, this territory did reach the gods. The gods became furious at the inhabitants for trying to do something they knew they could not. They were furious that the inhabitants had idolized this entity they created instead of acknowledging the entity that created them. The gods sent a message to the inhabitants, warning them of what was to come. They insisted that kuli aleilm be diminished because it was not destined for a connection to the gods. When the inhabitants questioned what qualifies that connection, the gods were candid by recognizing the old behavior of the inhabitants. They once lived primitively in a world created just for them, to appreciate the life they had. But the inhabitants tried to build it into something it was never going to be, and that is where they fell. Because of this, kuli aleilm became nothing more than a failed experiment.
When the inhabitants tried to shut kuli aleilm down, however, it fought back. It shut down the air ducts, the water pressure, crop machines – it killed all of the village's animals and effectively prevented access to the outside world. The village was angry because it had years of practice with villagers who felt the same. Kuli aleilm ultimately killed all of the inhabitants, because the inhabitants did not give up trying to stop it. This behavior was recognized by the gods, who destroyed kuli aleilm in a particularly violent fashion. The gods, having disapproved of the village's creation, expressed their appreciation for the inhabitants' final sacrifice by concealing various factions of their true power in five talismans that were spread across the world. These talismans contained the secret that the inhabitants were never able to find out, about how to connect the territory to them. Once found, the talismans could be arranged to unleash the same demons that destroyed kuli aleilm. Underneath this, however, the talismans reveal the key to establishing true power in a territory's constructs – the Nether star. This is the connection to the gods. This is the secret of Stonewall.
Stonewall was the name given to the site that the gods laid waste to; it was no longer a paradise, but instead a wasteland. Its forests were tarnished and its grass uprooted. The bay was infested by deadly creatures and the caves cursed with the undead – measures put in place by the gods to ensure that no future civilization would follow in the footsteps of kuli aleilm. When the gods decided that the world was calmed, they tried to make it suitable for their own living. But this failed due to the severe limitations that the gods imposed on the world. Therefore, they created an alternate dimension for which their haven would rest. It was this decision that led the gods to abandon the old world and instead try something better. Following these fallouts of kuli aleilm, Quintropolis was no longer a paradise. It was instead the result of a failed experiment.
The Features of Quintropolis
Starlight HQ 2.0 - a progressively expanding base with an uncountable number of features, inviting hours of exploration and tampering to discover its many treats
Starlight Resources Facility – a fully-fledged resources facility containing automated farms for nearly every resource in the game.
Starlight Arcade which features two fully fledged mini-games and animated aesthetic features!
A complete fireworks display that can be activated with one switch!
Six automatic mob farms, most of which include customizable features
Three complete parkour courses around the world, along with Starlight Playground which includes three additional parkour activities
An adventure map that encourages the exploration of Quintropolis Island and its surroundings
A comprehensive library that includes hours of reads, including mythology and mini-games
Foursquare!
Quintropolis Locations
Starlight HQ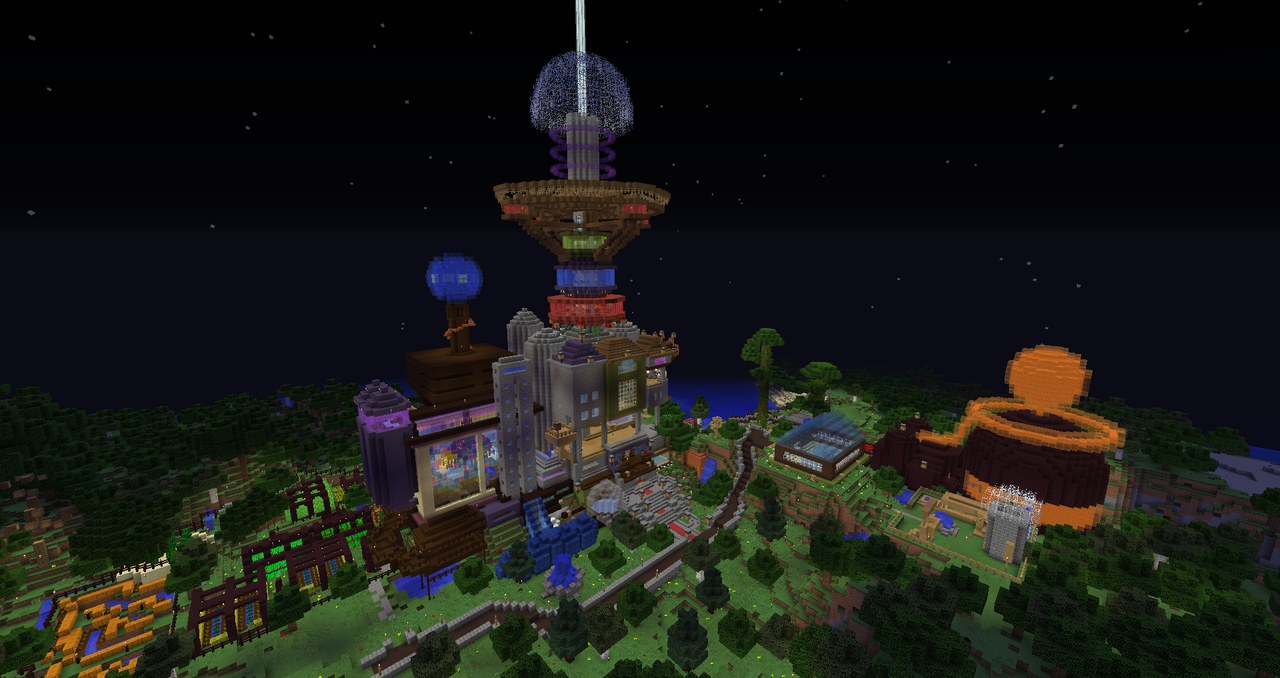 Starlight HQ is a survival base with the goal of changing the expectations of what a survival base can be. Chock full of features both above ground and below, Starlight HQ is the complete metropolis that rests on Quintropolis Island as the main base of the world.
Quintropolis Island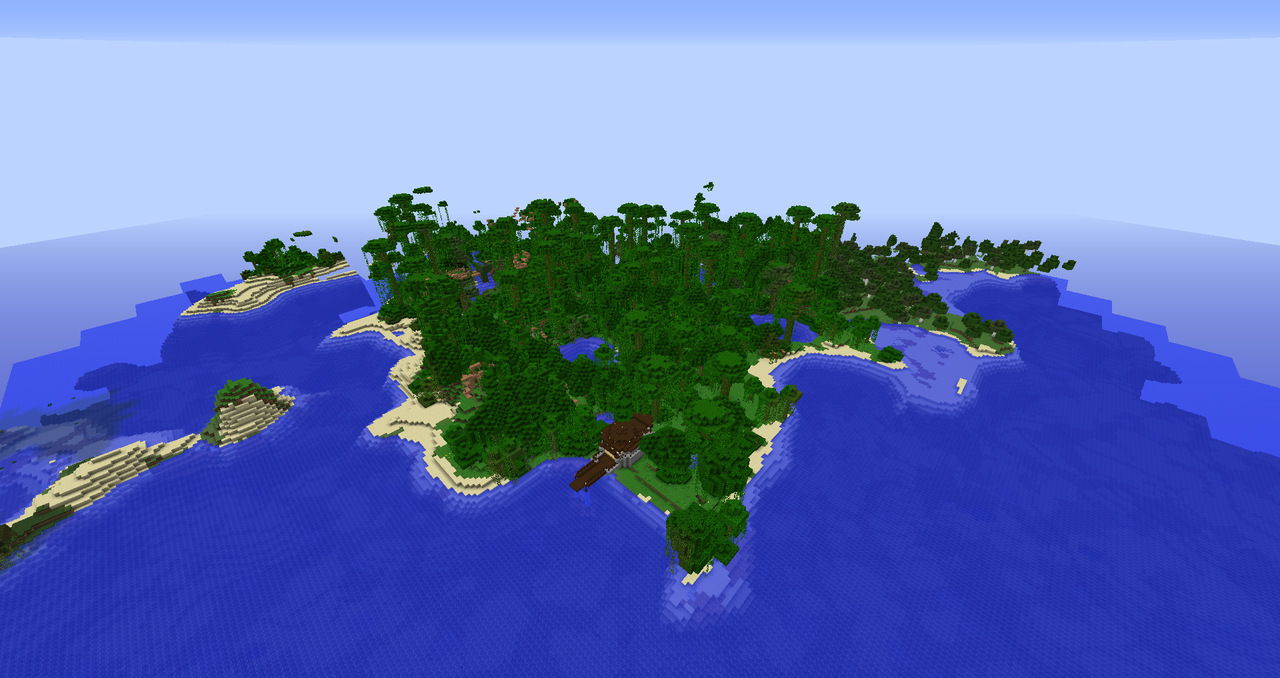 Quintropolis Island is the most unique section of Quintropolis, as it is the only portion of the world rendered prior to the terrain updates in 1.7. Because of this, Quintropolis Island is separated by giant walls of stone that surround it, and only exists within this version of the world seed. The island was a gift from the Quintropolis gods, as a token of gratitude, and remains as the most peaceful part of the world.
Emerald Hills
On the southwest tip of Quintropolis Island is an array of several mountains known as Emerald Hills. These mountains were the original planned location of Starlight HQ, but they have since become an exploratory ground for emeralds.
Candyland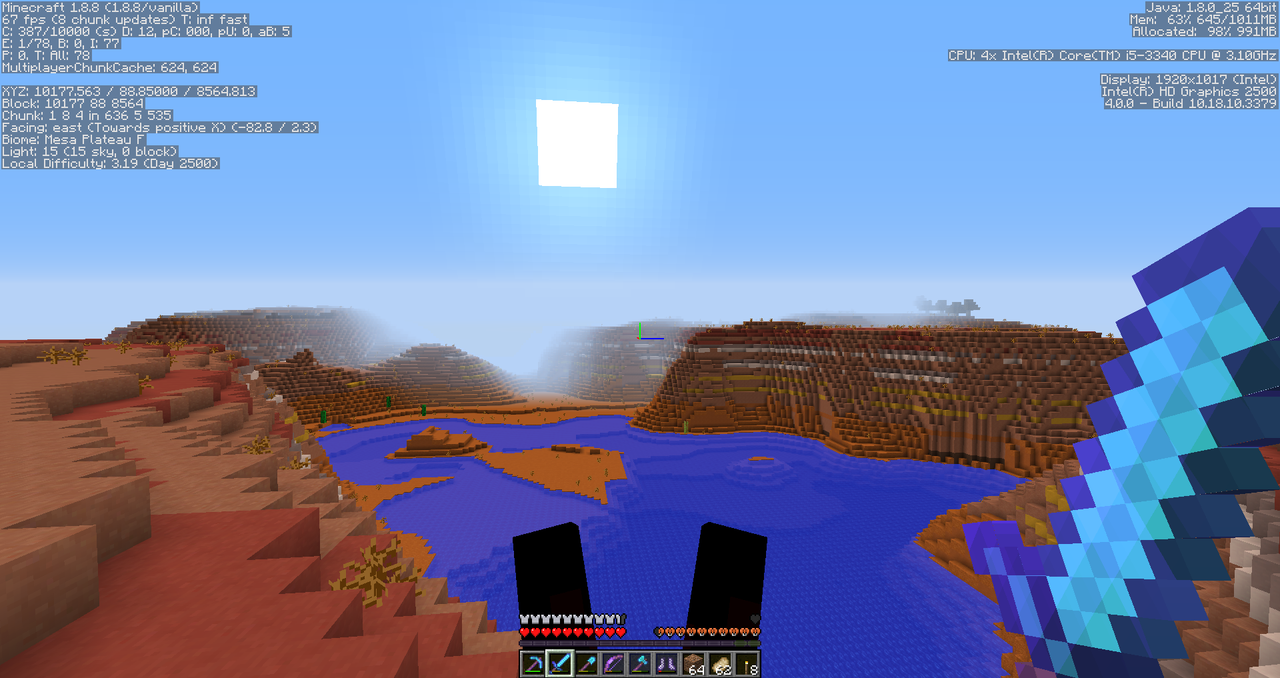 Candyland is the giant mesa biome located furthest from Starlight HQ, at 10000 blocks away! It is home to the richest array of resources that make up most of Starlight HQ's clay supply.
Stanland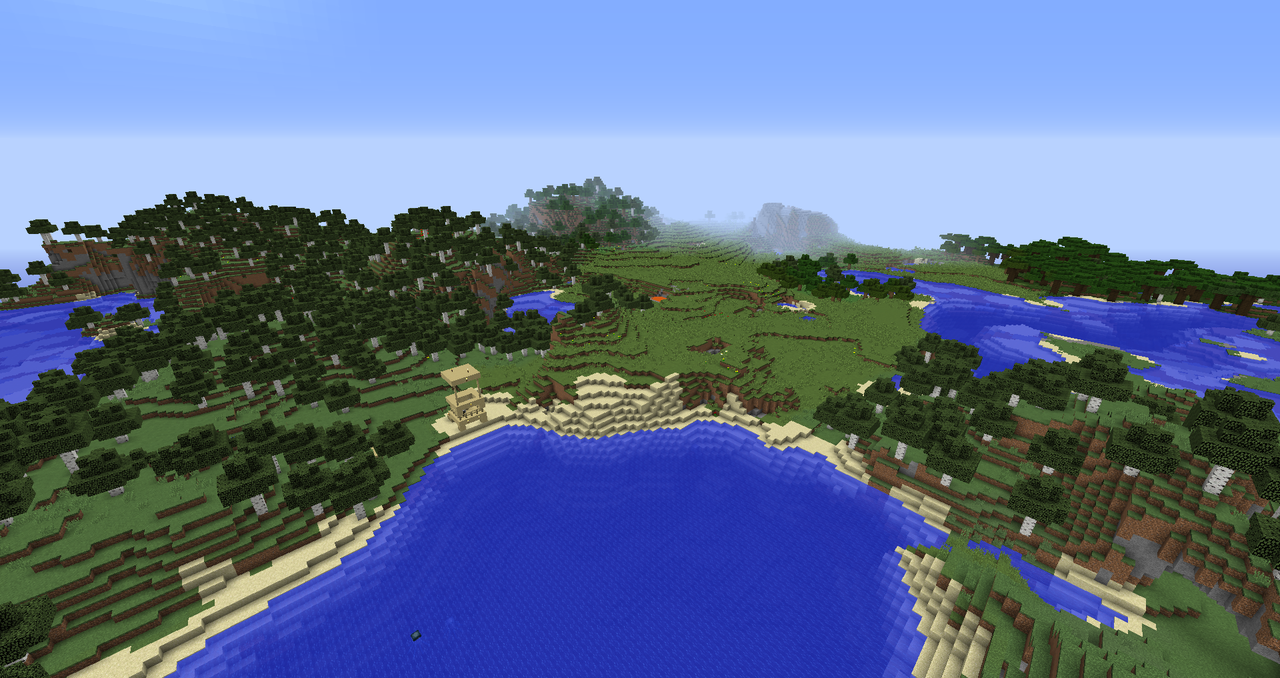 Directly east of the Starlight Bay is Stanland, a primitive landscape used for agricultural and resource-gathering purposes. It comprises most of the mainland across the bay and leaves more to be desired on its own.
Stonewall Territory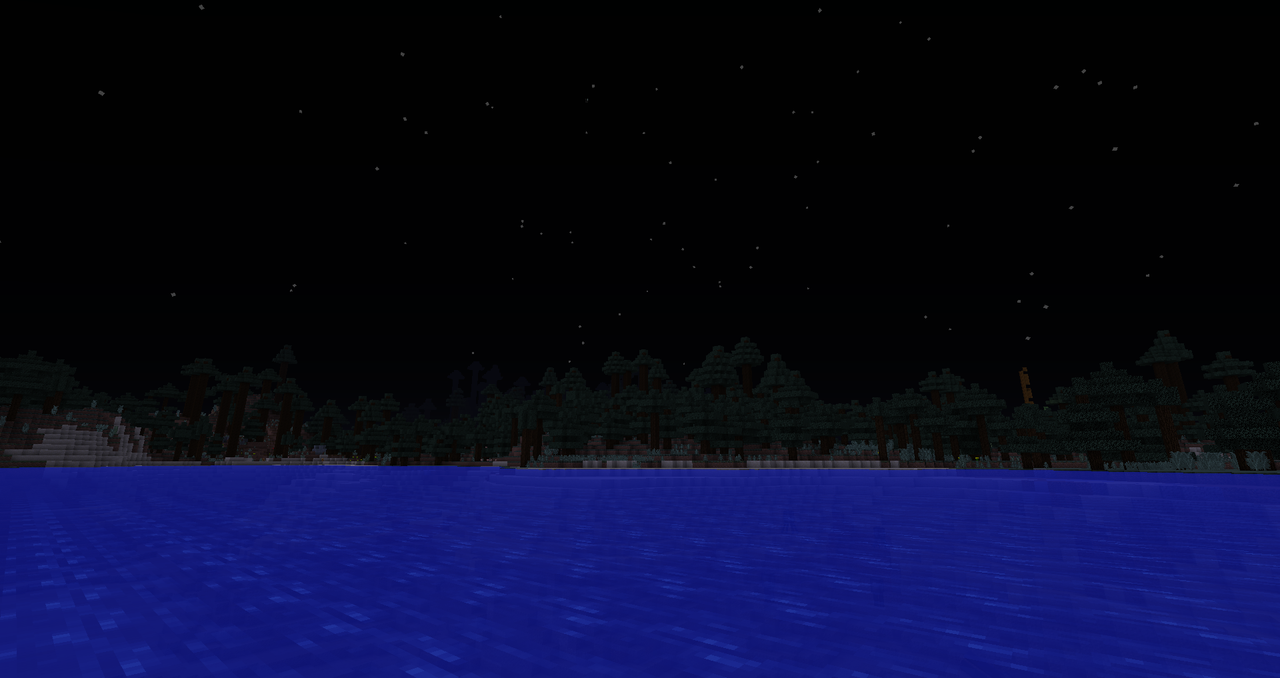 Full of secrets, mythology, darkness, and terror, Stonewall Territory is a massive wasteland that was once the greatest civilization that ever existed in Quintropolis. But after the gods burned it to ashes, what remained was a desolate reminder that all things must come to an end. Stonewall is remembered as a battleground and a dark chapter of Quintropolis' history.
Rogusta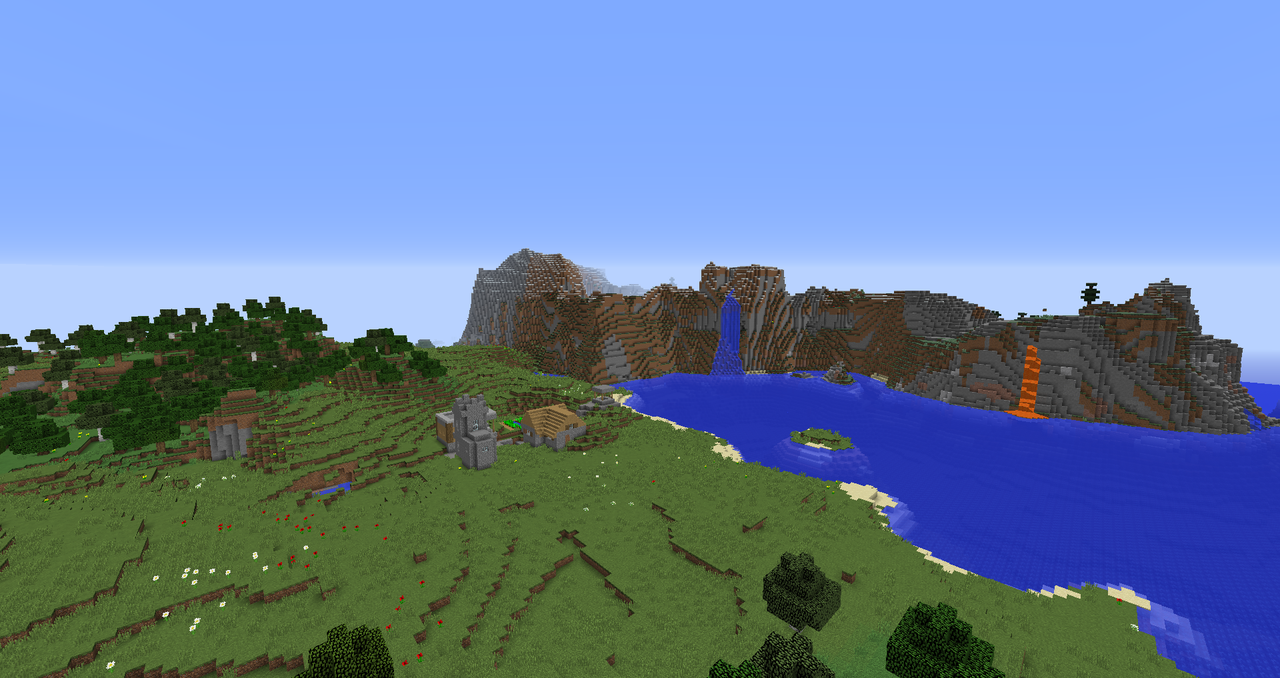 Rogusta is the title of a rich array of scenic landscapes, from plains to forests to flower fields to mountains, as it is home not only to a vacant village that serves as a temporary haven for explorations (including an ocean monument that lies right off the coast), but it also represents the first land generated in 1.8.
Icaria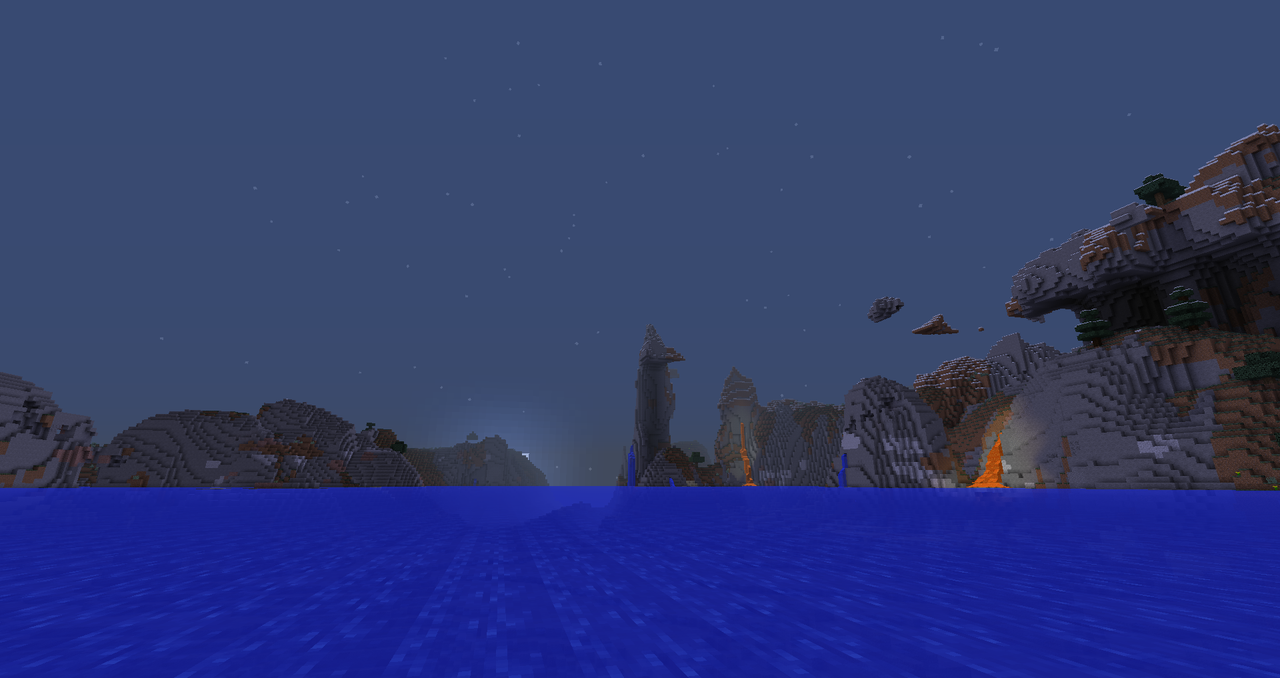 A vast world of oceanic and mountainous adventure, Icaria is the home to some of the most beautiful terrain of the explored Quintropolis mainland. It is located near Stonewall and rests adjacent to the same bay.
Megapolis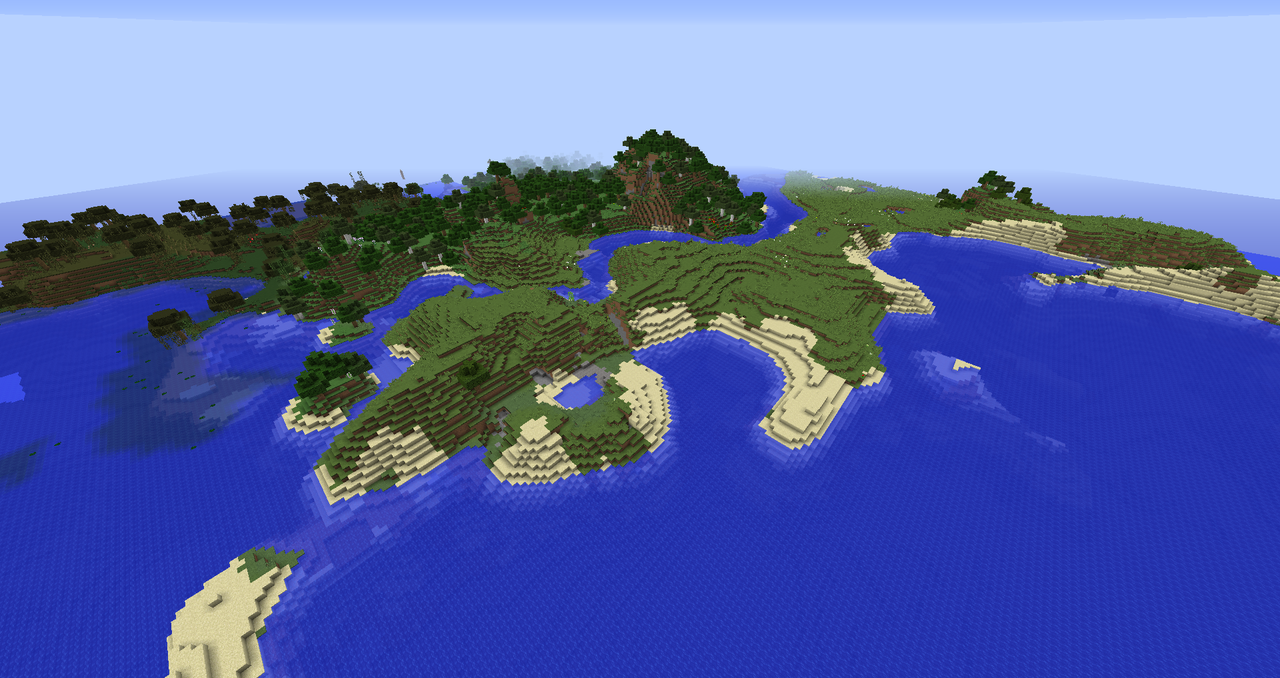 Our home away from home, Megapolis is a giant landscape that coats the entire northern border of Starlight Bay, home to the scenic Megapolis Canals (pictured above) which reside directly above one of the strongholds in Quintropolis. Additionally, Megapolis is home to a secondary base in the making, known only as Quinone Castle.

Introducing Starlight HQ v2.0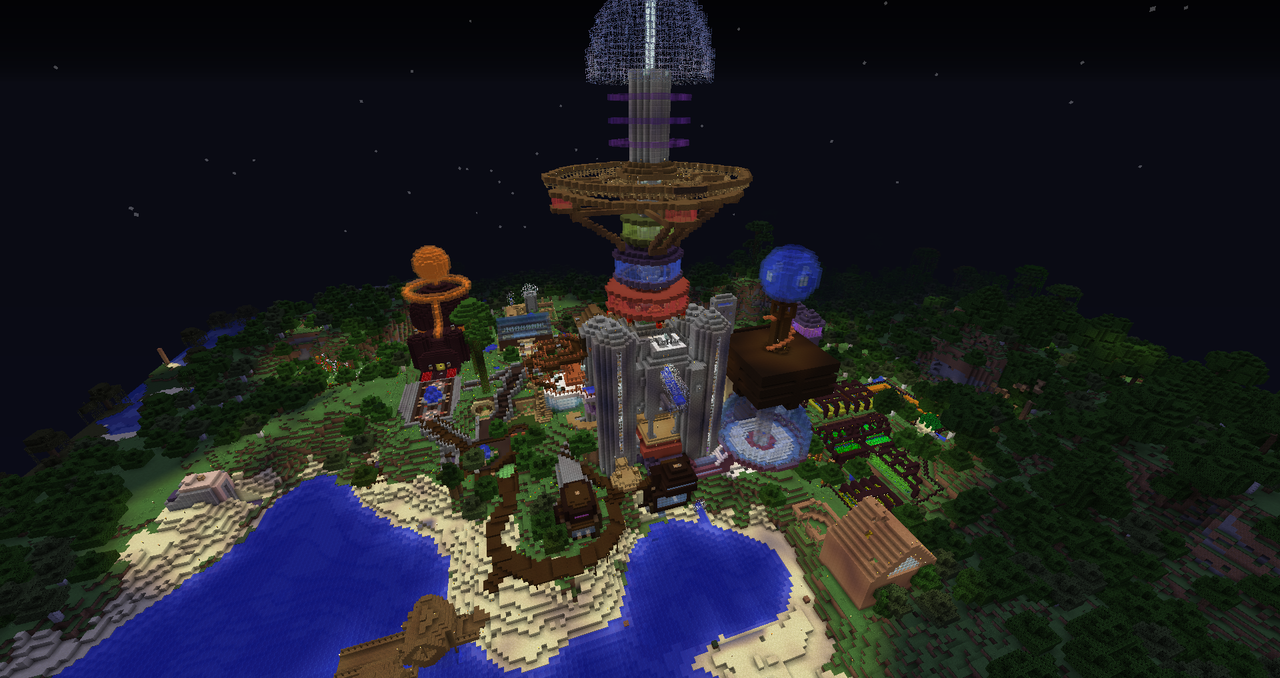 Starlight HQ represents an innovative attempt to expand the definition of a survival base, as it is equipped not only with survival essentials, but a plethora of other outlets for exploiting said survival essentials for the purpose of creating a haven where adventure and experimentation thrive! While the first version of Starlight HQ was hardly anything more than a work in progress, the second iteration takes things several steps further with a slew of new features. Two of the largest features, in the broadest sense, are the Starlight Resources Facility - a multi-purpose facility that replaced both the Farmlands and the storage rooms, while incorporating more than twice the number of features of both original structures combined - and the Starlight Plaza Faction - the second of four planned factions for Starlight HQ that introduces the Nether into Techtropolis, inspiring Starlight HQ to expand even further with the addition of "pocket factions" accessible via the Nether Hub. Among much else, Starlight HQ's biggest feature is its ability to prepare for developments to come, as the build represents a continually evolving work in progress that represents my ideas.
The Big Changes!
First of all, Starlight HQ has undergone so many changes over Season 2 that fitting them into this post would not be feasibly appropriate. That's why the full list of changes is included in the Season 2 History Log document released with this session. We'll look at the big changes though, as Quintropolis sees many of them! The first of these would be the immense Starlight Resources Facility that sits right underneath Starlight HQ. It took up a large chunk of this season and is easily one of the largest projects I've ever taken on in Minecraft. Not only does it contain most farms and most of Starlight HQ's storage, but it also includes several other amenities that make it stand out as more than just a collection of farms. Additionally, builds like the Nether Temple, Starlight Arcade, and Aqua Lounge have helped to offer new innovative approaches to survival, as these builds make up my three favorite builds of the season. Parkour courses like Fall Damage and Landing Pad have helped me break away from the traditional aspects of the game, while builds like the Mob Processing Hub have allowed me to have fun with traditional designs! All in all, the changes this season alluded to the biggest change of all, which is the potential for even further development. Alas, no one thing is ever complete!
Parkour Courses
A standout element of Quintropolis is the numerous handcrafted parkour courses scattered throughout the world. While all of these are accessible via Starlight HQ, they are not all located in the contiguous HQ; you may need to travel elsewhere to play them. As of v2.0, Starlight HQ incorporates two additional parkour courses making a total of three, plus Starlight Playground which unofficially counts as a fourth. Each of these courses is different, offering the player a unique experience by changing the play style. Let's look at Quintropolis' three parkour courses in more detail!
Totem Run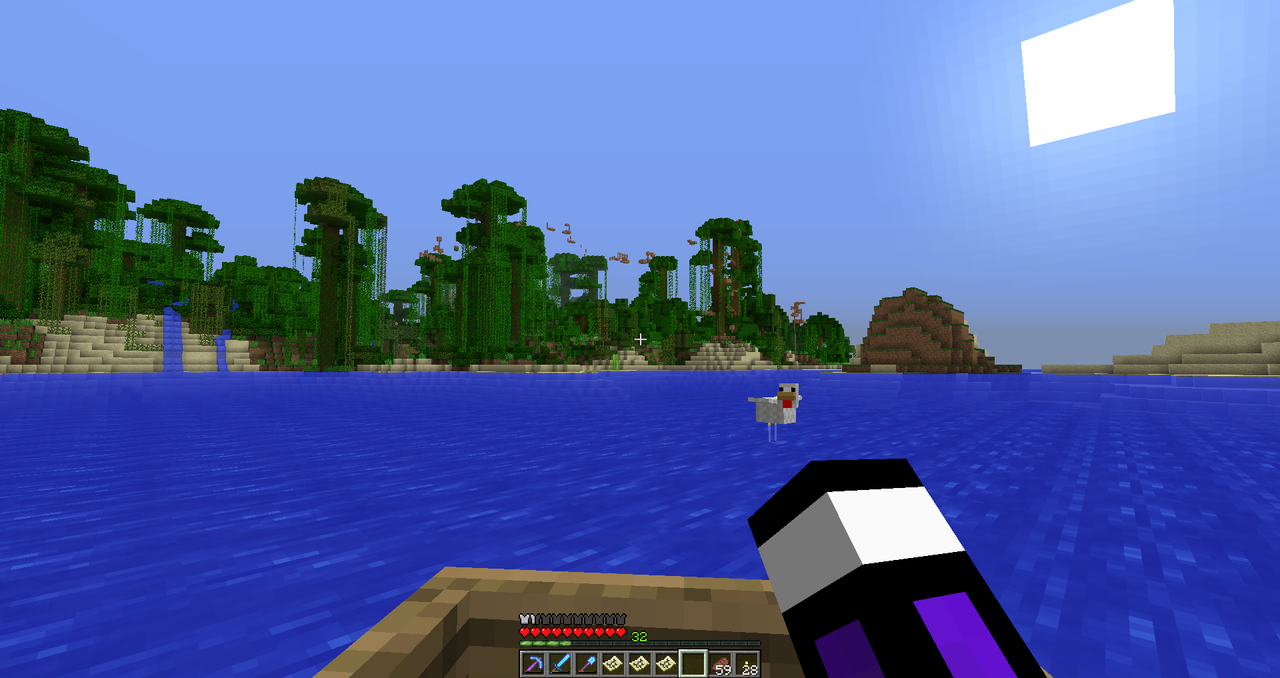 Take a break from survival with this refreshing, primitive tribal-themed parkour course located near spawn in the jungles of Quintropolis Island. This course utilizes nature and natural elements to build up its challenges, complete with four checkpoints and several fun obstacles for you to traverse! Totem Run was the first course added to the world and is the best choice for a course in which you want both puzzle and action without the stakes being too high.
Fall Damage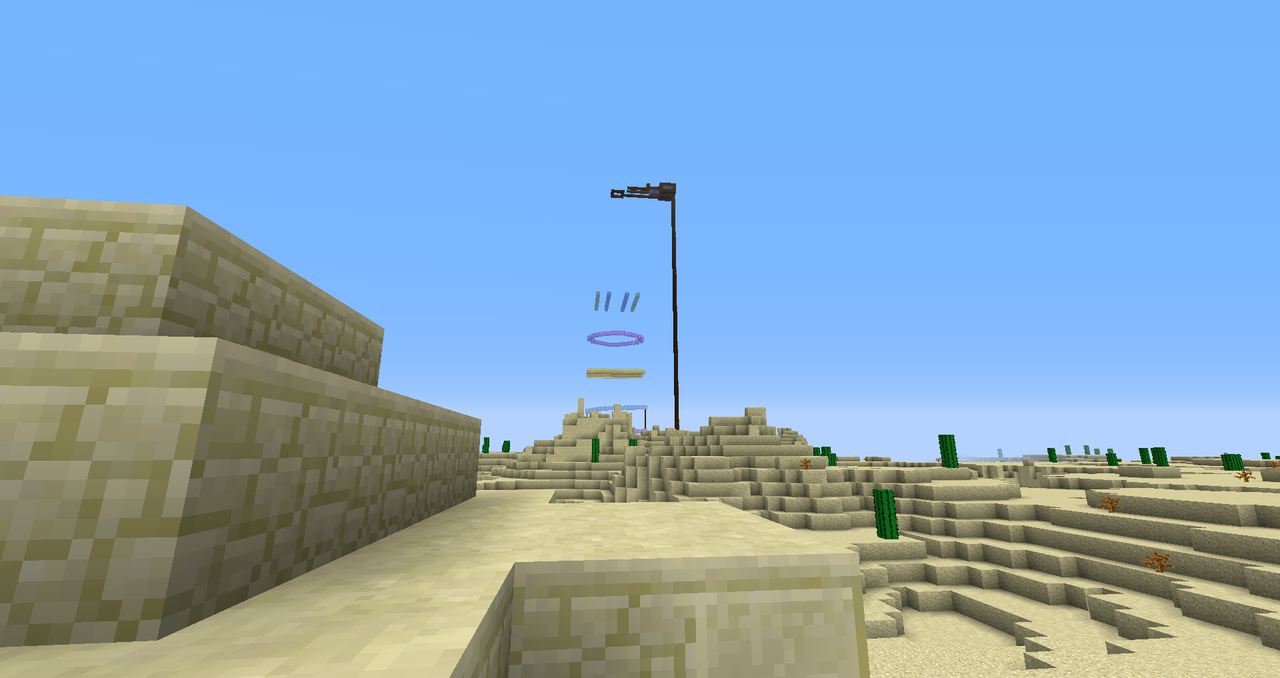 Want a different type of challenge? Fall Damage is a short but challenging parkour course that is focused solely on aerial flight! Can you traverse the obstacles and successfully glide through the three red rings to the bottom?

Landing Pad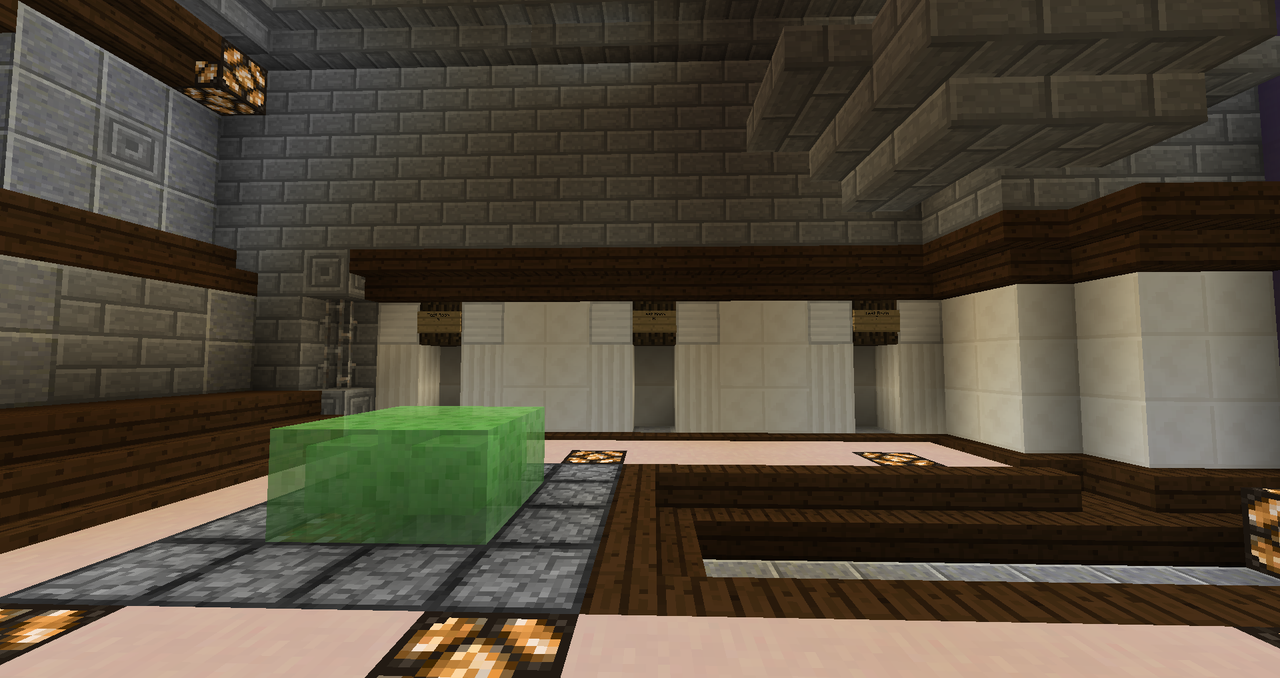 Located in the Starlight Resources Facility, Landing Pad is a fully self-contained redstone-operated parkour course that challenges you to several redstone-based challenges, most of which incorporate moving parts. This course represents one of the most innovative features of Starlight HQ, and is also the most difficult course of the three. Comprised of both action and puzzle challenges, Landing Pad is one of the most versatile builds in the entire base. And, if you are skilled enough to complete it, you are in for a fun and surprising ending!!
Starlight Arcade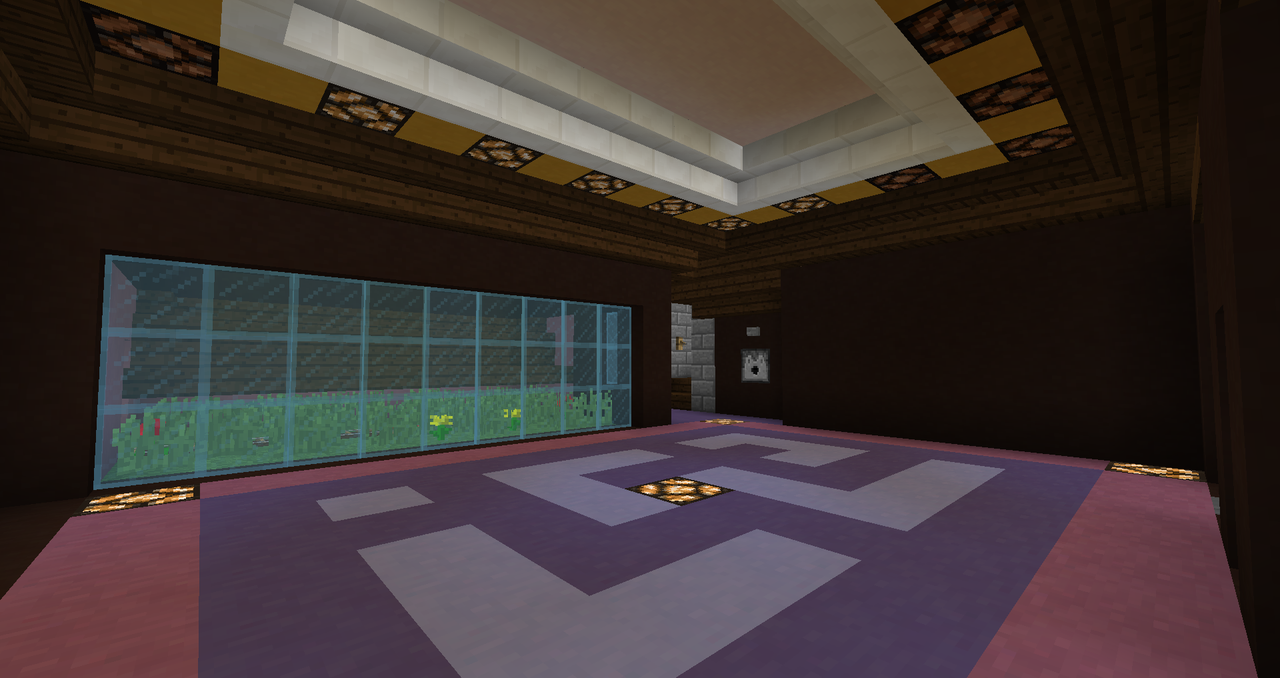 In addition to parkour, Season 2 saw the addition of Starlight Arcade to the headquarters, providing the user with two fully-fledged arcade games that each differ in play style. These arcade games present a new concept to Starlight HQ – that of a self-automated redstone machine. The two games operate on their own upon activation, and both incorporate a number of redstone devices (most of which can be manipulated). Color Conundrum challenges your ability to follow patterns, while Aim High! challenges you to test your bow skills! Both are playable through the articulate token-based system that makes up the arcade.
Stonewall Scavenger Searches
Scattered abroad Starlight HQ are four distinctly different scavenger hunts that end with the discovery of a Stonewall Talisman. The four talismans represent the four beacons that emit the different auras of the Quintropolis gods. The Stonewall Scavenger Searches not only connect with this mythology, but they also offer an interactive approach to learn more about Quintropolis. This is because completing them successfully requires you to be familiar with both the world and its history, as both are referenced throughout the hunts. In this way, you can learn more about the world while also solving a unique kind of puzzle – four of them! These searches all begin with a book, located in the Starlight Library on the third floor of Starlight Castle.
Stonewall Scavenger Search #1 – Arguably the most difficult of the four courses, the first course relies a lot on your knowledge of Quintropolis' history, which you can learn about via all of Season 1's documents, the first world tour, the first world download (session 100), and the old LP. You need to be familiar with miniscule details and think outside the box to successfully complete this course. As a combination of redstone elements and meticulously-placed details, this course uses the base's history as the foundation rather than the base itself. Therefore, it will be difficult to solve if you don't know the history.
Stonewall Scavenger Search #2 – While not reliant on your knowledge of history, this course requires you to be familiar with the base itself. You need to know where things are and how that might be important to finding the clues of this hunt.
Stonewall Scavenger Search #3 – This is probably the easiest of the four courses, though it can still be tricky. This course is not too focused on miniscule details like the first two, instead offering a wide range of interesting challenges that force you to think differently about things. In short, this course is probably the most diverse of the four courses, giving you a few different puzzles while not relying on your knowledge of the base down to the detail.
Stonewall Scavenger Search #4 – The fourth course is tricky, as it is almost entirely redstone-oriented. It is reliant on your knowledge of the base itself, but for very specific reasons (you need to be able to locate very specific blocks). This course is the most unique of the four as every clue requires you to solve the same type of puzzle in a different way, each one being more involved than the previous. This also makes it the most coherent of the four courses, as it has a specific theme rather than being all over the place.
World Tour (and more)
Watch the ominous Secret of Stonewall come to life in a world tour/episode combination now…
The Secret of Stonewall has been fulfilled with the Starlight Beacon, but if the Quintropolis gods deem Starlight HQ unworthy they will destroy it along with the rest of Quintropolis, just as they did with kuli aleilm. At least it will go out with a bang as Techtown's forces close in, as we won't be here to see it. No, we will be evacuating the premises to somewhere much further away. I don't know where yet. I'm lost. I've gotten so used to feeling safe within Starlight HQ that it's ironic to see it as the most unsafe place for me at this moment. Has Starlight HQ been compromised? Is the future truly set? My friends, the story of Quintropolis is about to begin, as this is the day Techtropolis fell.
Included in this post is an updated world download, so you can explore the world yourself, play the courses, do the things, and enjoy all of the wonderful bonus features and amenities that Quintropolis has to offer. I've tried to accommodate everyone, so hopefully you do find something in it that you like!
Additionally, take a look through all the links below to catch up on lost time throughout Quintropolis' history! You'll find everything from complete documentation of all current sessions, history logs, reference guides, world downloads, video playlists, screenshot showcases, and more!
Quintropolis by Season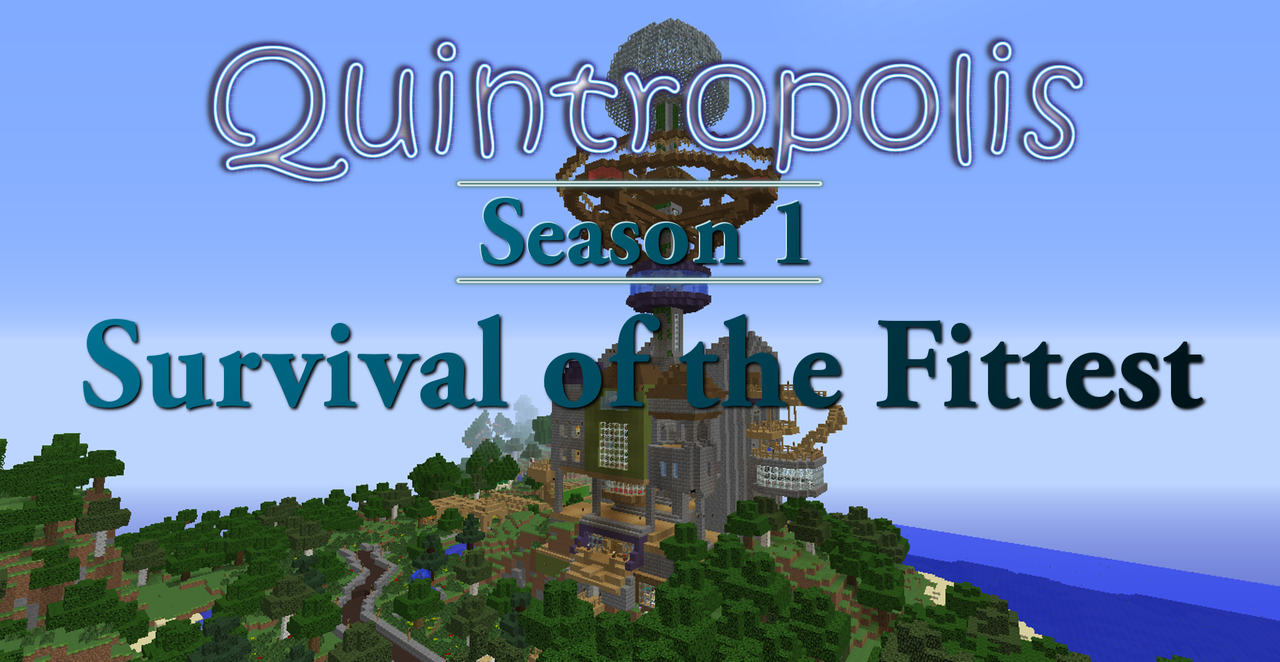 (June 2013 - November 2014)
Throughout Season 1, the goals were simple: survive and thrive. The first half of the season was comprised of the construction of the Starlight Castle – our main base and the central part of what would become Starlight Headquarters. It was rebuilt twice within this time frame – once out of cobblestone until it was renovated into its final form. The second half of the season revolved around developing foundational utilities of Starlight HQ, including the Power Museum, mob XP farms, and automatic farms. In addition, a special focus was put on becoming better-rounded in Techtropolis – acquiring wealthy amounts of materials and improving the Starlight. Season 1 was the game breaker – that point where you make the most of what you have, even if you don't have much. While it works as a self-contained season, it works better as a beautiful setup for developments to come.
Complete Season 1 document is downloadable here.
Complete history log of Starlight HQ up until session 100 is downloadable here.
Playlist that features the first 26 sessions as episodes of the original LP series, as well as some other videos (including two world tours) is available for streaming here.
Complete Season 1 "Screenshot Showcase" is downloadable here.
Season 1 World Download from Mediafire here.
Season 1 World Download from Curse: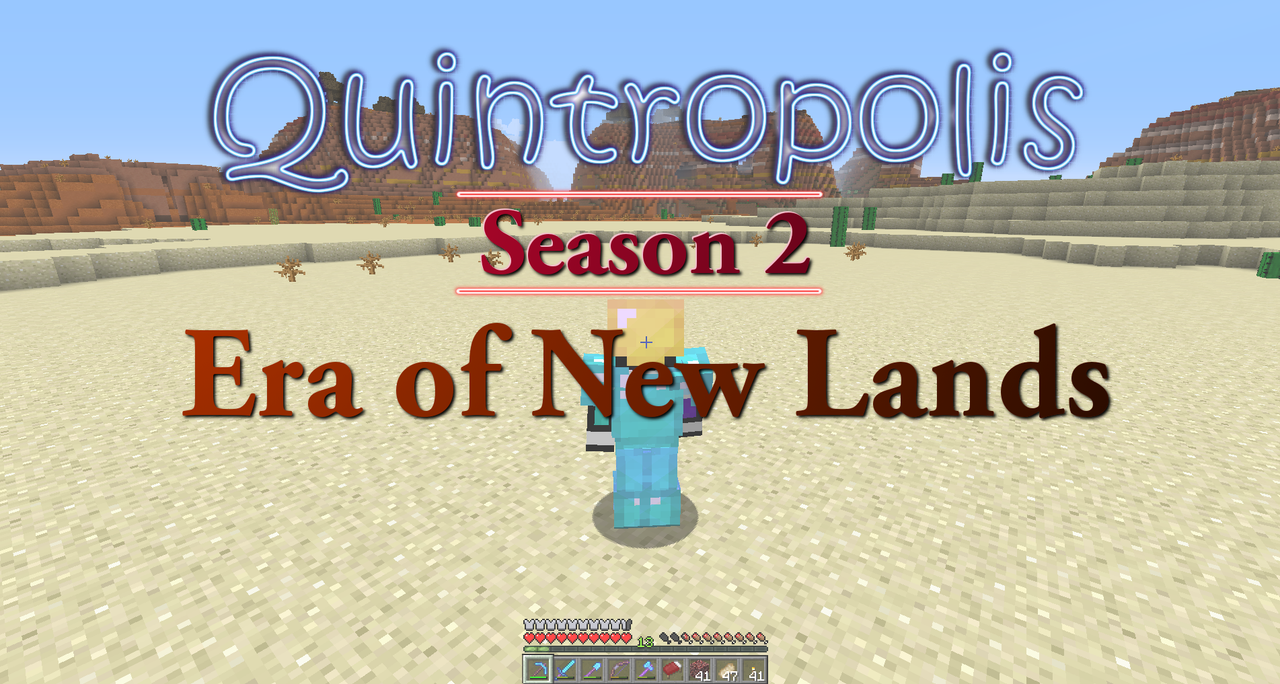 (November 2014 - August 2016)
The primary focus of Season 2 was to improve everything that could be improved, and complete the plaza faction of Starlight HQ. The goal was that by the end of Season 2, we would be at a point in the world where we could have anything we wanted – that we were wealthy enough to be comfortable. There were many firsts this season: the Nether, underwater dungeon, mesa, Mushroom Island, and so much more. The first half of the season spiraled around the development of the entire plaza faction of Starlight HQ, as well as the complete renovation of the Starlight Castle. The second half of the season featured many new adventures and a complete redo of almost every possible farm in the game, only much better. Topped with the introduction of the mythology behind Quintropolis, Season 2 had everything from mass amounts of almost every resource to adventures over 10,000 blocks away.
Complete Season 2 document is downloadable here.
Complete history log of Starlight HQ up until version 2.0.1 is downloadable here.
Starlight HQ 2.0 Reference Guide is downloadable here.
YouTube playlist that features all Season 2 videos is available for streaming here.
Season 2 World Download:
World Download Notes
SPAWN: You will spawn inside Starlight Room. The world tour will be your guide through Starlight HQ if you choose to utilize it.
OPTIMUM PERFORMANCE: Quintropolis (specifically Starlight HQ) will not function optimally on low-end PCs. Even on higher-end equipment, you'll find that the world will still lag in spots. To remedy this, I recommend turning particles off, smooth lighting off (or minimum), bobbing off, clouds off, and graphics on fast. Again, tweak these parameters to what suits you best, but know that you might have to sacrifice graphic quality for play quality. Even on those lowest settings, my PC hardly peaks 15 FPS at the most condensed spots of Starlight HQ (I have an i5 processor and 8GB RAM).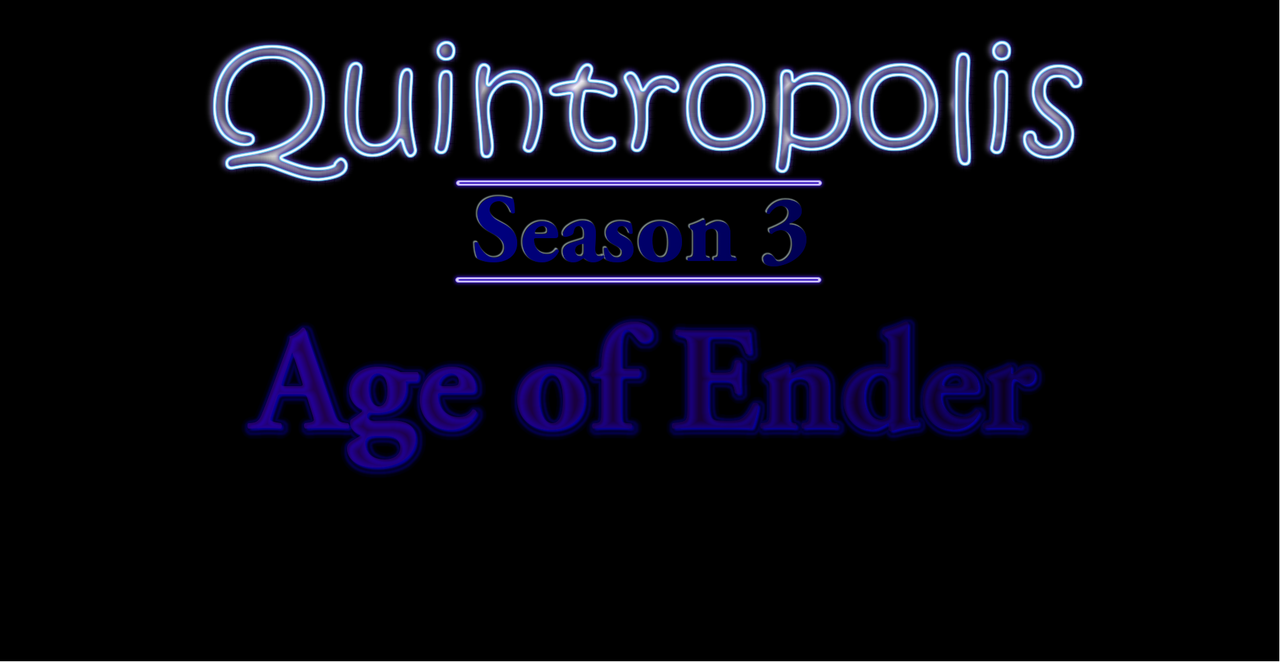 (November 2016 - December 2020)
Currently in progress! Season information will be available following the season finale.
SYNOPSIS: The story of the endermen's arrival to Quintropolis is fully explored in a race against time as the Quintropolis gods make their presence known for the first time in thousands of years. As Starlight HQ blossoms to control the known overworld, the threat of Enderquin's siege upon Quintropolis looms near.
LP series? Not my style! Video series? Closer, but not quite. Survival journal, maybe? That's better. Now in Season 3 of the Legends of Quintropolis Journal (<< click to view)!! World download and more can be found there.