Vipertryx
Stone Miner
Join Date:

2/17/2014

Posts:

82

Member Details
MUD, QUICK SAND & TAR PITS SUGGESTION
These liquid substances will now form in pits of varying size from smallish pools of roughly 9x9 blocks to larger variants. They will now dot the landscape of the Overworld and the Nether. mud and quicksand pits will form in the Overworld while tar will reside in chasms of the Nether. Each of these pits are slightly more troublesome for the player than the last. Mud is the least dangerous, followed by quicksand, and tar is the most dangerous of the three.
Mud Pits
Within these pits there is a brownish liquid substance that can give the player some minor difficulty if they were to fall into it. The player will have to apply a little more effort/time/energy to get back out of the mud. Like water, the player can drown if movement is ceased. These pits will be located near swamp and plains biomes. They are more abundant than quicksand.
Quicksand Pits
Quicksand is a little less forgiving than mud. The player will find themselves stuck for much longer and use up even more energy than being stuck in mud. Quicksand looks very similar to sand but with minor brownish patches. It also has the properties of liquid but if you are not careful and have your attention averted, you may just fall into one of these pits. These pits will be found in the desert as well as in jungle biomes.
Tar Pits
Tar pits are only found within chasms of the Nether. Their texture is a sickly grayish black sludge. Unlike their Overworld counterparts, tar pits will subject the player to heat damage similar to lava. However, tar is not as hot as lava meaning the damage one will receive is far less than that of lava and you have a better chance of escaping the tar than you do lava provided you are near enough to an edge that you can pull yourself out from. These pits have the same level of grip as quicksand but with added heat damage.
Buckets
Like other liquids, all three of these liquids can be obtained using a bucket. There is no crafting recipe for mud, quicksand or tar. This means the player must seak out these pits in order to acquire these liquids. These substances can be used to create traps.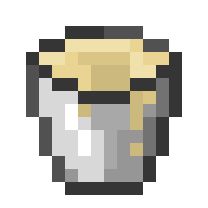 Bucket of Mud, Quicksand & Tar
Traps
If the player gathers enough of these liquid substances in buckets, traps can be formed around valuable items or used to slow down hostile mobs. Nether mobs are unaffected by the heat aspects of tar. Most hostile mobs will attempt to avoid these substance unless in pursuit of a player if they are standing on the opposite side of a pit. Passive mobs will also avoid these pits unless pushed into them by the player.
Fishing
Fishing is also possible in these substance but fish will obviously not be present. Mostly the player will have a very high chance of receiving various junk with a much lesser chance of acquiring treasure. The junk to treasure ratio is much higher in these pits making them not that ideal for fishing. They also apply a lot more wear on your fishing pole. The upside however is a very very small chance of receiving mob heads (only zombie, skeleton, and rarer still a creaper). This gives the player a reason to attempt his luck with fishing in the pits. This is the only way to obtain mob heads in survival.
Interaction with Other Liquids
When any of these liquids come in contact with water or lava, the liquid is destroyed and replaced with either water or lava. Water will dissapate the substance and lava will destroy it. On the offchance the pool is breached by water or lava during its natural spawn (which is very uncommon) the substance will be replaced with water or lava. These liquids can also fall similar to water and lava (Again this is unlikey during natural spawn do to the way the pools are formed with a barrier of dirt, sandstone, or netherack below the substances when they form) but again during contact with water or lava they will be destroyed. When interacting with eachother, tar will overtake both quicksand and mud, and quicksand will overtake mud. Mud however is far more abundant than quicksand and tar.
Let me know what you all think!
Suggestions in Comments: (please consider the following suggestions made by others as well)
-Possible future use for tar to create road material.
-Possible mudslide scenarios.
-Possibly in own biomes.
-Possibly add tar to mesa biomes.
-Possible mud variants, and mud slimes.
-The new liquids should be finite, increasing rarity for them.
-If you have a 1x1x1 hole filled with quicksand you will only sink until you reach the bottom of the liquid.
-In order to receive suffocation damage, a 2 block tall hole must be crafted with 2 buckets. This is due to the liquid acting similar to normal blocks like sand and gravel where they will fall to the lowest hole. This again makes the liquids more rare.
-The liquid will spread in all directions making the source block smaller.
-You can only fill buckets from the source.
-Fishing from the pits is only possible in naturally spawning pits, not player made pits.
-Possibly have these pits make their way into some generated structures (like desert temples) for added fun.