dirtminer6
Void Walker
Join Date:

11/19/2012

Posts:

1,687

Minecraft:

ehaugen7

Xbox:

Combatkilla6969 (Yes i have a xbox)

Member Details
To start this off, I want you guys to know that their is nothing really boring about the desert. Im just using the word boring as, kind of a slogan if you will. Trust me, mesa's look awesome!
So this (or these) ideas have a lot to do with mobs, if you don't like mobs you don't have to support. Okay lets start.
MOBS:
Here is a couple of new mobs I was thinking about. I think they would fit the desert entirely. I researched many of these mobs from places in
Africa
,
North America
,
Middle East
, and our big lonely friend to the south
Australia.
You dont have to support all of these mobs. Pick your favorite i guess.
Vulture:
The vulture if you did not know is a big ugly scavenger of a bird found in Africa. These things make platypuses look cute. That's how they would like in this game. Big, bald, ugly birds.
Rareness:
Less common than lets say, a sheep. But its more common that a ocelot.
Health
Vultures have lets say 5 hearts of life in this game.
Drops
Upon death a vulture will drop 1-2 feathers.
Special:
These birds are found in the sky or on land in packs of 3-5. If they are chilling out on ground they will go airborne if the player gets 3 blocks away from them. If players kill another mob around vultures (they will circle around in the air from time to time) the vultures will all swoop down trying to get some meat.
If they get the meat they bring it back up in the sky with them and enjoy a meal while the player is likely shooting them with arrows (if you kill the vulture that has the stolen food, it will drop the food also.)
If the player is carrying uncooked meat of any kind the vultures will follow the player around for a bit. (And their is a 25% chance that the vultures will turn hostile and attack the player.)
Also, if you have some rotten flesh, throw some out. The vultures will eat it. The vulture that eats it will die and drop his feathers.
Damage:
Vultures deal 1/2 "hearts" of damage per swoop. (That is only if its trying to get your food.)
Personality:
Mostly passive but can turn hostile for players uncooked food.
Sidewinder:
The sidewinder is a snake found in North America and maybe Australia. Its a little orange snake that when it slithers, it slithers sideways making weird looking tracks in the sand.
Rareness:
As rare as any other mob.
Health:
Sidewinder has 1/4 of a "heart".
Drops:
Nothing.
Special:
Other than the fact that you can find this snake by looking for a pattern in the sand (that would work like how snow-prints do in this game) you will be able to track this snake. Other than that its completely an authentic mob to look at.
Damage:
None.
Personality:
Passive.
Cobra:
The cobra is a black snake found in the Middle-East and parts of Africa. Its pretty venomous making it pretty dangerous.
Rareness:
As rare as an ocelot is in jungles.
Health:
Cobra's have 1 1/2 "hearts" of life. (Hey that's not bad for a snake.)
Drops:
1-2 bones. (Snakes have bones, so this would not be to weird.)
Special:
If you make a flute, a new instrument made like so:
And play it in front of a cobra (by right-clicking it and holding it. Moving the flute up with the mouse while holding right-click button makes a higher-pitched noise. Moving it down while holding right click button makes a lower, deeper noise.)
Anyways, playing music if front of a cobra for about 5-7 seconds will make him "happy". A little heart will appear above his head. He will then lead you to the nearest well, sand village, or pyramid. But after that he will go back to being neutral.
Damage:
Cobra's do 1/2 worth of damage. But their poison does 1/4 hearts worth of damage for 12 seconds.
Personality:
Neutral. Makes a hissing sound when your getting to close.
(That's all the mobs for now. Will add more later but I want to get some more things in.)
STRUCTURES:
Here are a couple new desert/mesa generated structure ideas. Enjoy.
Cobra Pit:
Cobra pits are, well pits filled with cobras. You will be able to recognize one because it looks like a pyramid with the very top sticking out and open. Inside the hole is, like I said, a room filled with 5-7 cobras, torches, and a chest of goodies for those who can survive. Dare to try it?
Rareness:
Less than pyramids and villages. Still uncommon though.
Adobe Villages:
These villages are found only in the mesa biome. They are villages made on the side of the canyons and made with only smelted clay. The villagers their sell rarity's like gold and obsidian for dyes and stuff. Their are about 5 houses in each one of these villages and their is no library or blacksmith. But you can still find a chest in one of the houses.
All the houses are connected to each other too by the way. The only way out is through a latch at the top of the main house.
Rareness: 1 in every mesa since mesa's are so hard to find.
Vegetation:
I know that deserts are suppose to be dry and dangerous but i was looking at some pictures of real life deserts and their are plenty, plenty plants. Here is a few that could be added.
Saguaro Cacti:
To be honest, cacti are pretty boring. Thats only because they all look the same. They are just stalks.
Adding saguaro cacti will add cacti variety.
Saguaro cacti would be 3-5 blocks high. And more cacti blocks branch out of the side of them.
So saguaro cacti would give you approximately 7-9 cacti instead of just 3 like normal cacti "stalks" would.
Here is a picture of a real saguaro: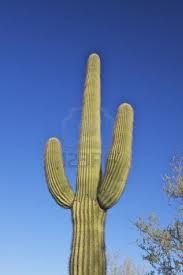 Rareness: Common
Palm Trees:
Palm trees are very tall, skinny trees. The wood you get from them is yellowish-brown. When you mine a palm tree wood piece, it comes down as a skinny log (but they still are used to craft things the exact same way.)
Palm trees are 5-9 blocks high and their leaves are light green. Found by desert lakes and rivers only.
Not found in mesa's. Also palm tree saplings can only be planted in sand.
Rareness: Uncommon.
Terrain:
Deserts have a variety of terrain or things that effect terrain. Here is a couple of ideas.
Death Valley:
Inspired by the death valley in the Western U.S. This new terrain feature would be a whole sub-biome.
It would be a huge in the ground, a dip thats like 7 blocks down. In the valley, only dead bushes grow (no cacti or palm trees.)
The valleys ground is made only out of sandstone and its completely flat like so:
notice how the dip makes a natural stairway? Also, can find dead trees like the ones in mesa biomes in death valleys.
Rareness:Uncommon.
Quicksand:
It looks like sand but with a more muddy brownish look to it. When you step in you slowly start sinking in it.
To get out you have to keep jumping.
Quicksand will not kill you but it slows you down like soulsand.
Also craft-able like so:
That will get you 8 quick-sand blocks. Now go make a trap!
SUGGEST THINGS
+1 IF YOU SUPPORT
TELL YOUR BFFS
THANKS
[URL=http://[url="http://www.minecraftforum.net/topic/2148220-new-crops-and-old-ones-with-new-recipes-and-biome-variety/"]http://www.minecraftforum.net/topic/2148220-new-crops-and-old-ones-with-new-recipes-and-biome-variety/[/url]]
[/URL]