CodenameDuchess
Retired Staff
Retired Staff
Join Date:

1/19/2013

Posts:

813

Member Details
I have locked the thread because I am no longer particularly interested in continuing it. If it is possible to transfer ownership of a thread, I would be happy to have someone take over.
Making Dungeons Harder and More Interesting!
Structural Changes!
The dungeons are bigger, they almost always have corridors connected to them, and sometimes those corridors connect to another spawner room, with a different kind of monster spawner. More commonly, they simply connect to a dark, mostly empty room. The spawner is no longer in plain sight, it is usually hidden in the floor, and dungeons close to the surface will rarely have an entrance open to the outside.
For the full details, click the spoiler.
1.
Increase Dungeons' size. Make the spawner rooms 11x11, 11x13, 13x13, and rarely 13x15 (Dungeons are currently 7x7, 7x9, and 9x9). This allows more space for monsters to spawn and adds more of a challenge. Last but not least, when the spawner is hidden (see #2) it makes it more difficult to dig down and knock the spawner out from below.
2.
Spawner block location changes!
A. The spawner is level with the floor, and a silverfish monster egg covers it. Up to 3 decoy blocks (also silverfish blocks) are placed on the floor randomly to hide the spawner.
B.
The spawner is close to the corner of the dungeon, and is surrounded by iron bars.
3.
Give each block that makes up the dungeon walls a 2.5% chance to be a silverfish monster egg.
4.
Dungeons close to the surface (up to 10 blocks deep) will have a chance to have a staircase up to the surface.
5.
Various aesthetic effects, including cobwebs, cobblestone walls, and iron bars.
6.
Dungeons have the potential to have corridors, empty rooms, and multiple spawner rooms.
Traps- Descriptions and Pictures!
In short, chests will sometimes be trapped, and may ignite TNT, drop an anvil on your head, or open the floor beneath you and cause you to fall (not far enough to kill you). Occasionally, non-lethal holes in the floor will form as well. Not all traps are built using the same triggers and mechanisms. None of the traps are designed to be lethal; in fact, only one can kill you if you have full health, the TNT/trapped chest trap.
Full details in the spoiler.
Triggers
1.
Trapped chests
2.
Levers or buttons found on the floor, walls, or ceiling.
Tripwire and pressure plates are not used because of monsters' persistent tendency to activate them.
Traps- pictures of each are in their respective spoilers.
1.
A pair of TNT blocks that will ignite and destroy chests.
Note:
These only spawn with chests, and they are intended mainly to destroy loot, not to kill the player. The only reason there are two TNT blocks is that a single TNT block would do little to no damage and would not destroy the chest, let alone the loot. Only one block of TNT is pictured below, the second was removed.
2.
2x8x2 (2 blocks long, 8 deep, 2 wide) pitfalls that can be found anywhere in the dungeon.
Most commonly found where you least want them! Keep in mind, they are only 8 blocks deep and will not kill you unless your health is low.
3.
Traps that, when triggered, will stop powering pistons, and the floor (gravel) in front of the trigger (in the pictures, the trigger is a trapped chest) will fall 9 blocks down. Keep in mind it is 9 blocks, so not enough to kill or even seriously hurt you.
4.
"Anvil Traps" will sometimes cause a "very damaged" anvil to fall two blocks in front of the chest.​ If you're wondering, the anvil falls two blocks in front of the chest because most people do not open chests or flip levers from the block directly in front of them.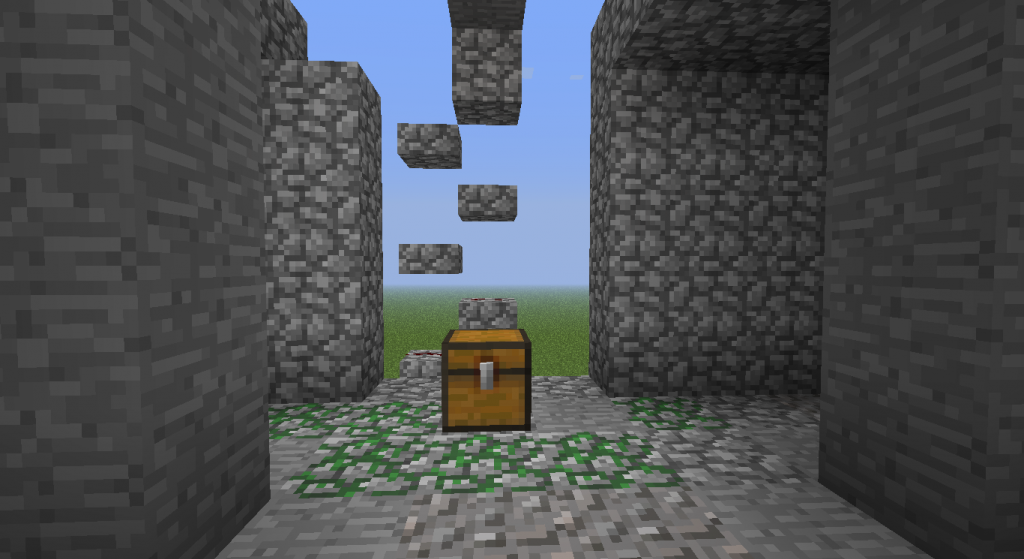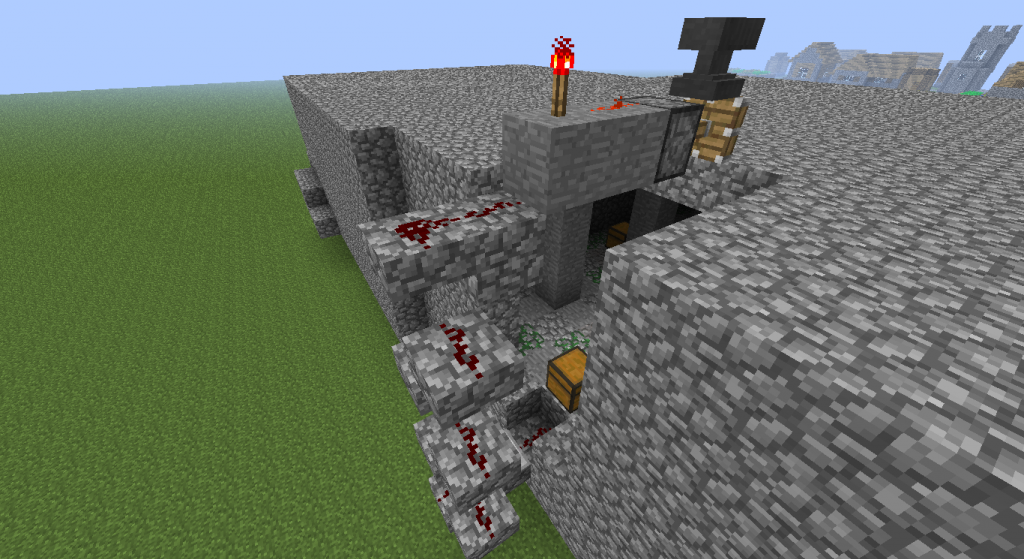 5. Regular-chest traps
are chests that have inverters beneath them, wired to TNT. If you dig around under them, you're probably going to break the inverter and trigger the TNT. Not really a trap, but I like the thinking behind it. Suggested by Bagelface, the pictures are his as well.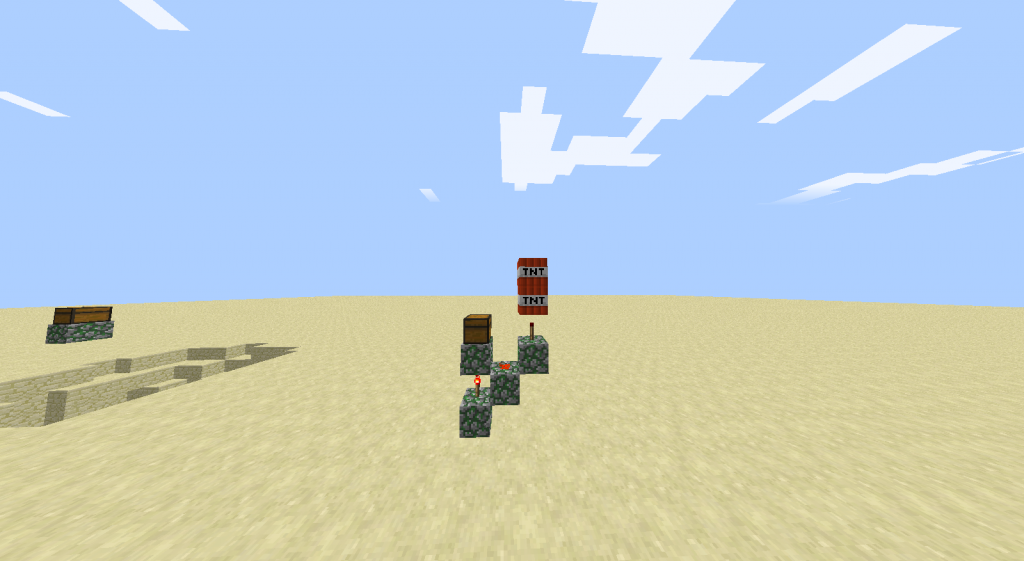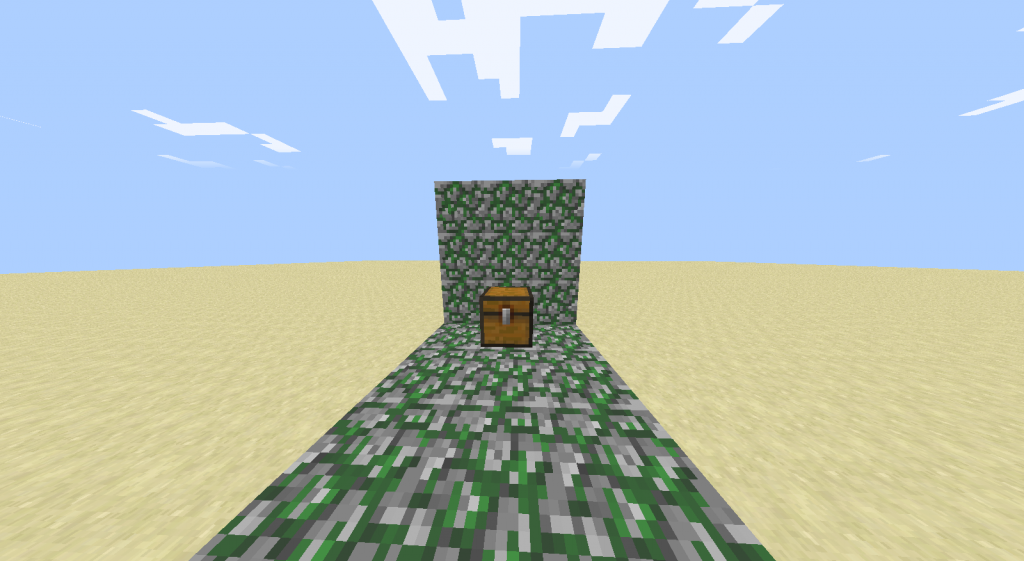 6.
Collapsible-room traps, made by Malloon, are best explained by him, as seen in the spoiler below.
I made a few traps:

Trap 2: A collapsing room.

This trap is non-resetable, but so are most of the trapped chest traps. It is simply a chest conected to redstone, which in turn is connected to a block of TNT. Just one. The room is 7*7*3 large (inside space), and right ontop of the ceiling in the middle is the TNT. Above that is a 7*7 layer of cobblestone, and on top of that there is a block of gravel 7*7*3 big.

This is what it looks like after the TNT exploded:

What I like most about this trap is that, while is is big, it is very simple and can easily be combined with other things. The room could be anything, but the trap stays the same.
Dungeon Generation!
Additional Generation, Methods A and B
When dungeons first begin generating, two rooms, connected by a corridor, and only one having a Monster Spawner, will generate. One chest (with loot, not trapped) with form in the room with the monster spawner.
Additional Generation: version A

In addition, dungeons can generate up to two of the following items, generated randomly, and without repeating an option:

-An extra, empty room
-An extra room with a spawner (the type of spawner must always be different) and a chest
-A TNT trap rigged to a trapped chest
-A pitfall trap rigged to a trapped chest
-An anvil trap rigged to a trapped chest
-Two regular pitfalls (holes in the floor)

If, by some chance, two options that do not add a chest are chosen (such as an empty room and two regular pitfalls), an extra chest, non-trapped chest will spawn in the dungeon. This way, at least two chests are guaranteed. You may also wish to note that no more than three chests can spawn using this method.

Additional Generation: Version B

Dungeons generate additional rooms and traps, which must add up to a value of 3. Each option can be repeated, as long as the final value is 3.

-Empty rooms are worth 1.
-Rooms with Monster Spawners (the type of spawner must always be different) are worth 2.
-TNT traps (wired to trapped chests) are worth 1.
-Pitfall traps, wired to trapped chests, are worth 1.
-Anvil traps, wired to trapped chests, are worth 1.
-2 Pitfalls (holes in the floor) are worth 1. This effectively makes each worth 1/2, but as they are the only things with 1/2 value, they will spawn in pairs. This is to offset the relative ease of defeating these traps, compared to the others.

With this method, you are guaranteed to have two chests (but no more than three) without any extra chest addition. You are also, like Method A, limited to two spawners. Unlike A, however, it is possible to have three additional things generate.

Dungeon rooms will all be predetermined geometries (similar to village structures), but will have modular corridor connections so that any room may be connected to any other room. Each room will have exactly 2 'openings' (which form connecting corridors when joined with another room, or simply lead nowhere if no room borders it on that side)
Dungeon Rooms will then be randomly determined and assembled (by ID).
For what I based dungeon generation off of, click the spoiler.
Each dungeon will have exactly 2 Chests.

Each dungeon will have 2 Rooms and 1 Monster Spawner in addition to 2 of the following items, generated randomly:

-1 Extra Room

-1 Extra Room & Spawner

-1 TNT Trap

-2 Arrow Traps

-1 Pit Trap

The 1st chest will always spawn inside of one of the 2 original rooms. This is determined independently of where the Monster Spawner is placed.

The 2nd chest will be paired with the first of the two randomly selected features. A chest paired with a room will spawn in that room. A chest paired to a trap will be linked to that type of trap, but spawn in a random room (including any additional rooms).

Dungeon Rooms will all be predetermined geometries (similar to village structures), but will have modular corridor connections so that any room may be connected to any other room. Each room will have exactly 2 'openings' (which form connecting corridors when joined with another room, or simply lead nowhere if no room borders it on that side)

Dungeon Rooms will then be randomly determined and assembled (by ID).

The following is an example 'generation' of this type of randomly determined dungeon:


1. The world seed dictates that a dungeon will occur at this X, Y, and Z value, so generation commences.
2. The dungeon features are generated: It will have 1 extra room, and 2 arrow traps.
3. The 2nd chest is paired to the extra room, and will spawn in it.
4. The two original rooms have IDs randomly selected: the 1st room is a Room Type 2, and the 2nd is a Room Type 7.
5. The additional room gets a random ID. It is also a Room Type 7.
6. The two original rooms are placed connected to each other VIA their openings.
7. The 1st chest placement is randomly determined. It goes in the 1st room.
8. The Monster Spawner placement is randomly determined. It also lands in the 1st room.
9. The Additional room is connected to one of the 2 remaining openings, determined randomly. It lands next to the 2nd Room.
10. The 2nd chest is then placed in the Additional room.
11. The Arrow traps are placed in any of the available predetermined positions (positions for traps and mechanisms would have to be pregenerated as well)
12. The dungeon is fully generated.

Additional Generation, Method C
This method is much more random than the others; it is also much more confusing. I think I can best explain it through a list, so here goes:
A monster spawner room generates, with anywhere from 1 to 3 entrances. This room has a 80% chance to form another room.
That 80% probability is shared equally by the room's number of entrances, which will vary; with 1 entrance, the probability is 80%; with 2, 40% each; with 3, 26.667% each.
Each new room generated from the central, spawner room has 1/2 the original probability it's generation for it's own room. As stated before, room #1 (the original room) has an 80% probability; room #2 would have a 40% probability (if that room had two unconnected entrances, the probability would be 20% per entrance); room #3 would have 20%, and so on and so forth.
When rooms have two or more entrances/exits, one exit would generated until it comes to an end, then the other exits' generation would begin.
This method would lead to dungeons of wildly different sizes, which may or may not be a good thing. Each "room" could be an actual room, a set of corridors, a dead end (which would have no exits, and would stop the generation), or a spawner room. Spawner rooms would be the only ones to generate with chests, and would always have at least one exit. All rooms would have to be pre-made structures, complete with traps and corridors; this would allow monster spawner rooms to be tailored to the specific mob it will be spawning. I'm sorry this method is so confusing.
When I say "exit", I mean any exit other than the exit that connects it to the already-generated structure. You couldn't have two rooms generate onto the same exit.
Generation Method D

Did Method C confuse you? Well, you're in luck, because Method D is incredibly simple! All it requires is some number of different models of dungeons, preferably more than 10. When the seed decides to generate a dungeon, it simply picks a model and generates it.

Models range in size from tiny (current dungeon size) to huge ("Massive Dungeon Model" size), but the majority of the models are found somewhere in between. This method is very simple, and allows for more complex, though-out dungeons, but it also allows experienced players to memorize dungeon layouts. However, this could be minimized by having more models.

Map Downloads and Pictures!
Map Downloads
Pictures- outdated, but still relevant
Dungeon model #1 (outdated). Ignore the grass.
There are two pairs of arrow-filled dispensers and two pitfalls in the picture.
The bottom-right chest is wired to TNT, the spawner is hidden under one of the stone blocks.
The diamond block represents the spawner. The bottom right chest is trapped and is wired to TNT.
Dungeon model #2. Also outdated, but there's no grass to ignore. Not in the flooring, anyway.
Acknowledgments!

ThePatriarch
-Is responsible for about half the things in the thread, you might as well ask what I myself have done.
-Made (with a bit of my assistance) the large dungeon
-Made the "common criticism and responses" section.

Badprenup
-A whole bunch, provided the framework for what the dungeons are now. Proposed traps for the first time, helped me de-cluster dungeons, etc.

Woutan
-created an ingenious and simple way to solve the double spawner problem.

ChaoticPorkchop
-pointed out (accidentally?) the problems with pressure plate traps.

Code_Name_D
-thought of great ways to make dungeons more "devious" and interesting.

Ouatcheur
-made a way to fix the double spawner problem and the XP farm problem at the same time.

Bagelface
-came up with the regular-chest trap

Malloon
-made the "collapsible room" trap, and a lava-pitfall trap that is not featured here.

Common Criticism and Responses!

They're too big.
Even the large-sized dungeons (which are very rare) are /much/ more compact than mineshafts and strongholds, which generate with many arms of passages webbing out in every direction. Since the proposed dungeons share many walls, the shape of dungeons is more centralized, which would be easy to work around.

It'll get torn up by caverns.
This depends entirely on how the terrain generation works, and it could be reworked if this idea were seen to be valuable enough. Also, as stated above, they don't take up very much space and so would be naturally somewhat resistant to being torn up.

They're too dangerous now.
Well, I don't really agree. In my opinion, the dungeons that currently exist in vanilla minecraft are a bit too difficult to find, but also too easy to conquer once found. The increased size and danger of these dungeons is really what improves them, especially with Jeb upping the loot found in them.

Keep in mind you can just build walls if you want, or flood it!

The spawners make an easy XP/loot farm.
You got me, at least for now. There are quite a few proposed fixes for this, and most of them are actually quite simple. I'll have something up here soon.

Supporters!
Should you happen to be interested in supporting, comment and/or press the "rep" button; each is helpful in different ways. Anyone who wishes to make a mod out of this is welcome to do so, although I would appreciate a private message first.
There is another, older thread on Dungeons that you can see
here
. The author of that thread has given me permission to use his ideas, so feel free to suggest ideas from that thread here.
Suggestions and criticism are welcome! I feel as though it needs something...