UnitedSquadron
Void Walker
Location:

Wandering

Join Date:

12/26/2012

Posts:

1,833

Xbox:

It has failed. The PC is better.

Member Details
Note to moderators:

This isn't a wishlist as they all are rare events that only aesthetically affect game play. If this is still a wishlist, please indicate why.

Sometimes I feel as if there is no surprises in Minecraft anymore. You know everything, and it gets a little boring. BUT WAIT! You spot a abnormal sight something you haven't seen before. It's a rare event!
There are many rare events, none of them really game-affecting. They are simply aesthetic rare events that have a extremely low chance of happening. There is different levels to how rare something is. Common is once a Minecraft week. Uncommon is once every Minecraft month. Rare is every Minecraft year. Extremely rare is every Minecraft decade.
Any rare events that take place in the sky can be seen anywhere you can see the sky. Others depend on whether you can see the area where it takes place. Each event lasts one Minecraft day. To prove having seen a rare event, there is a list of Minecraft rare events that have been seen by the player in the statistics.
Shooting Star: A Dazzling light trail goes through the sky as you watch in awe of it's beauty. Comes in yellow and blue varieties.Comm
on appearance. Increases light level to 5.
Ore shine: Occasionally a single ore will sparkle a bit, being a bit noticeable then others. It would be look like a very bright ore. This never happens on coal. Uncommon appearance.
Mist: In the forest, tundra and taiga biomes, a mist will come around and lower visibility, but by very little. Uncommon appearance.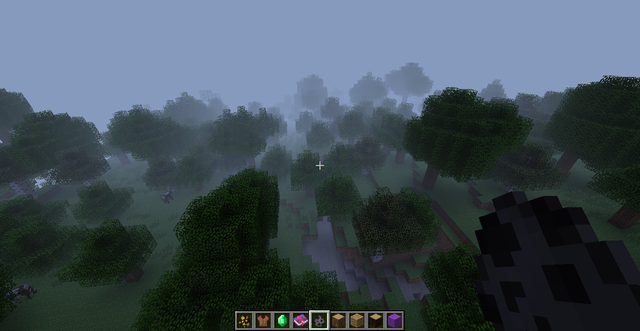 Mist will be lighter than this. This is only for now.
Cloud shape: A cloud will appear occasionally in a random shape. Those objects would be Minecraft themed. Extremely rare appearance
Nether Blaze: You might stumble upon a odd ring of fire in the Nether, there is a chance a blaze will spawn in the center. Comes in Small, Medium, and large varieties. Uncommon appearance.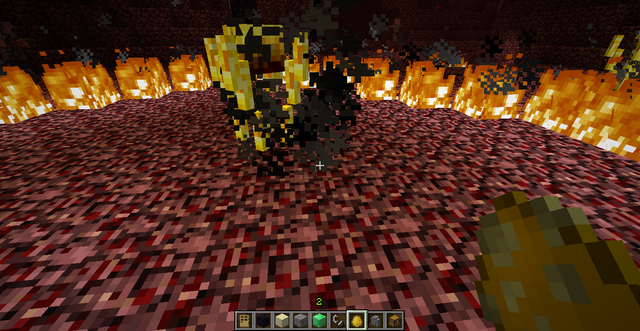 Meteor Crash: You might find a smooth stone hill half-buried in smoldering ground. It is per-generated in the ground. A random assortment of ores may be found in the meteor with Iron being the most common and diamond being the rarest. Nether quartz does not appear in meteors. This is the only rare event that once generated, it is always there. Rare appearance.
Credit to:PureDarkness
Year of the Creeper: On the moon, you might find a creeper head on it. Creeper spawning increased 200%. Other hostile mobs decreased by 90%. Extremely Rare appearance.
Credit goe to: DestructionMaker
Blue moon: Simply the moon, but blue. Uncommon appearance.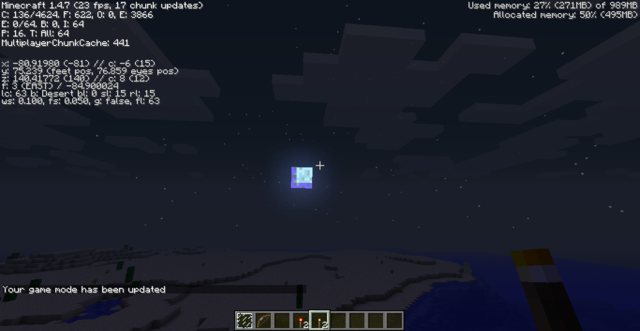 Leaf fall: In the forest and jungle biomes, you might find a group of falling leaves. Common appearance.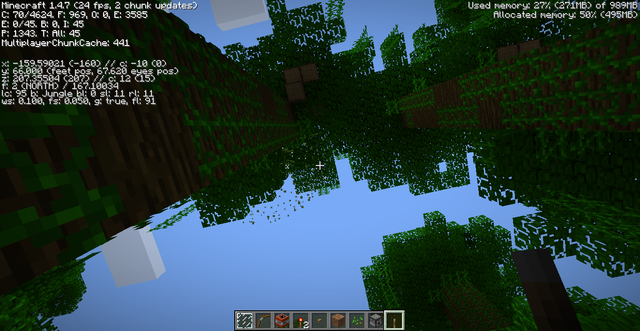 If you look closely where the big tree to the left's upper leaves are you can see the particles. Leaf fall would be a larger and more leaf-like version of that.
Aurora borealis: In the taiga and tundra biomes, you might see a dazzling array of lights in the sky. Increases the light level to 6. Uncommon appearance.
mod made by Mr.Rube
directed to me by UnileggerDripper222
Close lightning:
A single better looking lightning bolt strikes within 60 blocks of the player. Rarity: common.
Inspired by Gerbilcrap475.
Plain and Savannah winds:
A deep but short gust, blows all tall grass in the biome. Comes with a gust sound. Rarity uncommon.
Rustles of the dark.:
Roofed forest, forest, and mega taiga biomes have a chance of having spooky rustling leaves behind the player.
Rarity:common.
Mesa Sunrise/sunset:
Bryce and mesa biomes have a brilliant sunrise/set . Perhaps the most beautiful sunrise/set possible could be found in this rare biome. Rarity: Rare.
Think this for Minecraft.
Photographer: Unknown
More to come when my creativity returns! Please post your criticism.
Please help by posting better pics!
Credit will go to whom brings them.
Support list:

UnitedSquadron
orangelizardboy
Erasmognome
Runick
seasport100
AcroLaser
RMJ
dillyman2
Panfish5awesome
AdventureFreak
lightbulbwindows100
flameoguy
Shadowfox1311
peppertyce
sc1020
crazeenuthead
Eldir
Withnothing
pinballboy7
700tfarcenim
Higejolly
declanmar
Malatak1a
Indy00
Winter_Mage
jpmrocks
KeroroGX
Skipper3210
Tizorna
Pencilshavings5
Fevi117
Theking295
Younkling
Steven42lol
Laughing_man16
holidayinn252
JoelAutobot10
user_837235
Vile_Creeper
Wircea
Braffolk
toasterminer64
SnowConez
MrKEKEKE
Neospecter
kude42
superx76
davidy22
erik4556
Greatzilla
SOME_FREE_CAKE
coreracer15
Opelspeedster
cobraking152
eXodu5Xx
Ririe
Stormer185
xenon4000
Droideka30
Zombee_Kreepah
Lightningcrafter
My__IsShiny
MegaSniperB
Dwer_1
Pixelpain
Ram9bo
MLroflmao9
Doc543
EnellGMZ
xZooBLeZ
WilliamShakespeare
uknounx
Dudeman162
Jassycats
Matthew3DSGamer
nxtguy
Little_Nick
GerbilCrap475
ThePatriarch
marmanq
Dyzalonius
BioShock_Rules
superdinos8
flaminghawk83
Ikranoid
Puredarkness
killer13307
Overbuild
22SAS_Wimp
BiggJohnn
Axillarymees
SirShadowVII
ThizBoss
Momo_Mccloud
Emerald9Creeper
xBublizZ
MegaDerf
MineBrick12
Marhiin
Flying_Bat
LordSnowballOfTwerp
Sir_Ender
Icedog68
Poisondagger273
Jragon14