The_Dizzie
Stuck at Home
Join Date:

1/7/2012

Posts:

456

Minecraft:

The_Dizzie , Llette

Member Details
Interactive NPC & Questing
I've been working on a map for some time, and with the new updates it has made making an adventure map MUCH more fun and easy, though I'd still like to see some improvement for NPC's. Right now the only way to make an interactive NPC is through mods. I have a suggestion that could make it so map builders could set up an NPC to progress the storyline.
(Forgive me if a similar idea has already been posted. I am having connectivity issues and I d/c every few seconds, so search isnt exactly working for me at the moment)
Go ahead and leave comments and suggestions, I'll try to answer anything that needs answering if my net holds up, it is a rather complicated suggestion but I think it would improve questing maps vastly.


Table of Contents
I. The NPC (Item)
II. The Quest (Item)
III. Additional Things
----------------
I. NPC ITEM
: The NPC item would be a 'doll' that is obtainable only in creative mode. Much like a book you will hold it and right click to activate the Menu.
Character Model
Quests
Name, Personality & Save
You can choose the character from a list of existing character models (i.e. Steve, Villager, Witch, Golem, Skeleton, Zombie etc. If a model from a mod is chosen and not available upon the map loading up, it will switch the default to Steve.) This menu will even have 'tinting' so players can tint the NPC different colors if needed.
All the quests you make save to your .minecraft folder. In this menu you can go scroll through all the premade quests and choose up to 3 quests per an NPC, and even set timers for them (This would work like potion and beacon effects. A timer will show and count down your Quest, along with displaying the time at the top-center of your screen, if the timer runs up before you can get within 5 blocks of the NPC, then the quest resets again. If you get within 5 blocks in time then the quest menu will pop up pausing the timer while you input any items needed.
Menu 3: Name, Personality & Save
Once the character model and quests are chosen, the player can flip to the Name, Personality & Save Menu. On this menu the player can set name of the NPC and choose if the NPC is in Idle Mode (Stands in one place) or Wander Mode (Wanders within 5-10 blocks of the block it is set on.) The default mode is Idle Mode. There will also be an option of Friendly or Aggressive, this is for when all quests are complete the NPC can either stay Friendly and continue in Idle or Wander Mode, or turn Aggressive which would turn the NPC into that of which it was modeled on. (i.e. creeper NPC turns into angry creeper)
When the Map-Maker is ready they may save the NPC which will lock the doll item (making it shiny like a book.) Now the Map-Maker can set the NPC down and it will be active.
Available Actions
Name NPC
Set Idle or Wander
Set Friendly or Aggressive
Save and Lock
----------------
II. QUEST ITEM
: The Quest would not be 'craftable' the NPC & Quest item is only obtainable through Creative Mode. Like a book you will hold it and right click to activate the Menu. (Note: Quests will save to your .minecraft folder and only save to maps once they've been docked in an NPC.
Title & Written Dialogue
Questing Items
Inventory
Save Quest
Menu 1: Title & Written Dialogue
In this menu you can set up the Quest title and the NPC's dialogue (Like a written book, this Menu has a window that works like an internal book, so you can write dialogue by the page.) There will be 4 written Dialogues, 1st Opening Dialogue, 2nd Quest already Active Dialogue, 3rd Turn in Dialogue, 4th Finished Dialogue.
Dialogue Examples:
"Could you find me 4 ladders and a porkchop? I'll give you a gold nugget!" (Displays 'Accept' Button'
"Do you have my items? Maybe you should check over at the carpenters or the butcher shop?" (Displays Desired item list and 'Complete' button.)
"Thank you for the stuff! Here's your gold nugget!" (Inventory unlocked)
"Hello! Sorry I don't need anything right now." (Empty Inventory) In Play Mode: An empty inventory will make an NPC go straight to the 4th Dialogue.
With the 'Quest Item Trading' Feature you will give the NPC a list of items it needs, the NPC can want up to 6 items. The Map-Maker can set the desired items by dropping said item (Example: Diamond) into each slot. Next to the item will be a + & - button so the Map-Maker can set the amount of items for each slot. (So if the Map-Maker puts a diamond in slot 1, and sets the amount to 3, the player would need a stack of 3 diamonds to put in the slot.)
In Play Mode: Once the desired items are placed in the corresponding slots, the player can hit the 'Complete' button, and if the items and their amounts are correct, the NPC will accept them. The window would switch to Dialogue 3, with the unlocked inventory beneath it.
Essentially the NPC inventory is a 'locked chest' using the 'Quest Item Trading' feature as a combination lock. When the inventory is unlocked it will display up to 12 inventory slots. The Map-Maker can put any item in the inventory as the 'prize' of the quest.
In Play Mode: Once all items are removed the window will change to Dialogue 4.
This menu is the save page, once you've completed your set up, you can save it. Once saved it will be saved to your .minecraft folder, and you can assign it to an NPC through your NPC set up. When the quest is assigned to an NPC and set in world, the Quests will save to the map (Like Books.)
----------------
III. Additional Things
:
Like Quest NPC's in MMO games when the NPC has an available quest there would be a floating exclamation mark over his head. When the Quest is in progress it will turn into a question mark. Once all quests are done there will be no icons over head
To signal that they have a question they could be doing some sort of waving or jumping action, to differentiate them from other basic mobs. (credit to 360Editionplayer21)
NPC's will have damage immunity from all mobs until all their quests are complete. (This does not include creeper and TNT explosion.) (The player can still harm them, but if killed they will not drop anything)
NPC's have the same HP as as the mob model they are using.
Possibly how the questing menus will function. (This is not what the actual questing will look like, it is just an outline of a possible set up.)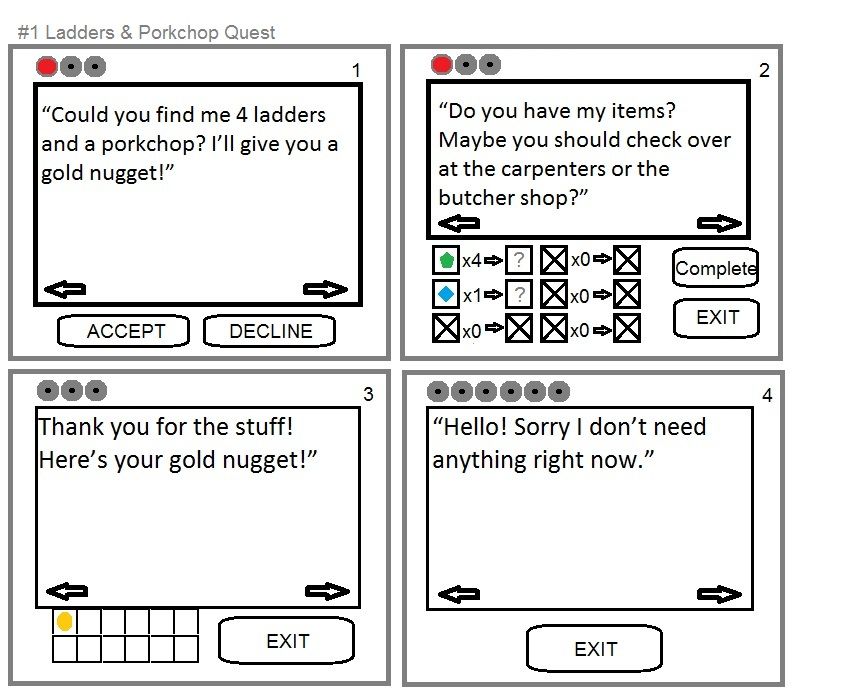 We need better chat! See my Suggestion: