Tizorna
Lapis Lazuli Collector
Join Date:

9/15/2011

Posts:

1,041

Minecraft:

000

Member Details
Rotator
This special device made with Red stone , Cobble ,Iron ,Wood and a Slimeball.
Recipe: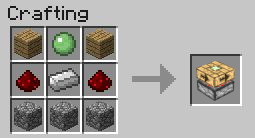 Version 1 of the Rotator
*Right Click Rotator*
Animated 3d Gif.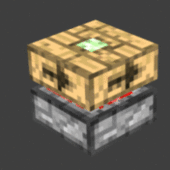 Here is the Block map i created and used for this model
How to Use:
If placed on floor the Job of this item is to rotate the one item above it 90 degrees clockwise Instantly each pulse of power, Right clicking the Side of it makes it set for counter-clockwise or vice versa.
If placed on the ceiling the Rotator is turned upside down and rotates the block below it 90 degrees clockwise Instantly each pulse of power and By Right clicking it the Side of it makes it set for counter-clockwise or vice versa.
To Place block on the Rotator Just Hold Shift while placing.
If Breakable items like tourches and signs are placed on top of rotator or a rotated block they will not brake or pop off from the rotation.
When the Rotations are Changed the Arrows on the side turns to the Correct direction needed.
When Right Clicked The Rotator will make a Click Noise and When Power is applied it will Make
a quick Buzz noise. To not be confused with the sound of Pistons.
And if power stays ON the Rotator it still only Rotate 90 degrees once, Similar to how Dispensers Work
sence update 13w04a came out Despensers and Droppers can now be faces up and down, I think rotators Could maybe work on there sides to add a way to turn these devices clockwise or counter-clockwise much like clocks.
only suggesting this cuase i seen new update and i think Rotators could help make
survival mode and Adventure map creation alot more Wide Range.
Version 2 of the Rotator
*Redstone Rotator*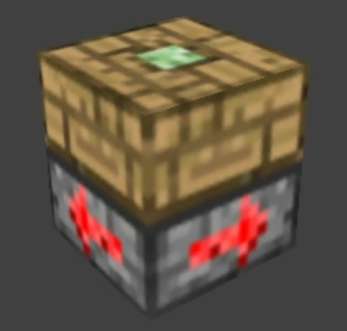 animated gif showing all sides of the rotator version 2
this is the Blocks Map i used for the model. below

Version 2 Info: Version 2 Works about the same way as the version 1 Rotator and has same recipe but instead of a right click to change direction of the rotating instead block rotates based on the side where you apply power.
Added (3/20/2013): If Rotators are added This Would be a Good Way to Add More Face Blocks and Maybe some With useful Functions as well.
Director Block Name not fully set only temporary
New redstone Block to add Director Block Its made to go hand in hand with the Rotator The ideas are related so does not count as wish list
ike seen below animated gif.
Director block does not produce signal in any dirction besides the one block space in front of it. like seen below not animated.
this block used with rotators would be used for Extremly advanced curcuitry.
if used you can create more advanced compact clocks, timers, decoders ,turrets, Rs Nor-Latches and lots more.
this block can be used with Pistons as well.
recipe for this block is simple.
Suggested names for Director: Redstone Director. only one suggested at the moment.
uses 7 Solid Stone and 1 Redstone Torch.


List of items and that can be rotated.

1.Repeaters

2.normal Rail tracks

3.Detector Rails

4.Power Rails

5.Pistons Normal

6.Pistons Sticky

7.Any Logs

8.Any stairs cases

9.Pumpkins

10.Jack o' lanterns

11.Trap Doors

12.Comparators


Blocks hope to Work with Rotors :

1.Dispensers

2.Furnaces

3.Iron doors

4.Wood Doors

5.Signs

6.Hoppers

7.Droppers






1.If this is use in Mine Cart systems that have many X Crossing points using Detector Rails

the track can be spun 90 degrees allowing the Minecraft to go a specific Path. Good for mining and Minecraft Puzzles.


2. If used Upside down with Dispensers you can make Automatic Turn Turret. This is Usefull for Adventure Maps and House hold Defense.


3.if used With Repeaters this can make 2-4 way circuitry much easier.


4.If used with the 13w01a Redstone Comparator this can be used to make Extremly Complcated Circuitry.


5 If Used with 13w01a Hopper thats placed with the Out funnel to the side you can make one hopper do the job of 2 Hoppers. Like for a Cart Line filling 2 Carts on 2 Tracks or Fill to separate Chests.




Havent Thought of more useful Functions. If you like you can suggest more.




1.if Used With Pumpkins/ Jack o Lanterns this would be Good for a front Yard or in a Haunted house?


Havent Thought of more Decorative Functions. If you like you can suggest more.





152+ Supporters at this moment

doing recount soon


Other Redstone related Ideas by other people
Last edited by
Tizorna
: Oct 1, 2013