Aiyoki
Redstone Miner
Join Date:

11/24/2010

Posts:

636

Member Details
Stairs are placeable in a variety of directions based on which way you place them.
Why then are Log blocks so static? The cut portions of log blocks always face in a vertical position.
I suggest that log blocks should be placed in such a way where the cut portion of a log always faces you at the instance of placing.
The benefits of this are mostly in decoration but it opens up a lot of possibilities:
Aesthetic Examples
-horizontal log beams
-Log piles (lumber camp) and other such designs.
-Log cabins (anyone?)
-Anything else you can think of?
More aesthetic examples: Submitted by
ChadGarion25
Log bridges across chasms and rivers
Battering rams
Floating docks
Coco bean farms
Nurse logs (not natural, man made, but aesthetically pleasing)
Dirt retention walls
Aesthetic saw mill (like from skyrim)
Frogger game (with the logs floating in the water as you jump from log to log)
Log fort drawbridge
Make a sideways forest like in (watch at your own peril, I cry for some reason)
Make log rides like the ones at Disney Land
More examples made by
Crazy1duke1
-Naturally generated fallen trees
-Cannons
-Rafts/boats
-Targets
Visual concepts:
(Compliments of
ChadGarion25
)
I'm on a boat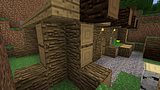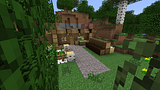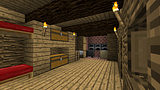 My take on a log cabin, complete with brick fire place, lumber storage, and birch garden.
New Horizontal log creation, Desert Caravan Stormwatch Tower.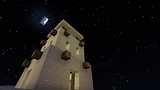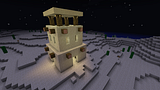 Reinforced with heavy logs, this sand structure stands high on the flat desert horizon, watching for incoming sandstorms and bandit raids to aid local trade caravans in their journey.
More Creations. A jungle look-out platform for Tarzan enthusiasts: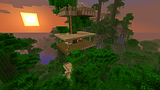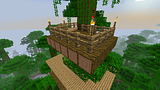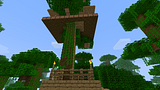 When height = Survival in the jungle, you can't go wrong with lashing together logs to make yourself a jungle platform up in the trees.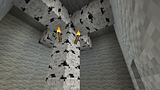 My attempt to make birch logs look good by making a rounded Tipi structure. It failed on the outside, inside looks fine. I attribute it more to birch being ugly as sin rather than my project.
I'll keep these following ones in spoilers until I can figure out the thumbnail thing...
Here is your log cabin framework, Abe would be so proud. It's hella hard to make because all I did was re-texture the furnace in game to make the illusion of logs, so I can't just place them on one another. Obviously the real thing won't be so restrictive.
Additional changes that may be needed
slight texture modification to existing wood. The way it is now, the logs kind of meld together and looks like a solid entity. All that needs to be done is darken or lighten the side boarder of the log texture square so they look separate.
Some comments made that may be able to help clarify some confusion:
I was gonna say something about this..but then I realized what you meant..I thought at first you were saying it should always be placed on the side..but I know now you mean it will face...kinda like a piston does..so you can set it different ways...I like it...support.
Mod support
(for this suggestion)
(works on 1.2.5)

:
Compliments to Koopinator for the wonderful work on the mod to make this suggestion "unofficially" possible
-Download Link:
Download
-Installation (Uses Modloader):
Copy the mod files to Minecraft.jar, delete your meta inf folder, enjoy.
-Features:
--Place Log blocks horizontally.
-Notice:
You will need to have modloader set up to run it, but otherwise all you will need to do is drag the contents of the .zip file into your jar. Since it is an early release, YOU SHOULD CREATE A BACKUP IN ORDER TO KEEP YOUR SAVES SAFE. There shouldn't be any major issues, but there are changes made to the pp (BlockLog) class that may affect your old worlds in annoying ways.
PS...
Pictures are worth so many more words than any regular explanation can give and I think that the more pictures we have to support the possibilities of this idea the more people will be able to see how much this is needed!
Motivational GiF: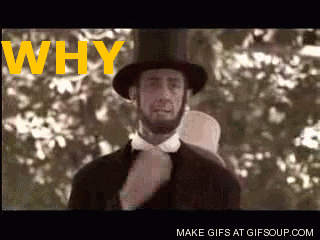 Last edited by
Aiyoki
: Jul 20, 2012