ChadGarion25
Obsidian Miner
Join Date:

11/22/2010

Posts:

1,258

Minecraft:

ChadGarion25

Member Details
TLDR Summary: Bamboo is an aesthetically pleasing plant with a wide variety of distinctive crafting recipes and materials unattainable by Reeds/Sugarcane. These items will provide fun new ways to build and play in Minecraft, which in turn would provide a unique reason for players to visit certain biomes to obtain this resource.
Purpose:
Ever since Reeds became Sugar Cane I've been wondering if Mojang would ever add back reeds and make the two plants distinct in texture and function. However, I think many people would say that Reeds and Sugar Cane is already very similar in appearance and function that there wouldn't be a viable reason. My thought then was to add Bamboo to the game and make it unique by limiting it to specific biomes and giving it new crafting recipes. I believe Jeb or Notch mentioned that they wanted to create reasons for players to seek out specific biomes and adding bamboo would help that mechanism.
Counter Argument - Bamboo is too much like sugar cane
The main argument against Bamboo from what I have read is its similarity with Sugar cane. I think the fundamental issue though is that many plants like bamboo, sugar cane, reeds, papyrus, etc. are very similar and can be used interchangeably. But in a game where one of the core goals is to build physical structures or creations, wouldn't it make sense to use bamboo, which among all the other similar plants is commonly used to create ridged structures? So aesthetics aside, bamboo offers crafting opportunities the other similar plants cannot offer. Rather than adding another wood block that acts exactly the same as every other wood block with a different texture, Bamboo would provide new building materials and wouldn't have a standard set of "Construction" blocks (blocks, stairs, slabs). This makes it unique and gives a player a reason to seek out the biome it resides in to harvest it as a building material.
Bamboo Aesthetics and Virtues
I think of two scenarios one might find bamboo in a real life setting that really highlight the dynamic uses of Bamboo:
First instance; someone finds themselves stranded on a remote island and uses bamboo to make struts for a quick shelter to survive the night. It illustrates how useful bamboo is as a raw survival building resource; you would be lucky to have it in a survival scenario because it's a uniform material with numerous and essential applications.
The second instance is in a prestigious executive building or company who has a lobby with a water fall, rock garden, and planting boxes filled with green, uniform bamboo. Naturally growing bamboo is a very aesthetically pleasing plant to have in a building or landscape.
Many people, myself included, believe that Bamboo could become the Omnipotent Green resource for the world. Unlike traditional wood, it grows very rapidly in a variety of climates. It can be pressed into very dense, strong particle board without using harmful chemicals. A large focus of Minecraft is using different types of substances as building materials and bamboo fits really well along those lines.
---
Bamboo Game Mechanics:
Plant - Properties
Bamboo would be found in a specific biome (such as swamps, jungles, beaches, future biome, etc.) which gives those biomes an unique resource and therefore reason to visit
Generated naturally in small Bamboo grove clusters of 4 - 8 stalks of Bamboo
Solid block (unlike sugar cane). This presents an obstacale players must either destroy or walk around
Grows on dirt/grass without requiring water (unlike sugar cane)
Bamboo will require the same light levels to grow that most plants need
Bamboo is flammable just like trees
The appearance of bamboo will be 2 or 3 dark green stalks with yellow highlights at the segment joints and light green leaves along the stalks
Axe is the best tool for harvesting. Cutting at the base will break all blocks above it. However, bamboo will still grow if the base block is left uncut.
Harvesting yields "Bamboo" drops and a random chance of a "Bamboo Shoot" drops
Bamboo is replanted with a bamboo shoot, not by placing bamboo drops into the ground. Growing Bamboo from a shoot takes longer than growing from an existing bamboo that was cut tot he base block, encoruaging certian harvesting techniques
Bamboo can be placed directly into a clay pot similar to lucky bamboo
Bamboo cannot be placed in raw form like sugar cane can
Crafting Base Material - Bamboo Poles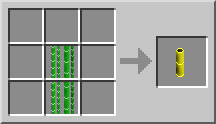 Similar to taking processed wood and turning it into "Sticks", placing two bamboo drops vertically on a crafting grid yields a set quantity of "Bamboo Pole"
The quantity yielded from crafting will be adjusted to fit game balance as well as physical sense (a.k.a. based on the size of the bamboo and the bamboo poles, does it make physical sense that I get this many bamboo poles from this much bamboo?)
Bamboo poles look like a thick, yellow pole with light yellow/white segment joints.
Bamboo poles can be placed similarly to a fence. It will stand vertically and have a similar collision box. The difference is bamboo poles won't branch out to connect to adjacent blocks or poles, filling a niche other blocks with small collision boxes do not achieve
The small collision box combined with the inability to connect to adjacent blocks can be used to create windows that allow projectiles and small mobs through as well as many aesthetic designs.
Bamboo poles are flammable and will catch fire and burn.
Optional Mechanics -
When falling next to a bamboo pole (or more realistically a column of poles), you may hit shift to immediately slow your decent to the same speed you would normally climb down a ladder, which is to say non-lethal velocity (like a fireman pole). This would allow the creation of proper drop chutes without using water breaks or cobwebs
---
Three Core Crafting Recipes:
Crafting Utility Block - Bamboo Scaffolding
The creation of a scaffolding block has been mentioned in many other posts, specifically in conjunction with bamboo here. I have recived permission from the author to modify the base idea
Scaffolding has two crafting methods; using 4 vines yields 2 scaffolding blocks while the other uses 2 string and yields 4 scaffolding blocks. This gives vines a crafting use in the game while making string the preferred construction method if you have access to string. Both crafting recipes yield identical scaffolding blocks.
Scaffolding can be broken apart by hand as quickly as dirt with a diamond shovel. This makes it very easy to break down when you're done using it.
It can be climbed from all vertical sides, similar to ladders
Scaffolding would be very vulnerable to fire and explosions; they would rop nothing if destroyed in either manner, which makes it ill-suited for a permenant building block
Using Bamboo as scaffolding is very realistic. See this image of Bamboo Scaffolding used on a real life skyscraper in Hong Kong from the Wikipedia article on Bamboo.
Crafting Trap Block - Punji Sticks
Crafted by placing 3 Bamboo poles in a horizontal row.
Can only be placed on dirt, gravel, and sand blocks
Used to create Punji pits to trap and kill mobs
Will not destroy drops or items on contact
Slow movement rate and deals constant rate of damage to players and mobs
Can only be placed on the top of the block
More versatile than Cactus, but not as versatile as the potentially planned Spike Block
Crafting Pyrotechnic Item - Bamboo Fireworks and Bamboo Flares

AND
Bamboo Fireworks would be crafted in the manner depicted above and yield 3 - 4 fireworks per crafting (adjustable for balance)
Bamboo Flares would be crafted similar to Bamboo Fireworks but with glow stone powder instead of dye
Bamboo Fireworks would be stack-able up to 16 based on color or type in the case of a Bamboo Flare
To light a Bamboo Firework, right click the top of a solid block to place it on the ground (like a bottle rocket, placing it on the ground before launching it). You can light the firework using a flint and steel or redstone signal in a similar manner to how TNT can be handled and lit
Punching a placed Bamboo Firework or Flare will create a drop (similar to how TNT now behaves)
Bamboo Fireworks can be placed from dispensers if there is a flat surface directly in front and below the dispensing face (in a similar manner that boats and mine carts can now be dispensed)
After ignition but before launch, there is a short delay, during which the Bamboo Firework fizzles (in the same manner a TNT block will blink after being lit). After which, the firework launches into the air about 100 meters before erupting into particle and sound effects depending on the color of the Bamboo Firework (This mechanic would be similar to throwing and Ender eye; how it rises in the air with small particle effects, only faster, vertical, and with sound effects)
A Bamboo Firework would ideally explode when impacting on another surface or block (like a platform above the launch site), but since the Ender Eye will pass through solid blocks and fireworks are likely to use a similar code, I expect fireworks will not clip solid objects as well
Bamboo Flares behave similarly to Bamboo Fireworks except when they launch, they ascend to only 50 meters or so before exploding into a temporary but bright light source that persists for a set duration of time (5 - 8 mins sounds reasonable)
Bamboo Fireworks have a variety of aesthetic and practical uses, including presentations (accompanied with block music perhaps), signaling for help, coordinating PvP games, disorienting and distracting players in a fight, and general non-grief related pyrotechnics (as opposed to TNT and Fire Charges)
The Bamboo Flare is much more utility oriented, providing momentary lighting in an dark open area
Bamboo Fireworks and Flares can be "turned off" by disabling particles to prevent client lag
---
Other Potential Crafting Recipes:
Note - Unlike the core recipes, these are more of "flavor ideas" to demonstrate the versatility of Bamboo. Some of them need further refinement or are too radical mechanically to add right away. All of these recipes take a back seat to the core materials, so don't fret if there are a few you don't care for.
Crafting Floor Block - Tatami Mats

OR

Crafted from bamboo or sugar cane by placing 2 in a horizontal row (similar to pressure plates)
Bamboo and Sugar cane mats could have separate and unique textures.
Similar to tracks in that it will snap to nearby mats to form a continuous mat
A very large variety of aesthetic uses
Mats are flammable and will burn down with a house
Optional Mechanics -
Endermen are unable to teleport on to mats (disrupts their energy flow)
Use mats to appease cats by giving them an alternate area to occupy other than beds and chests. It would have to have a below average success rate because it's generally accepted that if a cat knows they aren't inconveniencing you, they'll change tactics until they are.
While standing on a mat, PvP unarmed attacks deal no damage, just the damage noise and knock back (sparing mats)
Falling onto a tatami mat will reduce the calculated fall damage by 2 meters
Unique sound effect when walking on them, even while sneaking, that can alert you of someone or something walking in your home
Crafting Pyrotechnic Item - Bamboo Smoke Bomb

Similar crafting recipe to Bamboo Fireworks and Bamboo Flare, but very different behavior
Single crafting yields 3 - 4 smoke bombs per recipe
Thrown like a snowball or splash potion and explodes on impact with explosion sound effect (either the same or similar to TNT explosion)
Blocks within a 8 meter radius of the impact will emit smoke particles about 3 meters high for a duration of about 10 secs or so
Like other pyrotechnics, this effect can be disabled by turning off particles to prevent malicious client lag for players with low end game performance
Mechanical uses include disorientation, obscurement, and distraction in PvP and PvM fights (Mob AI would have to be written to respond to smoke screen)
This can be a way for players to cause mischief without causing actual damage to players
Fired from a dispenser in the same manner splash potions or snowballs are fired
Crafting Utility Block - Deer Scare

The Shishi-odoshi, or Deer Scare, is a device traditionally found in Japanese gardens
Placed like a fence post with the mouth of the tube pointing towards you when you place it
When placed with the mouth adjacent to running water, it will periodically make a low, dull *THUNK* sound (approximately once every 30 secs or so)
This scares off most passive mobs (chickens, sheep, cows untamed ocelots and wolves) except for villagers, effectively preventing them from entering within a 7 meter radius (Note that while the sound occurs every 30 secs, the effect will be constant)
Practical applications include keeping animals out of crop areas, creating an invisible fence for uncrowded animal pens (if overpopulated, animals will shove past the radius and out of the pen), keeping animals out of water features, and a easier way to segregate passive and hostile mobs in a mob farm
Optional Mechanics -
Have some hostile mobs become attracted to the noise (skeletons most likely)
Crafting Food - Fish Shoot Stew
[Image to be added]
Takes 1 wood bowl, 1 bamboo shoot, and 1 cooked fish to create 1 Fish Shoot Stew
Consumption grants 8 food points (equal to mushroom stew) but 12.8 saturation points (greater than mushroom stew, but equal to cooked beef/pork)
Keep in mind that bamboo shoots cannot be eaten raw, similar to mushrooms
If bamboo was used to make a unique fishing rod (still in development), this would make more sense because you use the bamboo rod to catch the fish and use then cook the fish and use that with bamboo shoots to make the Fish Shoot Stew
Optional Mechanics -
If rice were added to the game, it should become a required ingredient to make this recipe and would also increase the consumption benefits
Stew dishes such as Mushroom stew and Fish Shoot Stew could be prepared in cauldrons by filling them with water and right click placing the ingredients into them. It would create 3 bowl servings of the stew and give the cauldrons a legitimate use. It would also create another static food source like the cake where people can fill their bowl when they are hungry.
Crafting Instrument - Pan Flute
NOT played like Ocarina of Time or Spirit Tracks (in that you would use indvidual notes to make a song
Right clicking would start playing a generic song, clicking again would stop playing
Playing the song would be accompanied with little note effects similar to the note blocks
Taking damage, trying to jump, or sprinting will end the song
Optional Mechanics -
The utility applications for this item are really wide open. Here are a few I thought of
Pacifying neutral mobs that have become hostile
Calming animals who are running away or scared
Assist in taming skidish ocelots
Used to tame or interact with a possible Panda mob (as suggested by Dinnerbone here
Used to open a portal to a new dimension
Annoy other players by prancing around like a bard while they work
---
Reoccurring Suggestions:
Bamboo = Sticks | Using bamboo poles as a substitute for sticks in some or all crafting recipes
Status - Rejected
The idea of using bamboo poles as a substitute for sticks (like charcoal is a substitute for coal) adds nothing to the game. With the updated images, you can now see that bamboo poles are quite dissimilar from sticks physically.
Bamboo Tools/Weapons General | Creating Tools or Weapons using bamboo
Status - Rejected
Similar to making a copper tool, all it does is add a new tool/weapon with a modified durability. Adds nothing unique to the game other than a new durability tool. Unique or sensible weapon/tools are acceptable (Bamboo fishing pole, Bamboo bo staff, etc.)
Bamboo Spear | Using bamboo poles to create a spear
Status - Debating
Bamboo spear is iffy, that seems to me something that has been suggested before using hardwood sticks and could be made with bamboo. I suppose you could argue that a Bo staff could be a Quarter staff if made out of hardwood sticks, but that's a different issue. Also it depends on what you use as the spear head; either flint or the tool materials wood>stone>iron>gold>diamond. If it's just flint, then that's good because it's a unique weapon all to yourself. But if you're making the tool materials like other tools/swords, then it's probably not such a good idea.
Panda Mob | Pandas would spawn and feed near bamboo groves
Status - Willing to support if promotes Bamboo
Many people want Pandas in Minecraft and while I haven't seen any utility uses for them, I'd be willing to support their conclusion if it means Bamboo gets added to the game as a separate plant. According to the
Mob Article
in Minepedia, Dinnerbone is developing a Panda Mob, which could suggest a new biome with bamboo plants.
---
Totally Legit Celebrity Endorsement - **** Van ****
Also, definitive proof that Bamboo = Profit, see all the money he got at the end?
Note: Despite **** Van ****'s suggestion, I do not support using bamboo poles and air plane yokes or as parasols
---
Change Log:
9/13/12 - Added Pan Flute. Minor revisions.
8/25/12 - Formatting and content revisions. Added new potted bamboo or
Lucky Bamboo
feature. Added link to Reddit Page
8/18/12 - Changed how fireworks function as suggested by
X Squared
8/16/12 - Added Banner provided by
Bigkaboom12
, minor layout changes, update to Panda mob stance, grammer correction as pointed out by
X Squared
7/4/12 - Updated scaffolding, plant properties, and other section details
6/30/12 - Crafting recipe order revision
6/8/12 - Added Bamboo Smoke Bomb Crafting Recipe
6/1/12 - Added totally legit celebrity endorsement from **** Van ****
5/31/12 - Added Fish Shoot Stew Recipe - crafting image to be added later
5/25/12 - Added Bamboo shoot mechanic to bamboo
5/22/12 - Added new crafting recipe images, removed paper crafting recipie, made various OP revisions
5/18/12 - Added Splash Image from bing images. Few minor edits and revisions to some of the crafting recipies
5/17/12 - Added new crafting recipe; Deer Scare
5/10/12 - Added utility mechanics to Tatami Mats crafting recipe details as requested by
GaiaCow
4/24/12 - Added Bamboo Fireworks/Flares as a crafting recipe. Modified "Thoughts and Ideas" section to include common ideas that I'm either debating or against adding. Various formatting and phrasing changes. Added "Bamboo Aesthetics and Virtues" section.
2/23/12 -
X squared
kindly brought it to my attention that bamboo, even green, is very flammable. I'll make changes in the OP regarding flammability.
Similar Threads You Should Consider Supporting:
Rice
- Another plant based thread with similarities to Bamboo
Allocator Block
- A block which can be used to create semi-automatic Bamboo farms
More Plants: Trees, Bushes, Gatherables
- Proposes many other vegetation suggestions. Push for Cedar Trees!
Feedback and Follow:
That's all I have for my main points for Bamboo along with feasible crafting recipes/materials. I really need feedback and discussion in order to get this idea noticed by Mojang Developers so please reply with intelligent affirmation, comments, ideas, or issues below. Also
please click the follow button above
to receive updates as I'll be continuing to revise the OP and add new crafting recipes.
I also created a
Reddit page here
. Please show your support here as it is now a place for Mojang developers to receive ideas.
Banner:
Provided by
Bigkaboom12
["url=http://www.minecraftforum.net/topic/1023761-adding-bamboo-to-minecraft/"][IMG]http://i.imgur.com/vCBOd.png[/IMG][/url]