EMDude
Zombie Killer
Join Date:

7/23/2011

Posts:

239

Minecraft:

EMDude

Member Details
Updated OP: 9/3/12 (Modified OP explanations, thanks to getpoopedonkid // Fixed Poll)
Updated OP: 3/8/12 (Fixed Poll)
---
NOTICE (As of Snapshot 12w01a):
This is an screenshot of the beach gen that was re-added in Snapshot 12w01a. Please note that this is not representative of the new beaches in general, but instead an example of what the new generation can create!
Jeb appears to have simply changed the blocks which form the transition between land and the ocean biome from dirt to sand. This forms ugly clumps of sand hardly resembling beaches on hilly terrain. This DOES NOT resemble actual beaches or beaches as they once were in Beta 1.7.3! Or reality for that matter.
What should be done to correct this:
Simply limit the max height of sand that can generate to two to three blocks above sea level, which would be identical to beach generation prior to Beta 1.8. With beaches essentially being their own biome, such a change should feasibly be easy since it shouldn't conflict with other biomes. If you believe otherwise, please state so and why!
---
OP:
With the inclusion of the new terrain generation in recent releases, I've read about many major topics and comments having to do with terrible biome transitions involving the swamp biome and the such. However I have not seen any real topics concerning the exclusion of beaches and the issues concerning underwater bedding. So here is the point of this topic:
Summary:

1.) Beaches was a widely-liked feature of the previous terrain generator and it needs to be restored.

This should be simple enough. Just add back beaches into the terrain generator. Also gravel beaches should be returned as well. More on that later in the topic.

2.) Although a less important issue, underwater bedding, lacks the uniformity and overall realism that it used to have. Currently, lakes and oceans are covered in splotchy patches of dirt, sand, and clay.

The main argument against the current underwater bedding generation is that allows for easy access to large amounts of clay, and that clay was supposedly more rare in the previous generator. However, it was abundant, since the x=z clay generator bug that previously plagued the game was patched in 1.7.

However, to further address this issue, clay density and frequency can be increased to satisfy those who believe that more clay truly is necessary.[/indent]
The poor state of these aspects of the terrain generator has proven to be both an annoyance and an eyesore to me and the community as well. Beach gen prior to 1.8 paralleled realistic beaches and was more aesthetically pleasing in general. To further elaborate what I mean:
Beaches, prior 1.8
"Beaches" (along lakeside), 1.8 and later
Beaches, real life
As you can see, beaches do not actually generate in 1.8 and later, the "beaches" you see are actually not beaches at all; they are simply the outcroppings of the underwater sand bedding crossing onto the shore. This brings me to the next point: underwater bedding.
Underwater bedding (same pic as before, view the underwater portion), prior 1.8
Underwater bedding, 1.8 and later
Underwater bedding, comparison with 1.8 vs. 1.7, and real life (Borrowed from Dragonid's Terrain Generation Changes Remaining)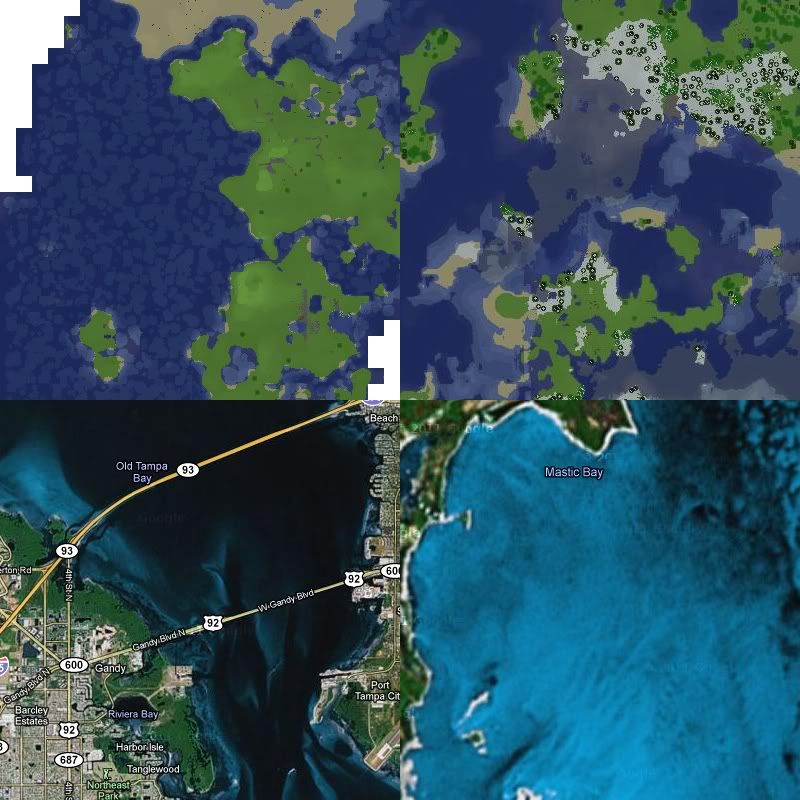 As you can see, in 1.8 and later, underwater bedding consists of ugly patches of circular splotches, whether it be in a lake or an ocean. Previously, it was both aesthetically appealing and realistic. Clay would still be fairly abundant if the patch from 1.7 were also incorporated into clay generation.
If that is not enough, we can simply have clay generated in the same manner as depicted in the picture below in higher frequencies or larger quantities:
Lastly, gravel beaches should be added back. It was a realistic feature of the old terrain generator and also broke up the monotony with the constant sand beaches. It is not a necessary feature to be re-added, though it would be nice.
Gravel Beaches, 1.7 and before
Gravel Beaches, real life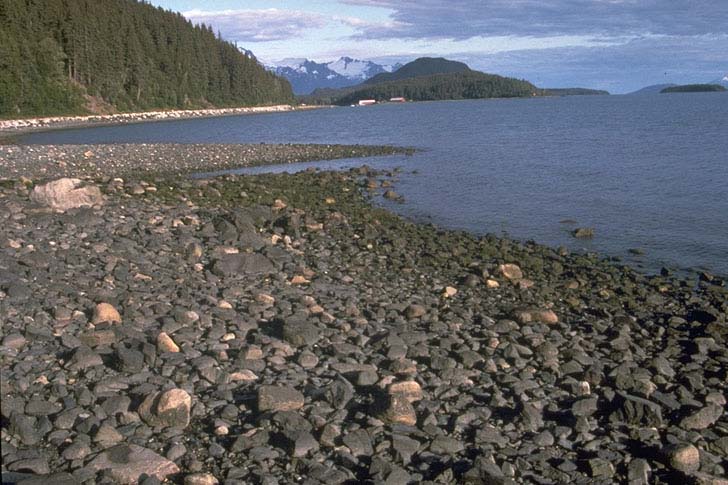 To reiterate:
1.) Beaches was a widely-liked feature of the previous terrain generator and so, needs to be fixed.
2.) Although a less important issue, underwater bedding, lacks the uniformity and overall realism that it used to have. Currently, lakes and oceans are covered in splotchy patches of dirt, sand, and clay.
With this said and done, I ask that these issues be addressed as soon as it is possible. If you can, please twitter or e-mail Jeb. This is technically not meant to be a petition or anything like the very popular
Dear Mojang: The Swamps are Still Ugly
topic, just a reminder to show that these issues must be addressed. However, you can show your support by twittering
Jeb
(+ link to here) or just acknowledging it here.
Tweet Jeb at:
https://twitter.com/#!/jeb_
---
Get Satisfaction Topic: http://www.getsatisf..._gravel_beaches
Also check out Dragonid's Terrain Generation Changes Remaining topic for an in-depth look at issues concerning current terrain generation!
Try out a mod that adds beach generation back into the game! http://www.minecraft...0-biome-mod-v1/
---
If you support this, you can show it by signing on to this cause. Type "/signed" in your post!
Signed:
ghb523
YukiChan
kuukai
creeper27
Mad Cowboy
Ixeo
ChaosGuardian
Zakristone
Nerdfighter5
immibis
Necromanic
FailingAtFailing
BronzeEagle
ijasonl97
Urthman
DrakBadgerwaffles
manu3733
Sugarcane
Unit#phntk#1
steelfeathers
Clangru
Smuck
sharpsniperzero
superx76
ZAKK9090
Animator1
jonhydude
eldritchone
Murayama
KyoShinda
Jemlee
death kid620
Varaka320
minecraftedforlife
Mattchew
socomseal45
InfinateX
DarkSirrush
B02
23232323
allthegoodnamesaretaken
Creative_Explorer
Cyril Prokin
vfd42
grade19
Colonel Muffin
TeeFour
lolfood
Not_a_Member
Axgule
Mjallux
ddavis425
Teria2355
AzemOcram
BenAdam500
theEPiK1
DaGrimCreeper
halfmaster1
roebuck
RandomGuy5040
DarkenMoon97
CycloneX5
_Lgm_
drybones41
Rice_Monsters
Ghost Hacker
Andweyful
Blocker226
Zergy6
huo556
Nittles
Kusandaa
HazzHarry
Laiskazombie
Raisengen
pixelScientist
MentalZebraz
doctorseaweed2
Scotty1
Charvak23
Avenger_7
JayTheHelmetGuy
CreepsInMyMind
VileAssassin
Teadude0987
Matthewrulez
greatorder
me_and_such
Kirash
Protons
Mr.GeO
shadow11
xBella
Necromanic
Xaphedo
kyuubinaruto9990
luedriver
Lileiv
kels430
Dirtcopter777
Wendingo/DarthBayne
xemnes
Vesper
Mr_Brain
Bluestar90210
intel_ix
Drewmoe0194
_Karothath_
shipmaster
ThatOneGuy5
Blueblade11
heracles4
Gungadin
PsychoSupreme
Jangokenobi
iJohnnyBme
Bayrd
HerrChris
Y0sho
RyanCantDrum
spineyrequiem
Creativityy
giraffeartillery
mattplaz
Scorpi15
OliTheG
hero_bash
MiningMinecraftManic
thenerdal
CalamityBlue
Notaplay
OpelSpeedster
strenbeath
Kattia
Omnirock
dominicl14
Soher
RobertMorbeck
Craftminerer_II
Mista Epic
wells123456
kacpi55501
Pxex
Phycozz
Mr_Saxobeat
PhatNathan
floppy_gunk
warkiwi3
Ajax2422
doctorseaweed2
kanokarob
lagg0saurusrex
The Internet
demonox
Samuel Rowe
Wayside1999
Zaryan
supr_g33k_7120
Rockboy3970
IMPaused
DarknightK
Adala217
Legoasaurus
maxriderules
Mjohlnir
Kwickgamer
aIpokissa
cheddercheese99
AChillyDog
max7238
Gremlinator
VoteLobster
marc720
TheBishopsGhost
MinersUndead
Ryanboy17
SSgtMatt
Meteoraman4
L0gicaltightrope
Medeck
RezznovTheWolfMage
Judist
Jetra
Attack Nun
Thirsty_Hirsty
JonReed
dangles35
Dullstar
budabob07
ironsword99
Tshvd369
Defil3d40
Ender Core
Rikorumircea
Ikarisu
Robloxius
Beechlgz
Luckyno
bulbabox
4camera
Mackinz
caagr98
Super_Marimo
Apogle
agentstaple
happy_creepers
LaLand0fChocolate
farting_bicorn
liampareis
sasas09
AcellOfllSpades
riku0831
TripleHeadedSheep
xViperzz
bearbin
slimreb0rn
Nuin
Jamoustache
UKTomm
marcus29ra
HabaneroArrow
hexcellent
boagster
sam123486
TheLittleExplorer
ChilltotheBone
iTiamo
Kristofel
MisterMike1
harrywolf160
*Notice: The number of signatures from various posts has grown greatly since I last updated it. Until I can get around to compiling a list of signees following the last on this list I will not update this.*
---
Show your support outside this thread by putting these in your signature! Copy the text as it appears in either box and paste it into your signature! Also, if you have signatures of your own to contribute, please feel free to do so!




Last edited by
EMDude
: Oct 29, 2012