Aphus
Tree Puncher
Location:

Wisconsin, USA

Join Date:

4/23/2011

Posts:

28

Minecraft:

Aphus

Member Details
Tell me about it!
A mail system would allow players to send each other items and private messages without the receiver being online. In order for the system to work, BOTH the sender of a letter and the receiver would need to have a postbox. Letters would be handled by global servers; thus, players are able to send mail to anyone regardless of single player or SMP. The postbox would be crafted using the following pattern: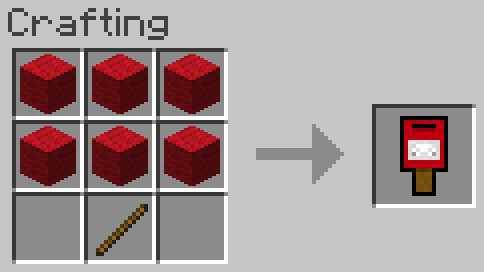 A postbox would be a unique item in the world -- that is, each player can only have one postbox per world which can be placed wherever he/she would like. The postbox would look similar to this:
A player can craft a letter with the following pattern:
To write a message, the player would left click on the post box while holding a letter (similar to how you must be holding a high-quality pickaxe to mine diamond). Doing this would open up this UI:
The user can then type in the recipient's name and the body of the message. Each message includes ten item slots as well. When the sender is finished writing the message, he/she clicks
send
, and the letter is instantly sent to the recipient's postbox. To notify the recipient of his/her new message, the white flag on their postbox pops up, and they would also receive a message reading, "Message from <sender>" in the corner of their screen. To check one's mail, a player right clicks on their postbox which opens up this UI:
The letters received show up on the left side of the menu, and the open envelope represents the current letter being read.
Downfalls of This System:
• A postbox is required to send and receive letters
Solution: The postbox could be eliminated, but where would the fun be in that?
• Each letter contains only 10 item slots
Solution: 10 is an arbitrary number, I needed to pick
something
for the UI prototype.
• Each letter has a limited character field
Solution: Add a scrollbar element to the UI, has this been done anywhere else in the game?
• Players could cheat established server economies by mailing items from other servers using the /give command (or InvEdit, etc.)
Solution: Implement a server command to disable item slots in mail, but sending messages would still be allowed
Please post your thoughts/criticisms of this suggestion. I'd love to iron any flaws out!
UPDATE! Banner!
If you like this idea and would like to show your support, here is a banner you can place in your forum signature. Thanks for your enthusiasm!
[url=http://www.minecraftforum.net/viewtopic.php?f=1&t=312390][img]http://i.imgur.com/gRGMS.png[/img][/url]
Last edited by
Aphus
: May 28, 2011