pierconick
Iron Miner
Join Date:

7/26/2020

Posts:

273

Location:

Minnesota

Member Details
Pretty much every new biome that has been introduced has been given some sort of unique mechanics that make it both an interesting place to visit, and a place that's worthwhile to visit. Just consider the new nether biomes: Not only are all of them interesting aestheticly, but they all have unique resources, mobs, and mechanics that make them worth exploring.
The same can be said of the new cave biomes- but this cannot be said of older, existing Overworld biomes. (Or the End, which is, frankly, another matter entirely.) While terrain generation is getting a fantastic, much needed overhaul, biome generation seems to be much in need of improvement.(And Mojang has made it clear this is quite likely, given the recent biome votes.) Seeing as most people will spend more time in the Overworld than, say, the Nether, it feels like the Overworld biomes should be just as detailed and unique as their netherworld counterparts.
In this thread, I wanted to analyze which biomes could actually use improvements, and what some possible overhauls could look like. What do you think could be cool (and useful) additions to existing biomes? Thoughts on any of this?
Also, I haven't included underground, Nether, or Ocean biomes, firstly because they've been added recently enough that I don't think any overhauls are likely in the near future, and secondly, because I personally don't think any overhauls are necessary. Seriously, it continues to amaze me how well these last few updates have done.)
------------------------------------------------------------
Forests
Plains are big, empty swathes of grass- on some level, they don't need to be 'improved' because that emptiness is sort of the point. Forests, on the other hand, sort of imply a certain sense of... things, I suppose? That is, more than just trees and grass. The forest vibe is done really well with the new and improved taigas- between the diverse range of trees, berry bushes, local foxes, cobblestone boulders, and a mixture of grass, podzol, and coarse dirt on the forest floor, the entire biome feels atmospheric, and worth exploring. Dark Oak Forests? Not nearly as much. Oak and Birch Forests? Definitely pretty boring, especially considering how often you're going to be wandering through one. Some Ideas for forests include:
- More diverse undergrowth. As it is right now, forests just have grass and occasional patches of flowers. adding in some small patches of coarse dirt, or podzol for denser forests like the Dark Oak forest would go a long ways towards differentiating forests from other biomes, and adding just a bit more atmosphere. (Consider warped forests- which have a unique tree type, a unique grass-type block, and a sprout, vine, and root plant all unique to the biome; along with a special background color, ambiance, and enderman gimmick. Now compare that to, say, a birch forest.)
-Parity with bedrock- bedrock forests can have fallen logs, tree stumps, and spiderwebs/vines in forests with bigger trees. I'm not sure why this isn't a thing in Java, but it would certainly be a decent, if minor improvement.
-One cool idea I've seen in some biome mods is a unique 'clearing' sub biome that generates small, open, flowery areas in forests. It's not a big change, but again, a nice atmospheric tweak to add a bit more life to the woods.
-Something to differentiate Oak and Birch forests from other forest types. (Taking a leaf out of the Taiga's book... no pun intended.) Dark Oak forests have mushroom trees, Taigas have all sorts of stuff, Flower forests have flowers... but Oak and Birch forests don't really have anything to their name other than a unique wood type, and could use some sort of other biome specific thing to make them just a bit more interesting.
-Alternatively, birch or oak wood could be given some specific use. As it is, a lot of utility blocks appear to be made of a specific type of wood, (Spruce wood for barrels, birch wood for fletching tables, dark oak for the cartography table, oak for regular crafting tables, etc; but in actuality they can be crafted using any wood type. It could be made so that specific wood types are required, or so that there are multiple variations of these blocks based on the wood types used. Both methods would be a bit irritating, but I think well worth it in the long run.)
------------------------------------------------------------
Swamps
Let's be brutally honest: As they are, swamps are more of an inconvenience than anything. They have enough water to make them tricky to travel across by land, they have enough land to make traveling by boat a bad idea, and the color pallete isn't exactly the most agreeable ever. That being said, there's a lot of potential- and Mojang's announced changes for the swamp, as well as better generation, (with swamps generating mostly at low altitudes around rivers in 1.18), bodes well for improvements.
-Swamps could be given a unique wood type in addition to the teased 'Mangrove trees.' I've usually seen this done as a wood type with a greenish cast, and all the things you'd expect of a new wood type. (Admittedly, I feel like at some point you have to draw the line of too many wood types. More variation is nice... but I feel like it will get a bit redundant eventually.)
-Frogs could be a cool addition. They should have some sort of unique mechanic though- possibly something to do with brewing, or a unique drop that makes them worth finding. (Any ideas regarding frogs?)
-Slimes ought to generate more frequently in swamps at night. Maybe this is just me, but slimes seem like their kind of stupidly difficult to find. (They either generate specifically in random caves with no indication of what caves generate slimes, or in swamps, but exclusively during a new moon.) Considering how useful slime is, this is one of those few cases where I think more hostile mobs would definitely be a good thing.
-And once again, more details for the terrain generation in the same vein as forests. How about patches of a 'mud' block that behaves sort of like powdered snow, but mostly just impedes movement? It could be gathered in a bucket the same way, and could be hardened into sod, which could in turn be used to make sod bricks. (Maybe you can also make sod using dirt and clay?) Sod and sod bricks could also have some unique properties, such as being pretty tough and blast resistant for something made out of dirt; but collapsing if unsupported.
-And how about cattails, or some sort of plant life unique to swamps? (Besides the flowers, which are pretty, but not the most interesting thing ever, and Lilypads, which are admittedly more interesting.) Maybe cattails can only be crown in shallow water, and can be used as a source of fuel.
------------------------------------------------------------
Deserts
It doesn't seem like there should be much to say about deserts, seeing as the whole point is an empty, open expanse of sand without much of anything in it. However, I'm sure there's room for more variation in the types of barren, lifeless wastes we could encounter...
-New Subbiomes for deserts- how about a desert edge biome that has patches of grass and Acacia shrubs? Generally, whenever I see deserts generate, the border between them and whatever happens to be nearby tends to be pretty abrupt. There could also be a rocky desert variant with jutting, jagged sandstone boulders.
-Maybe a paler sky background for the desert? Purely for atmosphere.
-Otherwise... I can't really think of anything to add to deserts. Aside from a little bit more variation, and better biome borders, there isn't much to add to a place specifically designed to be devoid of stuff.
------------------------------------------------------------
Badlands
Badlands, on the other hand, are already extremely cool. Between mineshafts, terracotta, gold, and the cool eroded badlands variant, they're objectively one of the cooler biomes in the game. I did find it a bit odd that this was one of the biomes chosen to be updated, given that it already seems pretty complete, but there's still some potential for new stuff.
-Acacia wood for badlands, instead of Oak trees that look a whole lot like acacia trees? Guess it's more of a personal preference. Conversely, Savannahs should also have a layer of terracotta there; it makes them more unique, and also means you don't have to obliterate one of the game's nicest looking biomes for terracotta.
-Could have a unique village type- or maybe, rather, a unique type of ruined village that generates exclusively in the badlands. It would look really cool to see a village type made from terracotta and oak, (I mean acacia), wood. Possibly with some sort of unique hazards. (How about some sort of mine trap involving dynamite?)
-On that note, what about a terracotta shingle block? terracotta is already a pretty useful block, but shingles could be a nice addition, and would go well with a new village, or even existing village types.
-Finally, there could be some new mob. I recall that vultures have been suggested- what about something like coyotes? They could be sort of like more hostile, or maybe more thieving versions of wolves, or something.
------------------------------------------------------------
Jungles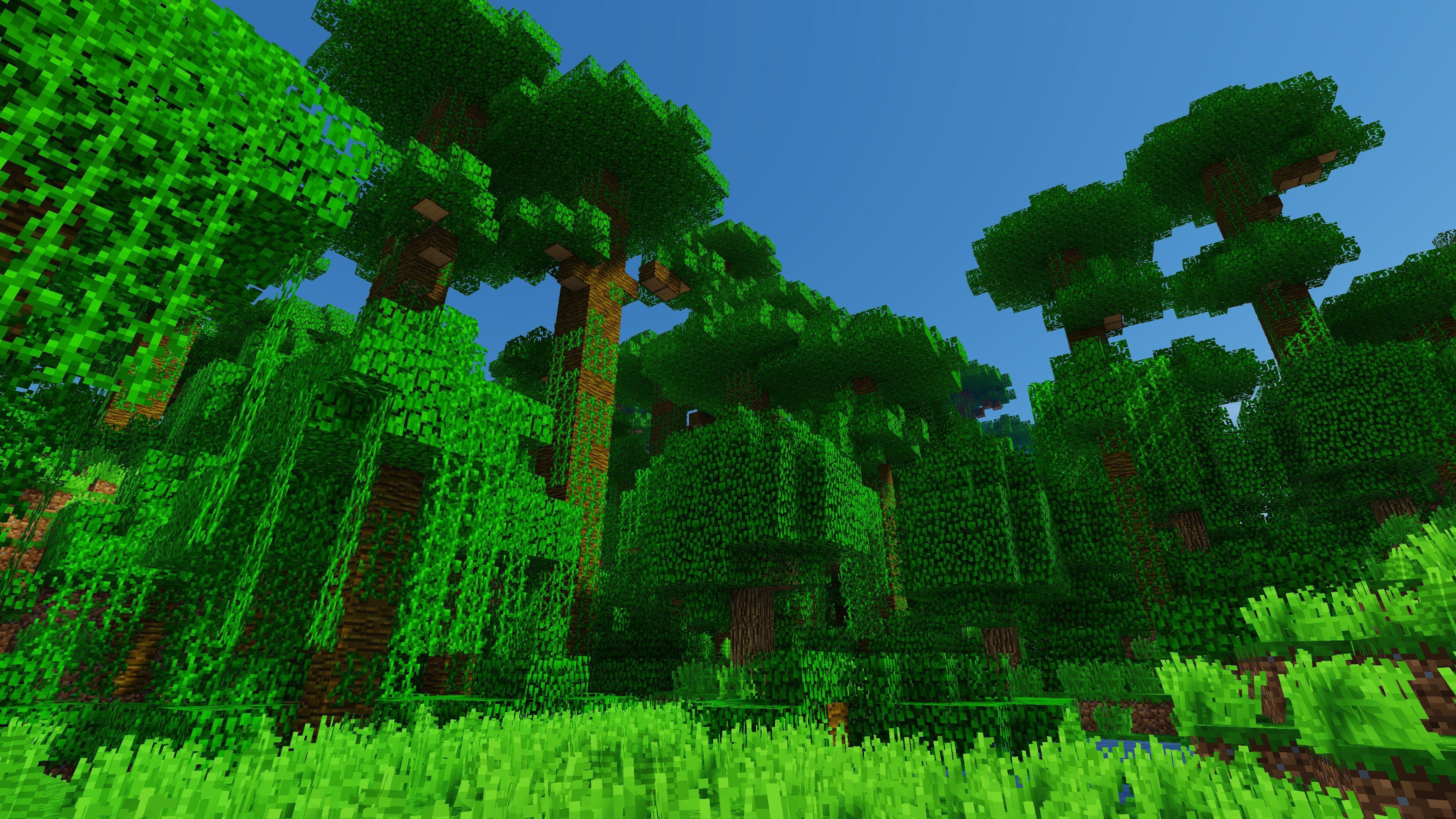 Much in the same vein as the badlands, I don't really see much that needs improvement for the jungle. They've got unique plants like melons, bamboo, and cocoa beans, there's cool subbiomes like modified jungles, bamboo forests, and jungle edges; unique mobs like pandas and parrots, and the biome itself just looks and feels fantastic to discover and explore. Most of the things I could think of are pretty superficial, but I'll try and come up with some stuff anyways.
-More uses for Cocoa beans! They're interesting to farm, and they're really underappreciated. As it is, they're literally just used to make brown dye, (does anyone ever use brown dye?), and to make cookies, which are far from the greatest food source ever. Even just some sort of chocolate item made from sugar and cocoa beans would be cool. (Maybe it restores a lot of hunger, but no saturation.)
-Patches of moss could be found in the jungle too. There's a decent argument for keeping it unique to Lush caves, and there's admittedly already a ton of useful stuff you can find in jungles, (Melons, Cocoa, bamboo, etc), but it could be a nice addition, assuming it isn't too unbalanced.
-How about yet another jungle biome variant- a sort of jungle plateau with tons of lakes and waterfalls? 'Cascade Plateaus?' just throwing it out there, it could be interesting, if a bit far fetched.
------------------------------------------------------------
Cold Biomes
Similar to deserts, biomes like the tundra aren't exactly known for being the most interesting biomes ever. However, there's a lot more variation, (Especially with the new mountain biomes), that makes these places more interesting. I guess besides maybe having some patches of powdered snow in tundras, or maybe some spruce shrubs or something, I can't think of much room for improvement. (Or it's possible I'm just running low on ideas.)
------------------------------------------------------------
Thoughts? Any other biomes that could use a facelift, or cool tweaks for biomes mentioned above? There's no such thing as a bad idea! (Unless it involves vertical slabs.)