Mega_Builds_2016
Carpenter
Location:

A Minecraft Village

Join Date:

10/22/2016

Posts:

255

Member Details
I will start off by talking about world painter, its an amazing tool, but it has its limits. Its problem is that the larger a map is, the longer it takes to generate it. This makes it nearly impossible to generate large maps, and impossible for older computers. I therefore have a new idea.
I call it DUAL IMAGE BASED WORLD GENRATION. For the sake of this post, I will shorten it to dibwg.
The main idea behind dibwg is that it can procedurally generate an enitre world using two images as a reference. The first image will be a black and white heightmap. This will determine what the terrain looks looks like, such as where mountains, hills, or valleys should be placed. The second image will be a biome map that uses colors to represent each biome. This image would determine the placement of biomes.
The next feature of dibwg would be scaleability. The world size is not set to the pixle dimensions of the input images. Instead there will be three additional text fields where players can type in the scale of the world compared to the images. The first text input would be the world's "x" scale. This would be the world's scale going from east to west. The second text input would be the world's "y" scale. This would determine the world's scale going from up to down. Lastly there is the third text input representing the world's "z" scale. This is the world's scale going from north to south.
So let me give you this example:
If I make a world that I want to be very large, yet somewhat flat, I could type in:
X: 100,000
Y: 15
Z: 100,000
But what of I wanted a smaller world with taller hills using the same images? Just type:
X: 5,000
Y: 30
Z: 5,000
Note: they are using the same images, but the scale of the first world is much larger.
With this new system, instead of generating a whole map, like what world painter does (which can take ages for large maps), it would generate the world as you explore by referencing to the two images you gave it.
I really think this is an amazing idea. Please leave your comments bellow.
Thanks.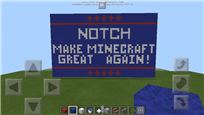 Finds a server that says "No PvP"
*Pushes AFK player off cliff*
Steals Player's Stuff
Admin Can't do anything cause I didn't hit him so "no actual PvP".