Mega_Builds_2016
Carpenter
Location:

A Minecraft Village

Join Date:

10/22/2016

Posts:

255

Member Details
I love using worldpainter to create beautiful maps. I don't love the fact that mountains can only achieve 255 meters in height above bedrock. A mountain will at max achieve about 170 meters in height from sea level in my worlds. I find it quite a shame that these mountains can be so easily scaled. I wish they could be twice as high so climbing them could be a great challenge. A max mountain height increased to 300 meters from sea level would be great. Do you think mountains should be taller in minecraft?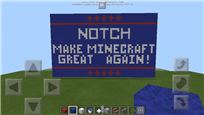 Finds a server that says "No PvP"
*Pushes AFK player off cliff*
Steals Player's Stuff
Admin Can't do anything cause I didn't hit him so "no actual PvP".