IronGolem20
Diamond Miner
Join Date:

8/6/2017

Posts:

1,067

Member Details
Ocean Additions
The Update Aquatic was one of the best updates in Minecraft's recent history— it addressed a serious issue (a lack of ocean content) and, for the most part, executed its additions well. In fact, before the Update Aquatic, many people (including me) made suggestions for the ocean. However, the ocean could still use more content and some of the Update Aquatic needs tweaking, so I'd like to propose some more changes and additions to the ocean.
Continents
I propose that large islands be more common, making the ocean a much more viable means of transportation. At the moment, land is typically either a very small island, a whole continent, or a large island that's only a few blocks away from a continent. Instead, there should be both small and large islands in the middle of the ocean. To account for these, oceans would be made a little bit bigger.
The Sea Floor
Mojang did an excellent job with many things in the ocean in 1.13, but the sea floor, despite getting structures and coral reefs, is relatively lifeless. Coral reefs should be more of an ecosystem, and so should the rest of the ocean.
Sea Anemones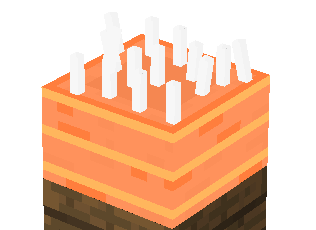 Note: The above is a concept for just one variant of the sea anemone. There could be many, many variants as there are many different types of sea anemones.
Anemones are a new mob that spawn occasionally in warm and deep oceans, and very frequently in coral reefs. They are also found in Ocean Monuments. Anemones are the size of a block, with their tentacles (which are of varying length) reaching from one half of a block to one and one half blocks long. Anemones act almost as underwater turrets; though they act as a little home for clownfish, they inflict Anemone Poison on non-clownfish mobs and players that come by. Just as the Potion of the Turtle Master is a combination of Speed and Resistance, the Anemone Poison effect is a combination of Slowness and Poison, making it extra deadly.
When killed, sea anemones drop 0-2 sea anemone parts, which are used to brew the Potion of Anemone Poison. Right-clicking on the ground with a sea anemone part will give off some particle effects and create an invisible sea anemone entity that will eventually grow into a smaller version of the sea anemone with no tentacles. After a few days, it will become larger and grow tentacles, becoming the adult sea anemone you see normally. This anemone will not despawn.

Additionally, combining any piece of iron armor with 7 sea anemone parts and 1 coral fan or plant crafts a piece of Coral Reef Armor. This armor looks like iron armor overgrown with coral, and has a few small sea anemone tentacles sticking out of it. It has the same default protection as iron armor with a little bit more durability than iron armor. When a player or mob attacks you while wearing Coral Reef Armor, it has a 20% chance of getting a very short version of the Anemone Poison effect for each armor piece worn, so if you have the full set, your enemy has an 80% of getting the effect each time he attacks you. Standing in ocean water slowly regenerates the durability of this armor. For balancing reasons, this armor cannot be enchanted.
Crabs
The crabs roam the sea floor and beaches. They act as the spiders of the oceans; on the sea floor, they are hostile if you're close to them, but on beaches they are neutral. Turtles will hunt crabs, making turtles more useful.

When killed, crabs drop Raw Crab which can be cooked into Cooked Crab. Its hunger points and saturation value are the same as that of mutton, but it can be eaten very fast like dried kelp.
Raw Crab can also be made into a Potion of Dodging, which doubles your sideways movement speed; this means you can more easily dodge arrows or other attacks by going from left to right when you have this potion effect.
Beaches
Beaches are a little bland at the moment. I propose they have some new life brought to them!
Size
Currently, beaches are typically a little too small, so my first proposal to make them better is to increase their size. Instead of an abrupt transition from beaches to other biomes, beaches should have sand dunes (which have both grass and sand) in between the rest of the beach and the adjacent biome.
Palm Trees
Palm trees for the desert were brought up in the official Biome Vote, so we know they will be coming to Minecraft eventually. However, I think it is important that palm trees are also included in some beaches.
Tide Pools
New rocky structures would sometimes generate next to water: tide pools. They would be made of stone and cobblestone, and would include sea anemones, crabs, and kelp.
Seagull
The seagulls fly around beaches. Their purpose is to bring life to the area.
Islands
Instead of being plains or forest biomes, small islands should be entirely beaches or jungles. Note that this would not apply to larger islands. I also suggest that islands are able to be much larger (up to about 300 x 300 blocks).
Ocean Mobs
Considering they are the main threat of the entire ocean, drowned are quite boring. So, I have some ideas for new ocean mobs, including new threats.
Change to The Drowned
Instead of spawning everywhere in the ocean, drowned should only spawn in shipwrecks. This would make them unique since they are only in shipwrecks and would help to balance the treasure you get from shipwrecks.

Finding the Trident
In the treasure chamber of the ocean monument, instead of having a few gold blocks in a tiny box, the whole room should be blocked off with dark prismarine blocks to prevent players from entering it. There would now be gold blocks throughout the room, and in the center there would be a prismarine block with a trident stuck in it. You can right-click on this trident to collect it.

Nautilus Shells
You can now find nautilus shells in the chests of shipwrecks and ocean ruins.
Redstone Eel
This 6 block long monster that looks like an eel with glowing redstone dust on it. The Redstone Eel can spawn in all oceans except warm oceans. Redstone Eels hunt both near the bottom and surface of the ocean. They have 20 health and does 3/4/5 damage, but you take an additional 1 heart of damage from their electric attack when you go next to them. The Redstone Eel drops redstone when killed.
Coral Eel
The Coral Eel is a 6 block long monster with the appearance of an eel that is completely covered in coral. It's only found in warm oceans since these are the oceans with coral reefs. They are slightly faster than a swimming player, making them quite hard to escape. They have 20 health and do 4/5/6 damage. When killed, they drop 0-2 Coral Eel Eggs. These can be placed like turtle eggs and can be put underwater. They grow into coral eels.
Sharks
Sharks are found everywhere in the ocean, but spawn less frequently in warm and cold oceans. Sharks are very fast and stealthy in the water; when they move, they make little noise. If you are close to them, they have a 75% of attacking you, in which case they deal 6/7/8 damage. If you then attack them, they will continue to try to attack you, but if you do not attack them, they will have a 75% of attacking again. To discourage players from killing them, sharks do not drop any items or xp when they are killed. Alternatively, sharks could drop shark teeth, which could be used to make shark tooth daggers and/or shark tooth club.

Orca
The Orca spawns only in cold and frozen oceans. Orcas spawn in groups and will kill redstone eels. Feeding the orcas fish makes them remember that place, and feeding them regularly will make them return and protect the ocean around that area.
Whales
Whales are most frequently found in cold and frozen oceans, but have a rare chance of being found in other oceans too. They tend to remain far away from land and can occasionally be seen majestically rising out of the water. Whales have 100 health, and will do 10/11/12 damage if attacked. Their model is based on the sperm whale.
Deep Sea Mobs
At the very bottom of the ocean, where there is little light, some monsters lurk in the ravines and trenches.
Angler Fish
The Angler Fish are found exclusively at the bottom of deep oceans. They have a light which glows just like an enderman's eyes. Like sharks, Angler Fish only attack you when you're close, but when they do attack, they have a unique ability: when they attack you, you only lose 2/3/4 health, but they take away 1/2/3 bubbles from your oxygen bar. This makes fighting them very dangerous.
When killed, the Angler Fish drops 1-5 Angler Lights. Four angler lights can be combined to make an Angler Lantern, which is a new bright light source.
Giant Squid
The Giant Squid looks like a normal Minecraft squid, but five times as long and three times as wide. Because it's much larger, its model has extra detail: its tentacles have three parts, and its head is much more detailed. The giant squid is hostile and does 6/7/8 damage. When killed, the Giant Squid drops 10-30 ink sacs. The Giant Squid is also hunted by the whale.
Transportation
One final thing that needs to be improved in oceans is transportation. Tiny boats only fit two players, can't carry chests, break too easily, and are a little slow.
Longboats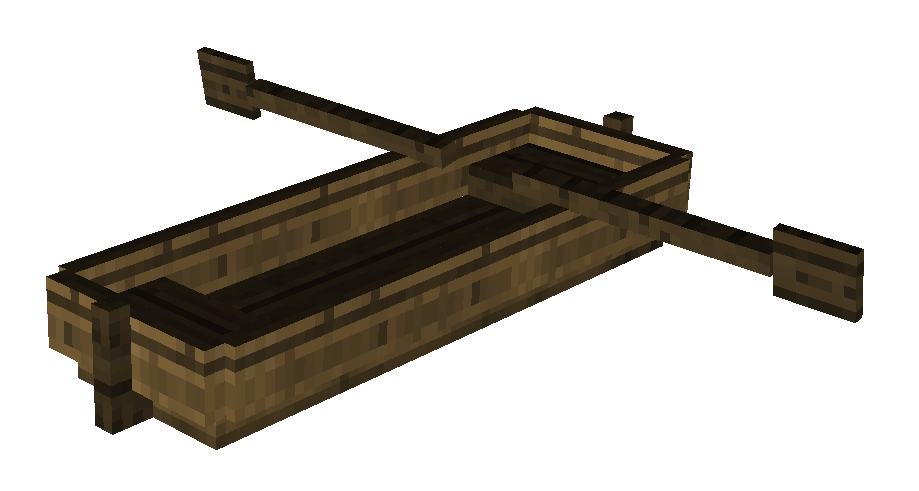 The longboat is crafted with two normal boats. It can hold up to three players and a chest. Up to two players are able to row; if one player is rowing, then the boat goes the same speed as the normal boat, but if two players are rowing, it goes much faster. Unlike the normal boat, a single hit from a tool or arrow will not destroy it. Instead, it has more health and takes multiple hits to be destroyed.
Sailboats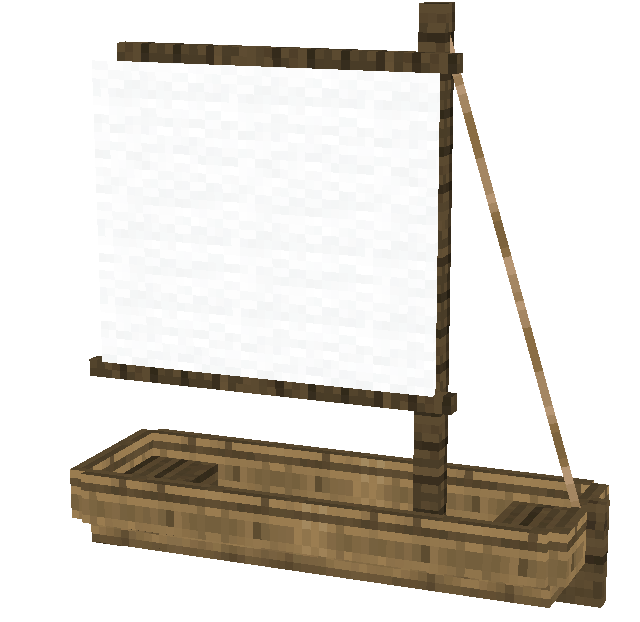 The sailboat is crafted with a longboat and a banner. The banner design will be shown on the sail. Like the longboat, the sailboat can hold up to three people and is able to hold a chest. However, the sailboat does not move by oars; instead, the sailboat moves without a player having to hold W.


One of the advantages of the sailboat is that you don't have to hold down W. It will keep moving until you press S to stop it, so you're able to look at treasure maps, organize items in your inventory or the chest, or even try to shoot arrows at mobs or players with your bow.
The sailboat goes forward at a speed that starts out at 0.75 times the speed of the normal boat, but slowly increases to a speed that is 1.5 times that of the normal boat. It takes 10 seconds for this speed increase to complete. This means normal boats and longboats are more practical for transportation across short distances, while sailboats are more practical for traveling across long distances.
The sailboat is turned by pressing A and D. The first player to enter the sailboat is the one able to turn the boat.
Like the longboat, the sailboat takes multiple hits (even from an arrow or tool) to be destroyed.
Conclusion
With all of these new features, I hope Minecraft would have oceans that are more fun and interactive. The new animals and monsters would make oceans and beaches more challenging and interesting. The new boats would make navigating across oceans a lot more enjoyable and efficient since they are faster and can have chests.
Thanks for reading! What do you think about these ideas?
Support Banner