mastodon_matthewi
Out of the Water
Join Date:

4/5/2019

Posts:

6

Member Details
The suggestion is not full! Possibly it will change later. And remember, you can suggest something!
We have in Minecraft lots of mobs. We have real animals such as chickens or pigs, fantasy things such as zombies or living skeletons and even something very strange, like ravagers or creepers. We even have magic, but... Nothing prehistoric! I think at least one prehistoric animal would be added. And it can be... the Woolly Mammoth! And yes, with mammoth there also can be added a new unique biome and some resources, utility items and even some new plants!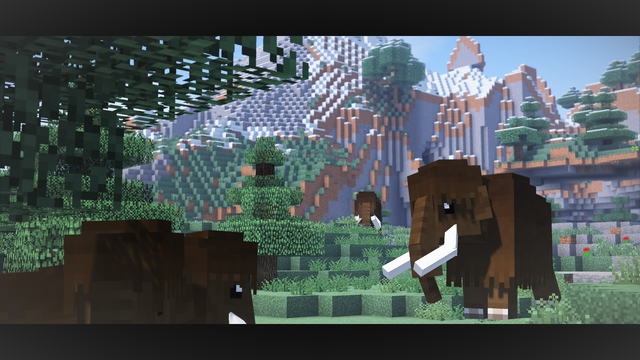 Woolly Mammoths from mods:
1 picture - Fossils and Archaeology: Revival
2 picture - Mo'Creatures
The New Biome and it's Unique Plants
In reality, mammoths lived in the unique environment - the Mammoth Steppe, also called Steppe-Tundra. It was similar to steppe or savannah - vast grasslands with lots of grasses and flowers, but much more colder and tundra-like by climate. Animals of steppe-tundras were different - bisons, wild cows, wild horses, mountain sheep, deer, mammoths, woolly rhinoceroses, antelopes, camels, llamas, lions, wolves, hyenas and much more!
I think if mammoths will be added, steppe-tundras must be also!
Mammoth Steppe-Tundra by Franziska Lorenz and Jochen Stuhrmann
This is steppe-tundra. As you can see, it looks like a savannah, but with different plants and colder.
So... BIOME DESCRIPTION!
Steppe-Tundra
Temperature: 0.05
Grass color: dull golden
Leaves color: orange
Air color: same as Plains
Water color: same as Plains
Rarity: Rare
Precipation Type: Snow
Precipation Amount: Low
Plantlife:
Grass, Tall Grass, Spruce, Birch, Poppy, Allium, Tulips, Oxeye Daisy, Cornflower, Lilac, Berry Bushes, 2 new plants - Sedge and Purple Gentian
Trees: Extremely Rare
Relief: Flat
Structures: Mossy Cobblestone Boulders (common), Ice Spikes (extremely rare)
Mobs:
Woolly Mammoth, Sheep, Llama, Wolf, Fox (polar variant), Rabbit (55% brown, 45% black-and-white) (animals)
Zombie, Skeleton, Stray, Spider, Creeper, Enderman (monsters)
Now - about plants.
Sedge is a grass that grows very common in Steppe-Tundra, and much more rare - in Swamplands and Plains. It is same as common grass, differing only in texture. There also a Bushy Sedge - an analogue for Tall Grass.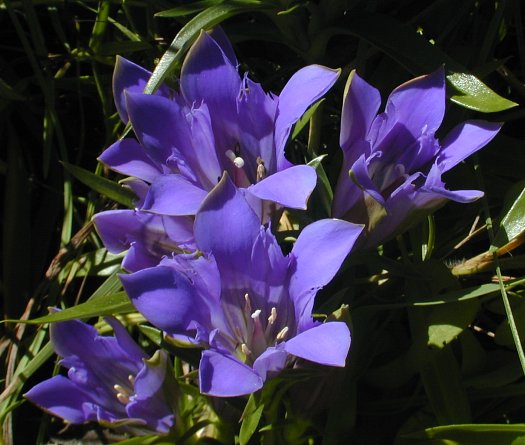 Purple Gentian is a flower, same generating as any other, like Dandelions or Poppies. They commonly grow in Steppe-Tundra, but also - extremely rare - in Mountains. And yes, Purple Dyes can be crafted from Gentians.
And now the most interesting part... The Woolly Mammoth itself!
Mammoths and Items related to them
Health: 74 (37 hearts)
Damage:
Tusks Swing: 10 (5 hearts)
Stomp: 22 (11 hearts)
Drop:
1-4 Wool
0-1 Leather
0-1 Raw Porkchop
0-1 Mammoth Tusk
Experience: 8
Behaviour: Neutral
Spawning in Biomes: Steppe-Tundra
Spawning Group Amount: 3-6
Woolly Mammoth is a rideable neutral mob. It spawns only in Steppe-Tundra, in small groups (3-6 specimens). It is a very large mob - 3 blocks tall, 4 blocks long and 2 blocks wide. Don't forget about tusks - their length is random, varying from 1 to 3 blocks long. Mammoths have a "herd behaviour" - lonely mammoths will search for another ones, and if one mammoth is attacked, all herd will protect it. They avoid cliff, lava, magma, cacti and water. Mammoths will eat Grass, Tall Grass, Sedge, Bushy Sedge, any Crops and Hay Bales.
Woolly Mammoths, like sheep, have different colors. In nature, brown is the most common (chance to spawn - 60%). Light gray is more rare (20%). Gray and black have chance of only 8%. And white mammoths can spawn with chance of 4%. Other colors also are, but they can appear only by dyeing white mammoth (same as with sheep). And yes, color of wool dropping from mammoth is same as it is colored. And yes, if mammoths of different colors will breed, the baby will be mixed color (example - breeding a Red and Blue mammoths will lead to spawning of Purple baby). Mammoths can spawn as babies in chance of 10%. Babies have 2 times lower health than adults and can't attack. They will follow the closest adult (if spawned naturally) or one of their parents (if appeared by breeding).
Like dolphins, mammoths like to play. They will pick up sticks, throw them and then catch or pick up water by it's trunks and throw it on themselves, other mammoths or player (if tamed). The "target" will get a 30 second effect "Wet" that will make it's speed higher for 20 seconds. Also mammoths like to lay into dirt and relax. Mammoths do not trust you - they will run away if you don't hold a carrot.
Mammoths are tameable, like wolves or horses. It is harder than any other animal - at first, you need to feed them carrots or hay bales, until it will trumpet friendly (amount of feeding is 13-18). Then you need to ride it (by right-clicking, same as with horse) for 30-70 seconds, after that, mammoth will trumpet friendly another time. Then, you need to get out of it (by pressing Shift). But it will not be tamed - you still need to play with it. For that, you need to drop a stick to mammoth, and it will then throw it to you. You need to pick it up and drop it to mammoth again. That "stickthrowing" will last about 8-15 rounds, and after that mammoth will be tamed.
After taming mammoths will follow you, but if you click stick on them, they will rest and not move away until you click another time. Mammoths have multiple uses. At first, it can be equipped with Mammoth Saddle - different compared to normal saddle! It's craft is here:
nothing.gold ingot.nothing
iron ingot.leather.iron ingot
nothing.gold ingot.nothing
Mammoth Saddle can be ridden by 4 people (or entities), so it can be used as "bus". While riding, mammoth can pick up mobs (except other Mammoths, Withers, Elder Guardians and Ender Dragons) with it's trunk and then carry them to your home (useful if you want to drag a rare creature to your home). To do that, press Z. Mammoth can also strike with it's tusks by pressing C. It will deal damage to mobs and break some blocks. And yes, you can equip mammoth not only with saddle - also you can put 2 carpets and 1 chest on it, and most interesting thing - a howdah!
On the picture there' s an elephant with howdah.
Howdah can be used as bed, to do that you need to press R while riding the mammoth. You can sleep on it, but will not respawn.
any carpet.nothing.any carpet
And yes, howdahs can be colored differently - it depends on the colors of carpets and bed.
Mammoths are slower than horses and can't jump, but no mobs (except bosses) attack you riding on mammoth, so it can be used for far travels or fights (know - mobs damaged by your mammoth will attack!).
Tamed mammoths can be sheared, same as sheep. It will give you 2-4 Wool. After shearing, mammoth will restore it's wool after eating something.
You can breed mammoths using Golden Apples. The process of breeding is same as with other mobs. Baby will be tamed, but will not be rideable until it grows into adult.
Mammoths can be healed by feeding them Carrots (heals 4 hearts) or Golden Carrots (heals 8 hearts). They also can heal by eating grass, but that will heal only 0,5 hearts.
None for now. You can ask about something!
The suggestion is not full! Possibly it will change later. And remember, you can suggest something!