fishg
Out of the Water
Location:

Atlantis

Join Date:

8/27/2017

Posts:

848

Location:

Atlantis

Minecraft:

fishg

Member Details
Ah, the Minecraft Chest. What a lovely part of the game. But I have a problem. When we make chests we have to have them be one of two sizes.
This is outrageous, this is unfair. What must we be limited to just two possibilities? I suggest more ways to place our chests are added.
Currently, we can craft a second chest and place it on the side of an ordinary chest. All we need to do is expand upon this system to create:
Meet the "tall chest". It behaves in the exact same manner as a long chest, with a total of two inventories.
But that is not all. Why not continue on our path and see what will happen if we add more blocks to the chest?
How? Place a single chest onto a long chest silly! Now there is the equivalent of three chests in one large chest, so three inventories equivalent. This is not overpowered because it would be the exact same if you had three single chests.
When you open the large chest you are greeted by a regular two inventory interface. In the corner will be an arrow, which you can click to acess a new "page" which will only have one single chest.

A chest can be made of any size- all it really is an aesthetic change from a bunch of single ugly chests to one glorious master-chest.
Let us continue on our journey by going smaller. What if you are poor and can't afford a big chest?
Craft a slab chest with wood slabs instead of wooden planks. Note that the slab chest only holds 13 items.
And let us continue our fun by creating stair chests, replacing the planks/slabs with wood stairs. This chest only yields 20 inventory slots, but you can walk on it which is fun.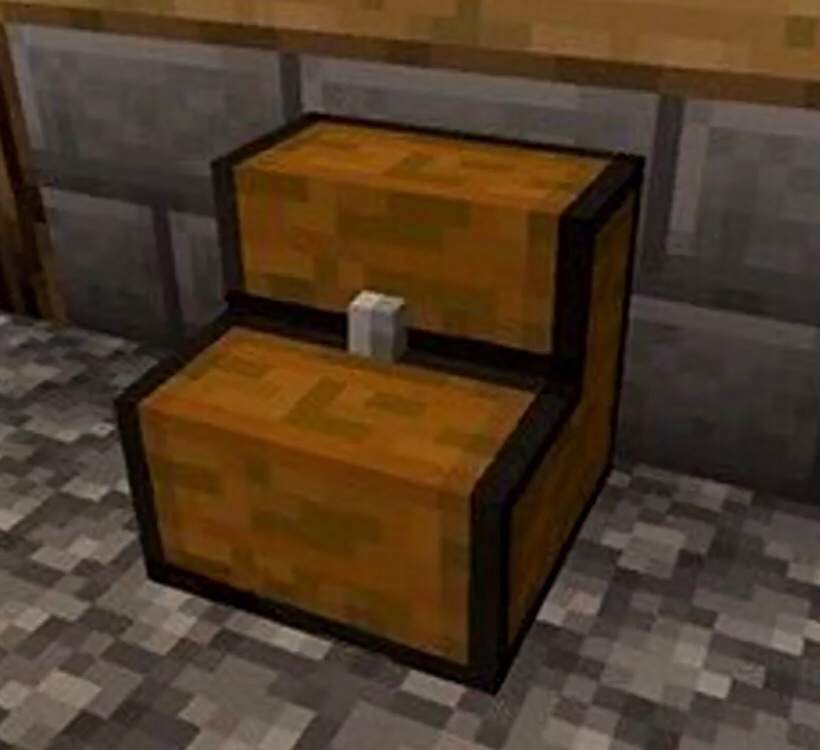 You may think that we are done, but no. Our last step is discussing a possible way for us to change the location of the lock.
The player can now right-click on any chest with an axe to destroy the lock, making it impossible to open. You get an iron nugget from the lock (note, the game may need to add an iron nugget to the recipe for crafting chests to prevent farming this way). Now the player can move to another side of the chest and place down the iron nugget to change the orientation of the chest.
This would be unironically useful with mass storage systems which have the large chests lined up in this manner but looking awkwardly.
Now you are probably thinking, "let's expand the ender chest!" But I would say "no silly, that makes ender chests overpowered".
So to conclude, we need more chests because [insert reason here]. This would allow players to better customize their storage systems and would actually be useful for people. Of course, this is not really needed relative to the many other things that could be coming out, but I think this would be a really nice thingy to have. Mojang has already stated they are no longer limited by their block IDs so creating many chest variations is now completely possible.
Last edited by
fishg
: Mar 30, 2019