johnjr121
Coal Miner
Join Date:

9/20/2010

Posts:

141

Member Details
Intro
Well, as you can see i am suggesting a new mineral called Amethyst. This mineral would be stronger than iron, but weaker than diamond (in relation to MOHs hardness scale iron = 4 Amethyst = 7 Diamond = 10). Amethyst is a light purplish mineral. It would be more rare than iron, but more common than diamond. If there was a rareness scale from 1-10, 1 being the lowest and 10 being the highest. If diamond was 10 and Iron was lets say 5 Amethyst would be around 7 or 8. Amethyst will last longer than iron and shorter than diamond.
Where?
Where can we find Amethyst? Amethyst would be found about 15-30 blocks above bedrock. More rare than iron, but more common than diamond. It's would be around the rareness level of redstone, just slightly more rare. The mineral has a tendency to be found in smaller groups, but can be found in fairly large quantities, around 3-5 ores regular, 6-9 rarely. Amethyst is more common to be found in caverns with small lakes in them, which is where the large quantities of Amethyst are found. When Amethyst is mined it is in jewel form, like diamond, so you don't have to smelt it.
Appearance
Amethyst looks just like this...
Amethyst stuff

Amethyst Block

Amethyst Mineral.

Amethyst Bucket
Amethyst Sword

Amethyst Pickaxe
Amethyst Axe
Amethyst Shovel

Amethyst Chestplate

Amethyst Hoe

Amethyst Boots

Amethyst Helmet

Amethyst Pants
Credit for making items goes to:
DoLLaZ
Uses?
Tool images coming soon.
Amethyst can be used for making tools, just like iron and diamond. It has it's own block too! Amethyst has some special uses that makes it a distinct mineral. Since Amethyst contains vast amounts of sulphur, it will magnify the explosion of TNT. if an Amethyst block( 9 ingots) is touched by a TNT block upon explosion the will be magnified, giving it 3 times the power and radius. You can also craft special buckets with Amethyst, these buckets will not be lost in the smelting process, or when putting them into powered minecarts. The crafting formula for Amethyst buckets can be found below.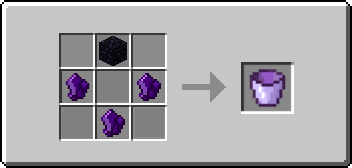 Since Amethyst contains high amount of sulphur it is possible to melt it down to sulphur. If you smelt Amethyst it will turn to sulphur. For every single Amethyst that you smelt, you would get between 0-10 sulphur. With a 50% chance that it will be higher than 5 and 50% chance that it'll be lower (it is possible to get 0 sulphur from smelting Amethyst).
Credit for idea of extracting Sulphur:
Arirish
Credit for idea of the new function of the bucket:
Kira
Suggestions
I hope you enjoyed the thread and suggestion so far, but i still need A LOT of help to finish this up. I need all the critiquing and suggestions i can get to make this mineral not under or overpowered. So please ask questions, post suggestions tell me your opinions, etc!
Banners!
Thanks toDoLLaz we now have a banner. We will soon have more, but for now this is the one we have

[url= http://www.minecraftforum.net/viewtopic.php?f=1&t=221998][img]http://i469.photobucket.com/albums/rr53/arab4life333/AmethystBanner.png[/img][/url]
Artists!
As you can see i need some more pictures for the suggestion. I need plenty of artists to help and create banners and other items. You will be credited for all of your creations and i will do my best to reward all of you! So with out wasting more time here are the items needed to be created for the thread. Diamond = most important gold = medium importance and iron = least importance.
Banners
Smaller banners.
To get me your art, you should send me a message with a link to the picture, possibly imageshack or photobucket. Also, make sure to put your name someone on it so you get some credit! Thanks a million!
Bye!
Acknowledgments
1. Dollaz - This person was a huge help and created all tools and blocks for Amethyst.
2. ArIrish - This gave me the idea of extracting Sulphur from Amethyst.
3. Kira - This person gave me the idea of the function of the bucket.