jamescoolcrafter15

Stone Miner
Location:

Ontario

Join Date:

8/9/2016

Posts:

91

Location:

Ontario, Canada

Minecraft:

jamescoolcraft

Xbox:

jamescoolcraft

Member Details
Apart from the new Update Aquatic, minecraft has been lacking with its exploration gameplay. All of the players are already used to all of the biomes, mobs, and structures, but that doesn't mean they have to add new ones. Here's where the Data Base comes in. You either spawn with it or craft it out of basic materials, it could be in the form of a PDA. You would have to hold down left click on a block, mob, plant, ect, (it can't destroy anything or do damage) for a few seconds and the Data Base would unlock an entry for the thing you just held down on, so you basically scanned or researched it. When you right click while holding the Data Bank an organizer would pop up, this could be closed by clicking E or Esc, in this organizer would be several folders. The folders would be Mobs, Plants, Tools, Weapons, Blocks, ect, and in this folders would be sub-folders, like clicking on Mobs would bring up the sub-folders Passive, Neutral, and Agressive, and clicking Plants would bring up the sub-folders Trees, Flowers, ect. You get what I'm going at here, but to show a bit more, I will show examples of entrys below. Each entry will also have a picture, some being nostalgic, like the one I used for the Oak Tree. Some entrys may also have some jokes here or there. These entrys I'm suggesting and the Data Bank would give the player an urge to explore, discover, cand catalog new things, without the actual need to add new things to the game. This would remove the Crafting Book for this, as the entrys will have recipes in them, but that's a small price to pay, if any. If this was ever added to the game, though it probably won't be, Microsoft would probably add new things to explore with it, which is even better. Now on to a bit of examples of entrys. In this thread, all of the entry examples I've shown are in English, in game the ywould be translated depending on what language your game is set in, they would also be available in audio for people with bad sight.
Oak Tree
The Oak Tree is the most common Tree on the Block World, commonly found in Biomes like the Forest and Plains, and ocassionally dotted around Biomes like Savanna.
In The Wild
Upon the creation of a world, Oak Trees are planted in a variety of biomes for help when the player spawns in. They can be found in the Mountains, Plains, Forest and Flower Forest, dotted around a Birch Forest, the Dark Oak Forest, Jungle, Savanna, Plateuo and the Wooded Badlands.
Uses
These trees are known by all for their wood contents, allowing players to build a crafting table, someting crucial in survival.
This same research needs to be done on specifically the wood to find out more uses.
Decoration Values
This Tree adds a touch of greenery to any outdoor building!
Jungle Tree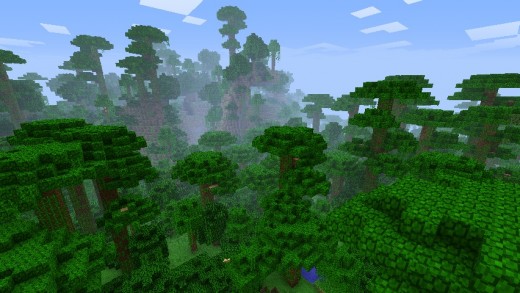 The Jungle Tree is truley a peice of wonder and amazement, it has lots of uses ranging from building a Crafting Table to using it as your foundation for a house!
Cultivation
Just planting a sapling provides you with a Jungle Tree in similar size proportions to an Oak Tree, although letting one sit for quite a while, and with the right conditions, can replicate those in the wild. Wild Cocoa Beans can also be grown on the wood of a Jungle Tree, with use in Cooking.
In The Wild
In the wild, Jungle Trees were left to sit for large proportions of time during world preperation, allowing them to have grown to huge sizes. The reason they grow to such huge sizes is a competition of sunlight with local plants, they've grown big to collect the most, leaving other plants smaller, like the Jungle Shrubs, a close cousin to the Jungle Tree.
Vine growth on the exterior and hanging from leaves shows that Jungle Trees are thousands of 10 minute Minecraft days old. The vines use the huge trunk of the tree as support to grow higher up, so they too can gather sunlight, the Jungle Trees don't mind this.
Parrots seem to live in the Jungle alongside these trees, eating the leaves but not the Cocoa Beans, which are highly toxic to a Parrots digestive system.
Base Support
Weather you're in a Faction or just need a cosy place to build, Jungles Trees have your back! Using the trunk to build a spiral staircase, or building bridges inbetween the trees, those trunks give lot's of support.
Food Wise
How they give food you ask? Unlike the passive mobs of the Jungle, players don't eat tree bark, instead they grow Cocoa beans, which can be used to create Chocolate Chip Cookies, although you shouldn't feed them to parrots, they're posinous to them. Cookies wouldn't have your back in a life or death situation, but are a Luxary Food for anyone who needs a quick break from building.
Bone Block
Location
These Bones are found underground, you will have to dig out and excavate the blocks to retreive them. Though instead of digging quarrys just to find them, caves sometimes erode through them, which is probably how you stumbled upon the block to begin with.
Reason
These Bones cataloged were found deep underground, and belonging to no mob found as of yet, meaning the mob it belonged too is either extinct, or on the verge of extinction.
Uses
Bones are treasured by players for there unique look in building, wether that be framework or decoration. It's not all that grose, some think it is using bones in a building, but fossilization has turned the bones in fossils made of stone.
Nether Portal
It seems experimenting with Obsidian has caused you to somehow create a portal to a mysterious dimension, nicknamed the Nether for your convenience. Although it seems for some reason you had an urge to make the portal, like something was making you, a mysterious force. This same force is seen surrounding the portal. Soft whispers can be heard when going near the portal, and nothing is known about the dimension within by just the ouside of the portal. It seems you need to go in and see whats in for yourself.
Chicken
This animal named the Chicken by other players was first cataloged around an area with other Livestock. They can constantley be seen pecking at the ground, showing just how common small plants and seeds are in the Overworld.
Domestication
In the right conditions, one can simulate a wild environment and breed Chickens. Male Chickens are called Roosters, and have a red flap under their chins, while Female Chickens don't. They can be breeded for their babies, which if grown correctley, can eventually be sent to be slaughtered for their meat or used for company in gardens or bio-domes. Eggs that fail can be used for the creation of backed goods like pumpkin Pie or Cake.
In The Wild
In the wild chickens can be found roaming around areas with lots of greenery and plant life like grassy plains and forests.
Bubble Colums
These Bubble Colums were first seen rising (or sinking) from an Underwater Ravine in the Ocean. During the Cataloging process, they were seen pulling a fish towards an area of magma and volcanic activity at the bottom of the Ravine. Due to that observation, it is advised not to swim directley above the Magma or into the Colum of Bubbles so you too do not get sucked towards the Magma, which would most likely give heat burns or drown you.
Dragon Egg
It seems that the Ender Dragon was only fighting you to protect it's egg. Now that it's dead, the egg is seemingly unhatchable through normal means, extreme research is required. With the Mother Dragon being the last adult of its species, this egg is the only hope, and since unhatchable would probably need to be cloned, although you havn't yet acheived that technology.
Blank Patterned Banner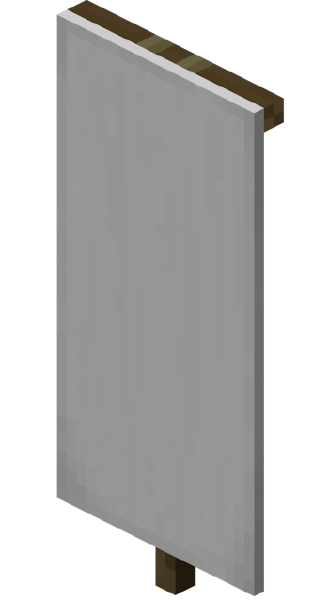 The banner is a flag used for decoration, establishing a team or holding territory during a Faction. The Banner can be placed on a block or put hanging from a wall. The banner can be coloured and patterned to make designs ranging from a basic red banner to an intricate red pheonix banner.
That was the Data Base and Catalog Entrys suggestion. Wright your opinion down below or add on in a comment if you'd like, if this gets lots of attention I might add more entrys, you could even comment entrys of your own. If you agree type Support in Bold, weather you agree or not be sure to answer the pole.
If you want to support a step further, use the banner below.
Hey guys I'm James, I used to be a noob but now I'm not, I finally figured out how to use TextCraft so here's a banner for one of my suggestions.