Mega_Builds_2016
Carpenter
Location:

A Minecraft Village

Join Date:

10/22/2016

Posts:

255

Member Details
I don't like the idea that I could spend thousands of cobblestone blocks to build a fancy wall only to have pillagers spawn inside it and raid the village anyway. Please keep walls useful by making it to where pillagers only spawn outside the village.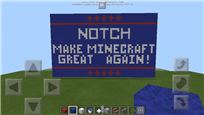 Finds a server that says "No PvP"
*Pushes AFK player off cliff*
Steals Player's Stuff
Admin Can't do anything cause I didn't hit him so "no actual PvP".