jamescoolcrafter15

The Meaning of Life, the Universe, and Everything.
Location:

Ontario

Join Date:

8/9/2016

Posts:

109

Location:

Ontario, Canada

Minecraft:

jamescoolcraft

Xbox:

jamescoolcraft

Member Details
Disclaimer: This is not a wishlist, most if not all things here have to do with nature, or biomes or plants that relate with them. Most things here are aesthetic and nature related.
Disclaimer: Fair Use! I do not take credit for any of the photos hown in this thread! Any watermarks are not owned by me or anyone I know in any way, shape or form whatsoever!
So I saw a post from leed (credit to him) about minecraft being more alive, I though hey! Why don't I make a post about new nature aspects, like plants or biomes! So here we are! I may add to this thread when I come up with more ideas. You guys add your own ideas in the comments aswell!
Minor Changes: - Adding every mushroom block to the creative inventory.
- Mushroom blocks being like trees, and you being able to get the blocks of them with sheers.
- Ability to plant the swamp trees, the oak trees in swamps with the vines hanging down, already in minecraft but unplantable.
Reeds: Reeds are those tall grass thingys around lakes and ponds, you know the ones with the fluffy hot dog things on top of them. Well they should be in Minecraft, you should find them around rivers, and they are like sugercane, but you can't make sugar from them, only paper.
Zamites: Zamites is a plant from earth, now the plant is extinct though. It looks pretty cool and could work well in a minecraft jungle. It resembles a Ginko, and could either be a small plant in minecraft, or like a small tree. For those of you who want to step it up a notch, it maybe could spawn in dungeon and ruin chests, as it's now extinct on earth, you would need to resurrect it, and plant it back from extinction.
The Zammites from the Fossils and Archeology revival mod.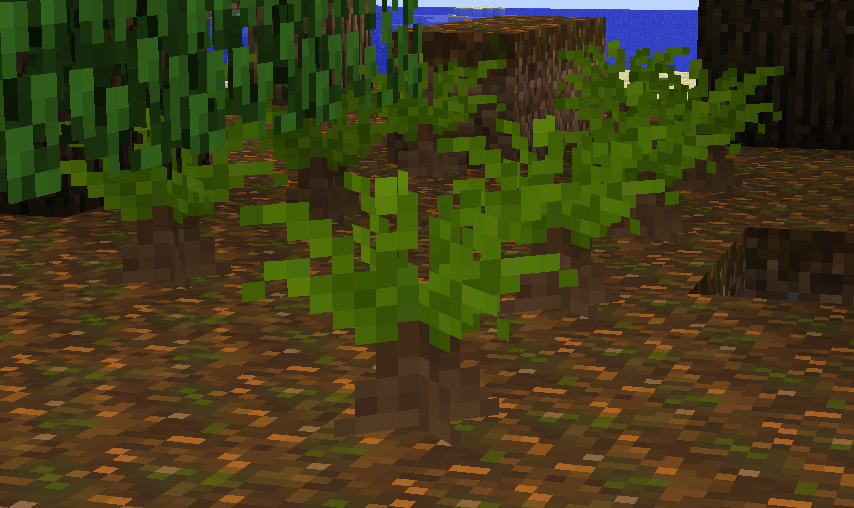 How the Zamites most definetley looked on earth.
Salt Flat: In real life, shifting of plates can cause seas to get trapped in say a circle, causeing all of the water to evaporate. In minecraft, they will not form during the world, but with the world like a normal biome. On them, you can find salt blocks covering majority of it, Ocean Monuments which have turned to sandstone over time, shipwrecks, skeletons of ancient beasts and dead coral reefs. The Salt Flat is mainly as described, flat, occasionally you can find islands in the middle of the salt flates, they can hav.e lots of cracks in the ground, like one block wide canyons, and grass and trees. Similar to normal islands but in the middle of a Salt Flat.
Seed Ferns: They are like trees but bigger, like medium jungle trees, they are not actual trees though, they are made of wood but the leaves are ferns, they grown in swamps, emerging from the low lying land or murky waters.
Sea Sponges: Not the sponge block, they are like coral. Like coral but with a different design, there could be barrel sponges, coral tubes and more. Some could spurt air while others cool green gasses.
Witches House: Like the Witch's Hut, but an entire house, sometimes even covered with tree roots.
Prickley Pear: A red fruit that grows on Cactus.
Oasis: A large pond in the middle of desserts. Surrounded by grass and lush vegetation.
Great Tree: A huge tree, huge, I mean huge! It is surrounded with a tropical biome, with small jungle trees, oak, birch, giant mushrooms and dark oak trees, a very lush biome it's in. It has huge vines, roots protruding from the ground at the tree and the biome around it. It's huge trunk and leaves ar covered in fungi, like huge tree fungus, pockets of glowstone as a part of the tree! A living ecosystem, it could even have a small village in it sometimes, or a small cave!
The Tree Fungi.
Floating Island: Floating Islands! Exatly like described, even a floating archipelago of islands. Extremley rare ones can even have a giant tree on them. You can find small ones, or really huge ones!
The floating islands!
Hope you enjoyed

Hey guys I'm James, I used to be a noob but now I'm not, I finally figured out how to use TextCraft so here's a banner for one of my suggestions.