Mega_Builds_2016
Carpenter
Location:

A Minecraft Village

Join Date:

10/22/2016

Posts:

255

Member Details
I don't like the idea of diamonds not being renewable, and having to make another mine just because you mined out all the diamonds in the area does not always seem fun to me. Can you add a boss that drops diamonds? Make it a really rare boss and make it hard to kill so that it can't be abused.
Edit: Make it drop 3 diamonds max.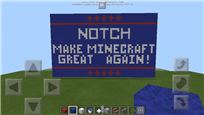 Finds a server that says "No PvP"
*Pushes AFK player off cliff*
Steals Player's Stuff
Admin Can't do anything cause I didn't hit him so "no actual PvP".