Mega_Builds_2016
Carpenter
Location:

A Minecraft Village

Join Date:

10/22/2016

Posts:

244

Member Details
A while ago I came up with a concept that they add a new world type. In this world type, they would generate medium to large islands each containing a beach surrounding the entire island, and a single other biome (such as a jungle) in the middle of the island. That way players can travel the oceans looking to colonize other islands and would be able to more easily start their own private islands. Now I say the islands could be medium to large because honestly, I don't like building on small ones. I like them to be big enough to build small cities on. Each island would have a beach and a randomly chosen biome in the center of the island. That way if someone wants a jungle island, they can search for one, and if someone on the same world wants a forest island, they will not have to search far for one to. Anyway what do you think of the concept?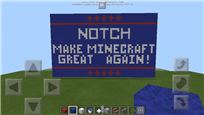 Finds a server that says "No PvP"
*Pushes AFK player off cliff*
Steals Player's Stuff
Admin Can't do anything cause I didn't hit him so "no actual PvP".