IronGolem20
Diamond Miner
Join Date:

8/6/2017

Posts:

1,073

Member Details
Ambient Rework: Making Minecraft Feel Alive
One area that Minecraft is very obviously lacking is ambience. After the awe of first playing wears off, the world doesn't feel alive anymore, and that's because there's little to hear and little to see moving. With this suggestion I'm going to propose some small additions that would go together to completely revamp the Minecraft experience, and bring new life to the game.
Audio Loops
Just like there are music tracks that play, there will now be somewhat quiet audio loops that play depending on the biome you're in. These are constant and represent the animals in the biome. In biomes with birds you'll hear birds chirping. In deserts and mountains you'll hear the wind. In beaches you'll hear the seagulls. At night, depending on the biome, you would also be able to faintly hear crickets or cicadas.
Small Details
Trees now have a leaf falling animation. This only plays sometimes, and all trees will be synced up in it as if there were seasons. If seasons were ever implemented, this would be correlated with the "fall" season.
In addition to this, leaves will also now occasionally drop sticks as long as there is a block of air below them, even if they aren't decaying.
Fireflies would now spawn at night in plains and swamps. They'd look like floating XP orbs, and could be collected with an empty bottle to get a firefly in a bottle, which can be placed and emits as much light as glowstone.
At night, if near or in a spruce forest / pack of wolves, you can hear the wolves howling. This does not happen every night, but almost always happens when there is a full moon.
As suggested by Reddit user u/PieterHugo2, passive farm animal mobs (cows, sheep, etc.) should lay down at night and shut their eyes.
Dust storms can happen in deserts, which create a thick sand-colored fog.
Now I'd like to talk about mobs. I'm not asking for anything major, but having some new common mobs would definitely make the game feel more alive.
Birds
We already have the chicken and parrot, but not anything that is common, dynamic, and in a common biome. Here I propose four birds: the blue jay, the cardinal, the seagull, and the hawk.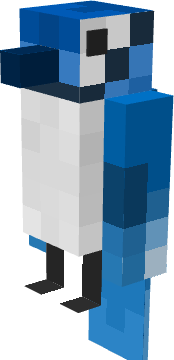 Blue jays spawn in all forest biomes except for dark oak forests and mega taigas. They sit in trees and occasionally fly from tree to tree, or onto the ground to pick up a stick.
[Model in Progress]
Cardinals look almost identical to blue jays, but are red and 1 pixel shorter. They spawn in all forest biomes and will not spawn in areas where there are blue jays within 50 blocks. Blue jays have the spawn priority, meaning blue jays are slightly more common. Cardinals will also go to the ground to pick up or search for sticks.
[Model in Progress]
Seagulls spawn in beaches, and spend just as much time on the ground as they do in the air. They make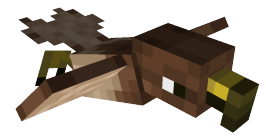 Hawk model courtesy of MCvinnyq
Hawks are different than the other birds I've mentioned so far. They are not common, and spawn alone. They swoop down and will pick up rabbits with their talons, taking the rabbit far away. If you get too close to a hawk, it will swoop down and attack you until you go away, dealing 4 (
) damage.
Frogs
At the moment, swamps are pretty empty during the day. There are sometimes pigs or cows in the more open spaces, but other than that, there really isn't much.
Spawning in swamps and ponds, frogs would look like retextured rabbits without ears, and would have a distinctive croaking sound. They hop around from lily pad to lily pad, and cover great distance in each leap. They will quickly stick their tongue out to attack spiders, dealing 2(
) damage. Frogs will follow you if you're holding spider eyes, and can be bred with the spider eyes.
Frogs are a great aesthetic mob, and can also be taken back to your base to help defend against spiders.
Larger Details
Just as in shaders (but to a lesser degree), leaves, grass, and flowers now blow in the wind. Unlike how most shaders make it look like there's a tornado nearby, this would just be a faint effect. Because this might lag lower end PCs, this has its own toggle button in the Video Settings.
Water that is in any kind of ocean biome has a similar effect, but amplified in the y-axis, making it look like there are waves. This is amplified more when it's raining, and even more when there is a thunder storm. As with the moving leaves, this has its own toggle button in the Video Settings.
Music
There are some tracks which are currently unused in Minecraft for unknown reasons. This includes C418's "Excuse" (which should play when above ground at night, as it'd create a spooky mood with the monsters about), C418's "Equinoxe" (which could play when the Ender Dragon is defeated or when in a stronghold), C418's "Door" (which could play while in a village). I think these should all be used.