Wolftopia
Diamond Miner
Join Date:

8/6/2017

Posts:

1,055

Location:

Milky Way Galaxy

Minecraft:

Wolftopia

Xbox:

Wolftopia

Member Details
Why?
Minecarts have always been clunky, and are very overdue for an overhaul.

Changes
Above are the minecarts that currently exist in the game. While I am going to propose new minecarts, I first want to make some changes to the current system through which minecarts work.

Improve Minecart Physics
One of the reasons the minecart system has always been clunky is the fact that both players and other minecarts can pass through minecarts. This should be changed to make minecarts easier to manage and more predictable. Minecarts should now be "solid" as boats are; walking into one is akin to walking into a block, and you are able to stand on them. Similar to cauldrons, you can stand inside a minecart.
Minecarts should also follow this rule when colliding with one another, meaning two minecarts can't pass through each other. When two minecarts hit each other, they should also not get more reaction momentum than action momentum. At the moment, a slowly moving minecart can make another minecart go very fast with just a small touch.
Improve Minecart Speed
According to the Official Minecraft Wiki, boats have the same speed as minecarts. While boats do have a decent speed for a vehicle that is placed down and used immediately, this speed should not be equivalent to that of a vehicle that requires a preliminarily-built track to work.
What I am saying is that minecarts should be faster. Once built up to full speed, minecarts should travel at twice the speed that they currently do. For those who think this would be overpowered: minecarts are already this speed on the Legacy Console Editions.
Make Rails 3D
This is obviously much less of a priority than the previously mentioned changes, but I still think it should be implemented. The game actually has support for 3D rails, and there are even resource packs that make this change. So, why not add it to vanilla? This would of course be optional, and could be configured via the setting called, "Rails: Fast/Fancy."

Image from 3DCraft Resource Pack
Increase Rail Output
Now this is something that is definitely high priority. At the moment, these cost one gold ingot per rail excluding the cost of sticks and redstone. This sounds reasonable, but it's still pretty expensive for players who don't have a gold farm. Thus, the output should be changed from 6 powered rails to 8 powered rails.
Chunk Loading
This might be one of the most important changes to minecarts. When they are moving, they should load chunks. This would mean that you can send a minecart off and it would continue moving and loading chunks until it stops. Unlike how players load many chunks surrounding them, a moving minecart would only load 5 chunks at a time: the one it is in, and the four chunks that are directly surrounding them.
Because this could cause serious lag issues on servers or custom maps that use lots of moving minecarts, there would be a gamerule you could use to disable or enable minecart chunk loading:
/gamerule doMinecartChunkLoading true
/gamerule doMinecartChunkLoading false
"Splat!"
When a player or mob is hit by a minecart that's moving quickly, it takes damage. The minecart will also slow down slightly.
Linking Minecarts
This is one of the most asked for features, and I am sad Mojang still hasn't put it in the game. Minecarts should be able to be connected with leads. Simple as that.
New Minecarts
Dispenser & Dropper Minecarts
These are crafted just how you would expect. Just like actual dispensers and droppers, these minecarts can be placed in any orientation. They have an inventory of 9 slots, and are activated with a powered activator rail.
Redstone Block Minecart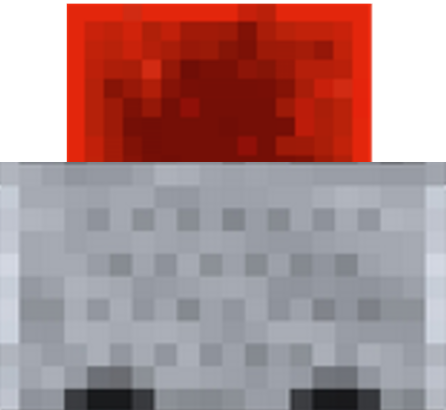 Crafted with a minecart and redstone block, the redstone block minecart powers adjacent blocks. The blocks that get powered are:
• The block placed directly above the rails
• The blocks on either sides of the rails
• The rails themselves
This means that you can link up redstone block minecarts to your minecart train and they will power the powered rails!
Locomotive Minecart
(The current furnace minecart would now just be used for cooking items.)
The locomotive is crafted with the following recipe:
Just like the normal minecart, it can be ridden by players. However, it requires fuel to move. You can get it to start moving by right-clicking on it with fuel. Each fuel powers the minecart for half as long as the fuel lasts in a furnace. The locomotive starts out very slow, but its speed can be increased by giving it more fuel while it is moving.
The maximum speed of the locomotive is 3 times the current maximum speed of minecarts, meaning it would be 1½ times that of the new maximum speed.
Locomotives would be balanced because they require a player to keep putting fuel in to ensure the locomotive keeps on going. Also, when a locomotive is traveling at a speed greater than the new max. minecart speed (so more than 75% of its own maximum speed) it explodes when crashing into blocks or other minecarts, and will even derail at turns.
The locomotive minecarts would make sounds similar to those in the following video (skip to ~20 seconds in):
Cow Catcher


Crafted like the following, cow catchers are able to be placed on any minecart (including locomotives, of course) via right-click and do extra damage and knockback to any mobs or players on the tracks.
They also prevent minecarts from slowing down from hitting mobs/players.
Support Banner
If you would like to show your support for this suggestion, consider using the support banner:
Just copy the image above.

Special Thanks To:
AaronBlader12 for the idea of redstone minecarts