Mega_Builds_2016
Carpenter
Location:

A Minecraft Village

Join Date:

10/22/2016

Posts:

224

Member Details
Every time I find a village it looks like it has been hit by an earthquake and I find that the village has windows underground, doors handing 3 blocks above the surface and sometimes entire building submerged in a hillside. Plz make it to where we can make villages spawn on flat ground.
PS if anyone is able to bring this to the devs plz do it. I am tired of seeing messed up villages.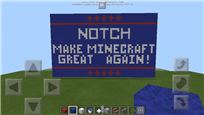 Finds a server that says "No PvP"
*Pushes AFK player off cliff*
Steals Player's Stuff
Admin Can't do anything cause I didn't hit him so "no actual PvP".