StickyPistonPig
Gold Miner
Join Date:

12/23/2017

Posts:

385

Location:

Saturn

Minecraft:

Hoggz

Member Details
TABLE OF CONTENTS
1. Cattle Milking
2. The Goats
3. Drinking Milk
4. Dairy Foods
CATTLE MILKING
Objective: First of all, if you didn't know, cattle are commonly referred to as cows even though cows are just the females. Anyways, Milk is somewhat overpowered. In section 3, I will explain more about the benefits of milk. The objective of this new cattle milking system is to improve the way players obtain milk.
Materials
- 1 Bucket
- 2 Wheat
Procedure
1. Find 2 adult cows
2. Use wheat to breed both of the cows
3. For 5 minutes, you will be able to collect endless milk from both parents
4. Once the 5 minutes is up, you will have to breed 2 cows again
Reasoning: All cattle cannot produce milk unless they have reproduced recently. However, once they reproduce, dairy farmers can get excessive amounts of milk easily (even though it might harm the cattle). The change seems balanced because 2 wheat are required and there is also a cooldown. Advanced dairy farms could be created to help players get milk rather than the simple ones currently.
THE GOATS
Model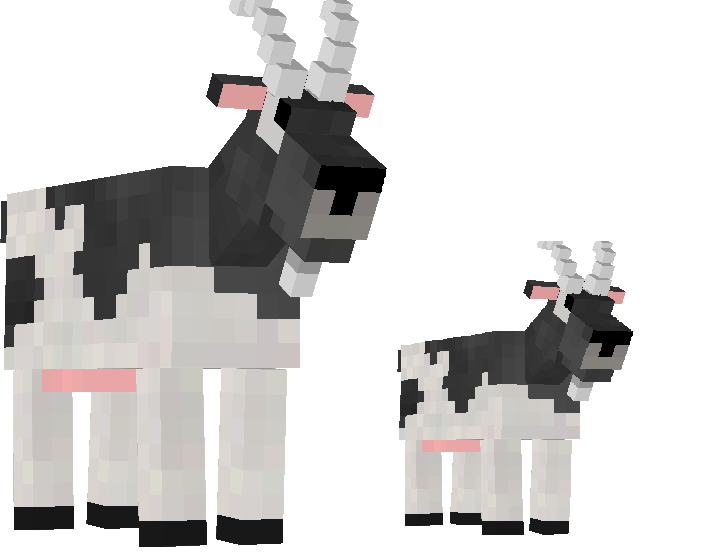 Natural Generation: Goats spawn in herds of 4 on top of opaque blocks with at least 2 blocks of space above them, at a light level of 9 or higher. They mostly spawn in herds while the world is first generating; although if there are no passive mobs in loaded chunks, they can spawn after world generation in normal spawning cycles. They have an extra +10% chance of spawning on hills.
Breeding: If 2 goats are given beet roots, their love mode will be triggered, and they will create kids giving the player 0-4 experience. The parent goats will then have a cooldown of 10 minutes before they can breed again. Feeding a kid 1 wheat will take off 10% of the remaining time to grow up.
Behavior: Goats tend to walk around slowly and aimlessly, bleating and breathing occasionally. They will avoid walking off cliffs high enough to cause fall damage. When hit, they run around trying to flee 0.5x the speed of a cow. Goats will follow players holding beet roots from up to 5 blocks. This is 3 less than most mobs to represent how stubborn goats are. Kids stick near their parents.
Sound:
Drops:
Leather: 0-2
Mutton: 0-2 (cooked if killed on fire)
Horn: 7% (stackable up to 3)
Experience: 0-2
Cornucopia:
Obtaining: Surround a horn in foods that don't consist of meat to make a cornucopia. The cornucopia will show what foods are in it in text similiar to how a banner lists its patterns. If two or more of the same foods are put inside the cornucopia, the list of food will say [food] x[amount]. Extra food cannot be put in the cornucopia once crafted. A cornucopia is unstackable.
Use: It takes the same length to eat from a cornucopia as most foods. It's worth the same amount of food points and saturation as all the foods in it combined.. Since the cornucopia is a symbol of abundance and nourishment, it is a very powerful item. If the food from the cornucopia is eaten, you will still be able to keep the horn.
Reasoning: The horn of plenty is made from goat horn. It is a symbol of abundance and nourishment. especially the cornucopia would be a useful and exciting addition to Minecraft IMO. The reason why goats are so nerfed is to make cows much more cooperative and useful. Rather than haveing another pig scenario happen again, I ould like variety. The main point of goats is the cornucopia
Milking: Once you breed a goat, there will be 5 minutes in which you can milk it. Right clicking a goat with a bucket has a 50% chance it will cause it to get angry at you and attack you once by ramming into you. These attacks deal 4 damage. The player can dodge these attacks because the goat will not go for you after 2 seconds. If the player is lucky, they are rewarded with milk by the goat (50% chance)
DRINKING MILK
Immunity: In addition to getting rid of all your potion effects, drinking milk will grant the immunity potion effect for 0:45. Potions and effects will not effect the player within this time. White bubbly particles will surround the player. When only 10 seconds of the potion effect are remaining, the indicator will start flashing in the top right corner.
Advantages
Invulnerable to witches including potions of healing and harming Immune to hunger from husks Immune to poison from cave spiders Comboing milk with rotten flesh can refill your hunger Comboing milk with spiders eye can refill your hunger
Disadvantages
Cow/goat farming requires wheat/beets
Risky against elder guardians (no water breathing)
Risky against withers (no fire resistance)
DAIRY FOODS
Cheese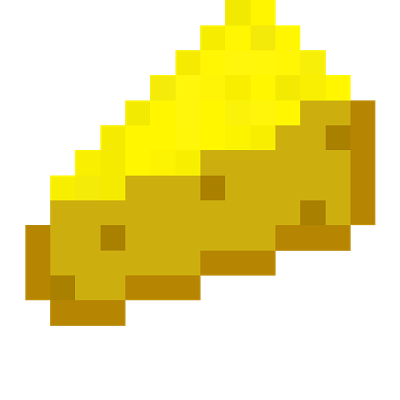 Obtaining: Smelting milk will have an output of cheese. Don't worry, you won't lose the bucket.
Sandwich
Obtaining:
(The Gold Ingot Is Cheese)
Food Points: 12
Saturation: 20
Speed: 3 sec
Reasoning: It doesn't give as much food points as it would if eaten individually, but It's effective because the time taken is less overall. Most likely, sandwiches will be used for late game.
Block of Cheese
Obtaining:
Transparency: No
Luminance: No
Flammability: No
Blast Resistance: 0
Hardness: 0
Tool: None/Any
Use 1: The block can obviously be used for decoration
Use 2: Players jump half as high when on top of the blocks
Moldy Cheese: It looks just like regular cheese with the exception of a few blue splotches on it.
Obtaining: After 5 minutes, regular cheese will become moldy. It has the same properties of regular cheese, and some unique features.
Use 1: All passive mobs refuse to get withing 30 blocks of moldy cheese.
Use 2: Players withing 16 blocks of the cheese get a swarm of blue particle effects that last for 5 minutes.
Butter
Use 1:
When a furnace's fuel slot is empty, but the furnace is still cooking, like in the picture on the left, you can add butter. Adding butter will speed up the arrow as shown above by 20%.
Use 2:
Surrounding moldy cheese in butter will turn it back to regular cheese.
Use 3:
Adding butter to any shovel with an anvil will increase its durability by 5.
Custard
Variants:
Vanilla (white)
Chocolate (brown)
Fruit (pink)
Obtaining:
(Cocoa beans can be replaced with apple or vanilla)
Use: All custards give you 40 seconds of the Saturation I Effect. The effect is an already existing effect which basically acts like the regeneration effect, but for your hunger bar.
Taste: To promote comsumption of a variety of different custards, there will be a new variable called taste. If a player eats a certain custard, they will be forced to eat the two other types before they can receive the saturation benefits from that certain custard again.
Reason: Everyone likes ice cream or something similiar to it. (JK please don't get angry if you dislike ice cream).
WHAT ABOUT COWS? THEY'RE USELESS NOW! BE READY FOR MY NEXT THREAD.