fishg
Out of the Water
Location:

Atlantis

Join Date:

8/27/2017

Posts:

732

Location:

Atlantis

Minecraft:

fishg

Member Details
-----------------------------------
Exactly 8 years ago Notch released the final version of Survival Test, which would denounce the end of "Classic" Minecraft. In that update many experimental features were developed, none of which were finalized for the current game. The most widely known is the Giant, an unused 12 block high zombie with no AI and a hitbox that only covers half it's body. I think it's a real shame that Giants were never integrated into the proper game, they're such unique mobs that perfectly fit into the game's fantasy setting. If given enough thought, I believe Mojang could create an entire update around giants and the many adventures they have to offer. So to celebrate their 8th birthday, I'd like present my thoughts on how to bring giants back into Minecraft!
Steve and the Beanstalk
If you look at the Giant right now, you'll notice that there isn't much to build from. Giants had a generic zombie AI before it was ripped from them, and they never had a drop or even original texture.
The new giant will be a boss mob sharing the same stats as before, though now with proper attacks and drops. The giant will be significantly weaker than the other two, so that is more of a midgame boss. Fighting a giant is completely optional, but the rewards are quite valuable. More on giants in the "New Mobs" section.
Another challenge I faced was where the giant should spawn. The other two bosses are optional fights that have their own separate way of summoning. The Ender Dragon spawns in its own final boss dimension and the Wither is summoned with a unique ritual. Giants need to be found differently. My solution is to take a spin on the popular fairytale, Jack and the Giant Beanstalk.
Rarely in sunflower fields and very rarely in regular plains biomes, the player might stumble upon a Beanstalk. These only generate 1,000 blocks from the world spawnpoint. Beanstalks are a tall plant very similar to sugar cane, only they extend all the way to y 164, past even cloud level.
When destroyed beanstalks drop nothing and will destroy all the blocks above it (like cactuses or sugar cane). They have the same hardness as stone, only for axes (so you don't cut down a stalk by accident). Beanstalks can be climbed like a ladder. If the player climbs up all the way to the top of a beanstalk, they will emerge atop a giant cloud.
The cloud is made of a new block, "Cloud Block". Cloud Blocks have a clear white texture but also allow for light to pass through them seamlessly (like air) to prevent giant dark spots on the ground. For balancing reasons cloud blocks drop nothing when destroyed.
Clouds from the Aether Mod to give an idea of what the cloud block could look like.
The giant cloud is roughly the size of the main End Island. On the side opposite of the beanstalk there is a giant house made of wood and colored concrete. Houses may generate in any of the 16 concrete colors, in this example the house generated purple.
A built to scale model of the Giant House. Note that there would be windows and decorations on the walls, the main idea of this model was to show the scale and overall feel of the house.
The houses are built with the same scale as a giant, with a 6x6x6 area representing one block. This makes for a total of a 64 x 64 "house", or 16 chunks. The house is divided into three floors, with the first two divided into 32 x 32 rooms. The rooms' locations generate randomly like Woodland Mansions, but every house has every room once. The spots for the rooms are all large squares.
Each of these spots have large 12 block tall- 6 block wide "doors" that connect the rooms. What room takes up each slot is random. The same applies to the second floor, which looks the same.
The inside of a room before generating the rest of decorations. The glowstone would not generate, it was added to improve the quality of the picture. Every room would be well lit through windows, torches, and other lighting sources. It would only be below 7 in dusty areas (such as under the bed).
Rooms
First Floor
Entrance- The very first room that is preset to generate at the front of the house, though whether it is to the left (see pictures) or flipped to the right is random. This room features the only way in or out of the house. This wooden door may appear to be made from wooden planks, but it is actually out of a new technical block. The block behaves exactly like normal wooden planks expect that it allows giants to walk through, like the ender dragon does with endstone. This is to create the illusion that the giant is opening the door and is not trapped in his house. Directly in front of the door is a large staircase that leads to the upstairs. Underneath the staircase is closet with a rat spawner. On the other side are paintings and a giant chess table.
Kitchen- Along the outer walls are concrete counters and dangerously dark cabinets, inside of which there is occasionally food. Alongside the counter is a refrigerator made of white concrete which has a great deal of raw food. In the inner corner lies a small table and chairs.
Dining Room- Most of the room is just a long table filled with fancy décor and even some glowstone. Chairs neatly surround the table. But underneath the table it can get rather dark, providing a nice home for rodents.
Living Room- On one wall is a brick fireplace. A coffee table and wool couch are nearby. Paintings line the walls. In one corner there is a brightly lit lamp, and in another corner there is a wooden basket with good loot guarded by rats.
Second Floor
Pantry- The first room of the upstairs, which is always directly above the entrance connected by stairs. Most of this room is empty besides giant chests and armor stands, but scattered throughout the room is plenty of loot.
Bathroom- This room has only one "door" which is also made of fake wooden planks (unlike the other rooms which have "air doors". The room has a bathtub filled with water and rubber ducks, a toilet, and a sink. Underneath the sink is a dusty cabinet.
Study- Bookshelves line the walls of this room, with nooks and crannies infested with rats. A single desk and chair are along the furthest wall to the door. Up in one corner is a closed trapdoor that requires some parkour (or griefing) to get up to. This takes you to the third floor, the Attic.
Bedroom- Perhaps the most important room of them all. The Bedroom spawns with only one entrance, typically requiring going through both the pantry and study to get to. This room is where the Giant spawns, though he may move through the house to find you if you stall too long. A large bed made from red wool takes up most of the room, with a dresser to the side. Inside the dresser rests some loot, but the main prize is what's on top- the golden chicken.
Third Floor
A very simple floor compared to the others, this is just a giant dark room- the Attic. The Giant cannot get up here. The room has the greatest amount of loot in the whole house, but is also pitch black and filled with rats spawners; as this is where they live. Good luck.
New Mobs
What's a house without inhabitants? While at first I was going to suggest just the giant, I've since decided to suggest not one, not two, but three new mobs that can live among the clouds.
1.

The

Giant
The giant model will remain the same, but I'd change the texture to something new and unique, to reinforce the fact that this a giant, not a big zombie.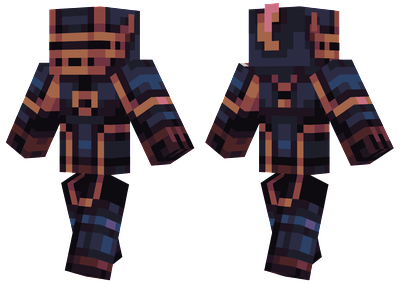 The giant skin needs to be changed. These are some possibilities- the first was my original proposal, second Wolftopia. If you have a skin you think should be up here please comment with a picture.
The giant would be 12 blocks tall and 6 blocks wide, with a hitbox that extends from the head down to their legs. Their feet would not be in the hitbox to prevent players from spamming an attack on them at ground level, and because Steve's shoes seem to be quite protective. To hit a giant, you will must either get a better vantage point or jump up when attacking on the ground. Giants make Villager-like grunts, but their voice is much deeper.
The Giant AI will actively hunt for the Player, but will not be very smart. You may end up playing a game of cat and mouse with the new boss. While a Giant will follow a player relentlessly, it will never, ever, ever drop over a greater than 32-block long distance. This is so giants don't fall off the cloud and die of fall damage.
Giants have 100 health points (50 hearts) and has an attack strength of 15/30/45 (without armor). Though it's attack is stronger than the dragon or wither, giants are very slow. Dodging is key to beating the them. Luckily giants do not have many hearts.
The Giant has four main attacks, all with custom animations that are unique to only the Giant. Right now all the Giant does is go up to you like a zombie. This makes them incredibly easy to kill. Instead of giants simply being a bigger zombie, I want giants to feel like their own mobs. So for each of these attacks I've tried to play up the cat and mouse idea with the giant being a slow but powerful opponent. To beat a giant you can't just fight them faster like most mobs, you'll need to dodge all the slow but powerful attacks and strike while the giant is winding up.
The first attack is Stomp. If the player is at their lower leg area or below, the giant will attempt to step on them like one might smush a bug. The giant will wind up one of their leg for a short time before sending it back to the ground. While it does a good amount of damage, one can easily avoid stomp if they pay attention and don't just spam attack.
The second attack is Kick. If the player is at their lower leg area or below, and the Giant has unsuccessfully stomped or been damaged considerably, it will try to kick the player away. The windup is a bit longer than stomp, but the attack is considerably worse. Not only will you receive typical giant attack damage, you may also suffer from the fall damage.
The third attack is Smash. If the player is at their upper leg area or above, the giant will attempt to squish them with their hand. Think of this as the hand version of Stomp. However right after being smashed, the player will be unable to move their controls for half a second. Don't worry, this is nowhere near enough time it takes for the giant to attack, but it still is a small disadvantage.
The fourth and most fatal attack is Snatch. If the player is at their upper leg area or above, and the Giant has successfully smashed or been damaged considerably, it will try to grab the player with their hand. If it does this, you will be brought up to the giant's face to be "eaten". Should the player get a charged hit on the beast it will drop them. But if the giant manages to get the player to their face before they break free, the player will receive twice the typical attack damage. This attack could prove fatal or helpful depending on your skill.
Remember that when fighting a giant, it is much easier to attack it higher up. However, this is also where the giant does its more dangerous attacks, so you will need to be aware. I suggest you fight the giant at a high up yet safe location where you are around it's chest area, such as the kitchen counters.
If the Giant is not winding up an attack and an arrow is fired towards it, the giant will block the arrow (by swinging his arm) 50% of the time. This is so you don't just snipe the slow and griefless Giant from a corner.
After the Giant is defeated, the player will receive roughly 25 levels of XP and a Giant Essence.
Giant Essence
Giant Essence can be used to brew two new potions- the Potion of Growing and the Potion of Shrinking.
The Potion of Growing will make the player grow for a limited period of time. Potion of Growing I grows the player to 6 blocks tall and 3 blocks wide. This includes their hitbox. Potion of Growing II grows the player to 12 block tall and 6 blocks wide- the same size as a Giant. However when "growing" you will be much slower but deal more damage. Yes, this lets you recreate Attack on Titan when fighting other Giants (though it'd require you kill at least one Giant normally).
The Potion of Shrinking does exactly what you think it'd do- make the player smaller for a limited period of time. This is the negative version for the Potion of Growing. Potion of Shrinking I shrinks the player to 1 block tall and half a block wide. Potion of Shrinking II shrinks the player to just half a block tall and a quarter of a block wide. When "shrinking" players will be much faster and able to maneuver through places they couldn't before, at the cost of a weaker attack.
The height of each potion (not width): Potion of Shrinking II, Potion of Shrinking I, Normal, Potion of Growing I, Potion of Growing II.
To be honest I don't know if this is possible, but I think it would be really cool and be a great reason to travel to Giant Houses in the first place. Everyone would want to get their hand on these potions. Maybe the potion would cause the player to temporarily change entities, if that's possible.
I doubt these potions would be commonly used in most survival worlds as they are so rare and more cool than useful, but I bet mapmakers would go crazy with Growing and Shrinking at their disposal. That's a big plus for these potions in my mind.
While this could be considered overpowered, I don't think it is because the Giant Essence is so hard to obtain. Ender Dragons give way to an eventual Elytra and a sense of conclusion to the game, and Withers give way to powerful beacons. Giants would also have a great temporary drop.
2. Rats
Since the giant is so slow and lives in such a large house, there has to be some other threat in this new structure. Therefore, I'd like to propose that the Giant has a bit of a rat infestation problem going on.
This model is taken from the Mo' Creatures mod. This wouldn't be the first time Mojang has adapted a mob from that mod, and I feel their rats fit well into Vanilla Minecraft's simplistic style.
Giant rats spawn in darkness only in Giant Houses, replacing all normal monsters. Rats are even faster than a spider, with their attack consisting of them charging forward at the player. Most of the time they drop nothing, but occasionally they drop a random mob drop (as rats are scavengers). However, they do drop a good deal of XP.
The rats are two blocks long, one block wide, and one block tall. They deal 3/4/5 damage and have 18 health points (9 hearts).
3.
The Golden Chicken
The Golden Chicken is the main reward for Giant Houses. This passive mob is locked in a cell by the evil Giant in his bedroom, ready for you to bring it home and lock in your own cell. Though one could feasibly escape with the Chicken without killing the Giant, it'd be much safer to kill the boss first.
The Golden Chicken is 1.4 blocks tall and 0.8 blocks wide, making it twice the size of a regular chicken. They have 8 health points and drop nothing. By default these trophy mobs do not despawn, but this can be disabled through /gamerule noGoldenChickenDespawning.
Golden Chickens behave just like regular chickens, wandering around without fall damage and laying eggs. But instead of laying regular eggs, the magic golden chicken lays Golden Eggs. Golden Eggs can be smelted for a gold ingot or traded with villagers at a great, higher than emeralds price. Best of all, they can be placed as small trophy blocks like heads or the dragon egg (though smaller than the dragon egg). Unfortunately, Golden Eggs will never spawn in new Golden Chickens.
Conclusion
One of my favorite parts of the recent updates have been Ocean Monuments and Woodland Mansions. I enjoy these because they are optional side adventures with original mobs and new atmospheres. Before I never went into roofed forests, now I explore them thoroughly in search of a mansion. Giant houses would do the same thing- provide a fun side-adventure with valuable rewards. Plains biome would get a lot less plain with a beanstalk in sight.
They would also finally add something to the sky. While the world might be 256 blocks tall, almost half of that is just empty space. Giant Clouds would utilize this empty space, letting you properly explore the top reaches of the world.
Thanks for reading and happy holidays!
Last edited by
fishg
: Dec 22, 2017