Wolftopia
Diamond Miner
Join Date:

8/6/2017

Posts:

1,055

Location:

Milky Way Galaxy

Minecraft:

Wolftopia

Xbox:

Wolftopia

Member Details
Introduction
With the new 1.14 Update Aquatic consisting of some more water content (yay!), we need some real danger in the waters. Even with all of the content revealed at Minecon Earth, there hasn't really been any new danger for the ocean, or any body of water for that matter.
The Piranha
Our first contestant on tonight's show is....The Piranha! This nasty thing would spawn in any body of water that is in a jungle biome in groups of 6, and could even be rarely fished up sometimes in the jungle (same rarity of that of the clownfish). Swamps and rivers could also rarely contain groups of piranhas. Each piranha would have 8 health (
) and would deal 2 damage (
).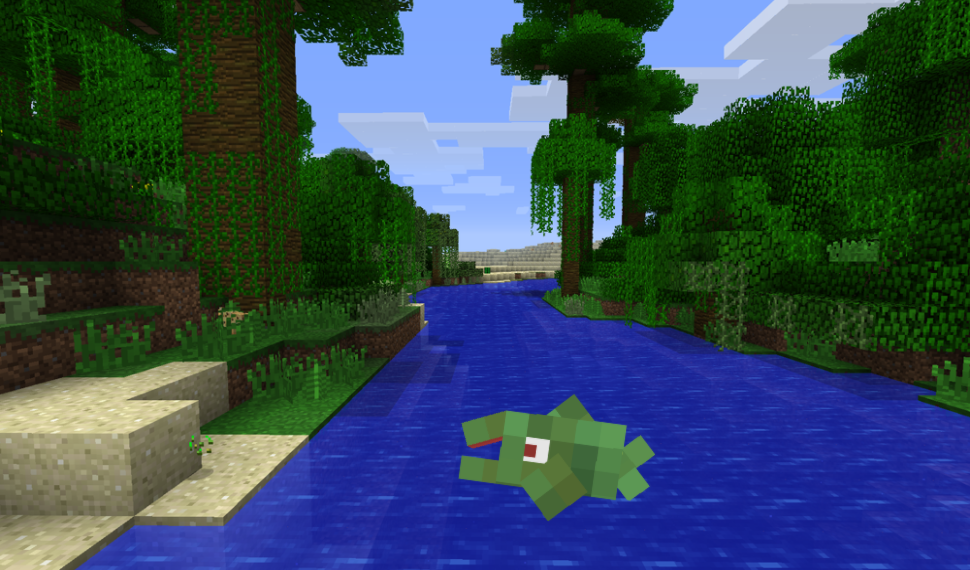 The piranha would look like how it does in the image above, but with 2d teeth in the same way chickens have 2d legs. Their teeth would tell the player that they are dangerous and not a cute little fish. When killed, a piranha would drop 3 experience, and have a 50% chance of dropping raw piranha and a 75% chance to drop 1-3 piranha teeth.
Raw piranha could be cooked and eaten to restore 6 hunger points (
) and 10 saturation points.
Piranha teeth could be used to create piranha arrows like this:
(Ghast tear represents a piranha tooth)
The arrows would deal as much damage as a normal arrow, but would "pierce" through 2 armor points (
). However, they would only go at 80% of the speed of a normal arrow.
The Shark
Now for the terrifying Shark! These would spawn anywhere in deep oceans, being more common as you go deeper. In order to spawn a shark, the spawn location would have to have water blocks in a 20-block radius (on the x/z axis) around it. Sharks normally pursue the player from 16 blocks away, but if the player has less than full health, they will be able to pursue the player from up to 40 blocks away. Each shark would have 32 health (
x 16) and would deal 15 damage (
) very quickly, making it an extremely dangerous mob.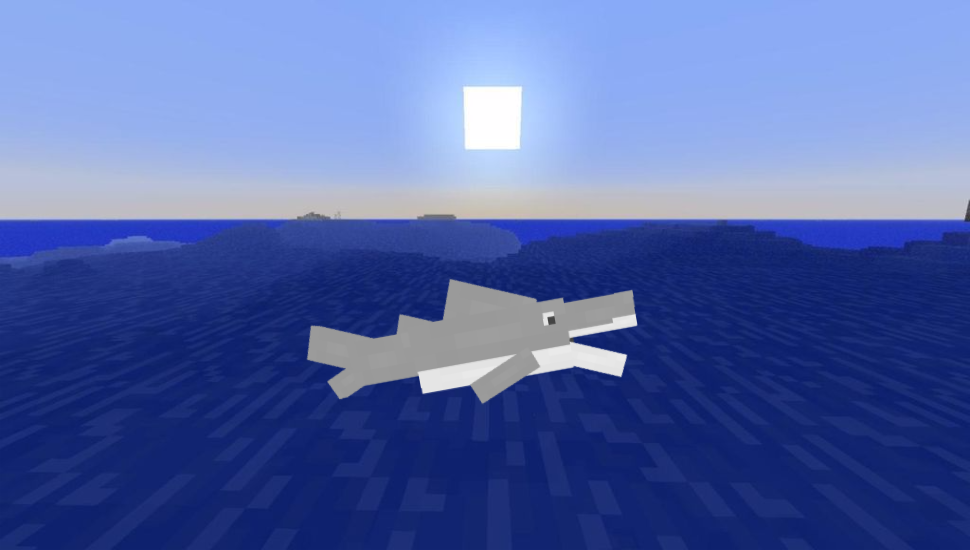 The shark, of course, would look like the image above. When a shark is killed, it would drop 6 experience, and have a 40% chance of dropping a shark fin. These could be used to craft shark fin stew, like this:
(Prismarine shard represents a shark fin)
Eating shark fin stew gives the same effects as eating rabbit stew, but it also instantly heals 3 health (
).
The Angler
Alright, we're getting to the nastiest of the nasties... The Angler! I wouldn't touch this thing with a 39 and a half foot pole. Not even in Minecraft. This guy would spawn only at the very bottom of the deep oceans, and only in low light levels. The angler would have 14 health (
). Just like spiders and endermen have glowing eyes, the angler would have a glowing white light. When this horrific hostile creature attacks you, it would do 10 damage (
) and give you slowness for 10 seconds.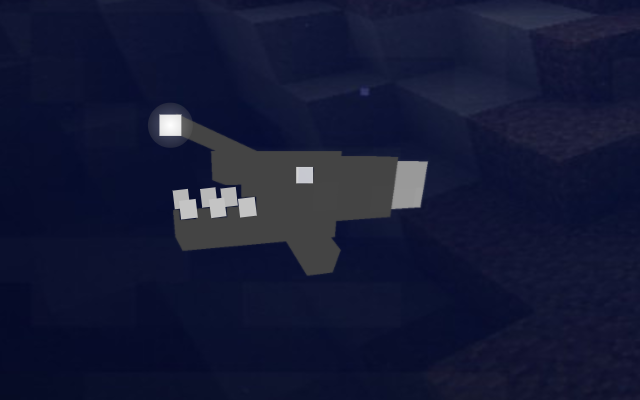 Above is a picture of what the angler would look like. Each angler would drop 1-6 angler lights, which could be used to craft the angler lamp like this:
(Snowballs represent angler lights)
The angler lamp would be a new light block that would look like this: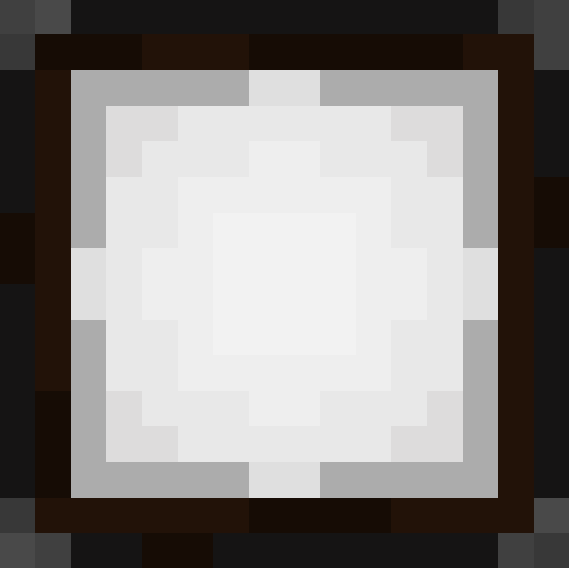 Right-clicking this block would change its brightness, allowing the player to finally configure the illumination of a block. Shift-right-clicking would turn the light completely off, and doing so again would turn it back on. If the light is off, powering it with a redstone signal would turn it on. In this case the signal strength would determine the illumination.
The Breathing Angler
They always, come in twos, don't they? Here is the even worse.... Breathing Angler! This guy would be just like the normal Angler, but with 18 health (
). Additionally, this creature would take away 3 breath bubbles when it attacks you, making it extremely dangerous. However, it would not give you slowness, so you at least have a small chance to escape. Also note that this variant of the angler would have a bigger and brighter light than the normal angler.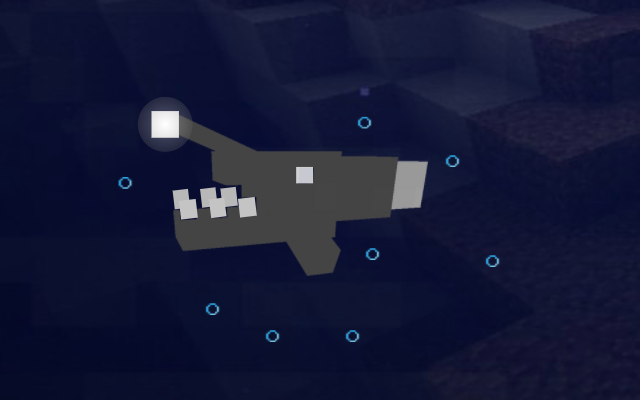 Above is a picture of the breathing angler. You can tell it's a breathing angler because it has a slightly larger light and always emits bubble particles. It would drop 3-8 angler lights.
Glowing Coral
Now, you might think that seeing the light of the angler in the distance would be like a warning. However, you might actually be attracted to it. This is because of a new deep-sea block, called glowing coral.
Though usually glowing white, it can sometimes glow a faint blue or green. It would resemble the dead coral, but a little brighter. The glow this would give off would look very similar to that of the angler fish, meaning you might accidentally go right into one of those nasty creatures when looking for some glowing coral.
Why would you be hunting for this, though? Well, first of all, it looks cool; it's like normal coral but glowing. However, that probably wouldn't be the reason. Villagers would value this stuff very highly- so much so that you could make good profit by collecting and selling these things. It is hard to get though. It is spread out like emerald ore and hard to find. But remember: you can buy diamond tools and diamond armor from villagers if you have enough emeralds. So, this would be worth it to many players. The trade would be 2-3 Glowing Coral → 13-19 emeralds.
Conclusion
The water could use some danger. I think we can all agree on that. Hopefully the piranhas, sharks, anglers, and breathing anglers would be sufficient. Please tell me what you think of both the mobs and the drops, and the items crafted from the drops.
Credits
Suggestion- Wolftopia
Models & Angler Lamp Texture- Wolftopia
Font for title- Pixel Fonts
Textures for mob models- "Better Than Default 1.3" texture pack