fishg
Out of the Water
Location:

Atlantis

Join Date:

8/27/2017

Posts:

691

Location:

Haunted Mansion

Minecraft:

fishg

Member Details
_________________
The End is a desolate wasteland quickly gets boring. There's only so much to do after you raid a couple End Cities. Shouldn't the final location in the game be a bit more challenging? I believe a new mob would help make the End a more exciting place to visit. Therefore, I'd like to suggest a new danger and resource to the End- the Choran.
The Choran (core-an) would be a new hostile mob found uncommonly in the End. At first glance, it would be a mob variant of the Creeper. Some people may oppose mob variants, but I think they're interesting attempts to take an old mob and spice it up. Recently Mojang has been making more and more mob variants, and the Creeper is one of the few that hasn't gotten one yet. This "end creeper" will help compare between the Overworld and End. It also makes the most sense based on what the Choran does.
But don't worry, the Choran isn't your typical "end creeper" mob. It would have its own varied stats, sounds, drops, and AI. It would also come with its own spawn egg, so it wouldn't be biome dependent (like Husks and Strays). And unlike any other mob variant, the Choran is not buffed via potion effect. I really dislike how Mojang buffs their mob variants by just giving them a potion effect. By barely copying off their precursors, Chorans would be the most unique mob variant in the game.
Many believe that Creepers are some sort plant, based on their green tree-like appearance. Chorans would piggyback off that concept, resembling the chorus trees of the End. If one is not careful, they may miss a Choran hiding among the trees.
Chorans could alternatively have a different model from Creepers (picture and idea by AaronBlader12):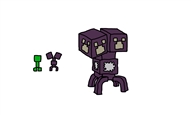 Chorans, due to their late-game appearance, are significantly stronger than their Overworld counterparts. They have 30 health points (15 hearts). This is balanced out by their limited sight, only spotting players 12 blocks away from them. Wearing a regular creeper head will not affect Chorans in any way. Chorans also have an increased explosion power- this is so they can make a dent on the powerful endstone surface (a normal creeper only destroys one block in the End).
When a Choran approaches the player, it will begin to ignite, but only the middle white section will change. Also, the sound would resemble a "whooshing" effect more in line with the rest of the End. The resulting explosion will remove the same number of blocks as a creeper.
At first glance, everything is exactly the same. To understand what a Choran does, you need to be in the radius of the effected blocks. The Choran's maximal damage is 25, just over half of a regular creeper. With enchanted diamond gear (which most post-ender dragon players should have) this should be merely a scratch. The main problem for those within the radius is that they are not where they started out.
You see, while a creeper destroys blocks, a choran teleports them.
Any block or entity that is within the choran's radius is teleported together. The region will teleport to a random location 50-200 blocks away from the explosion. It will always stay on the same y-level. This is the primary danger of a Choran. If you haven't checked where you were before, you can easily get lost in the endless End. You will likely be sent to a space in between the large islands, requiring you to build a large bridge across the void. If a ghast-like End mob is ever implemented, this would be especially dangerous.
If one does manage to kill a Choran before they implode, they will be rewarded with Void Powder. Void Powder is one of the hardest items to get in the game.
Void Powder can be put into splash potions at the brewing table to increase length. Currently the longest splash potion is 6 minutes, but the longest regular potion is 8 minutes. Void Powder will help splash potions fill that the gap.
But the main purpose of void powder is to craft E-TNT. E-TNT (ender tnt) allows players to harness the group teleportation power of Chorans. Just like how TNT destroys, E-TNT will teleport blocks to a random location. Unlike Chorans, the random location is just 5-100 blocks away from the explosion.
This is game-changing for redstoners and mapmakers. While ender pearls and chorus fruit can teleport the player, it can't teleport blocks or other entities. E-TNT would teleport multiple objects at the same time.
Void Powder can also craft Warpers, with 9 void powder on the grid. If E-TNT goes off and a Warper is in the 5-100 block radius, it will always go the Warper (as long as there is empty space). Warpers can be turned off through redstone, by default they are on.
Skillful players could set their "etnt rooms" up in close proximity to a Warper- allowing for teleporters (albeit a 100-block max travel) in survival mode. This can be used for players or farms.
E-TNT can be crafted just like regular TNT. Just replace the gunpowder with void powder.
Conclusion
At first glance, Chorans may appear like a buffed version of the creeper that roams the End. But really, Chorans are an entirely new opponent that will offer a new threat to increase challenge, provide more excitement in the currently boring End, and have a very useful drop. They are a unique spin on the popular icon known around the world. Just like how Creepers symbolize all of what Minecraft is now, perhaps Chorans can come to symbolize all that Minecraft hopes to become.
Happy Halloween!

Last edited by
fishg
: Nov 23, 2017