IronGolem20
Diamond Miner
Join Date:

8/6/2017

Posts:

1,073

Member Details
EDIT: Part 2 is out. Here it is: click here.
Introduction
Hello! I have decided to start a series of suggestions all about improving the ocean. There will be three parts, and this is of course the first one. This part will be all about how oceans are generated in the world and how ocean generation could be improved.
Technicalities
As of now, oceans are pretty much just big lakes. If you look at maps of Minecraft world generation, such as this one, you can see how small oceans really are right now. Now, this change was made due to oceans being too large–but that doesn't mean oceans can't be a little large. Oceans used to go on for tens of thousands of blocks, and sometimes even more than that. However, as you can see in the picture from the Mojang website, oceans got really small and are basically lakes. Just because oceans used to be too big, doesn't mean we have to have them extremely small.
I propose a rework to how ocean and land is generated. Instead of having this current system where land dominates everything, I propose we have large chunks of land (continents) be separated by large oceans. Of course, I think there should be an option in the world creation menu to control the size of oceans- allowing people to have oceans as small as they are now, as big as they used to be, or the new medium that I am suggesting. Of course, the medium/in-between size that I am suggesting would be the new default, as I think it has the best balance.
In addition to this, I think islands should get a rework, too. As of now, islands are very small. I think we should keep the current small island size as a rare thing, but most islands should be of decent size. I'm not quite sure how large yet, but definitely large enough for it to make sense that animals would be there. Islands should also mostly be jungle and/or tropical palm tree biomes, but more on that in Part 2.
How large should oceans be? I would say large enough so that there is always a point where you can look around and only see ocean. I mean, seriously, you shouldn't be able to see the mainland or another island while on an island. Plus, marooning other players would be a lot more effective (that was a joke). Since your render distance can be to 32 chunks, each ocean would have to be a little over 1000 blocks long. However, I think this should be increased a bit, so that there is more than one block where you can stand and only see ocean. I'm thinking a 1500 to 2500 block distance between continents, with a few islands sprinkled around, and some areas where a lot of islands are sprinkled around. The continents would be at least 3000 blocks long, so don't worry about there being too much ocean. If you think these numbers should change, please let me know.
Benefits
This change would allow for improved exploring and more opportunities for rare structures on islands or at the bottom of the ocean. Having ocean expeditions as a form of exploration would add a lot to the exploration side of the game that Mojang seems to be taking Minecraft to. Players would be encouraged to travel long distances to other continents after exploring the entire continent they spawned on. Again, I will talk more about the ocean content (what's in the ocean) in Part 2.
"But How Would I Traverse These Large Oceans?"
Well, for starters, current boats would be renamed to "rowboat." Then, there would be a new kind of boat called the "sailboat." It would be crafted like this:
Alternatively, you could use the following recipe:
Don't freak out. It wouldn't be much bigger than the rowboat. The closest thing I have found to what I'm thinking of is this: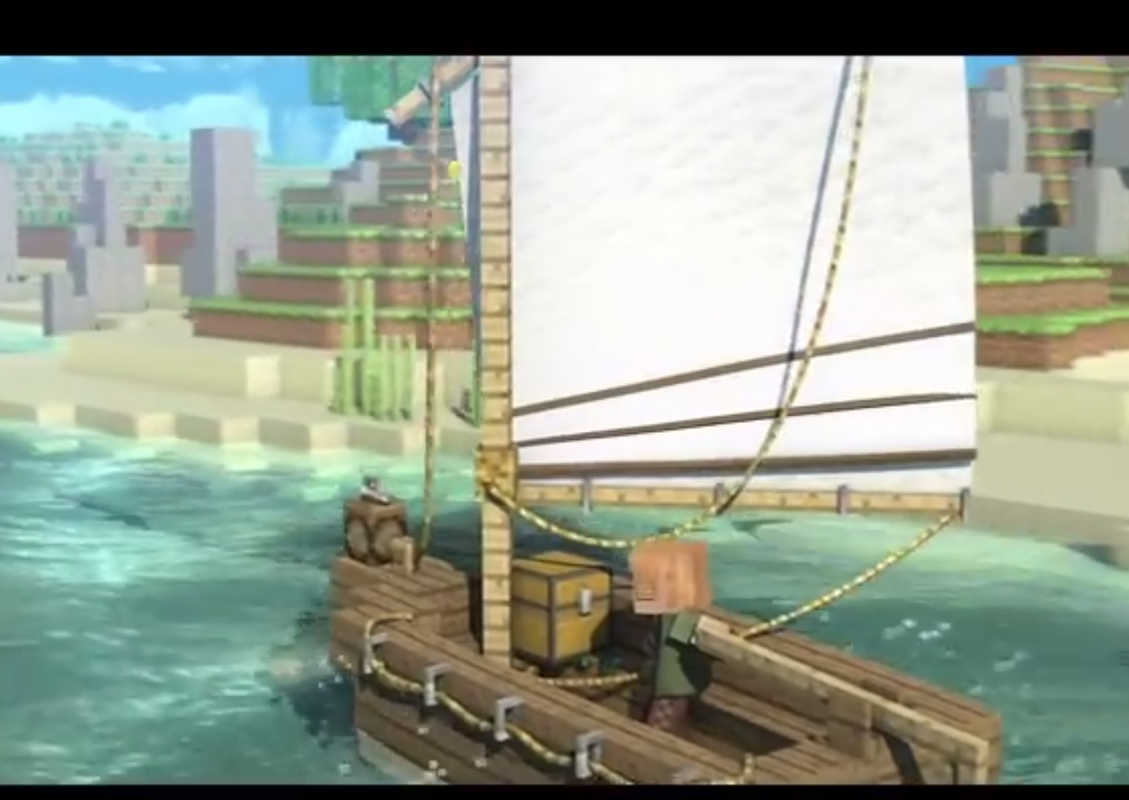 Image from a video by the YouTuber CaptainSparklez
(Note: If you use the second recipe, the sail will have the pattern of the banner you used.)
It wouldn't have the ropes, or lamp, but other than that, this is pretty much how the sailboat would look. After you place it down, you would be able to put a single chest on it just like you can with a donkey. When you sail it, it would start out around half the speed of the rowboat, and gradually increase to around 1.5 times the speed of the rowboat within 10-15 seconds. Note that the sailboat would also be harder to steer; it would turn at one third the speed of the rowboat, giving rowboats a maneuverability advantage.
The player would be standing when operating the boat, and the sail and tiller would turn as you turn the boat. There would be a maximum of two players per sailboat, and the first person to hop in would be the one that can turn the sailboat. You wouldn't have to hold down the w key since it is powered by sails and not paddles.
Support Banner
I've seen other suggestions have support banners, so I made one for this using textcraft.net.
Here is the image code:
<a href="https://www.minecraftforum.net/forums/minecraft-java-edition/suggestions/2851073-ocean-improvements-part-1-3-world-generation"><img src="https://i.imgur.com/Ai6oKt6.png"/></a>