Wolftopia
Diamond Miner
Join Date:

8/6/2017

Posts:

1,005

Location:

Milky Way Galaxy

Minecraft:

Wolftopia

Xbox:

Wolftopia

Member Details
The hunger system, as of now, is completely unbalanced. Steak, Pork, Bread, and Golden Carrots (if you're rich) are the objectively best foods. This is a problem, because there are 19 separate food items in Minecraft, excluding the golden food and uncooked food. The hunger bar also provides no extra challenge to the game except *sometimes* on the first day. Food is very easy to get. Hence, I propose some changes and additions to the hunger system.
1. Give pigs back their usefulness. This is a sub-problem of that mentioned above. It is my understanding that pigs drop less meat than cows, and cows can also more easily be bred, rendering our beloved piggies useless. Yes, there is pig-riding, but that is practically a joke. On top of this, cows drop leather too, making them even more useful, as leather is required to make bookshelves, which are required for level 30 enchantments.
How do I propose we give them back their usefulness? Well, first of all, make them drop more meat than cows. I personally think the chances of cow dropping leather should be swapped with the chances of them dropping meat. This would make leather armor a little more practical, and also give pigs and edge in the food business. Another way to go about this would be to make pigs have multiple offspring at once, as others have suggested.
2. Make some foods take longer to eat than others. I am not the first to suggest this idea, but I think this would add more of a balance to the current food mechanics. Melons and cookies could be eaten slightly faster, making them something players might take in a boss fight so they can regenerate quickly. Bread could be eaten a little faster than steak, and steak could be eaten a little faster than pork. This could, of course, also be applied to the other foods. This change would give players a choice, instead of having a linear, "This is better than that." system.
3. Bring soups/stews more power. I believe this idea is quite balanced and would make people actually use Mushroom Stew, Rabbit Stew, and Beetroot Soup. These would now restore at least 10 hunger points (5 shanks) each, and would provide more saturation than any other food in the game. On top of that, you would get a "Well Fed" buff (with a different name) that would make the player regenerate health faster. To balance this, soups would take twice as long to eat as current minecraft food does.
Imagine: You are in early to mid-game, and you come out of a cave far away from your house. All of a sudden you turn and see a creeper. You get as far away as possible, but it still explodes. You are alive, but very low on heath. You see your house and make a run for it. You get hit by skeletons, but you're still barely alive. You make it to the front door of your house. There is a zombie. Reacting quickly, you knock it back with your shovel. You go inside and close your door, get your Rabbit Stew from your chest, and eat it. You sit there and wait to regenerate your health until morning.
Now, I know that was a little dramatic, but hear me out: soups/stews could actually have a use. Even though they can't stack. You might also eat soup or stew if you're planning an expedition so that you don't have to eat for a little bit.
4a. Give a reason to eat different food. Even with all of these changes, I think the system should still give players a reason to have diversity in what they eat. There is a mod that does this, called The Spice of Life, but I don't really like its method. Instead of restoring less hunger points, I think the amount of saturation you gain from food should decrease overtime until you eat a different kind of food. This would mean you could survive off of one kind of food, but that it would be better to eat something different every once in a while.
4b. Make food harder to get. Food is, at the moment, extremely easy to get. What is the solution? Well, first let's address grass. There is a lot of it. If I am correct, there wasn't originally as much grass as there is now. Maybe seeds should be less of a common drop from grass, meaning you would start out with only growing 8 or 9 seeds and use the extra seeds you get to work your way up to growing 64 crops at once. Another thing could be making animals require anywhere from 1 to 7 of a crop to enter love-mode. Mobs could also drop less meat (except for pigs), as they drop a lot right now. Things like melons, cookies, carrots, beetroot, and potatoes don't really need to be harder to get, as they aren't very good foods. This kind of solves point 4a, because if food was harder to get, you would want to take every opportunity you had, and therefore already have a reason to eat more than just one kind of food.
5. Display Saturation. This is probably the lowest on priority, but I think this would be a good edition. Many propose a yellow outline to the hunger shanks to show how much saturation you have left. However, I have a different idea: changing the color of the hunger bar. If you had full saturation, your hunger bar would look a little more yellow/gold than it is now. The less saturation points you have left, the less yellow or gold it looks. The current color of hunger shanks would be equivalent to about 15 (out of 20) saturation points. If you had less saturation points than this, the hunger bar would look darker and darker.
Here is a screenshot of The Spice of Life mod, which has a yellow outline to show saturation: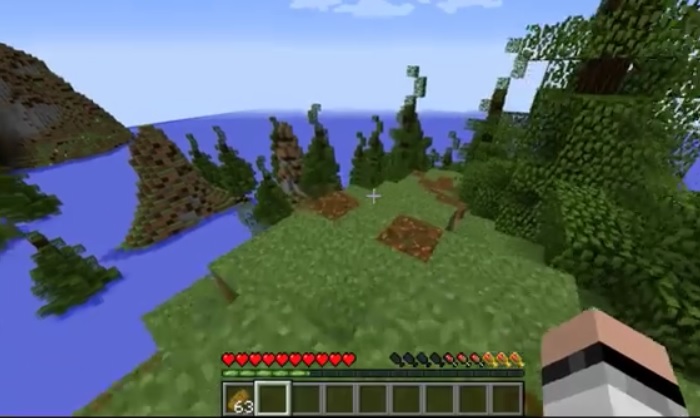 Well, that's it. I know this was a long post, but I wanted to make sure I gave a reasonable and balanced suggestion. Keep in mind that all of this would most likely be dependent on the difficulty you have the game set on. Please tell me what you think and how I could improve this suggestion.