CannonFoddr
Void Walker
Join Date:

5/29/2011

Posts:

1,899

Minecraft:

CannonFoddr

Member Details
I don't know about anyone else, but as a [very] amateur redstoner there's one thing that really gets on my nerves...
... A way to send redstone signals vertically
It's not too difficult sending them upwards - there are plenty of redstone torch tower designs, even a 1x1 design (for space saving), but sending signals downwards I find you'll usually need a staggered step tower or come up with a piston / slimeblock / observer block contraption (& with using observer blocks - add something to prevent accidental double signals)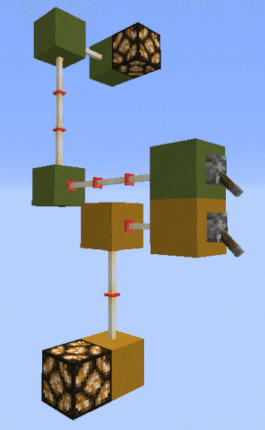 I'd like to suggest a new redstone block - the "Redstone Rod".
Listening to suggestions below (Posts #2-#22) I decided to re-write my Suggestion to include their ideas.
The Spoiler below contain my original Post (without pics)
- Appologise for bad graphic skills but this is just examples of what could be
The RedStoneRod acts like Redstone Dust - in that it can only transfer a maximum of 15 Blocks vertically.
IF used in conjunction with Redstone dust, like in picture below, the length of BOTH dust & rods count up to 15 Maximum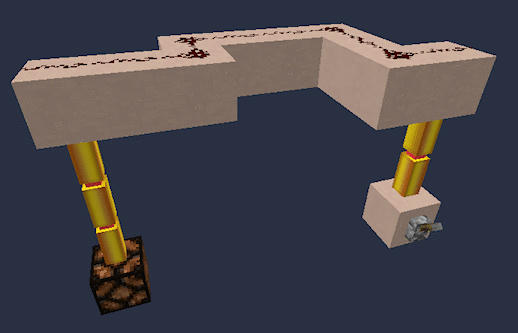 Like Endrods you can place two columns of rods next to each other without them connecting together, unlike fences, meaning you can have 2 signals next door & they don't interfere with one another
Because this new rod is so versatile, I suggest it shouldn't be so easy to make, my original recipe involved fenceposts & redstone but instead perhaps a suggested crafting recipe could be something like this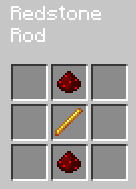 With this you receive 2 'Redstone Rods'
(it's been suggested you get 4 since 'it's a wire' but IMHO since only 2 redstone dust is used to create then how do you get 4 rods ??)
Because this can only transmit a signal a maximum of 15 blocks, a 'RedStoneRodRepeator' (phew a mouthful) is also available,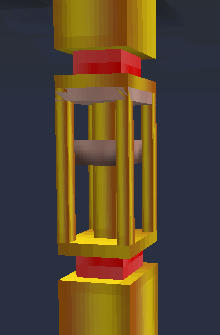 Suggested Recipe >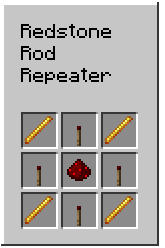 This has the same feature as a normal repeater - in such that there's a 'slider' that gives you 1-4 tick delay (the beige bit in the middle) & at one end is some indicator to show which direction it goes in (in this it's shown at the top by being thicker)
This rod acts like redstone dust - in as much that it can only transfer a maximum of 15 blocks - but you can place it onto a block in any orientation like an Endrod & just like an Endrod, these don't 'connect' to other redstone rods 'next door', meaning you can have 2 signals next to each other & they don't interfere with one another or join up like with redstone dust
PLEASE NOTE: the RedStoneRod will NOT be the same size as the endrod shown, it most probably be thicker - approx Fencepost in size probably
- The endrod shown below is only an Example as it's the only block I could use to show what I mean
Just think on how compact contraptions can be made if this was possible
EDIT: It's been suggested below that you get 16 Redstone Rods for this one recipe, but IMHO I consider that to OP,
after all you only get 1 redstone torch for a stick & redstone dust, or 1 repeater for 2 x redstone torches & 1 x dust.
Instead I would suggest possibly 2 Redstone Rods [maximum] for this recipe
--------
Also suggested by others - 'How about a EndRod Repeater' so how's this ??
Recipe is shown in attachments.
Recipe is similar to original repeater - redstone torches either side of a redstone dust (except no Stone base) & uses Blaze rods in corners
As I can't replicate the block in Minecraft I'll try & describe it The actual block will be approx a 3/4 or 4/5th sized cube 'floating in space' (perhaps 'chest size') - possibly in a Blaze rod colour (gold or even red-ish/gold) - when you attach a redstone rod to one side of this cube, on the other sides a square 'baseplate' will appear to indicate the 'outputs' available - when you attach a RedStoneRod to ONE of these - the other bases will disappear, allowing you to go round corners but NOT be able to have multiple rod branching out from a single block (don't want any accidental crossovers etc
) the baseplate with the attached rod will still be present to indicate the 'OUTPUT' signal from block
What your views on this ??
Any further redstone annoyances you can think of that might benefit the addition of some new redstone block to make life easier ??
FYI: if anyone wants to know how I made the custom models - I used 'opl Model Creator' and replaced the 'jukebox' and 'endrod' models