CR_Hero
Coal Miner
Join Date:

8/20/2015

Posts:

115

Member Details
A thing I'm big on in Minecraft, is making it feel like you're having a personal, unique experience. Some more things I value are continual change and additional content. The content that I value the most is the kind that gives the game another unique feature or makes it more convenient in a balanced way.
An accessory slot is the balanced feature that can do all those things if done right.


(All images are just for example purpose. I made none of them. I am not taking ownership of them.)



The GUI
The idea starts much like you would expect.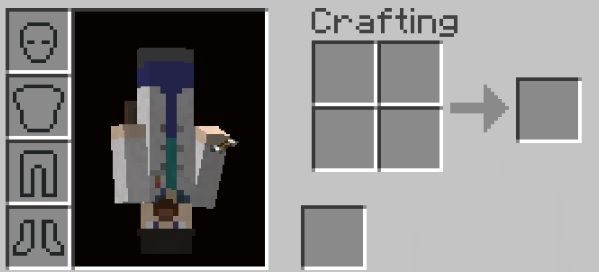 The extra slot in the GUI- that's the accessory slot. Simple.

Then next it's using already in-game features and items- including a new interaction, that creates greater efficiency.



Elytra
The first thing that comes to mind is a place to put your Elytra. Save your chest for armor, and keep your Elytra ready too. Simple, not a new Item. Yet practical.



Quiver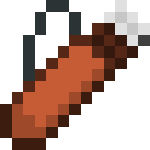 One of the reasons things like shield slot, quiver slot, etc didn't make it in MC was because they didn't know a good way to implement it. They don't want to clutter the GUI. So it was forgone for multi-function dual wielding. Yet the answer isn't many slots for each different thing, but a single slot for the single accessory you would allow yourself.
You can open the Quiver GUI by holding and clicking it.

3 slots. Regular 64 stack size.
The arrows at the top are 'priority arrows' and they fire first. This gives you a way to determine which special arrow you use at the time. You can manage which arrows you pull from the quiver with a hotkey. Shift+1 for the first slot, and so on. Here is a quick recipe.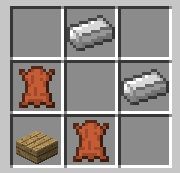 An accessory slot opens up the potential for many things that are in the game, but have plenty of room for improvement.
Belt
I have thought of a lot of ways to improve Alchemy. Here is one of my best. The potions aren't stronger, but you can stack the annoying things so inventory isn't crowded and so you can use them more practically in tough combat situations. Much like the quiver you can open a GUI while you hold the item.


3 slots and a max stack of 8. (I know the image is 16 lol. I changed it later.)
Balance:
The stack size of certain potions would be different to reflect PVP potential.
Splash potions of Harming- for example would be smaller or even a single stack

Use Shift+3 to highlight the regen potions (for example.) and Use the accessory button (Maybe R) to use the highlighted potion. Here is another example recipe for those that love that kind of thing.


Finally, this simple little GUI slot can segue a whole new avenue of never seen features.


Glove


Another simple, unique concept in a balanced little package. The glove. This item allows you to place blocks further away. Building or exploring, this non-combat accessory can make life a lot easier. Good in creative, and at home in survival.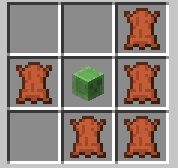 Backpack

A backpack concept has been discussed plenty of times before. But what is the value of an inventory space in Minecraft? It's finite, and doesn't change from the start to the end of the game. People worried about abusing the pack, putting packs in packs, or packs in chests. But the best way to do it- is to expand your active inventory. Your current inventory is 9x3. 27 slots. But a backpack could add another row. 9x4, 36 slots total. It goes into the accessory slot. And creates a new row. What happens if you remove the pack from the slot? All the items that were in that new row get dropped. So you can't create a blackhole of back packs in chests or in your inventory. Its best not suited for combat or building with other options available. But this would be great for mining.

In closing, this single slot can open a variety of options. They require iron, (or a slime block) and not just leather because they are strong in their own ways and need a tier to get to. Maybe all these things could require "Hardened Leather" that you need to craft with leather and a "Tanner block". (If needed.) People may have an accessory of choice that compliments their play style. Whether these items, or others are used is question later asked. But these things don't directly make you stronger, give you life, nothing that makes you directly overpowered, but they all have a subtle benefit.
Last edited by
CR_Hero
: Jun 18, 2016